---
To: Perdogg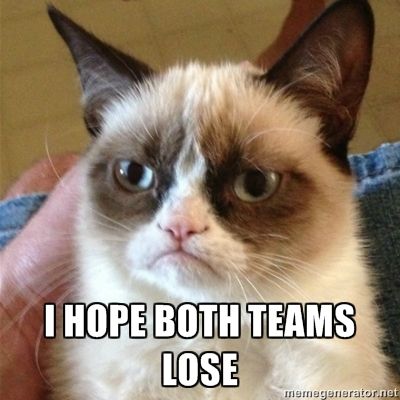 14
posted on
02/03/2013 8:46:30 AM PST
by
hoagy62
("Tyranny, like hell, is not easily conquered..."-Thomas Paine. 1776)
---
To: hoagy62; theycallmemom
Forgot Hoagy 62! I'm with both of you. I'm a total green and yellow, loyal forever Packer Fan. I just said to someone this AM here in frosty, snowy, gorgeous Wisconsin that we really don't care, but hoped they would tie so neither one can say they won. I'm still hacked off the Packers didn't try harder to beat that Kap7 lucky for a short time QB. QB's cannot run the ball forever and get away with it. But they sure are right now! Go figure. Some Quirk and the Ray Lewis. YES, he's another OJ - for sure. Disgusting. We need more Donal Driver types and less like Lewis.
No..... I'm with ya Steeler fan et al.!!
Yep.... we're watching. Wouldn't miss it.
---
To: hoagy62
I agree with Grumpy Cat...where's Godzilla when you actually need him? A good night to troll for decent music videos on You Tube.
57
posted on
02/03/2013 11:10:21 AM PST
by
who knows what evil?
(G-d saved more animals than people on the ark...www.siameserescue.org.)
---
To: hoagy62
Yea, I just cain't get interested in this gay outreach bowl.
---
FreeRepublic.com is powered by software copyright 2000-2008 John Robinson