---
To: MinorityRepublican
Reaction to the Nation graphic:
If the FBI says 6,000 people were murdered with handguns, around 300 (IIRC) with shotguns and 323 with rifles last year, how do we have 30,000 gun deaths per year? Where do the other 23,000 or so come from? Cleaning accidents? Suicides? Or is that just a bogus statistic? I'm thinking option 3...
Just for discussion, let's assume this stat means there are 23,000 people killing themselves with firearms in the U.S. each year. In that case, the problem is not guns, it's that there are 23,000 people depressed enough to kill themselves. They would find another method if there were no guns.
Also, note how the nine with guns are men and the one person with no gun is a woman (no guns for you girls, getting raped is morally superior to self-defense), is taller than the men (gun owners are obviously compensating!) and is shrugging her shoulders as if someone just asked her, "so, if someone tries to mug you or rape you, what will you do about it?"
41
posted on
01/09/2013 2:42:17 PM PST
by
Mr. Silverback
(Don't worry about the cliff. We're going to all land on some rich guy's wallet.)
---
To: Mr. Silverback
Also, note how the nine with guns are men and the one person with no gun is a woman (no guns for you girls, getting raped is morally superior to self-defense)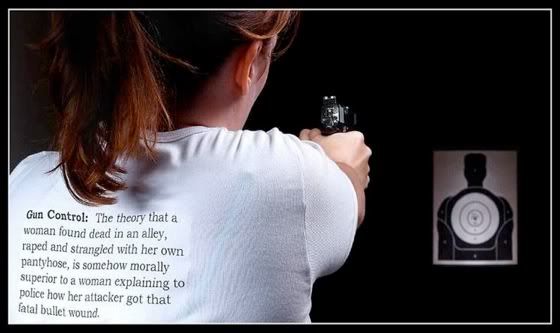 80
posted on
01/09/2013 9:34:19 PM PST
by
Graybeard58
("Civil rights" leader and MSNB-Hee Haw host Al Sharpton - Larry Elder)
---
FreeRepublic.com is powered by software copyright 2000-2008 John Robinson