---
To: smokingfrog
10kw would do most of what I need, daily.
15 day and night would run the farm in the winter, and I could weld in the shop, etc.
Hard to get a city going with that, but I applaud his contribution.
5
posted on
12/04/2012 9:18:05 PM PST
by
One Name
(Ultimately, the TRUTH is a razor's edge and no man can sit astride it.)
---
To: One Name
10kw would do most of what I need, daily.
These solar panels are rated on their peak power, when the Sun is not obstructed and when the light is perpendicular to the panels. This may be achieved for about 15 minutes in the middle of summer, if the panels are perfectly oriented. Often this cannot be achieved at all.
A 10 kW panel will give you, on average, maybe 1 to 2 kW averaged over day and night (in other words, from 24 to 48 kWh.) Daytime in fall and winter is particularly short, and cloudy skies are the norm.
Of course this is also power, and you can use it - as long as you don't have to pay for it. If you do, though, you may be better off with a gasoline generator - especially because it works when you need it, and idles (or stops) when you don't use it. Modern generators with inverters are particularly effective, since they don't have to maintain the RPM to hold the frequency.

11
posted on
12/04/2012 10:33:08 PM PST
by
Greysard
(Marxist Law of Distribution of Wealth: Shortages will be divided equally among the peasants.)
---
To: One Name
10kw would do most of what I need, daily.
You might need a little help moving it to the right spot...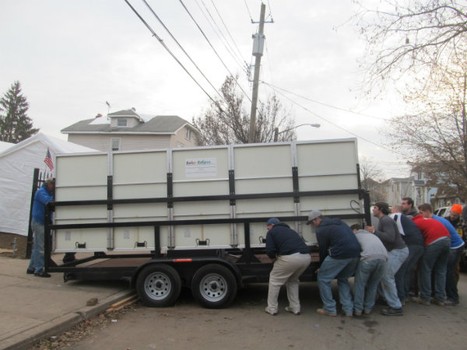 13
posted on
12/05/2012 3:09:29 AM PST
by
raybbr
(People who still support Obama are either a Marxist or a moron.)
---
FreeRepublic.com is powered by software copyright 2000-2008 John Robinson