---
Will history be kind to Bush?
CNN ^ | June 1, 2012 | Timothy Stanley


Posted on 05/31/2012 6:58:57 PM PDT by MinorityRepublican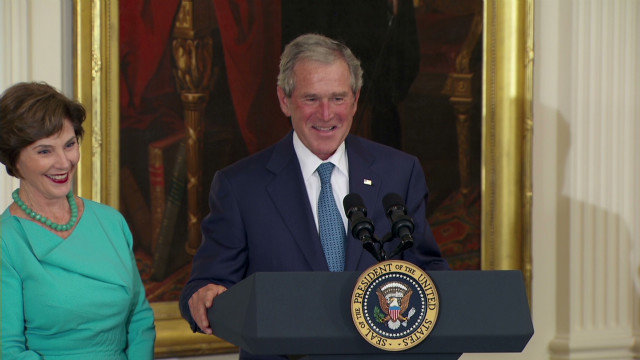 Bushes humorous return to White House
(CNN) -- Thursday afternoon, Barack Obama presided over the unveiling of George W. Bush's official portrait in the White House, a warm event that reminds us: It feels like years since President Dubya regaled the world with his famous spoonerisms. His retirement has been defined by an awkward silence. While John McCain's endorsement was trumpeted by Mitt Romney, Bush delivered his in just four words. "I'm for Mitt Romney," he shouted to a journalist as an elevator door closed between them. If, just for old time's sake, Bush had said, "I'm for Ritt Momney," it would have been perfect.
Bush's silence may be motivated by the recognition that much of the public doesn't like him. He left office with the worst approval rating for a president since Watergate. But Bush could undergo a renaissance of enthusiasm. Consider the shifting attitudes toward Harry Truman.
When he left the White House in 1952, Truman was blamed for the recession and an ugly war in Korea. His approval rate was just 31%. By 1977, Jimmy Carter was hanging Truman's portrait in the White House and the band Chicago sang, "America needs you, Harry Truman!" The switch came partly because Truman, like Bush, had a gentle, honest personality that voters looked back on with fondness. But Truman also proved prescient in his conduct of the Cold War. Bush, likewise, might seem a better and more farsighted leader in a few years time.

(Excerpt) Read more at edition.cnn.com ...
---
TOPICS: News/Current Events
KEYWORDS: bush43; bushlegacy; historians; presidents
---
Navigation: use the links below to view more comments.
first 1-20, 21-40, 41-48 next last
---
---
---
---
---
---
---
---
---
---
---
---
---
---
---
---
---
---
---
---
---
Navigation: use the links below to view more comments.
first 1-20, 21-40, 41-48 next last
---
---