~ The FReeper Canteen Presents ~
~ Remembering Our Troops!! ~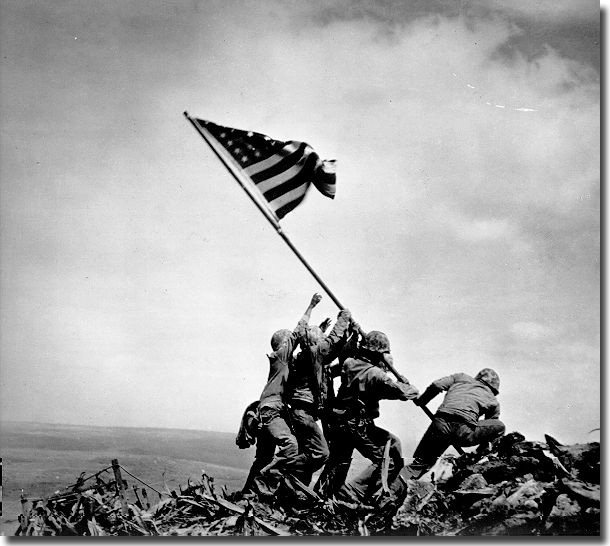 Flag Raising at Iwo Jima – 23 February 1945
Click for more story about the flag raisers.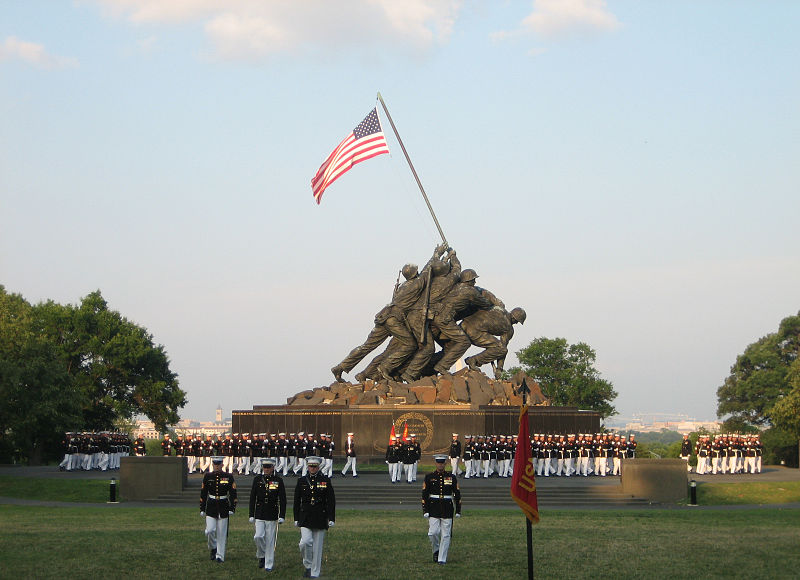 USMC War Memorial – Arlington, Virginia







Canteen Mission Statement

Showing support and boosting the morale of
our military and our allies' military
and family members of the above.
Honoring those who have served before.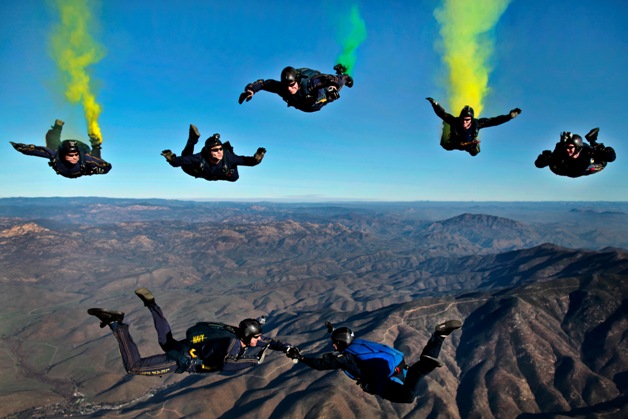 AERIAL RE-ENLISTMENT
Navy Chief Warrant Officer Keith Pritchett, lower left, administers the oath-of-enlistment to Petty Officer 1st Class Michelle Turner during an in-air reenlistment ceremony over Jamul, Calif., Jan. 19, 2012. Pritchett is the officer-in-charge of the U.S. Navy parachute demonstration team, the Leap Frogs, and Turner is a mass communication specialist. The Leap Frogs perform aerial parachute demonstrations across America in support of Naval Special Warfare. U.S. Navy photo by James Woods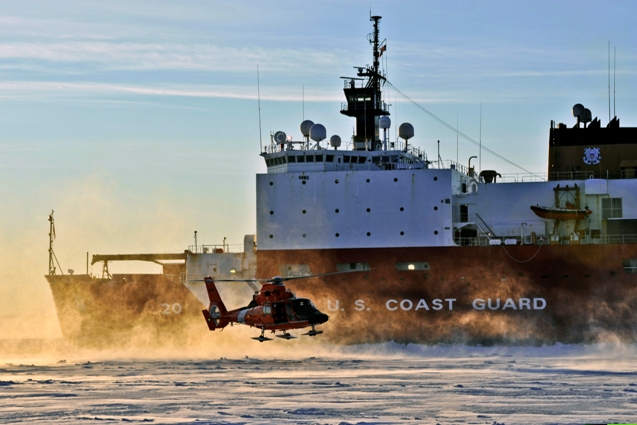 ARCTIC ESCORT
A U.S. Coast Guard MH-65 Dolphin helicopter lands on an ice sheet near Nome, Alaska, Jan. 18, 2012. The helicopter and crew traveled with the USCGC Healy as it escorted the Russian tanker Renda across the Bering Sea to deliver fuel to Nome, Alaska. U.S. Coast Guard photo by Petty Officer 2nd Class Eric J. Chandler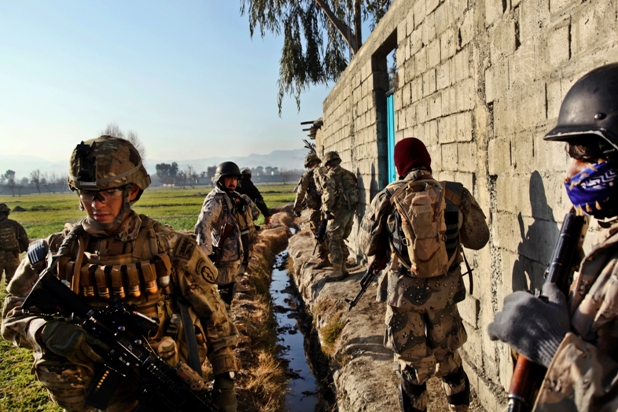 KHOWST SECURITY
U.S. Army Pfc. Eric Guzman provides security alongside Afghan Border Police officers while patrolling a village in Afghanistan's Khowst province, Jan. 18, 2012. Guzman is assigned to the 25th Infantry Division's Company C, Team Hatchet, 1st Battalion, 501st Infantry Regiment, 4th Airborne Brigade Combat Team. U.S. and Afghan National Security Forces worked together to surprise and corner insurgents with air assault missions in the villages near the Pakistani border. U.S. Army photo by Spc. Phillip McTaggart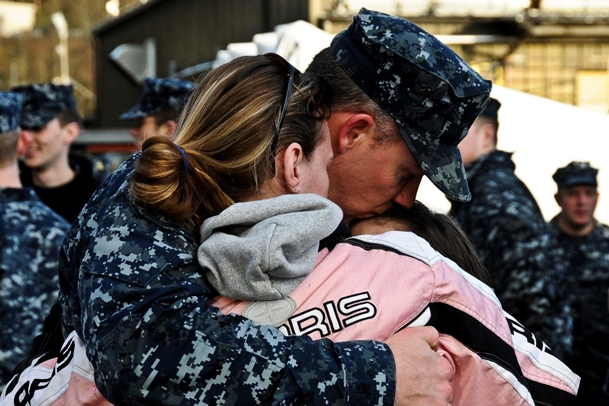 OVERDUE EMBRACE
Navy Chief Petty Officer Craig Wright reunites with his family on Naval Base Kitsap-Bangor, Wash., after returning from a strategic deterrent patrol aboard the ballistic-missile submarine USS Henry M. Jackson, Jan. 21, 2012. Wright is a sonar technician, submarine. U.S. Navy photo by Lt. Ed Early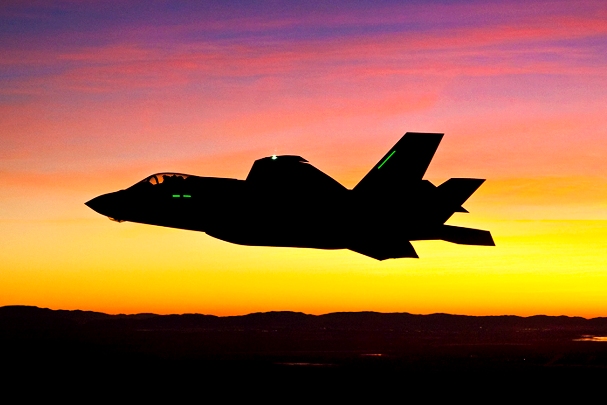 FIRST NIGHT FLIGHT
Pilot Mr. Mark Ward performs the first night flight for the F-35 Joint Strike Fighter over Edwards Air Force Base, Florida, Jan. 18, 2012. U.S. Air Force photo by Tom Reynolds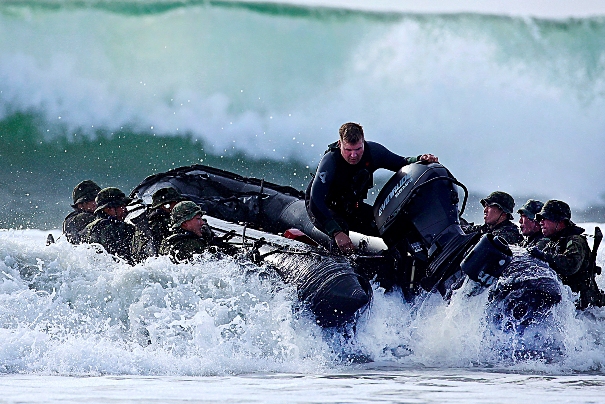 IRON FIST EXERCISE
A U.S. Marine steers a rigid-hull inflatable boat as it transports Japan Ground Self Defense Force soldiers during an amphibious training exercise as part of Iron Fist 2012 at Naval Amphibious Base Coronado, Calif., Jan. 22, 2012. Iron Fist is a three-week bilateral training event held annually between the U.S. Marine Corps and the Japan Ground Self Defense Force designed to increase interoperability between the two services, while aiding the Japanese in their continued development of amphibious U.S. Marine Corps photo by Cpl. John Robbart III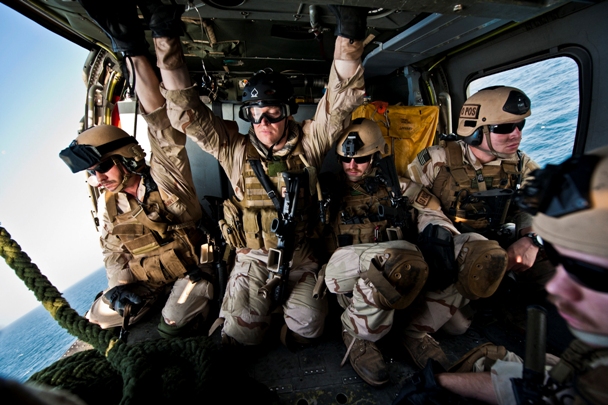 RAPPEL READY
U.S. Navy sailors prepare to rappel from an MH-60S Knight Hawk helicopter to the aircraft carrier USS John C. Stennis waiting below during a training exercise in the Arabian Sea, Jan. 14, 2012. The sailors are explosive ordnance disposal technicians. U.S. Navy photo by Petty Officer 3rd Class Benjamin Crossley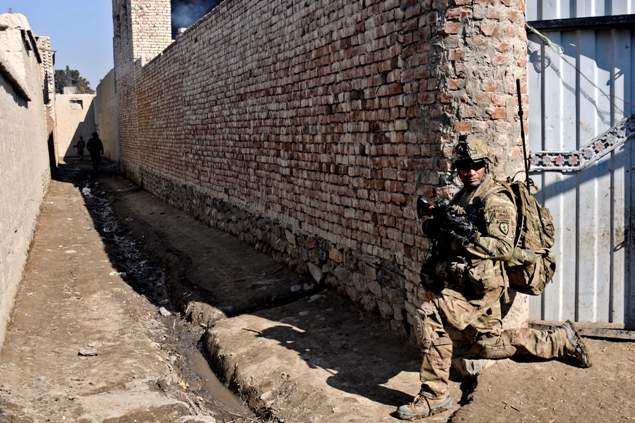 SAFE WATCH
U.S. Army Sgt. Ramon Cortez takes a knee while providing security detail during a combat patrol in Khowst province, Afghanistan, Jan. 25, 2012. Cortez is assigned to 2nd Battalion, 377th Parachute Field Artillery Regiment, Task Force Spartan Steel. U.S. Army photo by Staff Sgt. Jason Epperson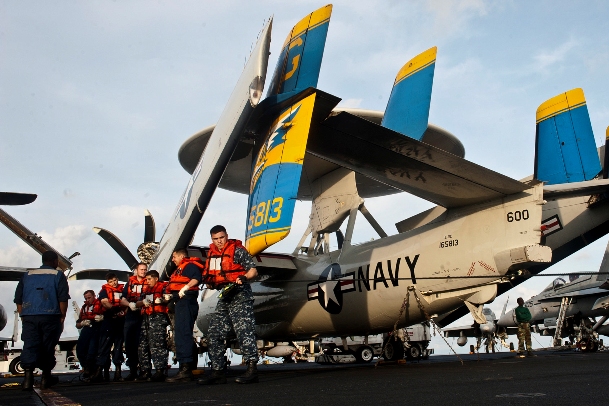 HEAVE-HO
U.S. Navy sailors heave the phone and distance line on the flight deck of the aircraft carrier USS John C. Stennis under way in the South China Sea, Jan. 24, 2012. The John C. Stennis is on a 7-month deployment to the U.S. 7th Fleet area of responsibility. U.S. Navy photo by Petty Officer 3rd Class Kenneth Abbate

Please remember that The Canteen is here to support
and entertain our troops and veterans and their families,
and is family friendly.