Q Ping - NEW THREAD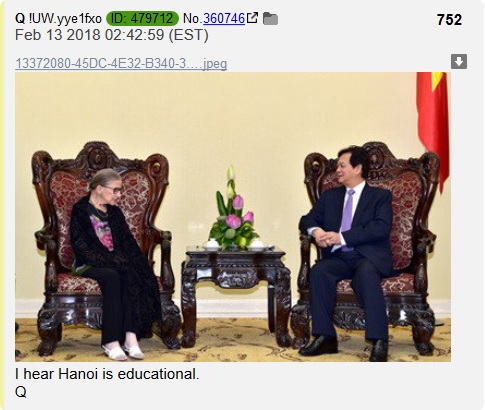 Just where is Ruth Bader Ginzburg, anyway? Did she return to Hanoi for a visit? I remember when the MSM liked to report on her......
It would be fantastic to finish the FReepathon quickly like last quarter, so FR's host and helpers could take a break from fund raising.
PLEASE SUPPORT FR, the home of our Q threads and our FReeQs! Donate Monthly, Join 300 Club, or Just Make A PROMPT Donation! Oh, and as always, consider writing WWG1WGA in the comments field. :)
Or by mail: Free Republic, LLC - PO Box 9771 - Fresno, CA 93794
If you haven't read it yet, I recommend the latest edition of The Oracle.
To view Q drops in their native format on Qmap.pub, Click Here.
The most recent Q drop is below for your convenience:
Click here for Stars and Stripes' link to the May 3rd American Prayer Vigil.
ATTENTION PRAYER WARRIORS:
Friendly Reminder: Q advises us to put on the full armor of God. Please pray for the safety and success of President Trump, his family and all who serve him. Please keep the protection and support of the Q Team, our military and all patriots in your prayers. May God protect and lead them, and speed their victory over our enemies.
I am grateful to God for all who have fought to get us to this point - may God bless them.
Please ask God to expose and crush those who harm and seek to harm children and all other patriots.
Please pray against false flags, civil unrest and any other disruptions planned for the coming week.
Please send me a private message to get on or off the Ping List.
ThankQ