---
To: Soaring Feather; WayzataJOHNN; Lady Jag; starbase; NY Attitude; tomkow6; Kathy in Alaska; ...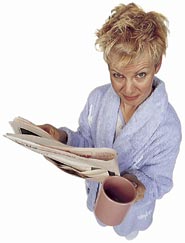 groggy in the morning greeted less by sun
than fire in the east bounding toward us
Friday nightstands gave fair warning
as we drifted off we only smiled
and said, 'of course, of course'

miffed by our indifference
they sounded the alarm
with urgency awaking us
shaken like a work day
rising angry we
bullied them down
pulled their plugs
and
attempted a return to slumber

thus instead of ready
we got caught unrested
when fiery sun came bursting through
the window and crossed the floor
it caught the dog, the foot of the bed
and burned us finally as we groaned
curses aimed at nightstands went
unheard, at least unlistened
just two nightstands
sitting smugly scowling they
will say it serves us right when we
go downstairs to make the coffee.

Jack Lovelle

32
posted on
03/10/2007 8:57:11 AM PST
by
Lady Jag
(A positive attitude will annoy enough people to make it worth the effort.)
---
To: Lady Jag
You have to be the Best Poetry Hunter of the Lair.


Really good poetry, graphic is great as well.
---
To: Lady Jag
52
posted on
03/10/2007 2:59:21 PM PST
by
NY Attitude
(You are responsible for your safety until the arrival of Law Enforcement Officers!)
---
FreeRepublic.com is powered by software copyright 2000-2008 John Robinson