---
I think what disgusted us most about this rude little vignette we witnessed, is that Cozumel is an island. The local economy depends on tourists and tourists' dollars to make it work. If you are going to make the effort to drive around to the back of the island, take up a table and view that paying customers would want (the views really are all that), the least you could do is purchase something from the proprietors of the restaurant you are taking up space in.

---
To: TheGrimReaper; RikaStrom; xsmommy
Ping - interesting event today in Coz.
2
posted on
10/26/2012 2:44:53 PM PDT
by
SeaDragon
("Life is tough ..... It's even tougher if you're stupid." - John Wayne)
---
To: SeaDragon
Much of the 3rd world (not just limited to Middle East, although I see it in spades there) has the attitude - if you are giving something for free, I will take it. As much as I can. All of it.
Reciprocity is of absolutely no concern, because I don't know you, you are not in my circle of family, or people to whom I am indebted or who have power over me.
---
To: SeaDragon
I love being on the beach at Cozumel and as I look over the water to Tulum imagine I'm Jeff Bridges and wonder how I can make it across the water and take Rachel Ward in my arms....
But, that's just how my mind works....
Tulum, The Original Beach House...

8
posted on
10/26/2012 4:30:25 PM PDT
by
Vendome
(Don't take life so seriously, you won't live through it anyway)
---
To: SeaDragon
The thing that cheers me up about this whole episode is that, being in Mexico, the chips were made with and fried in 100% pure 'manteca' (aka PORK FAT).
LOL!!!
---
To: SeaDragon
Been there plenty of times! I check out all the dives anywhere. They are much better than the chains and downtown tourist traps.
I rent a VW convertible for $35 a day while there (cruzin'), and we ALWAYS go there and to Tony Rome's. Tony has the BEST MARGARITA!
Here is step-daughter with a new "friend". They called it a "kitten"!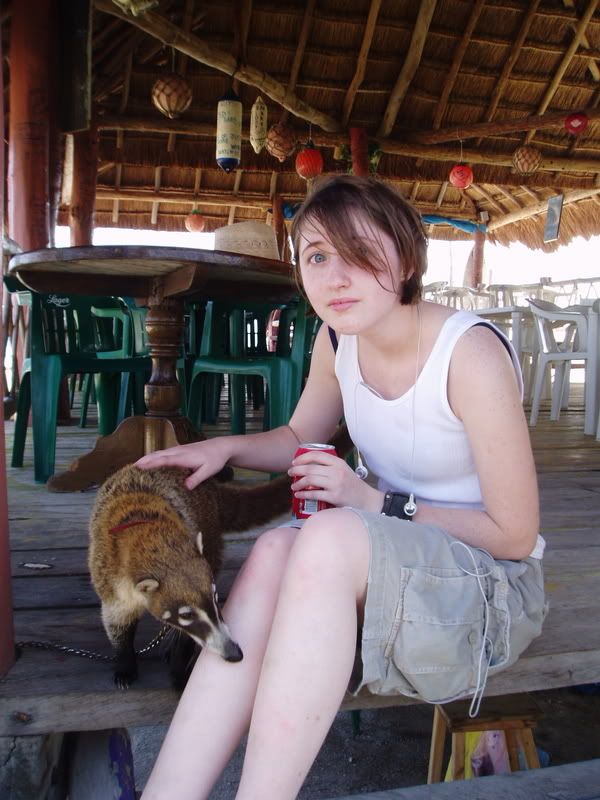 17
posted on
10/27/2012 10:38:08 AM PDT
by
WVKayaker
("Mitt Romney couldn't keep up with lies and spin of Barack Obama" - Sarah Palin 10/24)
---
FreeRepublic.com is powered by software copyright 2000-2008 John Robinson