Nothing good has come from this plague of lawbreakers violating our borders. Karl Rove was WRONG----they came from hellholes whining about a "better life".....but that was a ruse. They DID NOT embrace democracy once they had a taste of it as Rove famously said. On the contrary, they are a national security threat-----and are conspiring to tear down democracy---and their home countries are helping them. Read on:
======================================
News reports say Mexico, Argentina, Brazil, Chile, Colombia, Costa Rica, El Salvador, Guatemala, Honduras, Nicaragua and Peru and are conspiring to collude with The Anti-Defamation League, The American Civil Liberties Union, the Southern Poverty Law Center and several other civil and immigrant rights groups to infringe on US sovereignty to make laws as we see fit. The co-conspirators filed a federal class-action lawsuit against Georgia's law and are now asking a judge to halt the measure pending the outcome of their case.
===========================================
They only look like they're mowing our loans and flipping burgers in fast food joints. The main occupation of these hyphenated-separatists is creating chaos to divert attention from the Marxist Third World they are building on US soil.
These anti-American criminals consider the United States an invader state---a foreign power imposed on Third World hellholes. They arrogantly refuse to refer to the US by its legal name. The US is known by Mexicans as el Norte, ("the North"), el Otro Lado ("the Other Side"), or Gringolandia (the "Anglo Entity").
Freud would have a field day with these people----that "warrior" mentality evidences a distinct lack of self esteem. They actually think we are "frail white people." That's what the Japanese thought. The same mistake Mexicans made with Texans. The disturbed left's identity politics with its propensity to separate and balkanize America moves ahead apace with the era of Obama. You remember Obama? The post-racial president that was supposed to "heal" America? Yeah, that one.
=============================================
Phoenix Latinos will protest in Atlanta
"We are taking over this land and anybody who doesn't like it should go back to Europe"
The Examiner | May 20th, 2011 | Miguel Perez
FR Posted Sat, May 21, 2011 by moonshinner_09
Georgia won't be part of the proposed Latino homeland of Aztlán, but Latino civil rights leaders from Phoenix will march and protest in different parts of Atlanta next week for immigration laws they view as unjust. "Latinos won't stay at the back of the bus anymore. We are taking over this land and anybody who doesn't like it should go back to Europe," says Jorge Serrano of Take Back Aztlán. "Racism should not be tolerated anymore in this country. Trying to get rid of Latinos is nothing but racist," says Cecilia Maldonado of Chicanos Unidos Arizona, who will be meeting with Latino civil rights leaders in Atlanta to propose national boycotts. (Excerpt) Read more at examiner.com ...
================================================
Translated from the Espanol------Third World federales are salivating over looting the US treasury. Can't wait to get their hands on the loot.
=============================================
Just here for a better life (sob).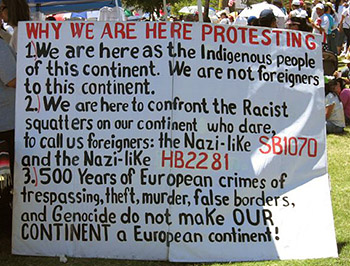 WAITING TO GET THEIR ORDERS FROM MEXICO
Reconquista shock troops at Phoenix Capital protest, May 29, 2010.
2009---TEXAS DREAM ACT DEMONSTRATION
In secret enclaves, they conspire to destroy the USA from within.

FREEPERS GET THIS VOTER FRAUD INITIATIVE STARTED IN YOUR STATE ASAP:
Usually each state's Secy of State handles voter irregularities. Send letters to names on the voter rolls---requesting proof of citizenship, place of residence and SS #---advise that those who do not present proof will be stricken from the rolls.
=================================================
ID SUGGESTIONS---what to request---what not to request. Each state might establish different criteria.
<><><><> Primary ID---Registered voters might be required to show at least ONE of the following documents:
Foreign passport with INS or USCIS verification and valid record of arrival/departure (Form I-94)
Foreign passport with INS or USCIS verification and valid Form I-551 stamp
Current alien registration card (new Form I-551) with expiration date and verification from INS or USCIS
Refugee travel document (Form I-571)
US re-entry permit (Form I-327)
Valid I-94 stamped "Refugee," "Parolee," "Asylee" or "Notice of Action" (Form I-797 approved petition) by INS or USCIS
Valid I-94 with attached photo stamped "Processed for I-551…" by INS or USCIS
Current photo employment authorization card (Form I-688B or I-766). Must be presented with valid Social Security card.
Current alien registration card (old Form I-551) without expiration date and with INS or USCIS verification
Photo temporary resident card (Form I-688)
Civil marriage, domestic partnership or civil union certificate issued by the municipality or state in which the ceremony occurred. Please note: Photo copies are not acceptable. Certificates issued by religious entities are not acceptable
Order or decree of divorce, dissolution or termination
Court order for a legal name change, signed by a judge or court clerk
Current US military dependent card
US military photo retiree card
Valid firearm purchaser card
US college photo ID card with transcript
Valid federal, state or local government employee driver license
Valid federal, state or local government employee photo ID card
US military discharge papers (DD214)
FAA pilot license
Current/expired less than one year non-digital PHOTO driver license
Current PHOTO driver license from any state or the District of Columbia
Bank statement or record
ATM card with pre-printed name and applicant's signature. (ATM card and bank statement cannot be submitted together.)
Current health insurance card, prescription card OR Employee ID card with printed pay stub
State professional license
Public assistance card with photo (also known as a Social Services ID card)
High school diploma, GED or college diploma
Property tax statement, bill or receipt issued by a municipality
Veterans Affairs universal access photo ID card
<><><><> Proof of address--which may be, but is not limited to, ONE of these:
Utility or credit card bill issued in the past 90 days that shows your name at your current address. Note: Mail addressed to P.O. boxes not accepted as proof of address
Checking or savings account statement from a bank or credit union, issued in the past 60 days
High school or college report card or transcript containing address, issued within the past two years
Original lease or rental agreement showing name as the lessee or renter
Property tax bill, statement or receipt from the past year
Any letter or correspondence (including tax bills) received from the IRS or state tax office in the last year
First-class mail received from any federal, state or local government agency in the past six months
<><><><> SS # submitted must match birth name and date on record w/ SS Admin database