---
---
To: beacon street bandit
If Mr. Obama wins The White House, it will be like Jimmy Carter's second term - only worse.
God help us.
---
To: beacon street bandit
Bush's Fine Speech, and Obama's Fine Whine
President Bush Blasts Appeasers: Hussein ObamaMessiaHamas Campaign Goes Ballistic!
Hysterical Whiner, Hussein ObamaMeshiaHamas cries/moans and screams that Bush falsely accuses him of appeasement and whines, "I'm not an appeaser!"
Obama: "I will cut investments in unproven missile defense systems, ....I will not weaponize space... I will slow development of future combat systems... I will institute a 'Defense Priorities Board' to ensure the quadrennial defense review is not used ..."
Then, there will be peace in our time without the evil republicans causing war!
My change is good for Muslims, Islamofascists, Black Racists, and Chrislims. $crew the Christians and real Jews!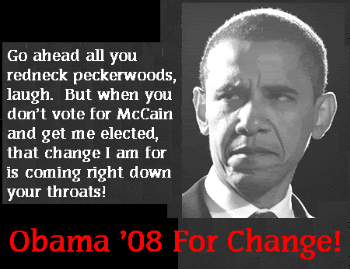 3
posted on
05/19/2008 12:17:48 PM PDT
by
Grampa Dave
(Hussein Obama"Hama's" Pastor, Jeremiah Wright: "God Damn America, U.S. to Blame for 9/11")
---
To: beacon street bandit
Obama also told David Brooks
"There are rarely purely ideological movements out there."
I must question the 'wisdom' of that statement.
I do believe pure ideology is the driving motivation.
Wisdom is the ability to know the difference between good and evil.
4
posted on
05/19/2008 12:18:39 PM PDT
by
griswold3
(Al queda is guilty of hirabah (war against society) Penalty is death.)
---
To: beacon street bandit
Appeasement names our enemies Friend
In our country a growing trend
As we sleep its' forces gather
Confused minds babble and form a lather
Our grave a little deeper is found
And we are not heaven bound
Appeasement sings its terminal tune
All conscious see the future as a pock-marked Moon
---
FreeRepublic.com is powered by software copyright 2000-2008 John Robinson