---
Announcing: OUTBACK KODIAK.COM: delux excursions to Alaska
JEFF EPSTEIN ^ | JANUARY 12, 2005 | JEFF EPSTEIN


Posted on 01/12/2005 4:56:50 PM PST by CHARLITE

Folks: I am posting this notice for my friend, Jeff Epstein, who lives in Connecticut, and headed up the swiftvetsfortruth group who did such a great job defeating John Kerry during the election.


Just a heads up to inform you of a "non-political" business venture that I've recently initiated. As many of you know, I've dedicated my summers, over the past twenty-three years, to exploring Alaska and introducing numerous wilderness-bound adventurers to the state's natural beauty and abundant resources. These rewarding experiences prompted me to organize a tour company specializing in world-class fishing and/or bear-viewing opportunities on a broader scale.

Through my contacts, fishing rights to a highly restricted area teeming with trophy-sized salmon and trout have been secured. This particular region, due to an abundance of local wildlife, provides extraordinary opportunities to photograph brown bear, eagles and other species in their natural surroundings.


At this juncture, we have a limited number of trips available for the 2005 season. Rest assured that I am personally involved with coordinating all aspects of each adventure and will provide an unprecedented level of customer service to each and every one of our clients. All trips have been organized on an "all-inclusive" basis with top-rated table fare. .


I would sincerely appreciate having this message and the following link dispersed throughout your address books.

Your assistance with this matter is sincerely appreciated. Best wishes for a happy, healthy and prosperous New Year.


Respectfully,
Jeff Epstein


Personal note from Jeff:


"I've been going up and spending time in the Alaskan wilderness, on an annual basis, since 1982. My focus always involved bear photography. I had friends that moved to Alaska from my hometown. I used to fly up and see them before departing on wilderness adventures. You see, I didn't settle down and get married until my 41st birthday so I had the freedom to live my dreams for a while. Not as a free spirit, however, since I committed 80- hour weeks to the mortgage business during the rest of the year.
Jeff

---
TOPICS: Travel
KEYWORDS: alaska; championfishing; grouptrips; jeffepstein; kodiak; wildlife



---
To: CHARLITE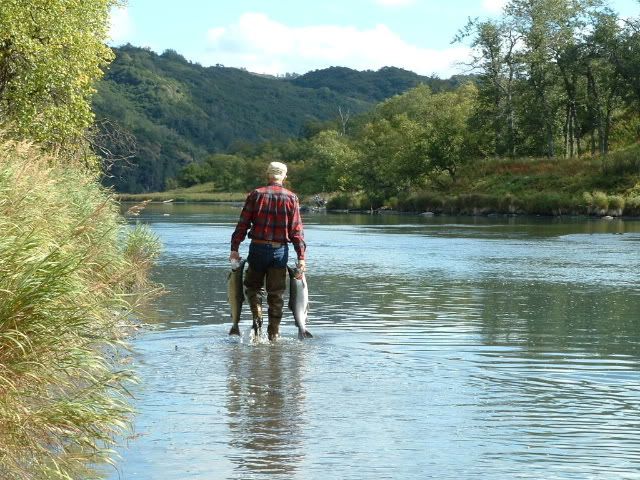 Took this pic of my dad last year in Kodiak. My dad says God gave us fingers to tie flies, and legs to wear waders. We took a few fish, and left nothing. Hope others do the same and enjoy.

---
To: cabojoe
Thanks for your reply and the stunningly beautiful photo of "somewhere in Kodiak, Alaska." I just received the following from Jeff Epstein: Please read below:
Just one thing - I was the media relations director for Vietnam Vets for the Truth and personally broke the "Museum Photo" story. I reported to Capt. Larry Bailey, Ret. Larry was president of VVT and previously served as commander of the Navy SEAL school. It was working with Jerry Corsi on the photo story that prompted my inclusion in "UNFIT FOR COMMAND>/u>" . I can't thank you enough.

---
To: CHARLITE
We live on the upper Yukon; haven't had a plane in for over a week. It was minus 51 F two nights ago with 25 mph winds. You can't stand outside for over 15 minutes no matter what you have on.
I respect everything the Vet's group did to enlighten the American public to what kind of traitor was running for president and 30 some years back I too received a letter telling me to present myself and submit with a big X by nonvolunteer. Thanks for everything you accomplished.
Great place to call home rather than play tourist at. Trouble is people that live here want economic development like mining that produces something, not creation of parks that stop all economic activity. People here hate seeing the tour companies buying the dem & rep politicals off; closing lodges that have been in families for 70 years; only to later build huge tourist lodges on same site. People hate seeing the feds allowing the ocean fleets to take 95% of fish and still shut down local subsistence fisherman that take maybe 1%.
Most of the tourism money benefits people outside of Alaska. You quickly realize this if you live in village that has its share of tour buses coming thru. Any money to be made; the tour company has it tied up.
I'm glad to see people enjoying the wonders of this great country up here; my home. I guess I hate seeing the govts constant progress towards depopulating the rural areas by denying Alaskan's the ability to make a living in ways they always have in the past and could be doing so today. Yet it seems the future is just headed in that direction and the tourists, they come.

---
FreeRepublic.com is powered by software copyright 2000-2008 John Robinson