I am a published Second Amendment writer, among other things, and the author of Salem the Soldier's Homepage.
My site has been retooled to deal with the War on Terror and Islamic extremism, from a spiritual, theological, and political perspective.

Although I have not been active on Free Republic in recent years, I stop by regularly to read the news.

I can be found on the web at
www.SalemTheSoldier.us







Be advised: At Free Republic, we BLESS THE NATION OF ISRAEL!


"Comfort ye, comfort ye my people, saith your God. Speak ye comfortably to Jerusalem, and cry unto her, that her warfare is accomplished, that her iniquity is pardoned: for she hath received of the LORD's hand double for all her sins." (Isaiah 40:1-2)

"And the LORD spake unto Moses, saying, Speak unto Aaron and unto his sons, saying, On this wise ye shall bless the children of Israel, saying unto them, The LORD bless thee, and keep thee: The LORD make his face shine upon thee, and be gracious unto thee: The LORD lift up his countenance upon thee, and give thee peace. And they shall put my name upon the children of Israel, and I will bless them." (Numbers 6:22-27)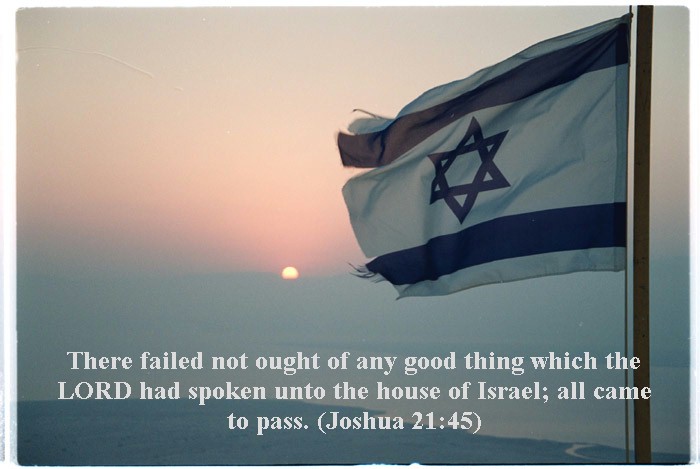 I run the "Christian Supporters of Israel" ping list at Free Republic! Let me know if you want on
as we contend with the threat of terrorism against the Promised Land -- and watch as G-d uses the IDF to crush it.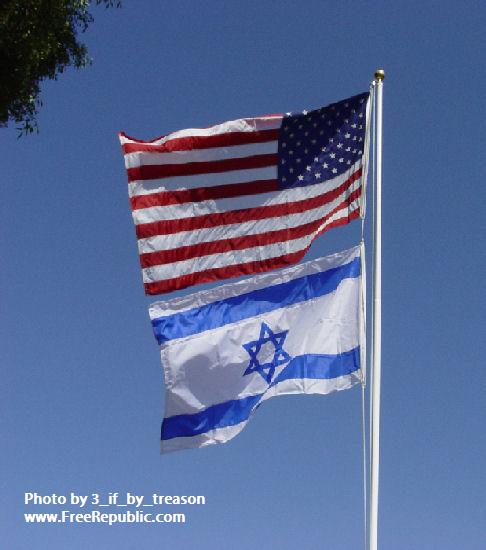 We support the work and outreach of Jewish World Review!





My Olde FReeper pal "Alouette" is currently on hiatus. She always had a "special" way to make us laugh!
So some other FReepers and I made this graphic in her honor!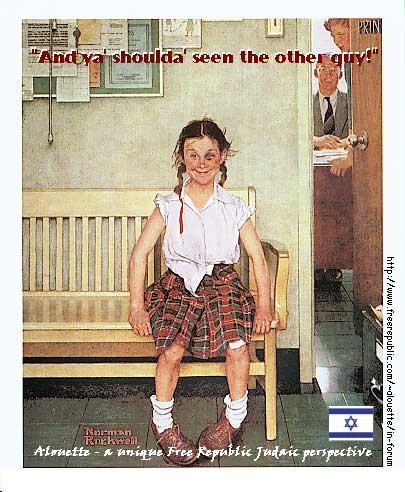 "The appropriate way to memorialize the Holocaust is not by building museums, but by building schools, synagogues and yeshivos so that the next generation of Jewish people will be firm in their faith and observance. Not another freakin damn shrine to the dead. ... Anti-Semites love Holocaust memorials. They look at the exhibits featuring piles of dead Jews and feel great satisfaction. " ~ "Alouette"  [Permalink]

"Globalism is increasingly more dominant than national identity. It may be that the Israeli-Arab conflict deters some Jews from identifying themselves as Jews. But all this and more is nothing compared to the historical journey over thousands of years in which we overcame all obstacles. In the current era, when we have a state, we are disconnecting? We all have a responsibility to future generations. Any one of us who stops being Jewish, or whose children stop, is breaking a historical chain of 3,000 years. He has personal responsibility, a national conscience. How can he so lightly break that chain, by raising children who have no basic knowledge of Judaism, who never came to Israel, who never entered a synagogue or saw a Sefer Torah? That Sefer Torah preserved the Jewish people for 3,000 years. Thanks to it, the Jewish people did not disappear. And people are prepared to lightly disconnect from it." ~ President Moshe Katsav [Permalink]






Judy Bartlett, aka FReeper JudyB1938, passed into eternity peacefully on May 12, 2006. She was one of the very first people I met on the Internet, and we maintained a close relationship over many, many years. God bless her and welcome her mightily into His gracious presence. A tough ol' babe, outrageous and funny, she was a Christian and a wonderful witness to me and everyone she came in contact with out here in cyberspace.

We miss you terribly; yet time is short, Judy. So see you soon....






•"American Rewakening"•
The year 2005-2016 project at Salem the Soldier's Homepage. Throwing gasoline on the fires of a
Holy Spirit revitalization in American Christian culture, in the wake of the War on Islamic terror and their stated bid to "exhaust" us militarily, politically, culturally, and most importantly—spiritually!
05 January, 2005






A collection of resources, in response to the World Trade Center and Pentagon attack on America, for the American Christian Church leadership and ministerial community. We walk the spiritual wall around the nation and the Christian community therein. That wall has now been breached!




www.DanielPipes.org
Authoritive commentary on the Middle East

[And because one billion Islamic adherents are not going to give up their religion.]
[Although they should....]

Recommended Reading By Various Authors:




Berkley Breathed is the cartoonist who wrote Bloom County for years. He then retired it. He has been doing a Sunday strip called "Opus." Breathed did a series of strips dealing with radical Islam, and of course, was attacked by the perpetually offended Islamist radicals we have all become familiar with.

I post them here in support of Berkley Breathed. I was always a diehard Bloom County fan.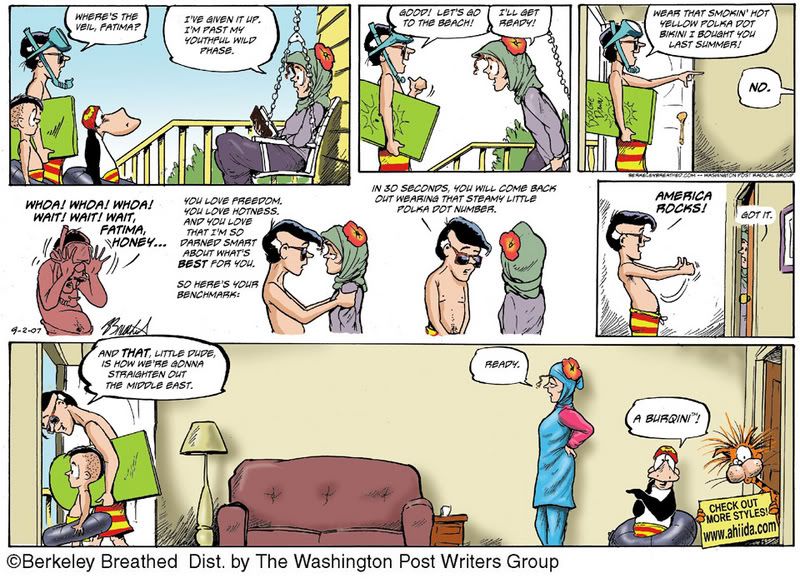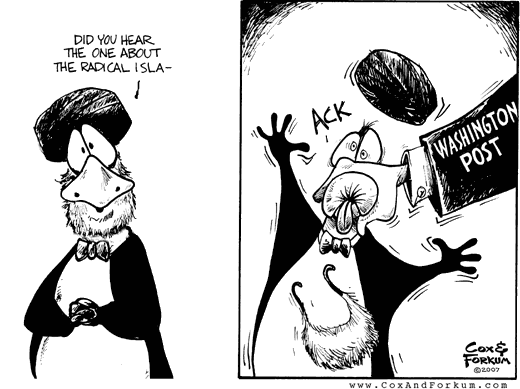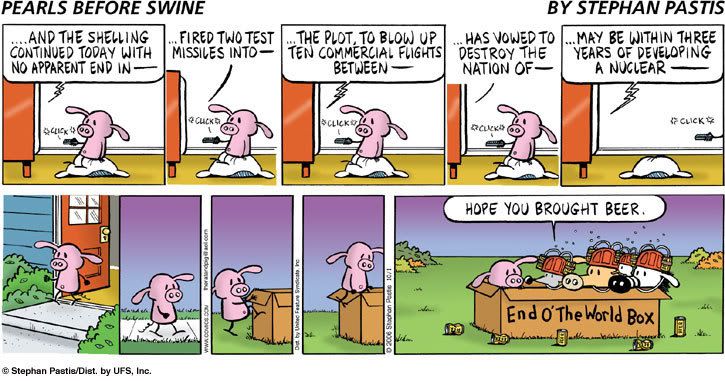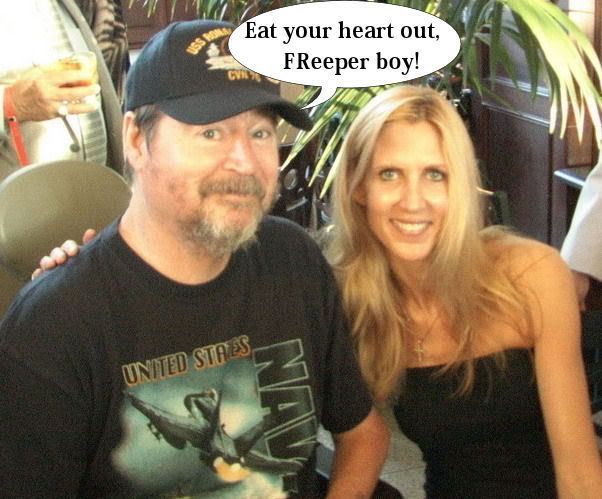 Free Republic owner Jim Robinson with Conservative columnist and speaker Ann Coulter.

FReeper Syncro directed me to This Thread when someone else asked me about the origin of this picture
of Jim Robinson and Ann Coulter. It'll keep any FReeper guy in grins all day long.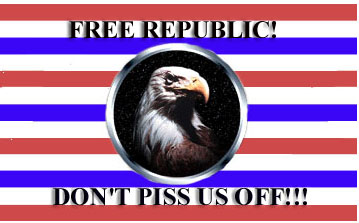 Or Mail your check to:
FreeRepublic , LLC
PO BOX 9771
FRESNO, CA 93794






The Federalist is the Internet's Journal of Record for the conservative revolution inspired by Ronald Reagan -- a revolution waged by the American people against the prospect of a tyrannical government that threatens the very liberty that gave it rise. The Federalist is an instrument for the dissemination of current and historic conservative thought for the plurality of Americans who uphold the most basic tenet of our Republic, "... that all men are created equal, that they are endowed by their Creator with certain unalienable Rights, that among these are Life, Liberty and the pursuit of Happiness."


The Federalist is an advocate of individual rights and responsibilities as ordained by God and established in the governmental context framed by our nation's Founders in our Declaration of Independence and its subordinate guidance, our Republic's Constitution, as explicated by The Federalist Papers. We believe that role for our central government, as defined by The Federalist of 1787, was, and remains the correct role -- but the constitutional federalism our Federalist Founders established was grossly violated in the 19th century by Abraham Lincoln, and what was left of federalism in the 20th century was largely dismantled by Franklin Roosevelt and Lyndon Johnson. The "central government" defended in the Federalist Papers and the Constitution as ratified in 1787 (and affirmed by Ronald Reagan's executive order on Federalism) bears little resemblance to the "federal government" today.


Maintaining an Internet presence since 1997. Everything mainstream Evangelical Christianity is afraid to deal with head on and grapple is dealt with here, in collaboration with many other organizations and individuals. Law enforcement, gun control, abortion bombers and militias, militant "christian" cults, terrorism and the truth about Islam, et.al. Stop by sometime.