One of the Good Guys...
For those who have spent any time on The Dose, you will recognize a positive voice, a supporter of our president and an all around 'NICE GUY". You will see though there is a lot more to our featured guest today. Please join me in recognizing our very own MJY1288.



MJY1288

MJY heard about FreeRepublic on the radio and lurked for many months, finally signing up shortly after the 2000 election mess. If you ever want to track him down, just visit the Dose on any given evening.
My favorite thread is "A day in the Life" because I enjoy all the positive people who visit it, and because of Rintense's devotion to it. A very positive thread
He freeps from what he affectionately refers to as "THE DUNGEON". My question is did he straighten it up for this picture???
Although MJY has not participated in a lot of outside activist activities, he did attend a White House freep in August of 2001 which he thoroughly enjoyed. He also designed and distributed the now famous "you should thank me" bumper sticker shown above which many of our freepers proudly display on their automobiles.
MJY also created a beautiful tribute to September 11th which is linked to his business homepage. He purchased Joe's Auto Body Shop, where he started working at age 15, from his cousin Joe in 1988. He designed an awesome website to promote his business as well as his love of country. MJY's Homepage
Family has played a strong and positive influence on MJY's life. His father was career Army and worked at Johns Hopkins Applied Physics lab helping to design the fuse on the first Nuclear bomb. He was a staunch conservative and helped shape his political beliefs.
I grew up in a home where my father was very strict. All of my 7 brothers and sisters were taught at a young age the meaning of responsibility and structure. My mother was the glue that held it all together. We grew up very poor but never realized it until we got older and saw how others lived.
In addition to his brother, cousin Joe lived with the family from the time he was an infant and was a very strong influence on MJY's life.
MJY, Cousin Joe and Brother Joe, 1968
As a young kid I was very proud of my dad when he would come home in his military uniform. I watched my older brother leave for Vietnam as a volunteer. I watched my cousin, Joe, volunteer as a Marine for Vietnam. My Brother served on the U.S.S. Mulaney in the Navy and came home unhurt., Joe, who was like a brother to me, volunteered to be a forward observer and stepped on a land mine on Halloween day 1968, was badly injured, but survived. I prayed everyday for them while they were gone and to watch those unbathed hippies protest, to this day, boils my blood.
MJY recalls an incident after his cousin was shipped to Bethesda Naval Hospital after spending eight months in a hospital in Guam.
We all piled up in the family station wagon with my dad driving and drove over to the hospital, sneaking Joe out of there on a Saturday afternoon. Outside the hospital, there were a bunch of protestors calling injured Marines baby killers. I looked at my highly decorated father who spent 21 years of his life in the Army, looked at my older brother who just got home from a 4 year hitch in Vietnam and my badly injured cousin who was flat on his back in the back of the station wagon and it wasn't hard to figure out what side of the argument I was on. The Vietnam War impacted our family and me very much.
MJY's father passed away on March 30th, 2002 receiving full military honors.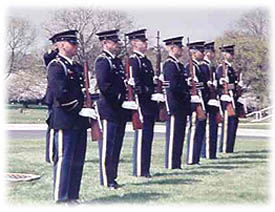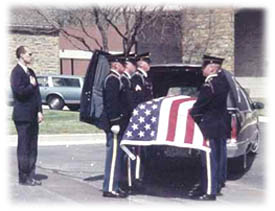 As sad as I was, I was very proud of my dad and very impressed by the military showing my Dad such an honor. I will never forget it.
MJY is happily married, the father of an adult daughter and proud grandfather of two beautiful grandchildren.
Grandson's Michael and Zachary 15 month ago
MJY also used to be used to be a professional drag boat racer. In 1992 he was the world champion in his class (Super Pro Flat) in the United States Drag Boat Association and was a 5 time Champion in the Delaware Valley Boat Racing Association. You can find pictures of him racing on his FR Homepage.
It is a common statement on FR that you can tell the character of a person by their attitude and treatment of their pets. MJY passes that test too having a strong love for their dogs.
Lilly and Bud
My wife and I love dogs We have always had two dogs, mine and hers. I am a Lab and she is a mutt lover. My first Lab, Bud lived for 14 years. The hardest decision I have ever made was when I had to put him down. This dog was my faithful friend. I had him cremated and his remains are in a sealed wooden box right next to my computer in the "Dungeon" with his name engraved and my favorite picture of him on it.. Bud and Lilly, my wife's dog at the time, were the best of friends and when Bud died I truly believe Lilly was heartbroken…she was never the same after that. My wife and I can't talk about Lilly and Bud without wanting to cry.
MJY now has a Golden, Maggie, who he says is just as faithful as Bud and his wife has a Rat Terrior, Sassy, who is also a very sweet and loving dog.
His wife is also a big time Turtle collector. They have a huge turtle sanctuary on their property, including an addition on the end of their home that provides them sanctuary in the winter.
My wife has well over 40 turtles and tortoises and we take in injured turtles who need our care. I can patch their shell damage and she is incredible with their health needs. In fact…she is an expert in their care.
Finally, on politics MJY says that Ronald Reagan did more to change his belief in this country than any other, although he states that George W. Bush is quickly gaining on him. In his own word:
I see our country being led by a good man who loves this country and is in office to serve this nation and not himself , I don't always agree with him, but what the hell, I don't agree with anyone all the time. I think George W. Bush has a good chance of being one of the best ever. I find his willingness to express his belief in God very refreshing and I thank the Lord very often that he is our president in these tough times. The future is in good hands with George W. Bush leading this country
A man who has a strong belief in God, a man who has strong conservative values, a man who has a love of family, country, animals. It is a pleasure to spotlight MJY1288 - "one of the good guys".
MJY1288, You ARE one of FR's Finest!