---
Harsh Punishments for Poor Mourning (North Korea - The Beatings Will Continue Until Morale Improves)
Daily NK ^ | 2012-01-11 | Choi Song Min


Posted on 01/13/2012 3:37:19 PM PST by DogByte6RER

Harsh Punishments for Poor Mourning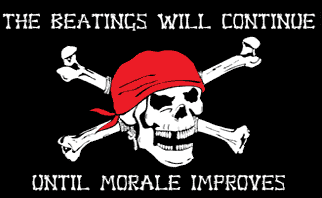 The North Korean authorities have completed the criticism sessions which began after the mourning period for Kim Jong Il and begun to punish those who transgressed during the highly orchestrated mourning events.
Daily NK learned from a source from North Hamkyung Province on January 10th, "The authorities are handing down at least six months in a labor-training camp to anybody who didn't participate in the organized gatherings during the mourning period, or who did participate but didn't cry and didn't seem genuine."
Furthermore, the source added that people who are accused of circulating rumors criticizing the country's 3rd generation dynastic system are also being sent to re-education camps or being banished with their families to remote rural areas.
Daily NK earlier reported news that criticism sessions were being held at all levels of industry, in enterprises and by local people's units starting on December 29th, the last day of the mourning period. A source said at the time that the central authorities had ordered the sessions to be completed by January 8th.
The North Hamkyung source commented of the sessions that they "created a vicious atmosphere of fear, causing people to accuse 'that young upstart' (Kim Jong Eun) of preying on the people now that he has taken power."
Along with criticism sessions, the authorities also turned up the heat on efforts to idolize Kim Jong Eun immediately after the mourning period ended, something which has yet to let up. "Every day from 7am until 7pm they have vehicles for broadcast propaganda parked on busy roads full of people going to and from work, noisily working to proclaim Kim Jong Eun's greatness," the source explained.
The intense propaganda is said to be taking its toll on the people as well, with the source commenting, "People in factories and schools, regional and ward Party members, members of the Youth League and the Union of Democratic Women are all being made to study the Joint New Year's Editorial and the greatness of Kim Jong Eun in the morning and afternoon, with the sessions packed so tightly together without a break that people are just exhausted."
The source even revealed that public trials are being employed without regard for the frigid weather to judge people who attempted to leave North Korea during the mourning period, either to defect or to smuggle, as well as those discovered using mobile phones to make calls out.
While it has not been possible to verify the public trial claim, earlier the authorities did order the military to shoot anyone who attempted to defect during the mourning period and eliminate their family, so it would not be surprising. The source agreed with earlier testimony stating that while it is usually possible to escape punishment during such crackdowns with bribes, it is much more difficult to do so now.

---
TOPICS: Crime/Corruption; Culture/Society; Foreign Affairs; News/Current Events
KEYWORDS: axisofevil; bigbrother; commiepigs; communism; dearleader; kimjongil; kimjongilmourners; kimjongun; liberalmonsters; lifeinhell; mourning; northkorea; pyongyang
---
---
---
---
---
---
---
---
---
---
---
---
---
---
---
---