---
To: Mr. K; SeekAndFind; SunkenCiv; blam
Inscription by the Caliph Muawiyah in 662 AD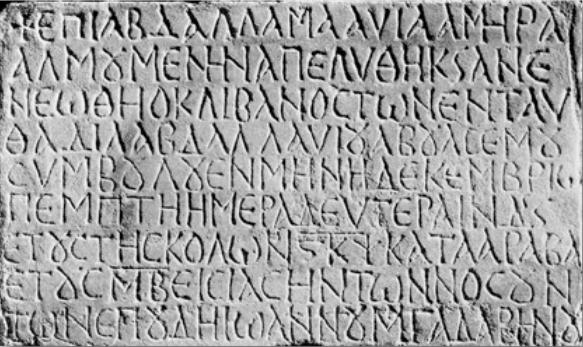 Note that it
starts with a cross
The translation is

In the days of the servant of God Muʿāwiya (abdalla Maavia), the commander of the faithful (amēra almoumenēn) the hot baths of the people there were saved and rebuilt by ʿAbd Allāh son of Abū Hāshim (Abouasemou), the governor, on the fifth of the month of December, on the second day (of the week), in the 6th year of the indiction, in the year 726 of the colony, according to the Arabs (kata Arabas) the 42nd year, for the healing of the sick, under the care of Ioannes, the official of Gadara.

Muawiyah is not called Caliph (Khalifat) but comander of the faithful -- only later do Muslims call him Caliph
There is no mention of Muslims, the Qur'an or Muhammad! Otherwise every Muslim monument refers to "In the name of Muhammad"
Early Islamic coins
Note that they have a Cross on them! Yet the Qur'an says They did not slay him, neither crucified him" (Qur'an 4:157)
Muslims do not believe that Christ died (he was "replaced") or rose from the death.
Yet these coins also have the word muhammad so "Let him be praised in the name of God"

5
posted on
05/16/2018 11:35:49 PM PDT
by
Cronos
(Obama's dislike of Assad is not based on his brutality but that he isn't a jihadi Moslem)
---
To: Cronos; SeekAndFind; Mr. K; blam
Thanks Cronos.
Did Muhammad Ever Really Live? by Perdogg -- "A number of Islamic associations have put a quick end to their collaboration with a professor -- and trainer of people who are supposed to teach Islam in German high schools -- who has expressed his doubt that Muhammad ever lived. Islam scholar Michael Marx spoke with SPIEGEL ONLINE about what lies behind the debate and the historical person of the Prophet." [2008]
Zul-Qarnain - What is the argument?by Jochen Katz (not on FR) -- [snip]I have never claimed that Zul-Qarnain *is* the historical Alexander the Great. I don't know why your move to agree with me in this is considered a rebuttal... The argument is then that the Qur'anic story is clearly taken from the legends about Alexander. There are many many details of the Qur'an account which are nearly verbatim to be found in the Alexander legends. Conclusion: Zul-Qarnain clearly is the Alexander the Great of the legend stories. And because the Qur'an presents the material from the legends as if this were history, it shows that Muhammad could not distinguish between legends and history when he incorporated this material in the Qur'an. This is evidence that the Qur'an is not of divine origin.[/snip]
6
posted on
05/17/2018 10:34:49 AM PDT
by
SunkenCiv
(www.tapatalk.com/groups/godsgravesglyphs/, forum.darwincentral.org, www.gopbriefingroom.com)
---
FreeRepublic.com is powered by software copyright 2000-2008 John Robinson