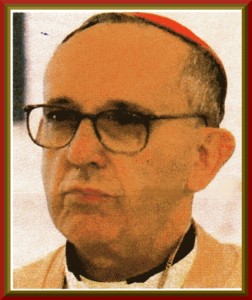 He is known for his austerity, and thus, probably the reason he chose the name of "Francis". I find it interesting that he was picked during the month of St. Joseph, and that he was elected on the 13th, the number associated with Fatima. Furthermore, he will be installed on the Feast of St. Joseph. That bodes well. Certainly the Abbe de Nantes would have rejoiced at the selection of our next Holy Father. I am hopeful. Considering the other possibilities, I was relieved. I was of the opinion that the ones favored by trads, Ranjith and Burke, did not stand a chance.
The Argentinian Cardinal Jorge Mario Bergoglio, a Jesuit, is described as being reserved, timid, and laconic and austere. The CRC of January 2003 wrote that when he was made Cardinal in 2001, Argentinians initiated fundraising efforts to fly to Rome for the ceremonies of his receiving the red hat. Bergoglio ordered the people to stay home and to distribute the monies to the poor. He preferred to celebrate with Lenten austerity, practically alone. I quote from the CRC: "He has always lived this way. Since he was made archbishop of the Argentinian capital, the luxurious residence next to the cathedral has remained empty. He lives in a nearby apartment, together with another bishop, old and ailing. In the evening, he himself cooks for both of them. He rarely drives, getting around most of the time by bus, wearing the cassock of an ordinary priest."
Though living with simplicity and having sympathy for the poor, he rebuffs Liberation Theology. The article continues: "…[H]e is not the type to compromise himself for the public…instead of giving a learned homily on social justice to the people of Argentina, reduced by hunger – he told them to return to the humble teaching of the Ten Commandments and the Beatitudes. ' This,' he explained, 'is the way of Jesus.'…He is a Jesuit of the old school, faithful to St. Ignatius."
For me, I find it most welcome to know that he does not like to travel, and that as archbishop and Cardinal, he only flew to Rome when summoned.
In view of his abhorrence to being in the Vatican bureaucracy, I wish I could have seen his reaction when the Cardinals selected him pope. He is quoted as once having replied to the possibility of being appointed to an important dicastery by saying, "Please, I would die in the Curia." It was also said that after the death of John Paul II, Cardinal Ratzinger as well as Cardinal Ruini,were favorable to him as papabile, while Sodano, according to Magister, would not likely support him. That was in 2002 and who knows how sides were aligned this time around. But if Bergoglio was not a "Sodano man", than that in itself must be an indication that God has been merciful.
According to Magister, in that interview of '02, what he found likeable and unique about Bergoglio, was that "He flees everything that resembles honours and the pursuit of a career"; that and his deep spirituality.
We do not have a traditionalist Pope, but we are getting better than what we deserve. For that, I am grateful, and you can be sure I will be praying much for this Holy Father.
Oh, and I might add just one more thought. In my opinion, Cardinal Bergoglio was probably selected precisely because of his inexperience with the Roman curia: the "wolves" more easily to devour him. Just call that woman's intuition.