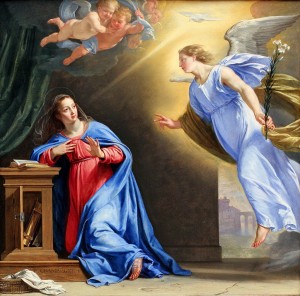 As we continue with Part 3 of a 7-Part series on Mary's words in Scripture, I'll be taking a look at the final words of the Blessed Mother to the angel Gabriel. Last time we focused on Mary's declaration that she is the Lord's handmaid (servant). Essentially, Mary informed Gabriel that she considers herself to be the Lord's servant. Furthermore, as a sign that she fully accepts her mission to bring the Savior into the world, Mary adds the words:
"May it be done to me according to your word. " (Luke 1:38)
A recap of the facts helps to illustrate the profundity of Mary's statement. She has just been informed that:
1. She will become the mother of the Son of God while being able to retain her virginity.
2. The virgin pregnancy and birth will come about through the action of the Holy Spirit.
3. Elizabeth (her elderly relative) is now six months pregnant.
4. All of this will happen because "nothing will be impossible for God".
After hearing the details, most of us would have many more questions and would be begging the angel to stick around. Mary, on the other hand, heard all that she needed to hear. In fact, Gabriel's final statement surely wasn't news to Mary at all. To someone with a strong faith, a belief that God can do all things is implied. Contrasting Mary's faith with my own faith is painful, but enlightening. Hardly a day goes by when I don't question the Lord's ability to resolve some crisis in my life. Although the angel's words are right there in Scripture and they are etched in my memory, I need to get better at believing them. As long as I'm comparing Mary with myself, there's another really big difference. Mary didn't even flinch at the fact that her pregnancy is going to be really difficult to explain to Joseph, her family and to just about all of her other relatives and friends. That's because she loved God with all of her heart and TRULY was His servant. The fact that she was going to be inconvenienced didn't matter to her. She meant what she just said about being the Lord's handmaid. If He wanted her to do something, she would do it with no questions asked. Is anyone else feeling really inadequate right now?
Each day, you and I are given the opportunity to say "yes" to God. Like Mary, we are often asked to submit to His will without knowing all of the details. Whether it's being open to having additional children, pursuing a religious vocation or contributing more to charitable causes, the Lord often requests our consent. Are we so concerned about the details or potential difficulties that we say "no thanks"? Or, like the Blessed Mother, do we declare ourselves to be the Lord's servants, trusting in His providence?
While discerning God's will often requires prayer and meditation, sometimes it's A LOT easier to discover. By simply accepting those things that happen to us on a daily basis (at our jobs, in our families, when we become ill), we are saying "yes" to God and following His will. When asked how to determine God's will, Mother Angelica replied, "Honey, if it's happening, it's God's will; and you have to correspond with it in the present moment". When unpleasant or painful events occur in our lives, we can complain or we can echo the words of Our Blessed Mother…
"May it be done to me according to your word. "
"Mary was like a wheel which was easily turned by the inspiration of the Holy Spirit. Her only object in the world was to keep her eyes constantly fixed on God, to learn His will, and then to perform it." (St. Bernardine of Siena)