---
To: sionnsar
...what will happen at the primates meeting of Tanzania...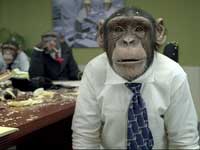 Well, probably a breast-beating contest to decide who rules the band, followed by ferocious tussle over the bananas. ;)

4
posted on
02/06/2007 7:01:17 PM PST
by
Mr. Jeeves
("When the government is invasive, the people are wanting." -- Tao Te Ching)
---
To: Mr. Jeeves
Thank you for the reminder to always post the following when the article mentions "primate,"
Mr. Jeeves
:
Main Entry: pri'mate
Etymology: Middle English primat, from Old French, from Medieval Latin primat-, primas archbishop, from Latin, leader, from primus
Date: 13th century
1 often capitalized : a bishop who has precedence in a province, group of provinces, or a nation
2 archaic : one first in authority or rank : LEADER
3 [New Latin Primates, from Latin, plural of primat-, primas] : any of an order (Primates) of mammals comprising humans, apes, monkeys, and related forms (as lemurs and tarsiers)
-pri'mate-ship \-*ship\ noun
--pri-ma'tial \pr*-*m*-sh*l\ adjective

Now you can expand your vocabulary, no matter what was on the picture that doesn't display on my system. (All I see is "Image Hosted By Tripod.")

5
posted on
02/06/2007 7:28:17 PM PST
by
sionnsar
(†trad-anglican.faithweb.com†|Iran Azadi| 5yst3m 0wn3d - it's N0t Y0ur5 (SONY) | UN: Useless Nations)
---
To: Mr. Jeeves
This is what, the umpteen thousandth time a FReeper has demonstrated his lack of knowledge of the English lexicon on "Primate" threads? Monkey see, monkey do, monkey demonstrates his illiteracy for all to see.
Big yawn. Ignorance is sometimes funny, but not when you see the same thing repeated ad nauseum and beyond.
But hey, nice effort at being cute, Mr. Jeeves.

---
FreeRepublic.com is powered by software copyright 2000-2008 John Robinson