---
[It was an eye-opener to me, several years back, to compare "The Form of Ordaining or Consecrating a Bishop" in the 1928 BCP with its 1979 equivalent (these can read online by going to the web page in my tagline and then clicking on the 1928 and 1979 BCP graphics). Robinson could not have become a bishop under the 1928 service. My church is a straight 1928 BCK parish; I for one am very happy with this! --sionnsar]

---
To: ahadams2; rabscuttle385; cf_river_rat; fgoodwin; secret garden; MountainMenace; ...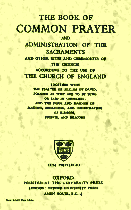 Traditional Anglican ping
, continued in memory of its founder
Arlin Adams
.
FReepmail
sionnsar
if you want on or off this moderately high-volume ping list (typically 3-9 pings/day).
This list is pinged by
sionnsar
,
Huber
and
newheart
.
Resource for Traditional Anglicans:
http://trad-anglican.faithweb.com
More Anglican articles
here
.
Humor:
The Anglican Blue
(by Huber)
Speak the truth in love. Eph 4:15
2
posted on
11/25/2006 5:14:55 PM PST
by
sionnsar
(?trad-anglican.faithweb.com?|Iran Azadi| 5yst3m 0wn3d - it's N0t Y0ur5 (SONY) | UN: Useless Nations)
---
To: sionnsar
"Doctrine, Discipline, and Worship" in the Episcopal Church means whatever you can get away with -- unless it involves real estate or endowments. In fact it can sometimes mean that even with money. Who can forget the National Church putting out accounting guidelines which were being ignored at 815, leading to a substantial embezzlement?
I called 815 several years ago to discuss their having advised a cleric to break the seal of the confessional, despite the relatively recent passage of a rubric declaring the seal to be "morally absolute" for the person hearing the confession. The reverend lady with whom I spoke said, "That's how we make theology in the Episcopal Church." So the Episcopal Church makes theology by violating solemn covenants made with God and with the people of the Church,and ignoring rubrics which are agreed upon after decades of bitter debate, thousands upon thousands of dollars of money, and two votes by orders by succeeding General Conventions.
The original Philadelphia 11 were ordained in violation of the doctrine, discipline, and worship of the Episcopal Church at the time. I wonder what the most reverend lady thinks of that? Will she repudiate it, it being so clearly a violation of the ordination vows of the bishops involved and of the ordinands who were at the time of their ordinations subscribing to an oath to observe the D,D & W blah blah blah?
There is no theological or moral there there.
They wear collars but answer to no divine tugs of the leash and heel to no one. They take vows but only because they think they are meaningless, unenforceable, and unenforced. It is no place for a man of principle or piety.

---
FreeRepublic.com is powered by software copyright 2000-2008 John Robinson