---
---
To: ahadams2; cf_river_rat; fgoodwin; secret garden; MountainMenace; SICSEMPERTYRANNUS; kaibabbob; ...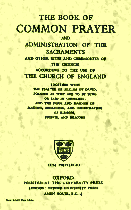 Traditional Anglican ping
, continued in memory of its founder
Arlin Adams
.
FReepmail
sionnsar
if you want on or off this moderately high-volume ping list (typically 3-9 pings/day).
This list is pinged by
sionnsar
,
Huber
and
newheart
.
Resource for Traditional Anglicans:
http://trad-anglican.faithweb.com
More Anglican articles
here
.
Humor:
The Anglican Blue
(by Huber)
Speak the truth in love. Eph 4:15
2
posted on
08/26/2006 5:51:06 PM PDT
by
sionnsar
(†trad-anglican.faithweb.com† | Iran Azadi | SONY: 5yst3m 0wn3d, N0t Y0urs | EndOfTheWorldDay+4)
---
To: sionnsar
The author of this piece is guilty (as is lamemtably typical of us impatient conservatives) of the theory that the ECUSA can be fixed through One Grand Stroke. Because the meeting is not that, he thinks it's meaningless.
As such, Mr. Foster clearly fails to understand the import of the meeting.
1. The fact that the ABC is represented at all in this meeting is huge. It's quite obviously not "exclusively internal," else the fellow wouldn't be there.
2. There's nothing wrong with the ABC trying to get these folks to talk. It's pretty certain that Iker won't get rolled by the once and future PBs and they, in turn, won't change their minds. But the effort must be made. If it fails to make headway, that's a huge result.
3. Being intended for "the Episcopal Church to make its own conclusions" is, first, what the ABC is supposed to do with intra-provincial matters. At the same time, however, he's definitely got a dog in this fight, and his stated position is that the present leadership of the ECUSA has not acted in a manner consistent with membership in the Communion. A good result, from Canterbury's perspective, would be one where Griswold and Schori give in. They probably won't.
4. The presence of the ABC's representative at this meeting allows only one interpretation: he's there to see whether (in the words of the Windsor report), the ECUSA has chosen to "walk apart."

---
FreeRepublic.com is powered by software copyright 2000-2008 John Robinson