---
To: ahadams2; cf_river_rat; fgoodwin; secret garden; MountainMenace; SICSEMPERTYRANNUS; kaibabbob; ...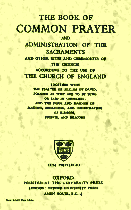 Traditional Anglican ping
, continued in memory of its founder
Arlin Adams
.
FReepmail
sionnsar
if you want on or off this moderately high-volume ping list (typically 3-9 pings/day).
This list is pinged by
sionnsar
,
Huber
and
newheart
.
Resource for Traditional Anglicans:
http://trad-anglican.faithweb.com
More Anglican articles
here
.
Humor:
The Anglican Blue
(by Huber)
Speak the truth in love. Eph 4:15
2
posted on
08/26/2006 5:14:37 PM PDT
by
sionnsar
(†trad-anglican.faithweb.com† | Iran Azadi | SONY: 5yst3m 0wn3d, N0t Y0urs | EndOfTheWorldDay+4)
---
To: All
Text of Interview with the Archbishop of Canterbury by Nederlands Dagblad
AAC Blog, 8/25/2006
Source: Nederlands Dagblad
August 19, 2006
by Wim Houtman, Religion Editor
The Church is Not Inclusive
Since February 2003, Rowan Williams has been Archbishop of Canterbury, the highest leader of the Anglican Church. He is unlikely to have expected to preside over a split in the Church. He doesn't want that, but the controversies seem to spiral out of his control. How does he see the future and what makes him tick, what does he believe in?"
The Anglican Church gets a spiritual leader who actually looks like one'', the British newspaper The Observer observed in 2002. His loose grey hair and beard betray his growing up in the sixties (and the fact that he is a poet too). When Rowan Williams was called to the highest office in his Church, he was highly renowned as intellectual en theologian; he was praised for his clarity en persuasive power and he seemed soft-spoken, but not afraid to speak. Even then some evangelicals already opposed him, because he seemed to accept homosexual relations in the Church, also among priests. It is precisely this issue that now takes up most of his time. He is busy studying, talking, pondering, praying. It is the most serious crisis in the Anglican Church, which has never suffered a split since the Reformation. Rowan Williams is in danger of going into the history books as the Archbishop of Canterbury who presided over a split in the Church, and who for all his trying to prevent it lost everybody's confidence - of the 'orthodox' side because he didn't draw a clear enough biblical line, and of the 'radical' side because he didn't subscribe to their struggle for equal rights for homosexuals.
Rowan Douglas Williams (1950) was born into a Welsh-speaking family in Swansea. He was a university lecturer and professor in Cambridge and Oxford until 1992, and after that Bishop and Archbishop in Wales. He wrote books on, among other topics, the heretic Arius and contemporary Russian-Orthodox theology. The Archbishop is married, to a theologian; they have an eighteen-year old daughter and a ten-year old son.
Do you in your heart of hearts ever despair that Anglican unity can be saved?
Despair is a very strong word, but there are moments that I really don't know whether it is still possible. I just know that I have been given the task to preserve what unity and integrity there is.''
Continue reading "Text of Interview with the Archbishop of Canterbury by Nederlands Dagblad"

3
posted on
08/26/2006 5:17:27 PM PDT
by
sionnsar
(†trad-anglican.faithweb.com† | Iran Azadi | SONY: 5yst3m 0wn3d, N0t Y0urs | EndOfTheWorldDay+4)
---
To: sionnsar
"I would feel very uncomfortable if my Church would say: this is beyond discussion, forever."

I feel very uncomfortable in a Church that says sexual morality is open for discussion--particularly something as abominable as sodomy.

This issue should not be whether bishops or priests should be active homosexuals--but whether active homosexuals should be barred from communion (like any other persons actively persuing sin...).
---
To: sionnsar
thanks for the post. It is comments like this - that conversations are not fact and that talking does not mean changing the Faith; that give me Hope that the church will find the proper course and send packing those people willing to change the Word of God to the word of man.
As Dean Reed of St. Vincents, the Ft Worth cathedral, has said, "There are two groups in the ECUSA, one that says we need Jesus and the other that says Jesus needs us." At this time the second group controls the ECUSA, but they will never change Jesus or the Word of God.

---
FreeRepublic.com is powered by software copyright 2000-2008 John Robinson