---
Catholic Devotions: St. Joseph the Worker
Various | 5/1/06 | Knitting a Conundrum


Posted on 05/01/2006 6:17:17 AM PDT by Knitting A Conundrum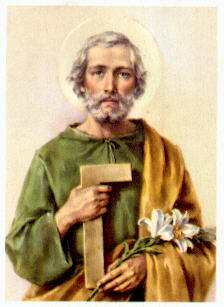 Saint Joseph the Worker
To St. Joseph

Saint Joseph,
gentle protector of our Lady,
guardian and teacher of Jesus in his youth,
patron of fathers everywhere,
guardian of families,
helper of all those who work,
thank you for being who you are,
gentle,
kind,
understanding,
and oh so patient.

Saint Joseph,
how often we take you for granted,
and you sit there, in the shadows,
doing the work
that God has asked you to do,
with the skilled hands of a patient craftsman.

On this day,
I wish to honor you for who you are,
and what you have done,
and let me say thank you
for being willing to answer the call of God,
for loving and caring for our Lady,
for loving and caring for our Lord,
for loving and caring for us, your foster children.

Amen

God, our Father,
Creator and ruler of the universe,
in every age You call man
to develop and use his gifts for the good of others.
With Saint Joseph as our example and guide,
help us to do the work you have asked
and come to the rewards you have promised.

We ask this through our Lord Jesus Christ, Your Son,
who lives and reigns with You and the Holy Spirit,
one God, for ever and ever. +Amen.
Prayer to Saint Joseph, Patron of Workers
Glorious Saint Joseph, you are the pattern of all who work. Obtain for me, please, the grace to work conscientiously and to put devotion to duty before my selfish inclinations. Help me to labor in thankfulness and joy, for it is an honor to employ and to develop by my labor the gifts I have received from almighty God. Grant that I may work in orderliness, peace, moderation and patience without shrinking from weariness and difficulties. I offer my fatigue and perplexities as reparation for sin. I shall work, above all, with a pure intention and with detachment from self, having always before my eyes the hour of death and the accounting which I must then render of time ill-spent, of talents unemployed, of good undone, and of empty pride in success, which is so fatal to the work of God. For Jesus through Mary, all in imitation of you, good Saint Joseph. This shall be my motto in life and in death. Amen.



As the Bible tells us, Saint Joseph was descended from the royal house of David. A village carpenter of Nazareth, he was chosen among all men to be the husband and protector of the Virgin Mother of Jesus Christ. To his loving care was entrusted the childhood and youth of the Redeemer of the world. He reveals to us the perfect model of Christianity through his purity of heart, patience, and fortitude.

Poor in worldly possessions, he was rich in grace. Devotion to Saint Joseph, was fervent in the East from the early ages, and has spread and increased. Today, Catholics of all nations honor him.

There are many stories about the miraculous intervention of Saint Joseph. One is a medieval account of how a famine in Sicily was ended after a Novena to Saint Joseph. A more recent story is of the mysterious "itinerant carpenter" who volunteered to build an architecturally unique spiral staircase in a convent chapel in Santa Fe, New Mexico, which is as sound today as when it was first built, and has never needed repair.

According to ancient tradition, Saint Joseph watches over and protects the Church. He is considered the model of perfect Christian life and the patron of a happy death. His patronage extends over the Mystical Body of Christ, over the Christian family and schools, carpenters, fathers, laborers, and all individuals who appeal to his charity and intercession, especially in the hour of death. Joseph, when dying, received the loving ministry of his foster Son, Jesus, and his spouse, the Blessed Virgin Mary, so it is believed that his intercession may well obtain the mercy of God and the grace of a peaceful and holy death.

---
TOPICS: Catholic; Prayer
KEYWORDS: josephtheworker; prayer; stjoseph
---
---
---
---
---
---
---