---
To: SatinDoll
And how about Europe? They're in the process of being over-run by Muslim men of fighting age. I would do the same thing if I was in the shoes of Putin.
So you are in favor of Russia retaking its former Eastern European states, on the pretense that Russia is there to fight Islamic terrorism? Meanwhile, they are tightly allied with the world's largest state sponsor of islamo-terrorism, Iran?
Are you aware that, according to the Obama-Putin Iran deal, the US would have to defend Iran against Israel should they decide to attack Iran's nuke facilities.
__________________________________________
Trump: Iran Deal Requires U.S. Protecting Iran in Event of Israeli Strike
by Jacob Kornbluh
Sept 2, 2015
In a phone interview with CNN Tuesday evening, Trump claimed that there's "something in the Iran deal" that "people don't understand" saying if someone attacks Iran, "we have to come to their defense."
"Does that include Israel?" Trump asked. "And most people say yes, they don't have an exclusion for Israel. So if Israel attacks Iran, according to that deal, I believe, the way it reads, unless they have a codicil or they have something to it, that we have to fight with Iran against Israel." ..."
Trump was most probably referring to language highlighted by the opponents of the deal. On page 142, the deal includes a clause that states, "Co-operation through training and workshops to strengthen Iran's ability to protect against, and respond to nuclear security threats, including sabotage, as well as to enable effective and sustainable nuclear security and physical protection systems."
Washington-based Center for Security Policy asserted that Annex III appears "to commit the United States and other world powers to the defense of Iran's nuclear program."
http://jpupdates.com/2015/09/02/trump-iran-deal-requires-u-s-protecting-iran-in-event-of-israeli-strike/
__________________________________________
Aug 2015...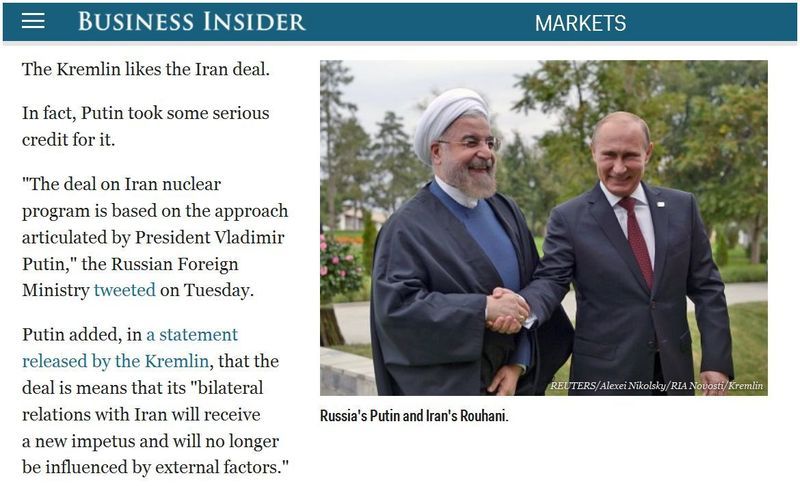 16
posted on
09/30/2015 11:48:47 AM PDT
by
ETL
(ALL (most?) of the Obama-commie connections at my FR Home page: http://www.freerepublic.com/~etl/)
---
To: ETL
Obama approves of killing all Christians. Putin will go into Europe to fight the Muslim hordes.
Am I in favor of Russia retaking Eastern European states? No.
It may develop into a situation where they ask Russia's help in evicting Muslims sent by Erdogan of Turkey. Putin has cleverly placed his military, Crimea and Syria, where they can destroy Turkey, which has evolved into a serpent striking at Europe.
24
posted on
09/30/2015 4:33:49 PM PDT
by
SatinDoll
(A NATURAL BORN CITIZEN IS BORN IN THE USA OF TWO USA CITIZENS)
---
FreeRepublic.com is powered by software copyright 2000-2008 John Robinson