I think Ayers- tried to kill people, but did he succeed?
From November 10, 2003:
30-Y.O. Unsolved SF Murders Reopen
[Weather Underground, Black Liberation Army, Ayers, Dohrn]
BAY AREA (KRON) -- The unsolved murder of two San Francisco police officers has languished as cold cases for 30 years until now. A federal grand jury has been looking into the murders. Many of the people now under investigation both as potential targets and witnesses in this case are scattered across the country. Many of them are now in their 50s and 60s. Investigators believe the crimes were politically motivated and committed by militant radical groups.
On August 29, 1971, sergeant John Young is killed in a barrage of gunfire when two men walk into the Ingleside police station and begin shooting at officers sitting behind the glass partition. It is the second unsolved police killing in 18 months.
On February 16, 1970, officer Brian McDonnell is killed when a bomb explodes at Park Police Station. Attorney Joe O'Sullivan, at the time was a young police officer. "It was just bedlam. I don't think we were able to get into the station. I think it was cordoned off. Nobody really knew the exact nature of the devastation," he says.
For three decades, the police murders remained unsolved. Evidence from the two crime scenes sat in the police property room.
KRON 4 News has learned that three years ago, San Francisco police secretly re-opened the case. Armed with new forensic technology and with State and Federal agencies helping, SFPD investigators began to work full-time on the murders.
And now, sources tell us, those investigators have identified potential suspects: former members of two militant groups in the '60s and '70s -- the Weather Underground and the Black Liberation Army, people who've been out of the spotlight for decades. The most prominent among them is Bernadine Dohrn, a former leader of the Weather Underground and now a law professor at Northwestern University in Illinois.
30-Y.O. Unsolved SF Murders Reopen [part 1 of 3]
http://www.kron4.com/Global/story.asp?S=1519460
Patriot Act Used to Reopen Murder Case? [part 2 of 3]
http://www.kron4.com/Global/story.asp?S=1521312
Survivor of Old Murder Case Speaks Out [part 3 of 3]
http://www.kron4.com/Global/story.asp?S=1523015&nav=5D7lJ5fb
______________________________________________________________________________
The following is from wikipedia but is well documented.

Sgt. Brian V. McDonnell
"In a bombing that took place on February 16, 1970, and that was credited to the Weathermen at the time,[19][20] a pipe bomb filled with heavy metal staples and lead bullet projectiles was set off on the ledge of a window at the Park Station of the San Francisco Police Department. In the blast, Brian V. McDonnell, a police sergeant, was fatally wounded while Robert Fogarty, another police officer, received severe wounds to his face and legs and was partially blinded.[21]
Weatherman leader Bernardine Dohrn has been suspected of involvement in the February 16, 1970, bombing of the Park Police Station in San Francisco. At the time, Dohrn was said to be living with a Weatherman cell in a houseboat in Sausalito, California, unnamed law enforcement sources later told KRON-TV.[22]
An investigation into the case was reopened in 1999,[23] and a San Francisco grand jury looked into the incident, but no indictments followed,[22] and no one was ever arrested for the bombing.[23]
An FBI informant, Larry Grathwohl, who successfully penetrated the organization from the late summer of 1969 until April 1970, later testified to a U.S. Senate subcommittee that Bill Ayers, then a high-ranking member of the organization and a member of its Central Committee (but not then Dohrn's husband), had said Dohrn constructed and planted the bomb. Grathwohl testified that Ayers had told him specifically where the bomb was placed (on a window ledge) and what kind of shrapnel was put in it. Grathwohl said Ayers was emphatic, leading Grathwohl to believe Ayers either was present at some point during the operation or had heard about it from someone who was there.[24]
In a book about his experiences published in 1976, Grathwohl wrote that Ayers, who had recently attended a meeting of the group's Central Committee, said Dohrn had planned the operation, made the bomb and placed it herself.[25] In 2008, author David Freddoso commented that "Ayers and Dohrn escaped prosecution only because of government misconduct in collecting evidence against them", Freddoso wrote.[24][26]
http://en.wikipedia.org/wiki/Weatherman_(organization)#Anti-personnel_bomb_set_on_window-ledge_in_San_Francisco
SOURCES:
[19] http://www.lapismagazine.org/index.php?option=com_content&task=view&id=110&Itemid=59
[20] Former Weatherman Larry Grathwohl's October 18, 1974 testimony to the Senate Internal Security Subcommittee
[21] http://www.sfpoa.org/journal/journals/20070201.pdf
(SAN FRANCISCO POLICE OFFICERS ASSOCIATION)
[22] http://www.kron4.com/Global/story.asp?S=1519460
[23] http://www.sfgate.com/cgi-bin/article.cgi?f=/c/a/2007/02/17/BAGPRO6J7J1.DTL&type=printable
[24] http://en.wikipedia.org/wiki/The_Case_Against_Barack_Obama
[25] http://en.wikipedia.org/wiki/Special:BookSources/0870003350
[26] http://article.nationalreview.com/print/?q=ODVlZTZlM2M5NTMxMzllMjJkODVkNzQ3YTFjMTY0NzE=
___________________________________________
Note: some of the links may no longer be working. However, you can find the original articles here:
http://archive.org/web/
Just enter the non-working link (url)

BOTH OBAMA AND OSAMA HAVE/HAD
FRIENDS WHO WANTED TO BOMB FORT DIX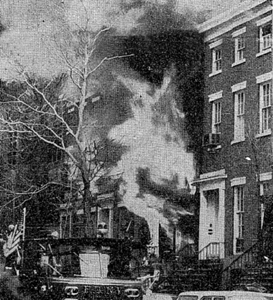 From David Horowitz's FrontPageMag.com/DiscoverTheNetworks.org:
March 6, 1970: "three members of the Weather Underground accidentally killed themselves in a Manhattan townhouse while attempting to build a powerful bomb they had intended to plant at a social dance in Fort Dix, New Jersey -- an event that was to be attended by U.S. Army soldiers. Hundreds of lives could have been lost had the plot been successfully executed."
http://www.discoverthenetworks.org/groupProfile.asp?grpid=6808
"The bomb was intended to be planted at a non-commissioned officer's dance at Fort Dix, New Jersey.
The bomb was packed with nails to inflict maximum casualties upon detonation."
http://en.wikipedia.org/wiki/Weatherman_(organization)#Chronology_of_events
__________________________________________________
2007 Fort Dix attack plot
A group of six radical Islamist[1] men, allegedly plotting to stage an attack on the Fort Dix military base in New Jersey, United States, were arrested by the Federal Bureau of Investigation (FBI) on May 7, 2007. They were subsequently charged with planning an attack against U.S. soldiers. The alleged aim of the six men was said to be to "kill as many soldiers as possible".[2] Their trial began on October 20, 2008. [3]
Opening arguments were presented on October 20, 2008.
Assistant U.S. Attorney William Fitzpatrick said the defendants were inspired by jihad saying "Their motive was to defend Islam. Their inspiration was Al Qaeda and Osama bin Laden.