---
To: Jane Long; Arrowhead1952; NYTexan; mylife; Eaker; TheMom; laurenmarlowe; El Gato; RebelTex; ...
Geez...what a nightmare!! Hope our Governor is paying attention to this!
...ping!
15
posted on
04/11/2015 8:23:13 PM PDT
by
luvie
(All my heroes wear camos! Thank you David, Michael, Chris, Txradioguy, JJ, CMS, & ALL Vets, too!)
---
To: LUV W; y'all
Call your TX State Reps about this!! Fax/email this article and ask WTHeck is going on.

26
posted on
04/11/2015 8:33:27 PM PDT
by
Jane Long
("And when thou saidst, Seek ye my face; my heart said unto thee, Thy face, LORD, will I seek")
---
To: LUV W
This is what the Kirchner regime is doing in parts of Argentina where the regime's political support is weak: Importing hordes of ignorant and illiterate Bolivian Indians, giving them houses, money, and jobs, and paving their way to the polling places.
It's a very cynical game.

44
posted on
04/11/2015 9:42:50 PM PDT
by
lentulusgracchus
("If America was a house, the Left would root for the termites." - Greg Gutfeld)
---
To: LUV W
It's a Dallas problem when you get right down to it...
Why should our current crop of politicians give a s***???
48
posted on
04/11/2015 10:13:39 PM PDT
by
stevie_d_64
(I will settle for a "perfectly good, gently used" kidney...Apply within...)
---
To: LUV W; El Gato; Eaker; hocndoc; Squantos; SwinneySwitch; MeekOneGOP; weegee; EQAndyBuzz; ...
Another day, another outrage from Imam Obama. This time, he's invading Texas with his third world horde.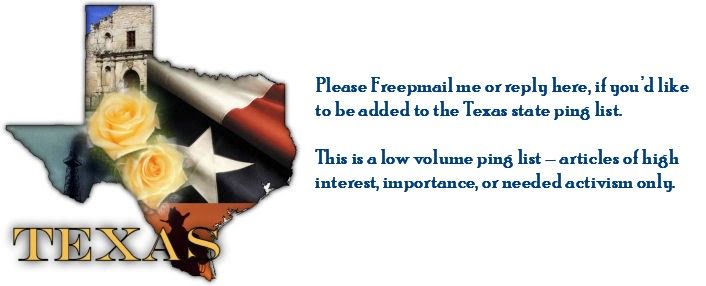 Please contact your state and federal reps about this. Demand they do something to stop it.

74
posted on
04/12/2015 11:40:33 AM PDT
by
Windflier
(To anger a conservative, tell him a lie. To anger a liberal, tell him the truth.)
---
FreeRepublic.com is powered by software copyright 2000-2008 John Robinson