---
To: ksen
How long before conservatives decry him? 3..2..1...
I'll start. He's wrong. End of discussion.

2
posted on
05/28/2009 6:30:04 AM PDT
by
rintense
(Senior Marketing / IT / UX architect unemployed and looking for work. Freepmail me if you have leads)
---
To: rintense
Some / a lot of conservatives make the mistake of equating military prowess with "conservative" thought. They believe that a general who excels at his job simply cannot be a socialist...
Very little is known about his ideological bend, although this little bit of information does start to paint that picture.
I would also caution limited government type conservatives against blindly following dick and liz cheney as well. Even though they are strong debaters and strong on national security that does NOT equate to a strong belief in limiting the size and scope of the federal government.
---
To: rintense
He's wrong. End of discussion.
My take would be more along the lines of "Military.com is wrong. End of discussion". But then, BO is boss of both, which may explain the 'insanity' bias.

56
posted on
05/28/2009 8:27:40 AM PDT
by
CRBDeuce
(here, while the internet is still free of the Fairness Doctrine)
---
To: rintense; All
He serves at the pleasure of the President.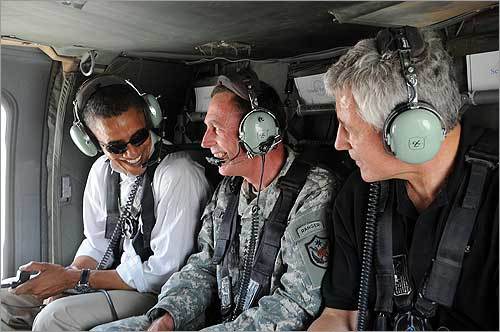 This is Obama administration policy, not Petraeus.
57
posted on
05/28/2009 8:31:55 AM PDT
by
Liberty Valance
(Keep a simple manner for a happy life :o)
---
To: rintense
Petraeus says that closing Guantanamo "in a responsible manner...sends an important message to the world, as does the commitment of the United States to observe the Geneva Convention when it comes to the treatment of detainees."
Absolutely right Rintense. He's just flat out wrong.
There's been so much misinformation floating around about this issues, that I think he's unfortunately drunk the cool aide on this.
First of all, the Geneva Convention addressed the treatment of incarcerated military personnel. It did not address the treatment of terrorists, people who don't conduct themselves in accordance with Geneva Convention guidelines.
How is it responsible to place these terrorists in situations where our courts will be forced to allow them access?
How responsible will it be to allow them on our city streets when we can't reveal all our methods and sources in open court?
Petraeus is just dead wrong. And I predict the closing of Gitmo will ultimately result in the death at least 25,000 and the injury or many more people.

71
posted on
05/28/2009 9:51:13 AM PDT
by
DoughtyOne
(Obama is mentally a child of ten. Just remember that when he makes statements and issues policy.)
---
To: rintense
---
FreeRepublic.com is powered by software copyright 2000-2008 John Robinson