---
To: Travis T. OJustice
"Good contractors will no longer exist, and fly-by-night guys who don't follow the rules will be the only ones around."
I guess that is the emerging stages of the underground economy. More than likely people who apply for remodeling loans will have to provide documentation of the contractors EPA license to get funding for bigger projects.
Cash is king.
5
posted on
12/23/2008 9:03:56 AM PST
by
o_zarkman44
(Since when is paying more, but getting less, considered Patriotic?)
---
To: o_zarkman44
I don't like the totalitarian nature of it, and being implemented all at once. It will really screw things up this way. Education and phasing in should be done for a period so homeowners know about the program, and the potential dangers, and contractors can get people trained over time without taking a huge hit in one shot.
There will still be the cheapo's that don't do it right, and there will always be homeowners who go the cheap route and harm their kid, too. Somewhere in the middle would be the way to go - doing it right without all the certification crap.
UGH! Ugly no matter how you look at it.
7
posted on
12/23/2008 9:09:30 AM PST
by
Travis T. OJustice
(Change is not a destination, just as hope is not a strategy.)
---
To: o_zarkman44; Travis T. OJustice
The underground economy might produce some good contractors as well, such as Robert DeNiro's renegade plumber character in the movie
Brazil
.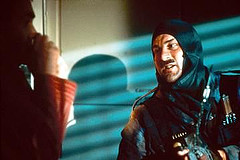 Come to think of it, it seems like we're creeping nearer and nearer to the bureaucratic dystopia envisioned in that movie.

---
FreeRepublic.com is powered by software copyright 2000-2008 John Robinson