---
Walter Reed FReep 190 - December 5, 2008 - The 300 Mile FReep
December 9, 2008 | Tom the Redhunter


Posted on 12/09/2008 4:55:56 PM PST by Tom the Redhunter

Another Friday, another FReep outside Walter Reed Army Medical Center in Washington DC. As evening began, the faithful gathered to show their support for the troops.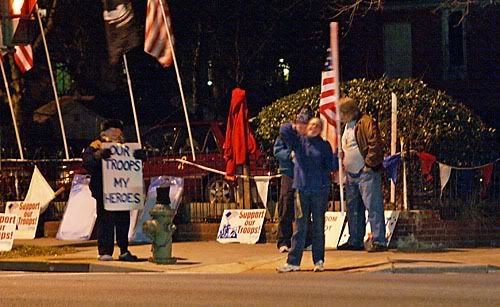 Due to super-heavy traffic I didn't get their until almost 8:00, and it seemed too late to put up the MOAB (Mother Of All Banners, which I had with me), so we contented ourselves with the flags.
Faithful Freepers Mr. Trooprally, Cindy-True-Supporter, Jimmy Valentine's Brother, Plea Deal, GunsAreOK, Fraxinus, Lurker Bill, VictoryNY, BufordP, RonGKirby, your author Tom the Redhunter, and our special guest from Siler City, North Carolina, FReeper Wolfpat and his dog Nicholette!
FReeping is nothing new to Wolfpat, who in years past had his hands full countering Code Pink as they tried to protest our troops at Fort Bragg and Pope AFB. While standing there holding our signs for the traffic, he told me many stories of how he and other FReepers worked with patriotic organizations such as Rolling Thunder to keep the communists away from our military bases. One of his techniques was to simply out blast them with a better and louder sound system! Hearing patriotic songs and speeches from Ronald Reagan and Winston Churchill was more than the Pinkos could stand, and the more they heard the madder they got.
Here's Wolfpat with BufordP. Wolfpat seemed totally oblivious to the cold!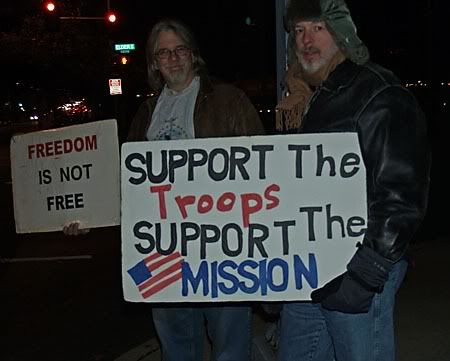 Wolfpat drove all the way from Siler City NC that day just to FReep with us, and drove all the way home that same night! He was enthusiastic about the whole thing, and regarded the drive as no big deal. The distance, according to Mapquest, is some 300 miles Now that's dedication!
Here's Wolfpat with PleaDeal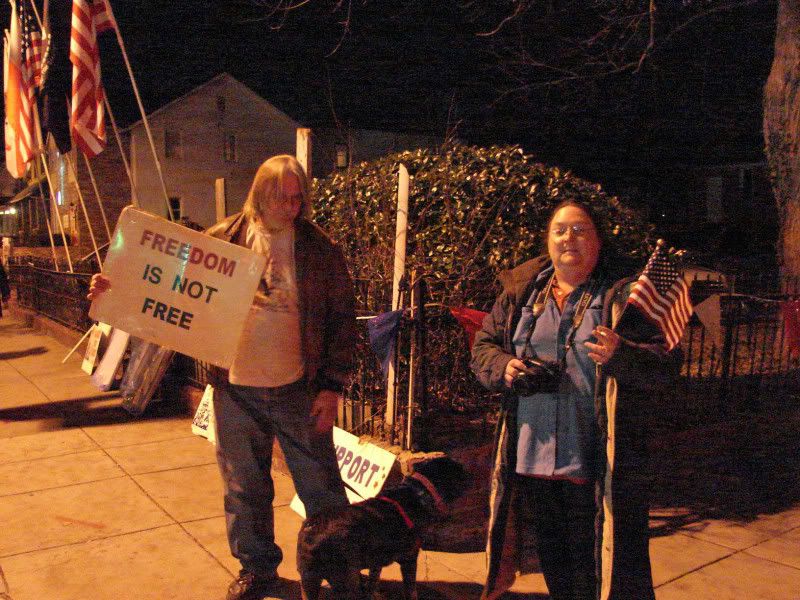 Wolfpat's pooch, Nicolette seemed less enthusiastic about the whole affair. Being used to the relative calm of her home, the busy streetcorner in Washiington DC was a bit much for her. As such, she spent most of the evening in the relative safety of his truck. Good doggie!
VictoryNY was enthusiastic all night about supporting our troops, going from corner to corner with an American flag, rallying everyone on, and gaining many honks and waves from motorists. Jimmy Valentine's Brother and myself joined her at times, but her energy is impossible to match hour after hour.
What It's All About
Getting honks and waves from motorists and pedestrians is all very fine, but the main purpose of the FReep is to be there when the troop bus arrives. A private group takes some of the soldiers and their families out every Friday evening, arriving back at the hospital sometime between 9 and 10. To be sure, we want to be there all evening so as to be present for the many troops that come and leave that evening, but the bus is the big event.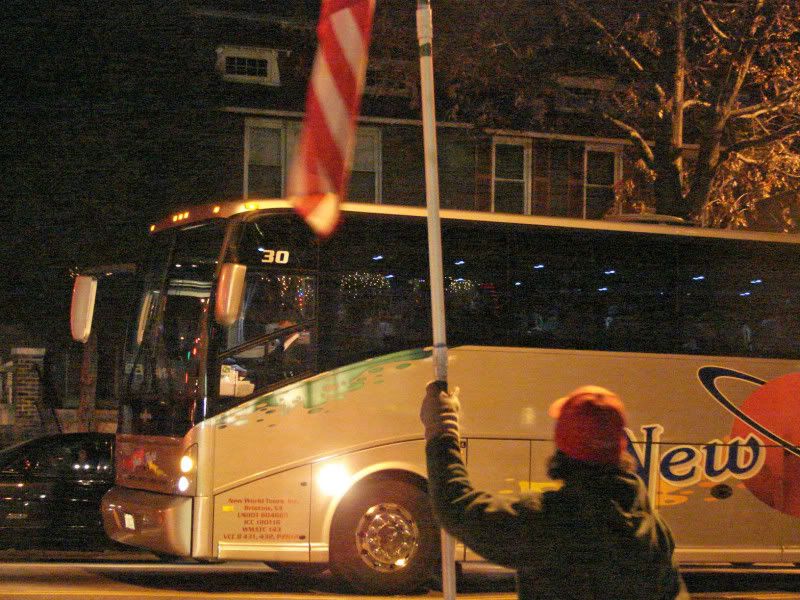 ---

If you can't get to D.C. to join us but would like to do something for the wounded, you can find a wealth of ideas by FReepmailing Tom the Redhunter, Cindy-True-Supporter, VAFlagwaver, or PleaDeal.

Please also FReepmail them or any of us if you would like to join us at Walter Reed and would like additional information about parking, directions, what to bring, etc.

Come join us every Friday night between the hours of 6:30pm to approx 9:30pm.

Directions to our Walter Reed freep location from the Takoma Metro station

* You can find all of Mrs. Trooprally's photos for this Freep on her Photobucket site.

* You can find all of Plea Deal's photos for this Freep on her Photobucket site.

* Thank you to BufordP for maintaining the BIG LIST of all Walter Reed FReeps.

* Thank you to all FReepers who transport and store our many signs and banners every week.

* Tom the Redhunter blogs at The Redhunter

* Plea Deal blogs at Semper Gratis

---
TOPICS: Activism/Chapters
KEYWORDS: codepink; freep; walterreed
---
---
---
---
---
---
---
---
---
---
---
---
---
---
---
---
---