---
Obama's 'Thank You' letter to his communist-propagandist icon artist, Shepard Fairey
various sources | various authors


Posted on 11/02/2008 10:14:08 AM PST by ETL

From Barack Obama's official website:
"I wanted to make an art piece of Barack Obama because I thought an iconic portrait of him could symbolize and amplify the importance of his mission. I believe Obama will guide this country to a future where everyone can thrive and I should support him vigorously for the sake of my two young daughters. I have made art opposing the Iraq war for several years, and making art of Obama, who opposed the war from the start, is like making art for peace. I know I have an audience of young art fans and I'm delighted if I can encourage them to see the merits of Barack Obama."
-Shepard Fairey
http://store.barackobama.com/Artists_for_Obama_s/1018.htm
See? It's all about "peace, love, togetherness" and "change".
Here are some of Fairey's other masterpieces. No joke. Most of his works are along these same lines (anti-American, pro-communist propaganda). Check the link.

Source: The Jonathan Levine Gallery:
http://jonathanlevinegallery.com/?method=Artist.ArtistDetail&ArtistID=F65EBB86-3048-28EB-92D55AA4FC996E31&GalleryID=82C33C59-3048-28EB-92DB386C8C733405
________________________________________________________
From Shepard Fairey's official website (ObeyGiant.com):
Check it out! I got a thank you note from Barack Obama. If he is elected, maybe I have a get out of jail free card. All kidding aside, I'm honored to be acknowledged by someone so important to the future of our country. Also, the Obama campaign asked me to do a poster illustration for sale on their site. It should be out next week on barackobama.com.-Shepard
http://obeygiant.com/post/check-it-out
________________________________________________________
Here is the 'thank you' letter Barack Obama sent to Shepard Fairey:
"Dear Shepard, I would like to thank you for using your talent in support of my campaign. The political messages involved in your work have encouraged Americans to believe they can help change the status quo. Your images have a profound effect on people, whether seen in a gallery or on a stop sign. I am privileged to be a part of your artwork and proud to have your support. I wish you continued success and creativity.
Sincerely, Barack Obama.'"
http://www.washingtonpost.com/wp-dyn/content/article/2008/05/16/AR2008051601017.html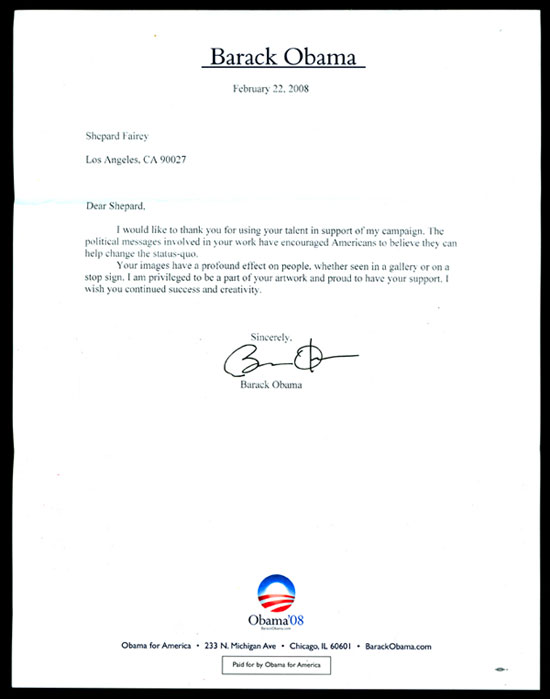 Source for letter image: Fairey's own website (ObeyGiant.com):
http://obeygiant.com/post/check-it-out
If the image of the letter should 'vanish' from Fairey's website, try this link:
http://www.notcot.com/images/obama_letter-to-shepard-fairey.jpg
_________________________________________________________________
Portrait of Angela Davis by Obama artist Shepard Fairey:

Angela Davis
Source: The Jonathan Levine Gallery (link given above)
_________________________________________________________________
From David Horowitz's FrontPageMag.com/DiscoverTheNetworks.org:
PROFILE: ANGELA DAVIS
* Communist professor at the University of California's Santa Cruz campus
* Recipient of the Lenin "Peace Prize" from the police state of East Germany in 1979
* Provided an arsenal of weapons to Black Panthers who used them to kill a Marin Country judge in a failed attempt to free Davis' imprisoned lover, Black Panther murderer George Jackson
* Icon of the campus Left and frequent guest speaker at anti-war rallies
* Leader of a movement to free all criminals who are minorities claiming that they are political prisoners of the racist United States
* "The only path of liberation for black people is that which leads toward complete and radical overthrow of the capitalist class."
Angela Yvonne Davis is a tenured professor in the "History of Consciousness" program at the University of California - Santa Cruz. A former member of the Black Panther Party, she is currently a "University Professor," one of only seven in the entire California University system, which entitles her to a six-figure salary and a research assistant. This income is supplemented by speaking fees ranging from $10,000 to $20,000 per appearance on college campuses, where she is an icon of radical faculty, administrators, and students. Davis has also taught at UCLA and the State University of New York at Stony Brook.
http://www.discoverthenetworks.org/individualProfile.asp?indid=1303
_______________________________________________________________________________________________________________
"Check it out! I got a thank you note from Barack Obama. If he is elected, maybe I have a get out of jail free card"
_______________________________________________________________________________________________________________
VIDEO: Obama icon artist, Shepard Fairey, discusses his numerous arrests in this May 2008 alternative media interview (2:32 min):
http://www.youtube.com/watch?v=ozeTXRa7_zo&feature=related
_______________________________________________________________________________________________________________

---
TOPICS: Culture/Society; Extended News; News/Current Events; Politics/Elections
KEYWORDS: communistpropaganda; fairey; obama; shepardfairey
---
---
---
---
---
---
---
---
---
---
---
---
---
---
---
---