---
Foreign Policy: President Obama's Past Will Haunt American Security?
American people, is it really worth choosing Obama as the first African American candidate?

Imagine, Bin Laden & Achmedinajad if ever questioned by President Obama about their terrorist activities, or developing nuclear weapons program? The two most hated man by most Americans will smile, twist their lips, laugh slyly as they will know they have Obama where they really want him. In a defensive position on international scene.
And their response which is a reasonable response is going to be, "who are you to tell us anything!"
Don't you remember Mr. President, you sat with Rev. Wright who did noting but put America down for 20 years. Also, you have lived and worked with a terrorist Bill Ayers who pretty much did same thing in 60's what we did in 2001.
Farrakhan, Rezko, Auchi, Alsammarae, the list goes on. So President Obama, spare us your higher than thou show! Stop lecturing us about how to be a good leader. Just between us (Obama, Bin Laden & Achmedinajad), we share the same past and thinking and now we control the destiny of the world

In this world it is only the American people who can be fooled over and over and you did a great job with them. We will see who the next president is going to be in 4 years. Until then, hey Muslim brother, welcome to the real world, Achmedinajad will say to President Obama.

What will President Obama's response be? In very simple terms, the effects of Obama's PAST ASSOCIATION will be reflected in ways that American people do not anticipate.

The most important American argument of moral superiority will loose its value and meaning as Obama's past will always be thrown in our faces by the enemy. This will drive Obama and his team crazy and :
To show his might President Obama will take a harder position on every foreign policy negotiation including increasing the defense budget which he has opposed.
To prove that he is a stronger President, Obama will be more eager to put American military in harms ways.
Knowing Iran's President, he is going to be a thorn on Obama's side.
Foreign policy decisions towards other countries such as Russia that do business with Iran will always be tainted.
Military will see a sharp downward turn in its numbers. The lack of commitment towards national defense by American people in general will be quite obvious.
Obama and Democrats will have no choice but to Start a draft.
Oil prices will go up and world economies will again take a dive.
In fact, I disagree with Biden who just warned us, "Watch, we're going to have an international crisis, a generated crisis, to test the mettle of this guy." Obama's past will always be dangled in front of his face to shame him by the foreign leaders in every matter including matters that ordinarily will never be considered "international crisis."

And so American people, though it would be nice to have an African American become the President of the United States, please let us not do that at the expense of American security.

Let us wait to choose the right African American candidate.

---
To: indianyogi
The New Yorker Magazine view of Barack Hussein Obama is closer to reality they anybody could have guessed and they called it Satire!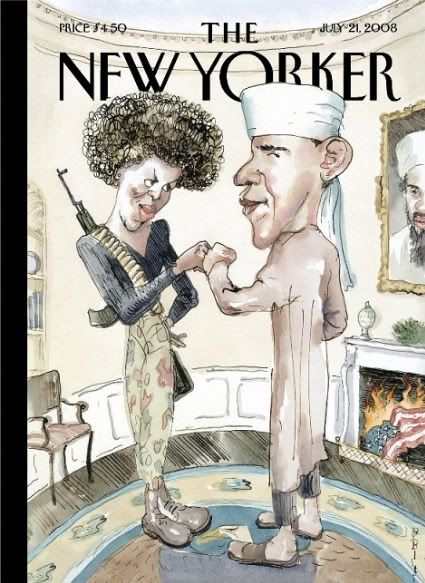 2
posted on
10/22/2008 7:20:43 AM PDT
by
ncfool
(Obama stands for The New United Socialist State or "TNUSSA")
---
To: indianyogi
There are laws and regulations on access to classified information and the need for Security Clearances to gain access. Is the President of the United States exempt from those regulations and laws? Shouldn't he/she undergo the same Background Invesigation prior to gaining a clearance anyone else would be subject to? Must be something in the CFR's that exempts him/her. Anyone know what that is?
---
To: indianyogi
American's could give a rat's arse about anything but their own comfort, they want their bills paid by the government.

4
posted on
10/22/2008 7:25:17 AM PDT
by
roses of sharon
(When the enemy comes in like a flood, the Spirit of the LORD will put him to flight (Isaiah 59:19)
---
FreeRepublic.com is powered by software copyright 2000-2008 John Robinson