---
To: khnyny
I see nowhere in this "story" where McCain approached Kerry. Kerry only claims that McCain's "people" approached.
More crap from the professional liars.
14
posted on
01/11/2008 9:39:28 PM PST
by
ButThreeLeftsDo
(Tracking The "Flyin' Imams" since 11/20/06)
---
To: ButThreeLeftsDo
The reason it doesn't pass the smell test is McCain's ego. Do you really think he (a genuine Viet Nam war hero) could serve under Kerry, a phony one?
I'm not saying it couldn't happen. McCain delights in p*ssing on conservatives and calling it bi-partisanship.
But I think it more likely that Lurch would be a Veep under McInsane.

67
posted on
01/11/2008 10:19:47 PM PST
by
Vigilanteman
(Are there any men left in Washington? Or are there only cowards? Ahmad Shah Massoud)
---
To: ButThreeLeftsDo
Exactly. Everything about Kerry is about portraying things differently than they way they actually happened.
Why wouldn't he lie about it rather than admit that he'd approached McCain only to have McCain turn him down?
I'm no fan of McCain's, but I'd give him more credibility than this. With his strong support of the war and of the military, why would he want to change parties?
---
To: ButThreeLeftsDo
I agree McCain may not be my favourite person and for various reasons I do not want him to get the Republican nomination but I do not believe he would approach Kerry's people or even ask his people to approach Kerry's people about the VP slot or for that matter consider swapping parties.
There was much rumour about the possibility of McCain getting the VP slot with Kerry and if I remember rightly McCain squashed it by appearing with GWB at an event at a military base and giving GWB his support for re-election.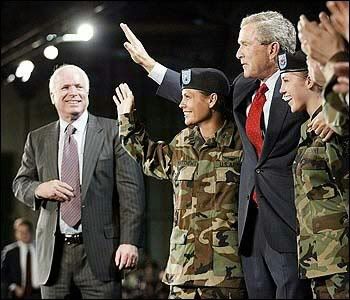 ---
FreeRepublic.com is powered by software copyright 2000-2008 John Robinson