---
To: Ladycalif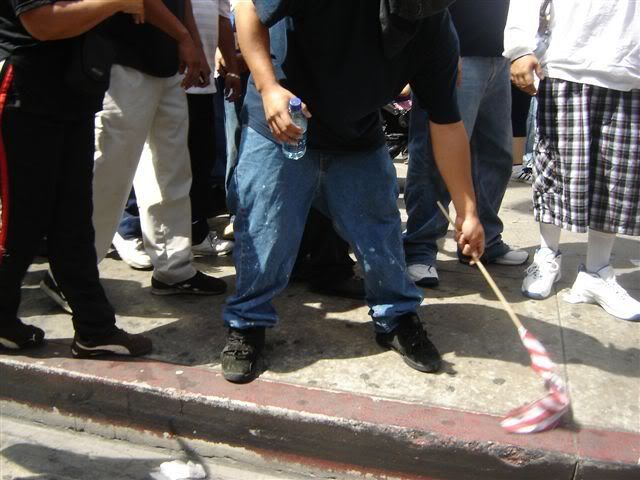 But...but...I thought they were good decent people, wanting to come here to earn a living for their families!!!

8
posted on
03/25/2007 7:36:47 PM PDT
by
Brad's Gramma
(DUNCAN HUNTER FOR PRESIDENT! http://www.gohunter08.com/Home.aspx)
---
To: Brad's Gramma
13
posted on
03/25/2007 7:59:01 PM PDT
by
Ladycalif
(Free The Texas 3 - Ramos, Compean and Hernandez)
---
To: Brad's Gramma
Damn! I hate seeing that!
27
posted on
03/26/2007 9:02:40 AM PDT
by
AuntB
(" It takes more than walking across the border to be an American." Duncan Hunter)
---
To: Brad's Gramma
This wasn't the only incident. There was a group of people wrapped in Mexican flags that were stomping our flag into the street rather gleefully. I personally think that isn't covered under free speech, since we're not allowed to burn foreign flags.

In an effort to demonstrate family values and good parenting there was a young woman flipping me off while her 5 or 6 year old boy pointed at his crotch repeatedly.

They don't get that the issue is "illegal" immigrants, not "legal" people. But then the Communists are helping fan the flames with their ususal lies. ANSWER's mark was all over the place.
34
posted on
03/27/2007 2:05:09 PM PDT
by
oneamericanvoice
(Support the Troops=Support for Freedom and Hope!)
---
FreeRepublic.com is powered by software copyright 2000-2008 John Robinson