---
WEEK 25 - Olney, MD, 6-17-06: Operation Infinite FReep, MOONBATS CAN'T TAKE THE HEAT
June 18,2006 | trooprally


Posted on 06/18/2006 11:33:35 AM PDT by trooprally

The moonbats could not take the heat today. And it was only in the mid-80s. The were packed up and GONE by 4:20 today. During the winter months, they had the sun keeping them a little warmer than our group who were in the shadows of some mature pine trees. Being hardened FReepers from the cold nights at Walter Reed, we stayed at our corner until the moonbats were long gone. But now that it is summer, the leaves on the trees on the grassy knoll immediately behind us keep us in the shade while the sun beats down on the moonbats and the sun is directly in their eyes.

The moonbats also couldn't take the heat from a passerby who parked at the southeast corner and crossed the road to their northeast corner. We could hear him giving the moonbats hell from our corner. We've never seen the guy before and he did not come over to our side. He was gone as quick as he came.

BELOW LEFT: Guy giving moonbats a piece of his mind. BELOW RIGHT: Guy in Barking Waveman's face.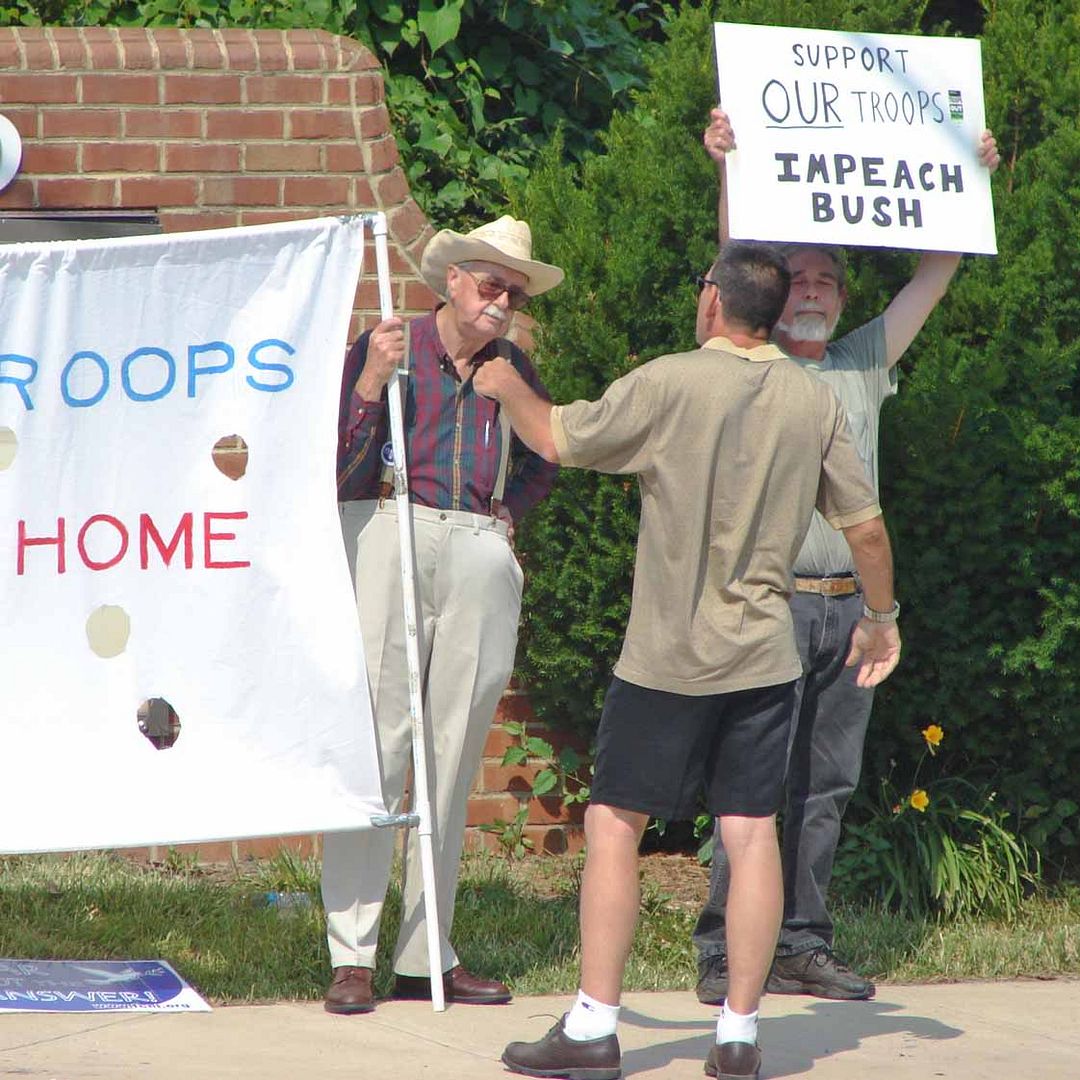 BELOW LEFT: Looks like Idiotman (name given to him by our jogger) is trying to say something tour Guy. Barking Waveman looking the other way. Looks like he learned his lesson from the jogger incident and the police visit. BELOW RIGHT: One last word by our Guy to Barking Waveman who thought that by turning away from our Guy, he would be immune from his tongue lashing. Looks like Barking Waveman needs a haircut.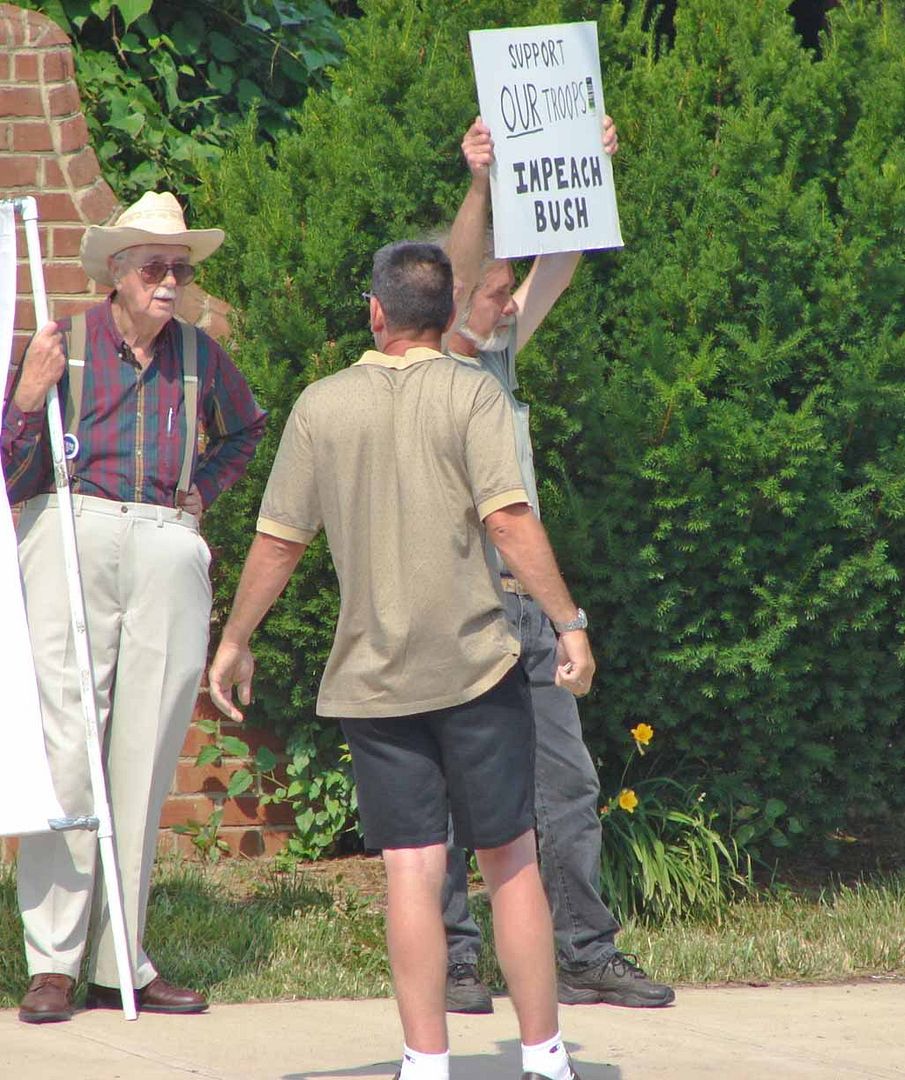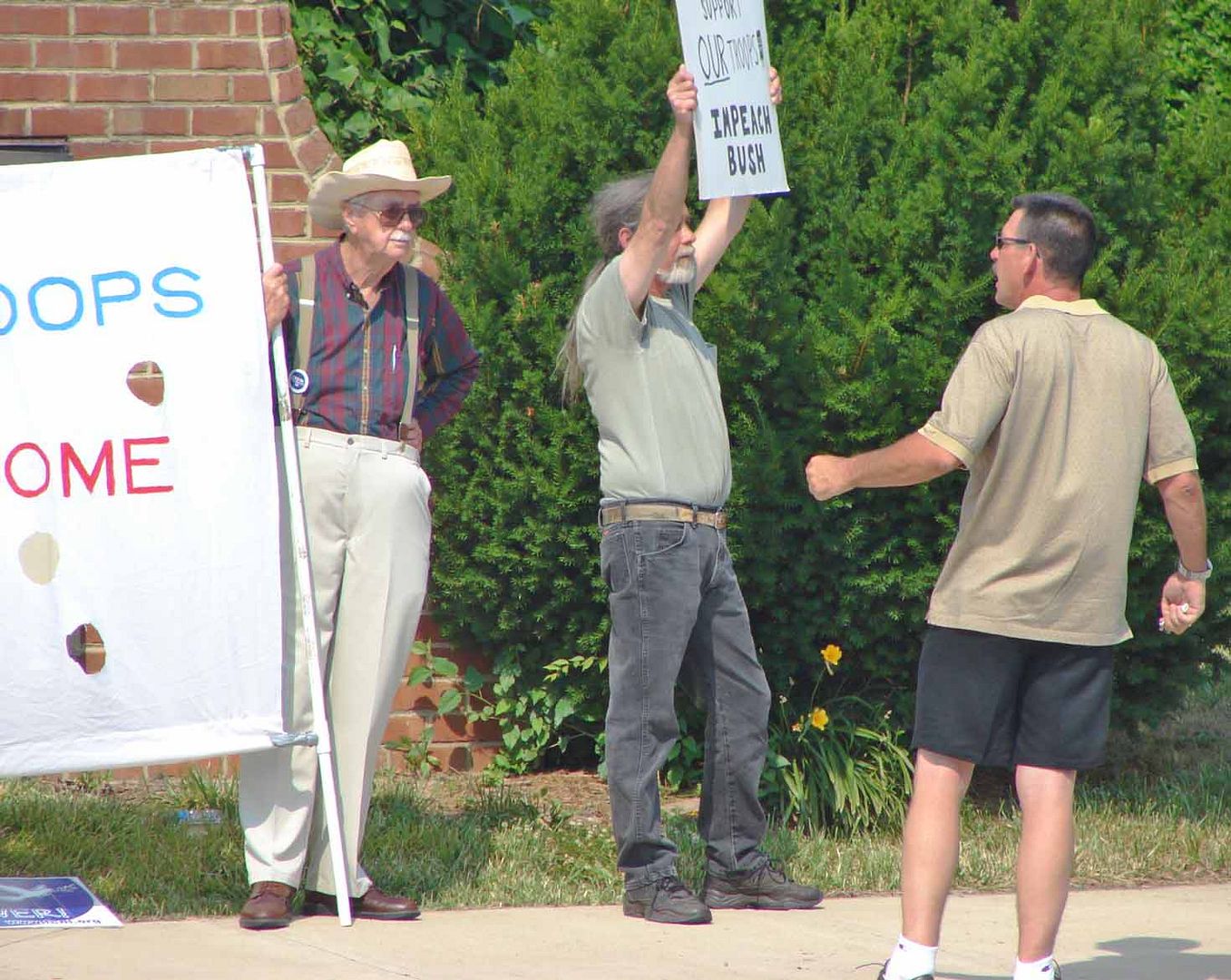 BELOW: Barking Waveman to Idiotman: "I guess we showed him, didn't we?"
The list of FReepers in attendance were regulars Lurker Bill, [Mrs] Trooprally ([Mrs] T), Cindy_True_Supporter (CTS) and myself.
Pics are by [Mrs] T.
BELOW LEFT: Ever faithful Lurker Bill with his photogenic smile. BELOW RIGHT: CTS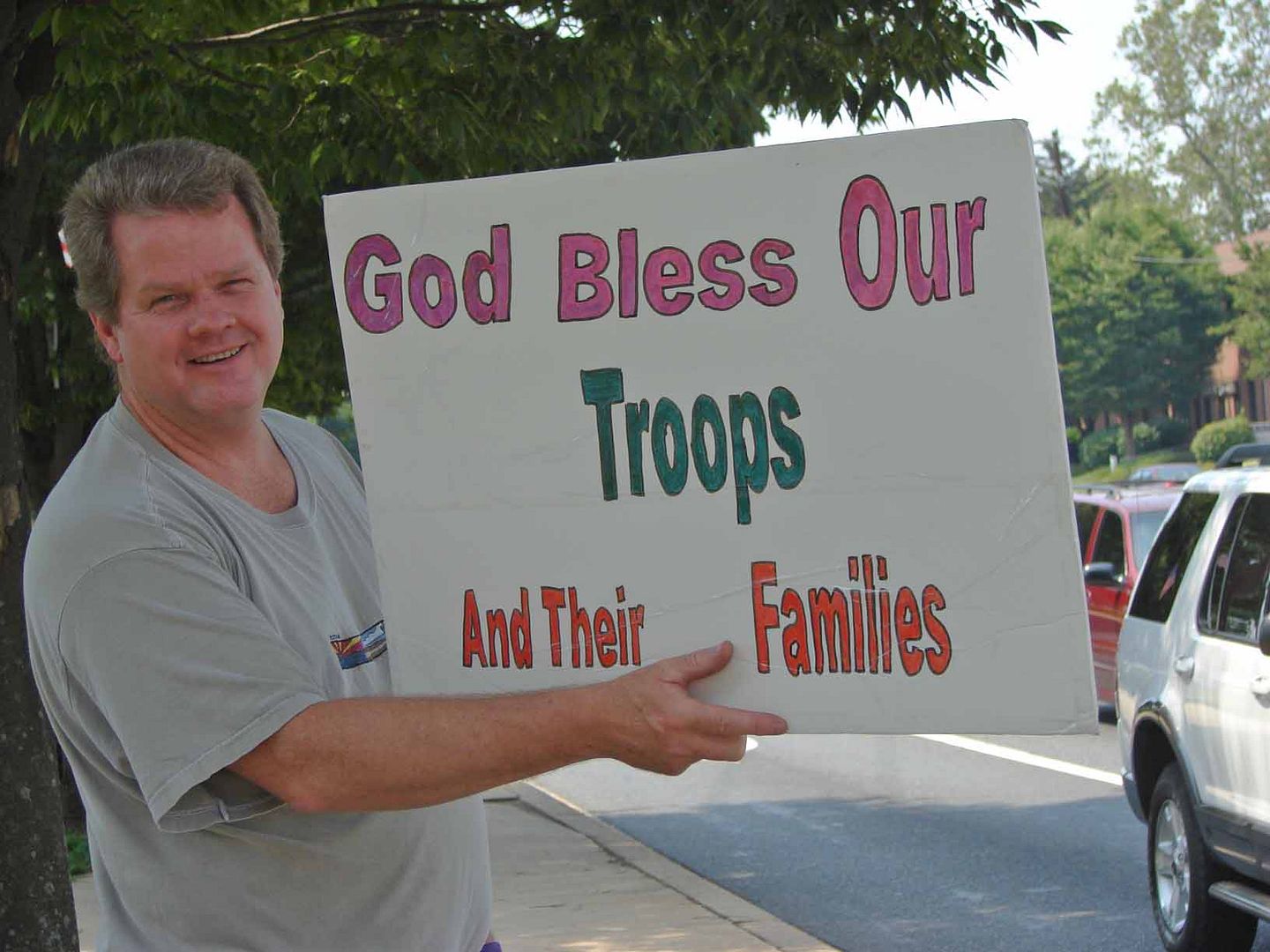 BELOW: Myself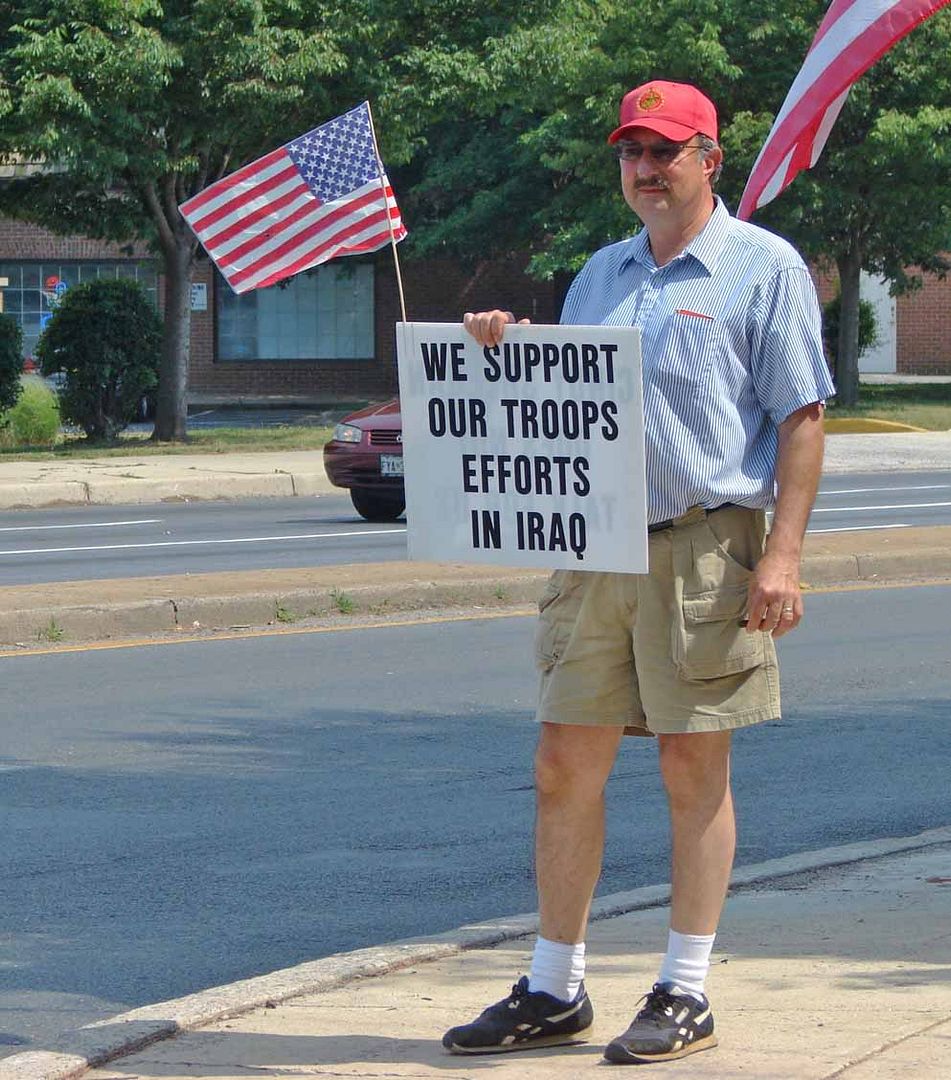 Local Lou (BELOW LEFT) and Local John (BELOW RIGHT) also showed up, though a little late. Local John came in directly from his Saturday golf appointment. The "Freedom is Not Free" signs are a poplar sign with these two. At least these locals kept their word when they said they'll be here again this week.
Does anyone know the make and model of the red car behind Local John?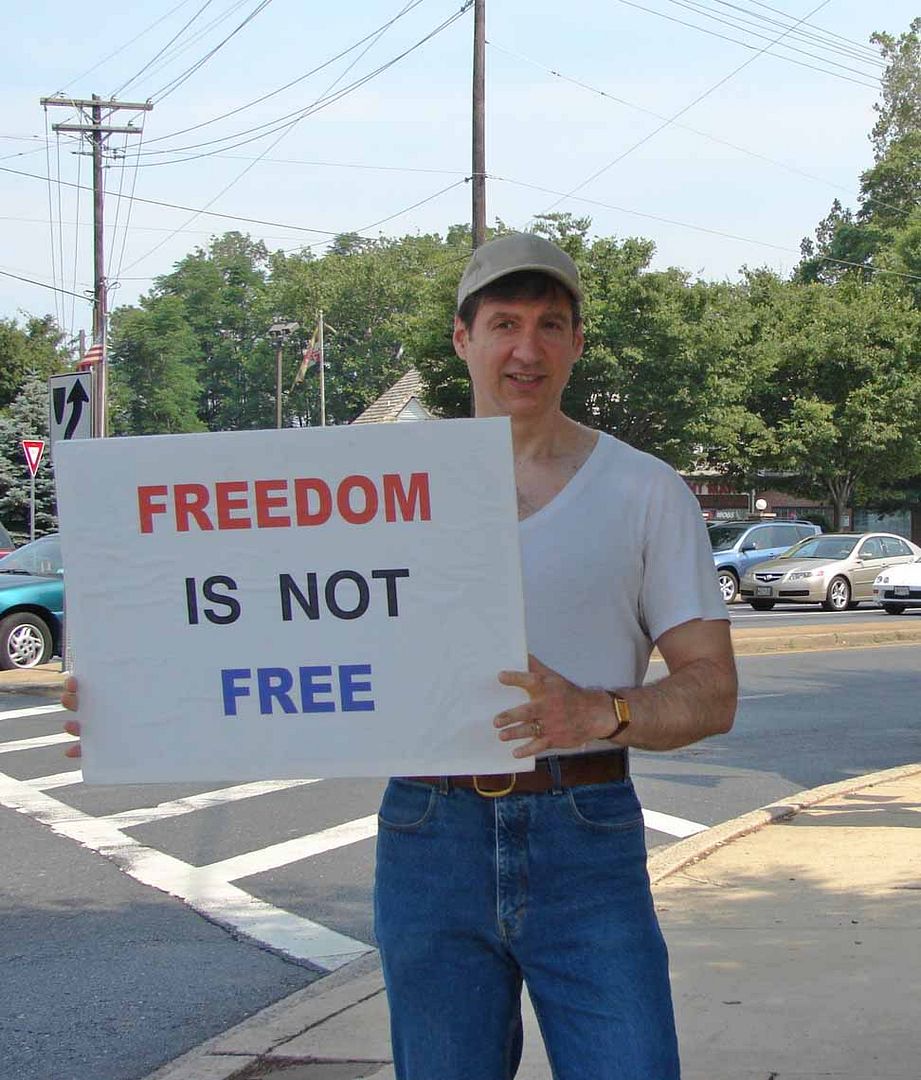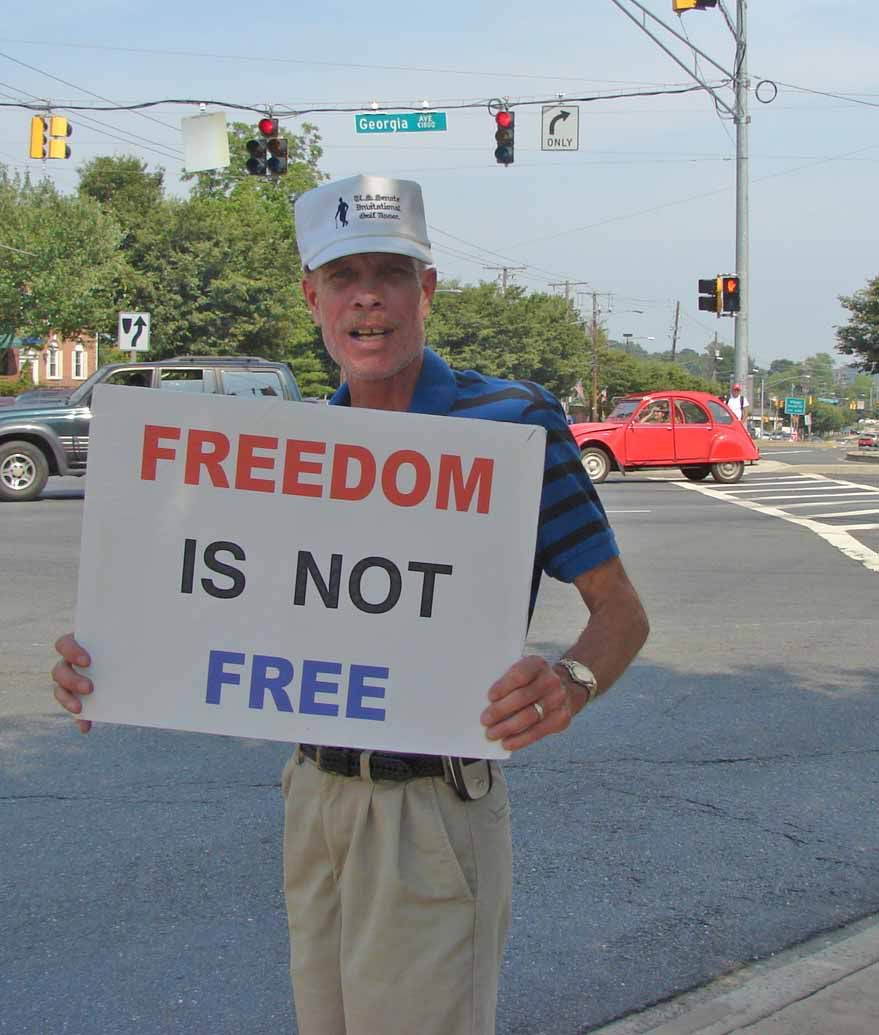 We also had a couple stop by. They started off the conversation by asking if we were giving away or selling the smaller flags. After a brief explanation of what we were doing and who the moonbats were by [Mrs] T and CTS, the wife said "They are a##holes". Later in the conversation, she said that she hoped they (moonbats) fry to a crisp. Again they said that they'll be with us next week.
We got our fair share of honks, waves and thumbs up, along with the cat calls. One passing police car gave two quick bleeps of his siren. One driver yelled "F### Bush" while a passerby was waiting to cross the street. Being 10 feet away she heard it. I duly apologized for their language. While I had her attention (she was a captive audience waiting for the light to change) I gave a quick explanation between our two groups. She politely smiled and left when the light turn green.



Now for the moonbats.
BELOW: Pic of their corner.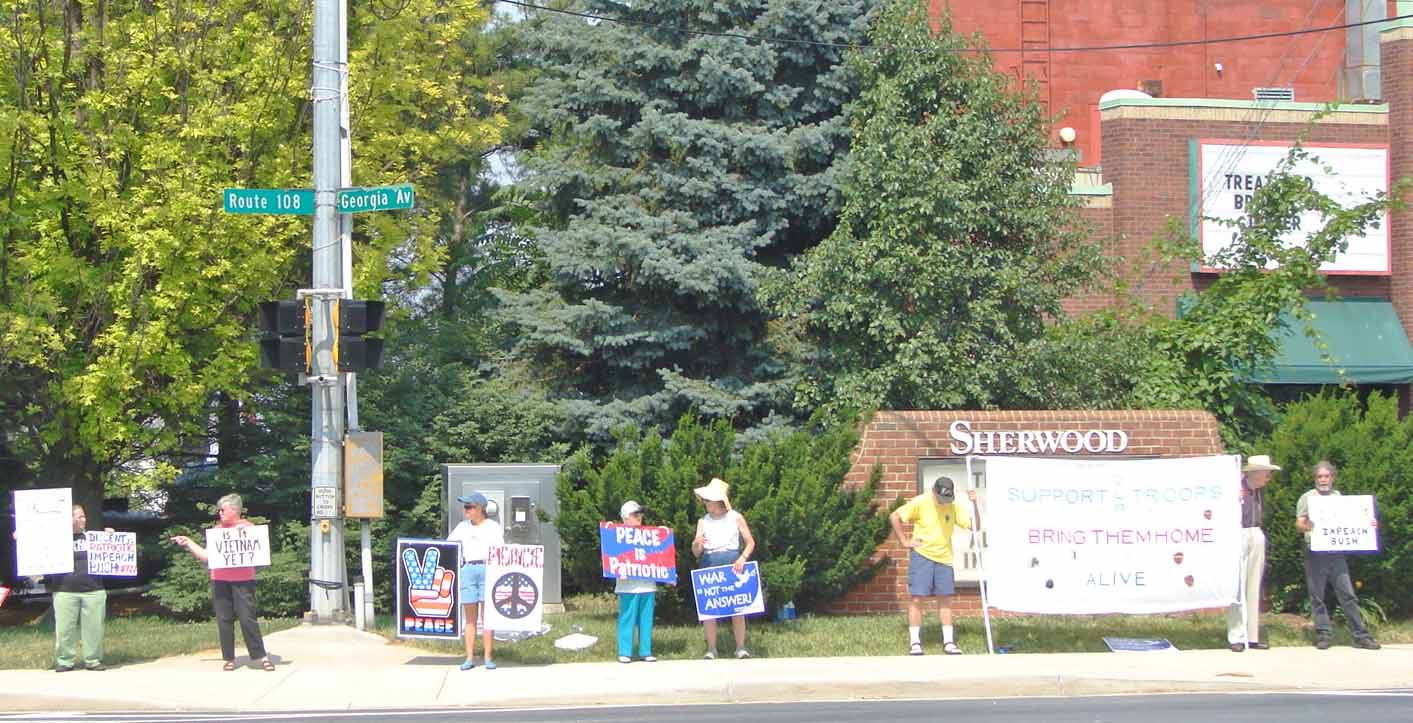 BELOW LEFT: Chief Grumpy can't even smile while another moonbat talks to her. BELOW RIGHT: Moonbat thinking "Well if you can't smile back, Ump back at you!" NOTE: To those who a don't know, to get full impact of pic, Right Click pic, click "View Image", then right Click pic again and click "Fit Image To Window".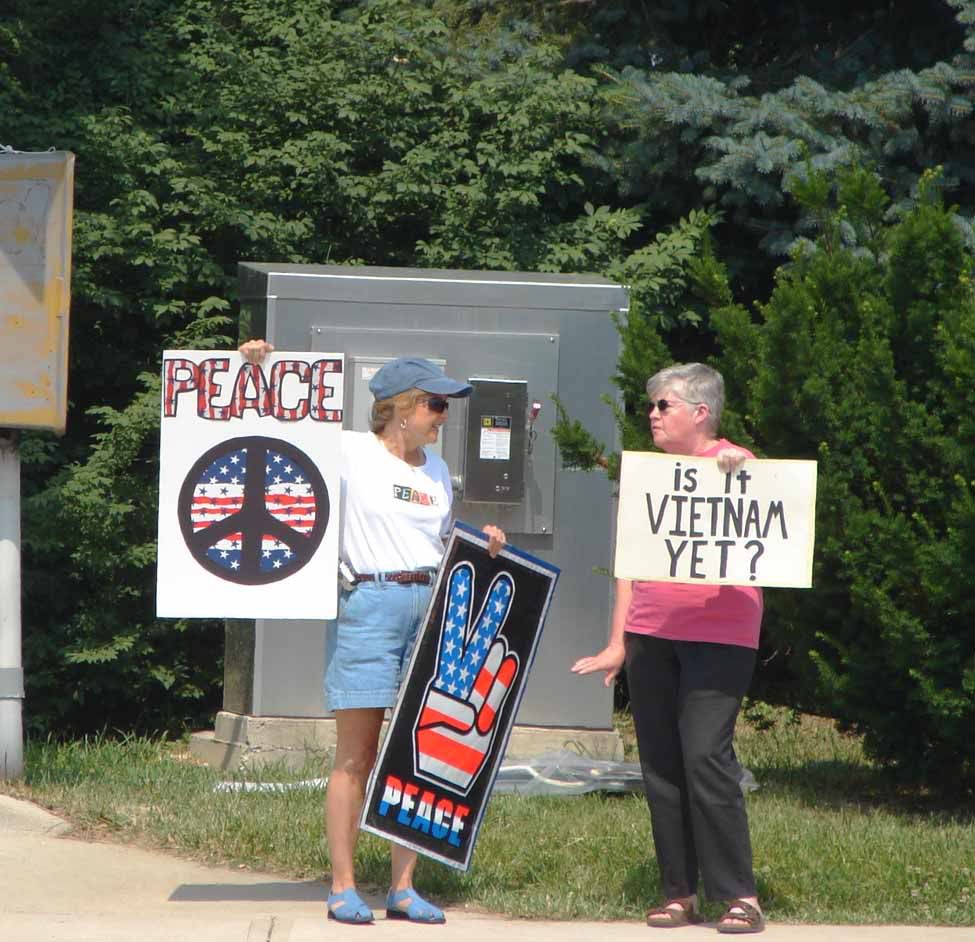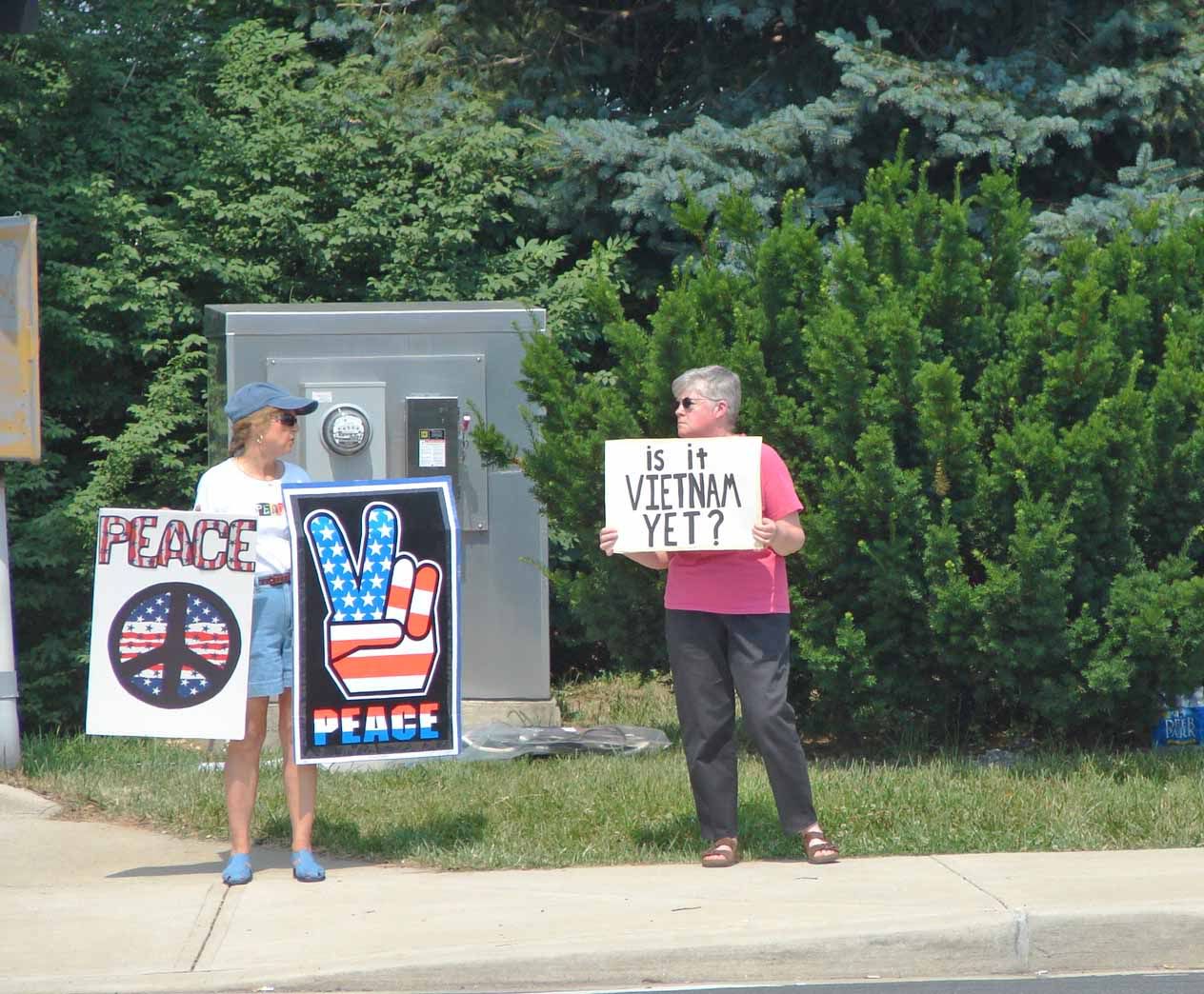 BELOW: Another moonbat (left) that wants to claim the top honors of "Chief Grumpy". On the right, is that a wire sign holder supporting her sign? Jeez, can't they even hold their own signs? NOTE: Again, Perform Right Click steps above for full impact of pic.
BELOW: Peek-A-Boo with what looks like a Pro-Bush sign. Is she saying that President Bush has the strength to be twice the man in D.C. while visiting our troops in Iraq? And that he could single handily defeat the terrorist as in when he said "Bring 'em on"?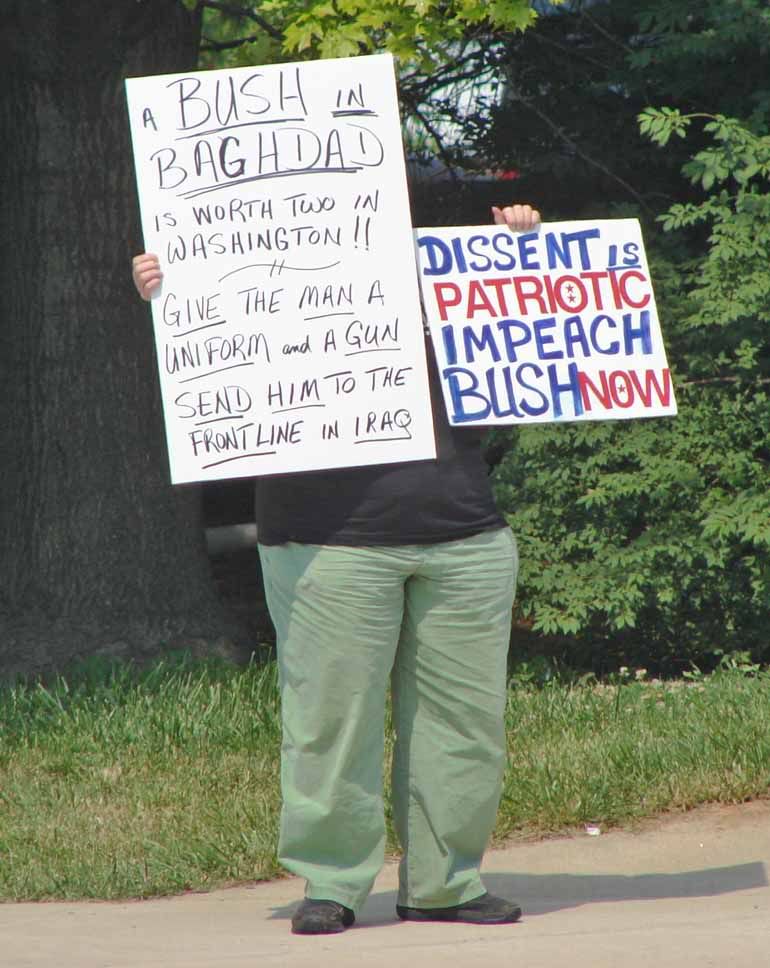 BELOW: Fashion statement for the day.
BELOW LEFT: Hey, eyes left, we have a looker. Love those red sandals. BELOW RIGHT: The "looker" with Barking Waveman.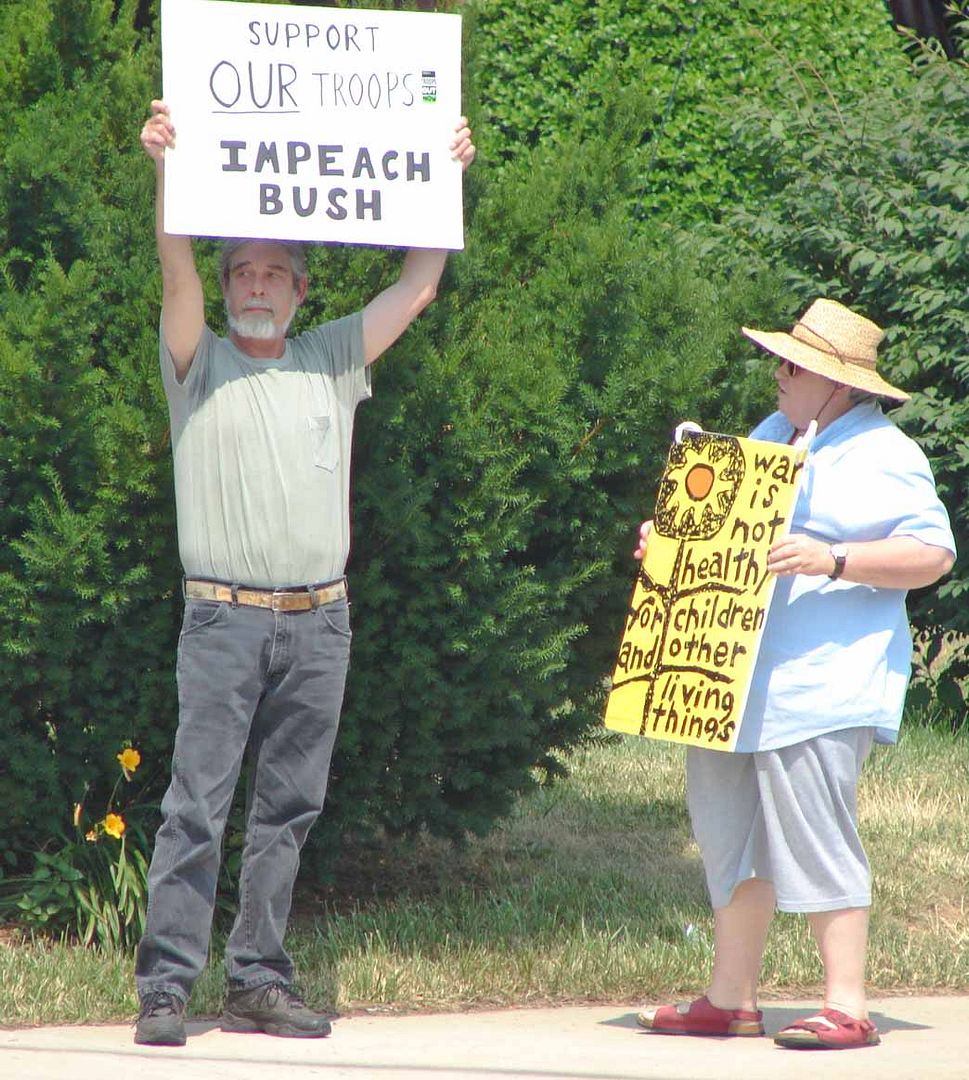 All in all, it was a great day. Weather was warm with a slight breeze and we had a respectable number of Pro-Troop supporters. Concretebob's rebars held the banners without a problem.





REMEMBER
Next Saturday, same place, Georgia Avenue, MD Rte. 97 and MD Rte. 108 in Olney, MD
Same time, 3 PM to 4:30 PM


As always, the D.C. Chapter's rules for protesting will be in effect. Briefly, they are: No violence, no profanity, no racism, no provocations, obey the law and treat all law enforcement officers with respect.

---
TOPICS: Activism/Chapters; Free Republic
KEYWORDS: aar; codepink; dcchapter; freep; grumpies; infinite; mobilizingmothers; moonbats; olney; operationinfinite; peaceactionmc; peaceniks; quakers; supportourtroops
---
Navigation: use the links below to view more comments.
first previous 1-20, 21-40, 41-45 next last
---
---
---
---
---
---
---
---
---
---
---
---
---
---
---
---
---
---
---
---
---
Navigation: use the links below to view more comments.
first previous 1-20, 21-40, 41-45 next last
---
---