---
To: Dick Vomer
Hang on....FRmail in a sec. THANK YOU!!!

20
posted on
04/21/2004 2:32:30 PM PDT
by
Brad's Gramma
(Become a monthly donor to Free Republic)
---
To: Brad's Gramma; MoJo2001; MJY1288; xzins; Calpernia; TEXOKIE; Alamo-Girl; windchime; Grampa Dave; ...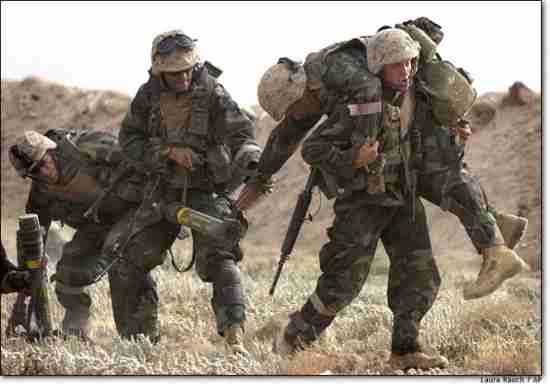 Freepers, I have been sent an email from someone stationed in Iraq regarding an urgent need by our wounded servicemen/women. For security reasons, the whole email can NOT be posted here. Read on, please....
MoJo20001's husband's division is going to be collecting the items and sending them via transport to the hospital in Iraq. IF you feel so inclined, and the need IS urgent...please let one of us know.

We also are coming across names...MANY MANY names of servicemen who need care packages, a letter, sometimes depending upon the branch of service, an email. If you can commit to being faithful with the correspondence, PLEASE let us know about that, too.
Posted on 04/21/2004 4:44:23 PM EDT by Brad's Gramma

~~~~~~~~~~~~~~~~~~~~~~~~~~~~~~~~~~~~~~~~~~~~~~~~~~~~~~~~~~~~~~
Thank you so much for this post, and the offer, Brad's Gramma, MoJo2001.
I know there's a WILL among Freepers to help the troops in Iraq. Thanks for providing a WAY! (not easy right now, we know.)
Please Freepmail me.
Thank you! ((Hugs!))

24
posted on
04/21/2004 3:07:58 PM PDT
by
Ragtime Cowgirl
("Evil is out there, and evil wishes to attack us." - Lt. Gen. J Vines, commander, 18th Airborne Corp)
---
To: Brad's Gramma
My company is sponsoring three units in the middle east. One in Iraq and two in Afghanistan. These units have former employees in them. I have organized it and we are receiving some good support from various businesses. Here is what we have done.
We sent out requests for support to area hotels, dentists, and stores. Copied the names and addresses off of an internet search directory, put them into an Excel spreadsheet, and then mail merged them into a Word letter. Cost was about $20 for postage. These letters went out less than 2 weeks ago.
So far we have received word from 2 dentists who are gathering items right now (We pick one package up today), two hotels (3,000 mini-bottles of hand lotion, 544 bars of soap, 244 bottles of shampoo, and 144 disposable razors.)
We also sent out a flier to my company;s suppliers and insurance companies. In less than two weeks we have reccieved 12 bottles of insect repellent, 10 boxes of ziplocks, 24 cans of shaving cream, and 5 bags of miscellaneous stuff. And we know two other companies are collecting stuff to send to us.
Employees are just starting to bring stuff in. We have 100 employees and we are getting about 4 large bags per week.
The key is getting organized and then keeping everyone involved and feeling proud. I am even posting what we are sending and what organizations have contributed on my family website. Freepmail me if you want the address.
My wife will be mailing 8 boxes today. We have already sent 10 boxes in the last 4 weeks. And we are storing items already donated for future shipments.

---
FreeRepublic.com is powered by software copyright 2000-2008 John Robinson