---
Should America blame itself for the Muslim world's hatred?
Jewish World Review ^ | Oct. 27, 2003 | Jonathan Tobin


Posted on 10/27/2003 4:50:25 AM PST by SJackson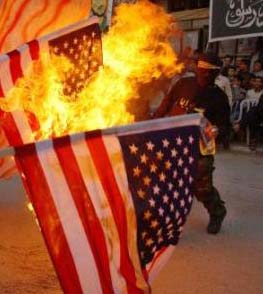 Even in a world where anti-Semitism is becoming increasingly accepted, occasionally someone can say something that shocks even the French. The speech of Malaysian Prime Minister Mahathir Mohamad at a meeting of a conference of Islamic countries last week contained so much blatant anti-Jewish bigotry that French President Jacques Chirac felt compelled to condemn it. To the applause of his fellow Muslim world leaders, Mahathir informed the world that it was being run "by the Jews." The Malaysian spiced this rather routine litany of anti-Semitic invective by going on to state that the Jews "invented … human rights and democracy so that persecuting them would appear to be wrong, so that they can enjoy equal rights with others."
To his credit, President Bush made a point of personally refuting Mahathir's screed.
It would be nice to think that Mahathir's speech was just the ravings of a nutty Malaysian. That appeared to be the spin the administration wanted to put on the affair. Even as she condemned Mahathir's words, National Security Advisor Condoleeza Rice tempered that by saying, "I don't think they are emblematic of the Muslim world."
WHAT 'MODERATES' THINK
Perhaps Rice missed the fact that Ahmed Maher, foreign minister of Egypt, supposedly a U.S. ally, praised Mahathir's speech as "a very, very wise assessment." And Hamid Karzai, recently installed by the United States as the leader of Afghanistan, called it "very correct."
And those were just the comments from the "moderates." Far from being unusual, this type of Jew-hatred has become typical in an Arab and Muslim world that has become the global producer of anti-Semitism. Jews and Americans have become the boogeymen of the Muslim imagination, filling heads with ready-made excuses for the failure of Muslim civilization to keep up with the West.
This drivel has been hammered into the minds of young Muslims around the world in schools paid for by America's Saudi "allies."
But, predictably, for some Americans the answer lies not in confronting the dementia that passes for wisdom in the Muslim world, but for America to change its policies. It didn't take long for such a suggestion to appear on the Op-Ed page of The New York Times. The author was Times columnist Paul Krugman, the Princeton economist who usually confines himself to rabidly partisan attacks on Bush's domestic policies.
But on Oct. 21, Krugman told his readers that the Malaysian leader isn't really such a bad guy.
In a piece titled "Listening to Mahathir," Krugman said that the bulk of the speech was an accurate depiction of Muslim problems. If he indulged in Jew-baiting, we should, Krugman said, understand he was just throwing his constituents "rhetorical red meat" as part of a "delicate balancing act aimed at domestic politics."
In other words, Mahathir was no different from, say, a politician in the American South in the 1950s who had "progressive" views, but who ranted about the threat to white America from blacks in order to stay in office. Except, of course, that Krugman and the rest of 2003 America no longer believes that such balancing acts are either justified or defensible.
BLAME IT ON US — AND ISRAEL
According to Krugman, it really isn't Mahathir's fault that he has to say such nasty things. "The rising tide of anti-Americanism and anti-Semitism" is, according to this sage of Princeton, due to Bush's war in Iraq and "unconditional support for Ariel Sharon."
Krugman's view is in line with the views of a State Department panel that recently toured the world trying to find out why Muslims don't like us. That panel — packed with anti-Israel academics — came back to tell us that America's bad image in the Muslim world was largely our own fault. They think that we should increase our efforts to make nice with Arabs and Muslims, and even rethink our foreign policy.

(Excerpt) Read more at jewishworldreview.com ...
---
TOPICS: Culture/Society; Editorial; Foreign Affairs
KEYWORDS: worldopinion
---
Navigation: use the links below to view more comments.
first 1-20, 21-28 next last
---
---
---
---
---
---
---
---
---
---
---
---
---
---
---
---
---
---
---
---
---
Navigation: use the links below to view more comments.
first 1-20, 21-28 next last
---
---