---
To: Whenifhow; null and void; aragorn; EnigmaticAnomaly; kalee; Kale; 2ndDivisionVet; azishot; ...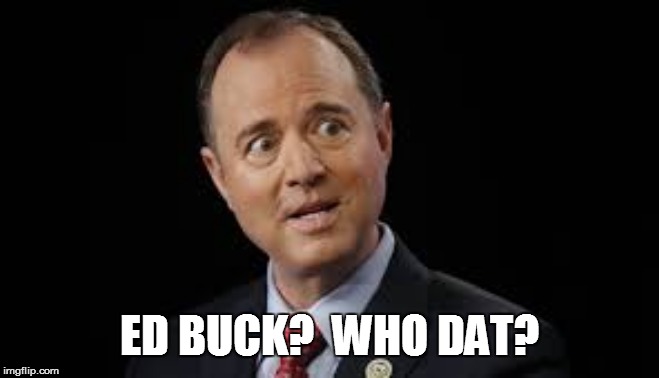 ---
To: bitt
15
posted on
09/17/2019 9:49:18 PM PDT
by
Steely Tom
([Seth Rich] == [the Democrat's John Dean])
---
To: bitt
Good one.
"Who dat?" Will be the position of anyone in the media who wants a future..
23
posted on
09/17/2019 9:55:47 PM PDT
by
mrsmith
(Dumb sluts: Lifeblood of the Media, Backbone of the Democrat/RINO Party!)
---
To: All
This guy was made a folk hero by the despicable Arizona Republic newspaper in the 1980's, billed in stories as "a Republican" as he castigated our conservative governor, Evan Mecham. Mecham was impeached by the GOP-E on the usual dubious crap that befalls solid conservative Republicans. Buck and the GOP installed liberal Democrat Rose Mofford as governor. A few years later they did the same thing to Fife Symington, another terrific governor.
This is from the Buck entry in Wikipedia, "He became involved in politics after the election of Evan Mecham as Governor of Arizona in 1986; Buck, an Arizona native, led the effort to recall him from office due to Mecham's perceived racism and corruption. (Mecham was impeached by the Arizona Senate in 1988 on the basis of various charges, including misusing government funds, before a recall election could occur.) The experience led Buck to change his party affiliation from Republican to Democrat, and he has since donated heavily to Democratic politicians. In 2007, he ran an unsuccessful campaign for the city council of West Hollywood, California."
These people have been running the country, removing their enemies, become heroes in the press, and doing as they please for a very long time. With this media, very little of the real story is revealed.
---
To: bitt
I'm sure democrats will give the money back now that they know... /s
55
posted on
09/18/2019 9:16:49 AM PDT
by
GOPJ
( Daniel Okrent HELP - lowlife editors at the New York Times need YOU... they've lost their way.)
---
FreeRepublic.com is powered by software copyright 2000-2008 John Robinson