--Sweet Home Alabama--
- - - - -
photo hosting
upload an image
free image hosting
imagehost
Jim Cook
Benjamin Shapiro
American Thinker
Got News
Sharyl Attkisson
Townhall.com
Da Tech Guy On DaRadio Blog
Breitbart
Rare
Jammie Wering Fool
Truth Revolt
Powerline
Patterico
BadBlue
Commentary
- - - - -
The Alabama Republican Party: Alabama GOP
- - - - -
Alabama Congressman Bradley Byrne [R]
About Bradley
- - - - -
Alabama United States Senator Jeff Sessions [R]
Former majority leader Eric Cantor's laser-focused support for comprehensive immigration reform, and how amnesty would NOT economically hurt American workers LOST his JOB on this issue!
As opposed to Alabama U.S. Senator Jeff Sessions [R], message against amnesty and an increase in legal immigration based on the economic effect it would have on struggling American families, in the midst of a wicked recession.
Our liberals/progressives are in the process of creating the "two Americas" that they've been whining about ...an America of a small class of rich [all of whom will be in or highly connected to government] while most of the population wallows in poverty with their lives eked out between small time jobs and government hand outs.
It is the government that is keeping the "middle class" down ...and allowing the rich to get richer as long as they donate to the right political party. This is where we can turn the "class war" against the left ...where we can get people to raise their fist against the Department of Education as much as they raise it against Bank of America.
No amount of "stimulus" or "quantitative easing" will create jobs when "main street" employers and entrepreneurs are loath to take the risk of expanding and starting businesses, given Obama's penchant for regulating against success and taxing it when it is achieved. The job-killing effects of ObamaCare will only worsen the situation. And there is the "fiscal cliff" to be reckoned with.
Alabama United States Senator Jeff Sessions [Republican]
- - - - -



- - - - -
Alabama Governor Robert Bentley [R]
- - - - -
Alabama Lieutenant Governor Kay Ivey [R]
- - - - -
- - - - -
Hopey-changey millenials getting crushed…
By hope n' change:
A comprehensive new Harvard University report on Americans under 30, the so-called Millennials, shows that the economy is having a crushing impact, with just 62 percent working, and of those, half are toiling at part-time jobs.
The report, released by Harvard's Institute of Politics, paints a depressing economic portrait of young Americans, many of whom are stuck with huge college tuition bills and little chance of finding a high-paying job.
But over half, or 59 percent of those aged 18-29, have gone to college and The report reveals that time in college is a better sign of social status than income, mostly because jobs aren't available.
They ain't seen nothin' yet. Wait until they have to compete with tens of millions of amnestied third-worlders and "guest" workers for those barista jobs.
The bottom line is that leftist policies will crush the very people that helped make them happen. The mantra of "tax the rich" was and is just fools propaganda. The simple fact is the rich don't have enough money to pay for all of this spending even if you tax the sh-t out of them. So you liberals can continue to defend the cause if you want, but at the end of the day you all will pay for it and it doesnt matter what opinion you hold.
- - - - -
FIVE MILLION COLLEGE GRADS IN JOBS THAT DON'T REQUIRE A HIGH SCHOOL DIPLOMA H/T - BREITBART
A new study finds that 48% of recent college graduates are now in jobs that do not require a bachelor's degree, and 37% hold jobs that require just a high school diploma.
- - - - -
--Mourning in America--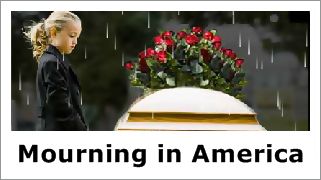 Mourning in America
Americans want to believe America's best days are ahead of them. They want to leave America in better shape for their children. Americans believed this was possible under Reagan. They do not believe it with Mr. Obama. Instead of believing in morning in America, many Americans think a dark, cold and foreboding evening has settled in upon America. Reagan was thus the polar opposite of Mr. Obama. He was a principled statesman who believed in the greatness of the American people and the free market. Mr. Obama is a left-wing ideologue who believes in the greatness big goverment policies. Americans are worried about their future, and about a government determined to implement policies that just don't work.
Today, the zeitgeist is exactly the opposite. Americans are worried about their future, and about a government determined to implement policies that just don't work. But like its predecessor, "Mourning in America" offers a new hope -- if we can just get our government to return to time-tested policies that can spark a rebirth of liberty.
- - - - -
- - - - -
--ObamaCare--
Within the next four years all of ObamaCare will be in full effect. Forget the price of insurance, the cost of care, or any other aspect of ObamaCare. Forget even the trampling of religious and other conscientious objections to abortion inducing drugs …and abortions themselves. ObamaCare WILL continue to drive up the cost of insurance [killing the market altogether,] ObamaCare WILL trample religious liberties and WILL drive up the cost of medicine while driving down the availability of it. It will do all those things …but forget all that.
Once fully enforced ObamaCare will decide WHETHER you get medical treatment …period. And ObamaCare will vastly increase the amount of information on YOU that will be collected and shared across dozens of Agencies.
THAT is the unholy "Grail" the Left has sought for decades. The power of life & death coupled with complete and instantaneous information about every citizen!
All the other levers of power are important, and will be ramped up rapidly in the coming months. But THE "Ring of Power" is ObamaCare. And that will ultimately be the tool Obama and his minions use to exert full control over the bulk of the populace.
There were two reasons for the slow implementation of ObamaCare. The most talked about was the financial aspect …but that was just film-flam. Using 10 years of revenue to pay for 8 years of "benefits" should have sent the media in spasms of outrage …but very little was said about it. But the REAL reason for the slow onset was to placate the populace. For every voice raised against ObamaCare there were dozens mewing: "But it has already passed …and SEE? …nothing bad has happened!"
But something bad is coming …and soon.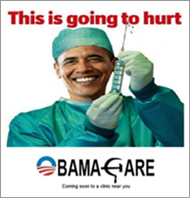 Surprise, surprise. Interesting that those who lived under tyranny are so quick to spot our slide towards it. Ours will be a "soft" tyranny …at least at first …but a tyranny nonetheless.
Gee lets see...
* DHS has its kiddie korps so there is your budding hitler youth.
* The President can detain anyone without warrant -- NDAA.
* Food stamps, yep I could that program being turned into what that article shows. All it would take is that everyone is required to swipe their USDA card at the register.
* And they are already thinking of taking the guns.
Nope we are not far from Austria at all.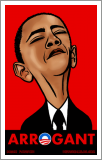 - - - - -
--Record-Low 26% in U.S. Favor Handgun Ban--
Prerevolutionary: according to Patrick [Pat] Caddell. Pat is perhaps the world's most honest liberal. Pat is one of the best liberal commentators at Fox News. Well here is a little factoid that tends to reinforce the idea...
Here's the question:
PRINCETON, NJ — A record--low 26% of Americans favor a legal ban on the possession of handguns in the United States other than by police and other authorized people. When Gallup first asked Americans this question in 1959, 60% favored banning handguns. But since 1975, the majority of Americans have opposed such a measure, with opposition around 70% in recent years.
Source: GALLUP
It indicates a shift. Couple this poll with the rising defense of the 2nd Amendment in recent years and one must come away with the unmistakable conclusion that more and more Americans are coming to the realization that the government is taking away their rights. Their lone deterrent maybe the ability to take up arms and take it back.
Dr. Suzanna Hupp Testimony [Better Quality] to Congress on the Second Amendment. The lady was ahead of her time.
I think this speaks volumes about the direction our country has gone. In 1959 relatively few people in the U.S. owned hand guns because they didn't feel the need to own one. The riots of the 1960s, Charles Manson, etc. changed all that in the 1960s.
I have listened to that splendid woman's testimony multiple times over the years... and it ALWAYS gives me chills! And I ALWAYS cheer at the end, when she points out that the 2nd Amendment "isn't about duck hunting - it's so all of US can protest ourselves from all of YOU." [pointing at the politicians] Amen!
Yes our 2nd amendment rights are so that we may protect ourselves against that panel of idiots
:::::::::::::::::::::::
--The Obama Effect: Disguised Unemployment--
By the measure of real unemployment, the Great Recession is still with us. Nor is it likely to end anytime soon, given the anti-business, anti-growth policies and rhetoric of the Obama administration.
Officially, the unemployment rate stands at 7.7 percent, as of November 2012. Unofficially -- but in reality -- the unemployment rate stands at 12.8 percent. This real rate has remained almost unchanged since October 2009. And it is noticeably higher than the real rate of 10.0 percent that Obama "inherited" from G.W. Bush in January 2009.
No amount of "stimulus" or "quantitative easing" will create jobs when employers and entrepreneurs are loath to take the risk of expanding and starting businesses, given Obama's penchant for regulating against success and taxing it when it is achieved. The job-killing effects of ObamaCare will only worsen the situation. And there is the "fiscal cliff" to be reckoned with if Obama persists in his defense of entitlements while Republicans [rightly] refuse to surrender.
How can I say that the real unemployment rate is about 13 percent, even though the official rate is only 7.7 percent? Easily. Just follow this trail of definitions, provided by the official purveyor of unemployment statistics, the Bureau of Labor Statistics:
--
Unemployed persons [Current Population Survey]
Persons aged 16 years and older who had no employment during the reference week, were available for work, except for temporary illness, and had made specific efforts to find employment sometime during the 4-week period ending with the reference week. Persons who were waiting to be recalled to a job from which they had been laid off need not have been looking for work to be classified as unemployed.
Unemployment rate
The unemployment rate represents the number unemployed as a percent of the labor force.
Labor force [Current Population Survey]
The labor force includes all persons classified as employed or unemployed in accordance with the definitions contained in this glossary.
Labor force participation rate
The labor force as a percent of the civilian noninstitutional population.
Civilian noninstitutional population [Current Population Survey]
Included are persons 16 years of age and older residing in the 50 States and the District of Columbia who are not inmates of institutions [for example, penal and mental facilities, homes for the aged,] and who are not on active duty in the Armed Forces.
--
In short, if you are 16 years of age and older, not confined to an institution or on active duty in the armed forces, but have not recently made specific efforts to find employment, you are not [officially] a member of the labor force. And if you are not [officially] a member of the labor force because you have given up looking for work, you are not [officially] unemployed -- according to the BLS. Of course, you are really unemployed, but your unemployment is well disguised by the BLS's contorted definition of unemployment.
- - - - -
--Democrat Party: For and By the Rich--
This is the sort of issue we have to put front and center in the American mind -- from Reuters:
In the town that launched the War on Poverty 48 years ago, the poor are getting poorer despite the government's help. And the rich are getting richer because of it.
The top 5 percent of households in Washington, D.C., made more than $500,000 on average last year, while the bottom 20 percent earned less than $9,500 -- a ratio of 54 to 1.
That gap is up from 39 to 1 two decades ago. It's wider than in any of the 50 states and all but two major cities. This at a time when income inequality in the United States as a whole has risen to levels last seen in the years before the Great Depression...
Our liberals are in the process of creating the "two Americas" that they've been whining about ...an America of a small class of rich [all of whom will be in or highly connected to government] while most of the population wallows in poverty with their lives eked out between small time jobs and government hand outs. Did the liberals intend this? No, but it is clear from their actions that they prefer it to a system where someone can get ahead without government permission.
Tie this in with Obama's bogus "tax the rich" rhetoric - which really means "tax the upper middle class" -- and we can show, even to low information voters, that it is the government which is keeping them down ...and allowing the rich to get richer as long as they donate to the right political party. This is where we can turn the "class war" against the left ...where we can get people to raise their fist against the Department of Education as much as they raise it against Bank of America.
We can do this, people - we can crush the left, if we'll just try.
- - - - -
--ObamaCare--
Regardless of the "fiscal cliff" issue -- obAMATEUR WILL RAISE TAXES on EVERYONE Regardless of Income!!!
ObamaCare is coming and it will affect EVERYONE regardless of income. Open your wallets - BOHICA!
How soon does everyone forget! - especially the mindless drones of the DEMOCRATS and the WHITE HOUSE.
Hobby Lobby to Defy HHS Mandate Risking $1.3 Million a Day in Fines.
The Obama administration has Christian businesses like Hobby Lobby stuck between a rock and a hard place. Do they violate their consciences and provide contraception and abortifacients in their health insurance policies, do they drop their health insurance policies entirely, or do they simply refuse to comply and risk the huge fines? This is the America we live in, today, thanks to Obama voters who wouldn't know what a totalitarian regime looked like unless it kicked them in the a$$.


Life News reports:


Following a decision by Supreme Court Justice Sonia Sotomayor denying Hobby Lobby's request for an exemption from the Obama administration's HHS mandate, the Christian retail company said it will defy the mandate.


As LifeNews reported, Supreme Court Justice Sonia Sotomayor has refused to act favorably on an emergency appeal Hobby Lobby stores filed to stop enforcement of the HHS mandate against it.




After a federal court denied a request to temporarily stop enforcement of the abortion pill mandate against the Christian-operated business Hobby Lobby, it took its HHS mandate lawsuit to the Supreme Court. Sotomayor denied its request to block the mandate and the millions of dollars in fines it will be subjected to starting January 1 for not complying.


Sotomayor said Hobby Lobby did not show it met the legal standard for blocking enforcement on an emergency basis, but said the company can continue with its lawsuit in lower court.


Now, an attorney for Hobby Lobby says it will defy the mandate and potentially risk potential fines of up to $1.3 million per day.


Kyle Duncan, an attorney for the pro-life legal group Becket Fund for Religious Liberty, said in a statement that hobby Lobby doesn't plan to offer its employees insurance that would cover the drug while its lawsuit is pending.


"The company will continue to provide health insurance to all qualified employees," Duncan said. "To remain true to their faith, it is not their intention, as a company, to pay for abortion-inducing drugs."




The most recent polling data from December 2012 shows Americans support a religious exemption to the mandate.




- - - - -



--Modern "democracy:" election of the corrupt by the incompetent--
The White House [Obama] had his own Tass/Pravda propaganda media set up long before he ran for prez. ABC, CBS, MSLSD, NBC, NY Times, LA Times, ETAL, The CPUSA and other radical liberal left organizations knew well in advance of their Messiahs coming. It has to be a national conspiracy if not international what with the deep pockets of Fabian socialist George Soros, Obama's string puller. Most people don't know that Fabian socialist George Soros turned his own parents into the Nazi's. What a sick human being!
There was a time when the AP's stories were strictly objective, devoid of political slant. But no more. Both the AP and Reuters are guilty of liberal bias, and not in a subtle way.
The entire media is basically The ObamaPress.
Sorry for such a gloomy post …but I feel like America missed the last offramp on the Highway to Hell.
And because we have lots of natural resources, and our government is inefficient in all things …including tyranny …it will take a while for most folks to realize points of no return as we pass them.
It's like having a tool that you rarely use, but when you need it ...it is indispensible. You won't notice if it's been stolen, lost or fallen into disrepair until that moment arrives …and then you're stuck if you can't find it or it no longer works. Many of our freedoms are just like that …we don't use them every day.
Examples:
[1st Amendment] …I never went to rallies until I went to several TEA Party ones. And haven't even gone to one of those in a while. So at the moment I'm not using the freedoms of assembly.
[2nd Amendment] …I don't own firearms, and no one is pounding on my door to collect them, I'm not exercising my right to "bear arms" at the moment. And so on…
Most Americans will not notice the erosion of their liberties, or the intrusion of government into their lives for quite a while. And by then it will be too late.
My fear is that 2013 will be worse than 2012 on Liberty, and Freedom.
Considering what we and the country are facing. If we make it out of 2013 alive, I believe we will be doing well.
Like Ted Nugent said, I believe I will be dead before 2016. People like me will not be tolerated and must be removed. Obama buddy, Bill Ayers, was quite comfortable with 25 million having to be exterminated, in order to usher in his "Worker's Paradise."
My goal becomes: not go quietly! If I really disappear for a while you can figure they got me. I'm first in line for so many bad things I may as well just give it up, but I won't. I'll be taking them with me. I'll be in good company!
--
"It only stands to reason that where there's sacrifice, there's someone collecting the sacrificial offerings. Where there's service, there is someone being served. The man who speaks to you of sacrifice is speaking of slaves and masters, and intends to be the master." --Ayn Rand
- - - - -

--The Heavy Burden of ObamaCare--
"Society in every state is a blessing, but government, even in its best state, is but a necessary evil; in its worst state an intolerable one." --Thomas Paine
Now that the reality of Barack Obama's re-election is settling in, the U.S. economy is shifting and making the necessary adjustments to brace for four more agonizing years of Hope 'n' Change™. In the last 10 days, we've seen news of the fallout in everything from the stock market plummeting to jobless claims skyrocketing and the poverty rate spiking. Thanks to Obama's assault on job creators, the list of businesses announcing layoffs, cuts and closings is growing daily. But not to worry: Obama says the "private sector is doing fine."
There are two policies that bear primary blame: ObamaCare and the fiscal cliff. Markets and business owners are struggling to prepare for these two gut punches. With the fiscal cliff, of course, higher taxes could cripple particularly small businesses' ability to hire or expand. But ObamaCare is doing much the same thing in a way that will only worsen as the tentacles of regulation extend ever further.
There are many more mandates in the law besides the infamous individual mandate to buy health insurance. For example, businesses of 50 or more employees face the potentially crushing burden of providing full, approved benefits to employees that work more than 30 hours -- considered "full-time" employees per the decree of the new law -- or fines of $2,000 per employee if they don't comply. The response is entirely predictable: Businesses avoid hiring that 50th employee, they reduce hours for their current employees or they pay the penalty, which is often cheaper than insurance, though it leaves employees on government exchanges.
Darden Restaurants, the chain that owns Olive Garden, Red Lobster, Longhorn Steakhouse and others, falls into the latter category. The chain announced in October that it would begin limiting employee hours in some markets. McDonald's, White Castle and Denny's, among others, are looking to do likewise. Both Darden and McDonald's were recipients of ObamaCare waivers two years ago. So much for that. John Schnatter, CEO of Papa John's, estimates that ObamaCare will cost the company between $5 million to $8 million annually, translating to reduced employee hours and higher prices.
These businesses are between the proverbial rock and a hard place. ObamaCare will cost them a fortune, but cutting employee hours and benefits and raising prices to account for it leaves them serving as the lightning rod -- by design. On top of that, businesses could very well face retribution from the White House. Washington, DC, employment law attorney Robert B. Fitzpatrick said as much when he noted that if businesses are "just playing with the numbers, playing with the hours to try to avoid compliance... there are going to be consequences." By "consequences," of course, Fitzpatrick means lawsuits -- just one more way that ObamaCare was a huge bone thrown to trial lawyers.
Meanwhile, states must setup federally mandated insurance exchanges by Dec. 14, a deadline pushed back twice already. Republican governors stalled on implementation, hoping that Obama would be defeated and his abomination of a law could be repealed.
Leftists say that because the states are the ones doing the work, this is a great example of federalism, right? Wrong. The federal government has no constitutional authority to dictate to states what they must do. Many states are taking this position and refusing to set up the exchanges. Important decisions will be dictated from Washington anyway, so why provide them cover as faux deputies? This peaceful revolt of sorts could help ObamaCare collapse under its own weight, and, though that won't be pretty, it may provide leverage for undoing the law.
Obama's campaign slogan was Forward, borrowed from his Marxist predecessors in Europe. The American people were Forewarned, but 60 million voters still bought his snake oil, and now many individuals, families and businesses will pay a high price for that decision. Yet those of us who cherish Liberty and Rule of Law must not give up. In fact, we must find our own path forward.
- - - - -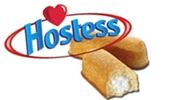 RIP -- The Twinkie
Yep, wear the union label -- while you can. Hostess is laying off 18,000 people as they are just going to shutdown and sell themselves off:
"We deeply regret the necessity of today's decision, but we do not have the financial resources to weather an extended nationwide strike," said Gregory F. Rayburn, chief executive officer. "Hostess Brands will move promptly to lay off most of its 18,500-member workforce and focus on selling its assets to the highest bidders."
Source
Smart move union. So goes the Democrat's union dues.
Last memory of my childhood terminated. My mom used to pack one in my Lone Ranger lunch box for school every day. Having a twinkie in your lunch was like having a carton of cigarettes in prison. Highly tradeable.

On a more somber note… companies have exactly THREE options:
[1) Adapt to survive: lower hours per employee below the triggers, cut work force, and try to hunker down [e.g. Olive Garden, Denny's, etc. etc. etc.]
[2] Go out of business. [e.g. Hostess]
[3] Prostitute themselves to Obama to get a handout. [e.g. GM]
The Age of Obama is gonna resemble the Hunger Games real soon. We are, I believe, one more scare away from STAMPEDE!!! time on Wall Street. Then when unemployment [even the phony version] hits 9+% again, the Chicago Machine will enact a variety of "Emergency Measures." And then…[switching metaphors] AVALANCHE!!
The interesting thing is that Darden Restaurants and Sonic are both big Democratic supporters.
I'll make it even scarier for you -- Darden already have ObamaCare waivers and yet they are still going to push to get their employees to 27hrs/wk. The CEO of Darden is BLACK and the Obama minions are still screaming racism.
In ObamaWorld it is not the color of your skin or the content of your character that counts; its the color of your thoughts which must be Red.
So is Strtker, the Michigan-based company that produces everything from hospital beds to articicial knee and hip replacements. Stryker just announced a big layoff.
Any CEO stooopid enough to buy Obama's BS deserves to be run out of their company on a rail!
- - - - -
This article is a "gem." Haven't we been warning people about this for several years now? Thank goodness we saved Big Bird's gubmint funding though.
A representative of the liberal Pension Rights Center, Rebecca Davis, testified that the government needs to get involved because 401k plans and IRAs are unfair to poor people. She demanded the Obama administration set up a "government-sponsored program administered by the PBGC [the governments' Pension Benefit Guarantee Corporation."] She proclaimed that even "private annuities are problematic."
Yeah, it is unfair that people who already sit on their asses getting welfare can't have extra welfare cash to set aside for their golden years.
tic… tic… tic…
- - - - -
"WASHINGTON -- The U.S. Postal Service reported a record annual loss Thursday and warned that, without congressional action, it could face a cash shortfall next fall.
The mail service said it lost $15.9 billion in the fiscal year that ended Sept. 30. That is more than triple its $5.1 billion loss last year."
- - - - -
--The Essence Of Life--
We are responsible for what we do, no matter how we feel. Sometimes when I'm angry I have the right to be angry, but that doesn't give me the right to be cruel. Either you control your attitude or it controls you. You can do something in an instant that will give you heartache for life.
Maturity has more to do with what types of experiences you've had and what you've learned from them and less to do with how many birthdays you've celebrated. It's taking me a long time to become the person I want to be.
Credentials on the wall do not make you a decent human being. You can keep going long after you can't. Heroes are the people who do what has to be done when it needs to be done, regardless of the consequences.
You should always leave loved ones with loving words. It may be the last time you see them. Sometimes the people you expect to kick you when you're down, will be the ones to help you get back up.
The people you care about most in life are the essence of life. Tell them today how much you love them and what they mean to you.
- - - - -
--State of the Union--
As we enter the final weekend before the most important election of our lifetime, the State of the Union is weak. Mediocrity, misery and economic malaise permeate every corner of our great country, with misery taking the forefront for those pour souls who were subject to Sandy's wrath. As those in NJ, NY, PA, etc., scramble to simply find food, I have to think that they will be less than excited to rush to the polls on Tuesday to vote for a President that only found time to fly in for a photo op. As those in NY see the huge generators being set up, and the money coming in to conduct a marathon, I can't think that they will be excited to walk to the polls on Tuesday to vote for four more years of misery and malaise.
Today's jobs report inched up unemployment to 7.9%, unemployment amongst blacks is 14.3%, job participation is just 63%, disability claims are at record levels, family incomes continue to decline, gas lines grow in the hurricane effected area with gas prices inching towards $6/gallon, and food stamp usage has more than doubled. This is the fundamental transformation Obama promised in 2009, and it is a promise of which that has only enriched him and his supporters. He has no plan going forward, and will continue to spend money that we don't have, further plummeting this country to bankruptcy, and more families to despair.
The new progressive Democratic party has controlled Congress since 2007, and the White House since 2009, and they are responsible for the current State of the Union. A state of which must change on Tuesday.
- - - - -
Video: Obama's Associations -- Election 2012 [Full Version]
Via Unalienable Writes:
"The shady cast of characters who helped to shape President Obama. Detailed looks into connections with the likes of Frank Marshall Davis, Jeremiah Wright, Louis Farrakhan, Saul Alinsky, Bill Ayers, Khalid Al-Mansour, and Father Michael Pfleger."
Every major newspaper in the country should sound like the Las Vegas Review Journal, excoriating Dear Leader as "unworthy":
This administration is an embarrassment on foreign policy and incompetent at best on the economy -- though a more careful analysis shows what can only be a perverse and willful attempt to destroy our prosperity. Back in January 2008, Barack Obama told the editorial board of the San Francisco Chronicle that under his cap-and-trade plan, "If somebody wants to build a coal-fired power plant, they can. It's just that it will bankrupt them." He added, "Under my plan… electricity rates would necessarily skyrocket." It was also in 2008 that Mr. Obama's future Energy Secretary, Steven Chu, famously said it would be necessary to "figure out how to boost the price of gasoline to the levels in Europe" -- $9 a gallon.
Yet the president now claims he's in favor of oil development and pipelines, taking credit for increased oil production on private lands where he's powerless to block it, after he halted the Keystone XL Pipeline and oversaw a 50 percent reduction in oil leases on public lands.
These behaviors go far beyond "spin." They amount to a pack of lies. To return to office a narcissistic amateur who seeks to ride this nation's economy and international esteem to oblivion, like Slim Pickens riding the nuclear bomb to its target at the end of the movie "Dr. Strangelove," would be disastrous.
Candidate Obama said if he couldn't fix the economy in four years, his would be a one-term presidency.
Mitt Romney is moral, capable and responsible man. Just this once, it's time to hold Barack Obama to his word. Maybe we can all do something about that, come Tuesday.
- - - - -
Obama: "Voting is the Best Revenge" Against Your Enemy, Mitt Romney. Yep, Obama went off prompter, again, today and hacked forth a glob of ugly rhetoric reminiscent of his "punish your enemies" line from October 2010. This time the enemy in need of punishment, is the monster Romney.
John Nolte of Big Government wrote:
As is often the case when he goes off-teleprompter, at a campaign stop in Ohio today, Obama revealed a side of himself we haven't seen since Hurricane Sandy gave him the opportunity to play The American President for a few days. The old Divider-In-Chief returned with a vengeance when in the middle of an attack on Mitt Romney he told a crowd at a campaign rally to stop booing and, "Vote! Voting's the best revenge!"
What he obviously meant was that voting is the best revenge against Mitt Romney.
Revenge? What an odd choice of words for a POTUS to use about the Democratic process. Sounds more worthy of a community organizer -- like so much of his rhetoric has this election season:
But what else are we to expect from a president who spent weeks on binders, Big Bird, birth control, and bull shit -- the president whose surrogates have used the word "felon" to describe Romney and accused him of murder?
There's a reason the 2012 election may turn out to be a watershed moment for the United States, and this episode is just one of many that illustrates why Americans are going to return this President back to Chicago where his community organizing ways are more acceptable.
- - - - -
--November Surprise--
***This Is going to blow open soon... and a lot of people are going to be implicated. Traitors one and all if they remain quiet to protect the scum in the White House.***
The United States Ambassador to Libya, the personal representative of President Barack Obama, had been tortured, sodomized, dragged bloody through the streets of Benghazi, and murdered. Chris Stevens, along with the two Marines and another who were murdered along with him, had volunteered to serve his country. But under the leadership of Barack Obama, that is how his service ended.
By the evening of that next day, Commander-in-Chief Barack Obama was jetting off to a campaign fundraiser in Las Vegas, followed by parties with Jay-Z and Beyonce. Chris Stevens was already out of sight, out of mind. For such failure, any commander serving under the commander-in-chief should be court martialed. But the President expects you to give him four more years of such "leadership."
Greta's scoop on Benghazi last night was chilling… and explosive. Ambassador Chris Stevens Called for Help During Bengahzi Attack. [Video] But Obama never called in troops. So a month before Obama was told there was Al-Qaeda in Benghazi and the consulate was not safe. While Obama was busy claiming they no longer existed!
Clare Lopez is an intelligence expert with a focus on the Middle East, national defense and counterterrorism. She served for 25 years as an operations officer with the CIA and now writes for RadicalIslam.org. Her reports are intelligent and informative especially in a case, like this one - breaking news. I don't know of anyone else who's noticed that Turkish Consul General Ali Sait Akin, who had been meeting with Ambassador Stevens the evening of the attack, was able to leave the consulate without incident, even though the area outside the compound was swarming with jihadis setting up checkpoints.
If reporting from The Washington Times is accurate, it looks like the Turkish Consul General Ali Sait Akin was in on the plot to attack the U.S. mission in Benghazi. According to an October 27, 2012 report, Libyan witnesses from the Benghazi neighborhood where the U.S. compound was located told reporters from the Associated Press [AP] that "150 bearded gunmen, some wearing the Afghan-style tunics favored by Islamic militants began sealing off the streets" leading to the facility "around nightfall."
The Department of State "Background Briefing on Libya," provided by telephone to reporters on October 9, 2012 states that Ambassador Christopher Stevens held his last meeting of the day on September 11 with the Turkish diplomat from 7:30pm to 8:30pm and then escorted him out to the compound gate to bid farewell. At that point, the briefing states, "Everything is calm at 8:30 p.m. There's nothing unusual."
But the AP witnesses said that, "The neighbors all described the militants setting up checkpoints around the compound at about 8 p.m" The checkpoints were described as being manned by bearded jihadis in pickup trucks mounted with heavy machine guns and bearing the logo of the Al-Qaeda terror franchise, Ansar al-Shariah.
That means that the Turkish Consul General would have had to pass out through the blockade as he departed the American compound and left the area. There is no record that he phoned a warning to his American colleague, the one he'd just had dinner with, Ambassador Stevens. Given the description of the blockade around the American compound and of the jihadis and their trucks that were manning it, it seems unlikely that he somehow just failed to notice. "[N]o one could get out or in," according to one neighbor interviewed by the AP.
Except for the Turkish Consul General, it would appear.
Keep reading. The implication here is the Turkish government is at least somewhat complicit in this attack.
And Obama, it should be noted, describes the Turkish Prime Minister Erdoğan as one of the five foreign leaders with whom he is most friendly.
Michael Rubin of Commentary made note of the oddity, last July:
Given Erdoğan's anti-American and anti-Semitic rants, and his repeated support for not only Hamas terrorists, but also an Al Qaeda financier, perhaps it is time for Obama to describe why he embraces Erdoğan above most others.
Yes, indeed.
SEE ALSO:
Radical Islam: Why Was Security Stripped in Benghazi?
Data points continue to accumulate about the September 11, 2012 attack on the U.S. mission in Benghazi, Libya. The picture that is beginning to emerge from connecting those dots is deeply concerning on multiple levels. Two related issues dominate this analysis: The stripping of security protection from the Benghazi mission prior to the 9/11 anniversary attack and the refusal to send or even permit local help on the night of the attack.
As Fox News Bureau Chief of Intelligence Catherine Herridge suggested on the "Mike Huckabee" show on Oct. 27, both of these critical subjects may have been driven by a perceived need to cover up the existence of the role being played by the U.S. mission in Libya to serve as a command hub for the movement of weapons out of Libya to Syrian rebels fighting to bring down the Bashar Al-Assad regime.
Jihad Watch: Libyan Leaks: Secret Document reveals Al-Qaeda "brother" put in control of U.S. Embassy in Tripoli:
The Benghazi scandal just keeps getting worse. Clearly Obama wanted to protect the illusion that the U.S. had supported a democratic uprising in Libya, but even Obama keeps saying the al-Qaeda is the enemy -- and now this. "Libyan Leaks: Secret Document reveals Al-Qaeda 'brother' put in control of U.S. Embassy in Tripoli," by Walid Shoebat and Ben Barrack, October 31:
A treasure trove of secret documents has been obtained by a Libyan source who says that secularists in his country are increasingly wanting to see Mitt Romney defeat Barack Obama on November 6th. This charge is being made despite Muslim Brotherhood losses in Libyan elections last July which resulted in victory for the secularists. One of those documents may help explain this sentiment.
It shows that in supporting the removal of Gadhafi, the Obama administration seemed to sign on to an arrangement that left forces loyal to Al-Qaeda in charge of security at the U.S. embassy in Tripoli from 2011 through at least the spring of 2012.
The National Transitional Council, which represented the political apparatus that opposed Gadhafi in 2011 and served as the interim government after his removal, made an extremely curious appointment in August of 2011. That appointment was none other than Abdel Hakim Belhaj, an Al-Qaeda ally and 'brother'. Here is a copy of that letter [translation beneath it]...
The US Mission in Benghazi convened an 'emergency meeting' less than a month before the assault that killed Ambassador Chris Stevens and three other Americans, because the consulate could not defend against a 'coordinated attack,' according to a classified cable reviewed by Fox News.
- - - - -
It has been over 6 weeks since our Ambassador was murdered and the President has yet to hold a press conference, or even answer a difficult questions on the subject. He did however have the courage to blame America for the first couple of weeks.
Last night, Newt Gingrich dropped a bombshell on the Greta Van Susteren Show. He said that, according to a very reliable source, [a US Senator] at least two major networks have in their possession secret emails that prove that it was the White House itself that put the kibosh on the rescue operation that could have saved four American lives in Benghazi.
If this rumor is true it should be all over for Obama. This isn't 2008 where the LA Times can sit on a damning videotape and get away with it. Now we have multiple news organizations sitting on explosive information that every American ought to know. And Newt Gingrich just went on national television and told the world about it. They owe it not only to their country but to their own credibility release them.
Via The Daily Caller::
"There is a rumor -- I want to be clear, it's a rumor -- that at least two networks have emails from the National Security Adviser's office telling a counterterrorism group to stand down," Gingrich said. "But they were a group in real-time trying to mobilize marines and C-130s and the fighter aircraft, and they were told explicitly by the White House stand down and do nothing. This is not a terrorist action. If that is true, and I've been told this by a fairly reliable U.S. senator, if that is true and comes out, I think it raises enormous questions about the president's role, and Tom Donilon, the National Security Adviser's role, the Secretary of Defense Leon Panetta, who has taken it on his own shoulders, that he said don't go. And that is, I think, very dubious, given that the president said he had instructions they are supposed to do everything they could to secure American personnel."
Newt Gingrich dropped a bombshell on the Greta Van Susteren Show
Later on, Gingrich referenced another "October surprise" that he thinks will break in the coming days.
"The other big story, I think, that is going to break is on corruption and extraordinary waste in the solar power grants and direct involvement by the Obama White House, including the president, in the solar panel grants involving billions of dollars, and I suspect that's going to break Wednesday and Thursday of this week," Gingrich added.
That story, I would like to point out, has already broken in the right wing blogosphere.
The president, and the Obama White House solar panel grants surprise is hardly a surprise to anyone who has been paying attention, but will be terribly inconvenient to the President and that is corruption, bankruptcies and questionable stock sales involved in the green energy stimulus money. More and more is coming to light and ensnaring the Senate Majority leader Harry Reid and his sons as well. I have a feeling that time will reveal that the Obama regime may go down in history as the most corrupt and incompetent administration ever.
Last night, Sean Hannity also spoke of audiotapes he's heard the Obama administration is holding on to of Tyrone Woods pleading for help. "I've heard they're damning."
Facebook Censors Navy SEALS to Protect Obama on Benghazi-Gate
Obama Fires Top Admiral For Advocating Libyan Rescue?
***UPDATED*** Please Help Admiral Gaouette and General Ham !! Please Read
A retired Delta operator made the point at Blackfive that, contrary to Panetta's asinine assertion that there just wasn't enough "real time information" to act in Benghazi, Special op forces are trained for just such situations:
The Secretary of Defense, in his most determined way, continues to try to protect the President from the fiasco in Benghazi. So desperate to shield the President he announced what will be forever remembered as the Penetta Doctrine:
"[The] basic principle is that you don't deploy forces into harm's way without knowing what's going on; without having some real-time information about what's taking place," Panetta told Pentagon reporters. "And as a result of not having that kind of information, the commander who was on the ground in that area, Gen. Ham, Gen. Dempsey and I felt very strongly that we could not put forces at risk in that situation."
Of course, in the circles that I ran with, it will be forever labeled "The Dumbest Shit I Ever Heard Doctrine."
Let's review the real-time facts that we know so far. The entire event was being streamed live to the State Department and, in all likelihood, the White House situation room. That's pretty "real-time" if you ask me, but it gets worse. Not only were we watching the entire damn thing on expensive televisions; we had at least two highly trained special operators on the ground in direct communication!
The best "real-time information" possible is eyes on the objective. Even better is people on the objective with eyes on the enemy. Even better than that is people on the objective that are highly trained with years of special ops experience in direct communications. My God people, this was a perfect intelligence situation to execute a forced entry relief operation!
Our Canadian friends at least have some semblance of honor left, writing:
It is undoubtedly worse than Obama simply turned his back on cornered American citizens in a foreign land, knowing undoubtedly they would die. But that Barack did so without any compelling reason -- except political -- is beyond evil. Only a moral monster would have made that decision when it was within his powers to possibly save them with almost no effort of his own.
Moral monster? Those are extreme words but they fit an extreme situation and are appropriate to the use of the t-word. But it's worse. Many now are trying to figure out the motivation for this behavior -- beyond the obvious electoral whoring mentioned above, the need to be seen in a certain manner at a certain moment to be sure the Ohio vote doesn't fall the wrong way.
Jed Babbin of The American Spectator opined ominously:Jed Babbin of The American Spectator opined ominously:
Naturally, Obama and his minions aren't owning up to their treachery and the media -- except for Fox News -- are burying the story.
The Washington Post and the New York Times -- both of which have endorsed Obama -- aren't reporting the story on the rejected pleas for help. ABC, CBS and NBC aren't either.
To its credit, CBS did break the story last week on the State Department emails that show Obama's administration knew that the Benghazi attack was made by terrorists, not some mob distracted from a protest against an anti-Islamic video. The other big liberal media -- i.e., most of the major media -- gave little or no coverage to the CBS scoop. As huge a scandal as the Benghazi incident is, it's not possible for it to become an issue in the election unless Mitt Romney makes it one. So far, he hasn't and he isn't likely to in the final week of the campaign.
- - - - -
UPDATE: Oh, this is special. Apparently the Senate Intelligence Committee had been asking for the emails for weeks, but the White House –I just know you'll be shocked– stonewalled them.
It wasn't just "for days" that the administration tried to blame the disaster on a video few had even heard of; with very few exceptions, it went on for two weeks, including an infomercial in Pakistan bought and paid for with US taxpayer money and a presidential address before the UN General Assembly. The film's maker was rousted out of his home by the sheriffs at night and made a public scapegoat, his free speech rights gut shot and left to bleed.
But it didn't end after just a few days or even a few weeks, or even after US officials finally acknowledged what our "lying eyes" had been telling us all along, that this was an al Qaeda terrorist operation. Let's roll tape and review a moment from the second Obama-Romney debate that the president I'm sure wishes we'd all forget. Remember those first 45 seconds?
The three emails [via PJM] mentioned in the Reuters report detail the early stages of the attack on the consulate. They arrived within the first two hours of a battle that lasted seven hours. There are two key takeaways here:
--First, amidst all the addresses in the headers, note "nss.eop.gov." That is the White House Situation Room, President Obama's emergency command center. It is almost unthinkable that Obama himself wasn't informed.
--Second, the subject line of the last email, beginning "UPDATE 2," reported that Ansar al-Sharia had taken credit for the attack. Ansar al Sharia is al Qaeda's subsidiary in Libya.
In other words, within 120 minutes of the battle's beginning, while there still might have been time to send help and save lives, the president, who almost certainly was informed, instead went to bed, lied to us the next day in the Rose Garden [and for weeks after,] and that night went to Las Vegas for a fundraiser.
These lies could not have been meant to keep secrets from the enemy; al Qaeda knew what they had done. It wasn't to protect a retaliatory strike, for none was underway. [We were still "investigating," trying to find out what happened, y'see.]
No, the only purpose of this repeated, repeated, serial lying from multiple administration officials, from the president to Secretary of State Clinton to Ambassador Rice to Mouth of Sauron Press Secretary Jay Carney and God knows how many others, was to lie to us, in order to protect Obama's reelection.
Bear in mind that Obama had spent months spiking the ball over killing bin Laden, culminating at the Democratic convention in Charlotte early last September and proclaiming that al Qaeda was crippled. Then the Benghazi attack occurred, clearly planned in advance, clearly an al Qaeda operation, and, so clearly that even a blind man couldn't miss it, demolishing Obama's one great claim to foreign policy success, something he desperately needed in his race against Governor Romney.
And thus the "fables" about a "spontaneous reaction to a hateful video" and "no evidence of terrorism" were born. Thus the midnight knock on the door for guy who had made the video. The only question is who came up with the idea. Axelrod? Jarrett? Cutter? Obama, himself?
We'll probably find out in a tell-all memoir after the election, when all these wretches are in retirement and pointing fingers at each other.
But I doubt we'll ever find out who released these emails. That's a secret that will be kept.
- - - - -
--Obama Lied From The Beginning--
Obama Knew Benghazi Was Terrorist Attack Right From The Beginning.
Late last night it was revealed that emails detailing the attacks in Benghazi were sent from Tripoli to the State Dept. in Washington and the EOP [executive office of the President.] The emails were sent while the attack was on going, and stated that Ansar al Sharia had claimed responsibility. No where in the emails did it refer to the you tube video, or that the attacks were spontaneous in nature. The emails were received by several officials at the State Dept., the FBI, and at least two officials in the White House. For two weeks following the attack, the administration lied to the American people and to this very day, our President still has not told the truth. What's even more egregious is the fact that Obama blamed America for the attack, arrested the producer of the video, and characterized the deaths of our four Americans as "bumps in the road."
This inexcusable action on behalf of the Obama administration rises to the level of impeachment, and if he somehow wins reelection, I for one will not stop until impeachment proceedings begin.
How did Obama even go to bed, that night, knowing what was happening?
Watch this video of all the lies and obfuscations Jay Carney told in the days following the attack. We now know beyond a shadow of a doubt – they knew the whole time that it was a terrorist attack. They were obviously a covering-up the inconvenient facts because 1. it interfered with their preferred narrative, and 2. it was their lack of security, and lack of any kind of rescue effort that allowed the those four Americans to be slaughtered in the nightmarish way they were.
There are a few basics about being president which not incidentally coincide with the responsibilities of being an adult. One is that you cannot lie. Two is that if caught in a lie, you should 'fess up. And three is that if you lie to cover up your original lie, that's called malice aforethought [often leading, in Washington, to criminal investigation and obstruction of justice charges, at least if the perp is a Republican.] Now, Benghazi. It is perfectly fair for the White House to assert that in the fog of an attack on U.S. facilities, facts were mistaken. It's important to emphasize that almost anytime one sees a senior official muddling his facts, odds are he's got bad data, he's incompetent, or whoever was briefing him was wrong. But... That is clearly not the case in the Benghazi scandal.
Rather, the story of Benghazi is that while the White House's initial response may have been confusion [because other attacks were taking place at the same time,] very soon thereafter, the outright lying began. And now that we have seen the emails that went to the White House within two hours of the attack naming the perpetrators — a known terrorist group operating in eastern Libya — the fact that officials from the President on down were intentionally and falsely insisting the 9/11/12 attack was not an act of terrorism is screamingly obvious.
Note that Mitt is getting Intel reports daily now. Hmmmmm, is this why he did not bring up Benghazi last night, knowing Obama was cooking his own goose?
- - - - -
--Vast Confederacy Of Fools; Such As Those Who Made Him Their President--
"The danger to America is not Barack Obama but a citizenry capable of entrusting a man like him with the presidency. It will be easier to limit and undo the follies of an Obama presidency than to restore the necessary common sense and good judgment to a depraved electorate willing to have such a man for their president. The problem is much deeper and far more serious than Mr. Obama, who is a mere symptom of what ails us. Blaming the prince of the fools should not blind anyone to the vast confederacy of fools that made him their prince. The republic can survive a Barack Obama, who is, after all, merely a fool. It is less likely to survive a multitude of fools such as those who made him their president." --Anonymous
- - - - -
The Obama Wealthy Liberal Elite
"Most liberal politicians [at the national level] are very wealthy, yet they portray themselves as the champions of the little guy. Even the politicians who are multi-millionaires talk about rich people in the third person.
Mr. and Mrs. Barack H. Obama have the wildly inappropriate habit of enjoying expensive vacations — at Martha's Vineyard in the summer and Hawaii in the winter — as well as junkets to other parts of the world, aboard Air Force One. The Democrats are constantly wailing about the gap between the "haves" and "have-nots," and they want you to believe they fight for the poor and downtrodden. In a recent speech, President Obama said he believes the greatest threat facing our country today is income inequality. If he truly believes that, why does he flaunt his wealth and soak the taxpayers for his semi-annual vacations?"
- - - - -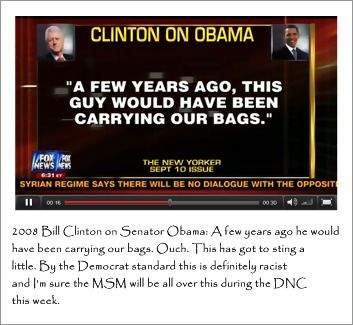 - - - - -
PAUL RYAN
- - - - -
"We've Heard It All Before"
GOP launches "Obama Isn't Working" message at DNC
- - - - -
Barack Obama has done extremely well among three voter segments: minorities, single women and youth. Carrying large majorities of these three blocks is an important part of his re-election strategy.
For the first time it appears that Mitt Romney is breaking Obama's hold on the younger voters. This could spell disaster for Obama and the Democrats come November.
Are younger voters finally waking up to the fact that the Obama Administration's policies are the reason they are unemployed or under-employed and will leave them with a mountain of debt?
Attracting minorities and the Julias of the world [single issue voters whose primary interest is free birth control and free abortions] may prove to be much more difficult.
For the first time since he began running for president, Republican Mitt Romney has the support of over 40 percent of America's youth vote, a troubling sign for President Obama who built his 2008 victory with the overwhelming support of younger, idealistic voters.
Pollster John Zogby of JZ Analytics told Secrets Tuesday that Romney received 41 percent in his weekend poll of 1,117 likely voters, for the first time crossing the 40 percent mark. What's more, he said that Romney is the only Republican of those who competed in the primaries to score so high among 18-29 year olds.
"This is the first time I am seeing Romney's numbers this high among 18-29 year olds," said Zogby. "This could be trouble for Obama who needs every young voter he can get."
Read more:
Hat Tip: Washington Examiner
- - - - -
Former Democrat congressman from Alabama Artur Davis. Artur is now a Republican and lives in Virginia. He is preparing to work for the Romney/Ryan Campaign. In 2008, he was Obama's Campaign Chair. Ths is what failed policies and a radical agenda will do to you. This is a smack in the face to the Obama regime.
Panic From Democrats: "Disturbing Report" of Overflow Crowds at Romney/Ryan Events. Wall Street Journal: Crowds Swell at Romney Rallies After Ryan Pick.
Romney & Ryan draw a crowd of 10,000+ in North Carolina and earlier 15,000+ in Wisconsin. Joe Biden draws a crowd of 700. But the same could not be said for Obama as his home town Chicago, IL fundraiser. At the $51 admission fundsariser the room was only half full.
Huge crowds greeted Romney and Ryan as they traveled through North Carolina on their bus tour. Before an enthusiastic crowd earlier in the morning in Mooresville, NC Romney stated, "I have selected this man to be my running mate because I want to change Washington."
UPDATE I: The liberal MSM at the Politico is quick to defend Obama's half empty fundraiser by saying it was more than they had planned for. Because everyone sets up for a fundraiser twice the size than what is expected. Sounds like Obama's empty campaign kickoff at Ohio State.
And that's not all. Since the VP announcement, Romney's campaign has brought in over 70,000 donations from his Tea Party base.
Large, enthusiastic and excited crowds showed up in Manassas, VA yesterday to welcome Romney and Ryan. Check out Marooned in Marin for pics of the event.
Four years ago Barack Obama chose Joe Biden as his running mate. For years Joe's nickname, even among Democrats, had been "Slo-Joe" Biden. EVERYONE who followed politics even casually knew that Joe was a gaffe-machine, had done virtually nothing in his lonnnnnng years in politics… and nothing in private industry EVER.
The media knew all this, and yet they GUSHED over the choice of Biden. They awarded him accolades and credentials up to, but not including, the Nobel Peace Prize [that was reserved in advance for Obama.]
When Biden referred to President Roosevelt [who wasn't President yet,] using the television [which wasn't invented yet] calming America's nerves after the great stock market crash of 1929, the media quickly downplayed it. Only bloggers remembered. When Biden reminisced about talking with people at a local diner about the problems facing our country in 2008, the media bought [and adored] the whole story! And when it turned out the diner had ceased to exist for over a decade, the media quickly moved on. And so it has gone… lie after lie, tale after tale, gaffe after gaffe.
Within weeks of being inaugurated, Obama would respond to some crap Biden had spewed by saying: "Oh, that's just Joe being Joe." And the media chuckled, because THEY had known that all along.
Now Mitt Romney has tapped Paul Ryan, and the media knows HIM as well as they knew Biden. This time, instead of ignoring Biden's stupidity, the media will ignore Ryan's brilliance. It will be left to all of us to make sure America knows who Ryan truly is!
America NEEDS to be told the truth about the economic cliff we are standing on! Paul Ryan can tell that truth... he's the necessary man! You can't keep spending money you don't have – as a individual, a family or a nation. Margaret Thatcher: There is no such thing as public money.
- - - - -
Michelle Malkin nails it... as always: Andrea Mitchell IS the Norma Desmond of media whores!!
VDH goes for jugular in this piece. Our Not So Best and Not So Brightest.
Pick your favorite demon, he skewers it. Nobody hits the nail square on the head like VDH. In one article, he says everything we have been saying. What a masterpiece!
That VDH piece is fantastic! I encourage everyone here to read it and bookmark it for re-use. The whole thing rocked, but this paragraph captures the essence perfectly:
In most of these cases, the above are servants of the progressive cause. They operate on assumption that they are our self-appointed censors, vigilant to spot class, race, or gender bias and unfairness among those less well-branded. But as our morals police, they do not fear any policing of themselves. Never is there any assumption that John Edwards's attacks on the wealthy mean that he should not live in a ridiculous, self-indulgent mansion or hire on a groupie with other people's money.
It made perfect sense that the green moralist Al Gore should have enjoyed one of the most energy-guzzling homes in Tennessee, or from time to time played boorish "crazed sex poodle" with his call-up masseuse.
Elizabeth Warren is knee-deep in the world of the one-percent, in part because she knows how to work the system of exemption that assumes loud liberal credentials allow one to live a life quite differently from the one professed.
- - - - -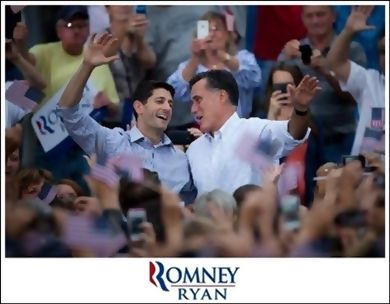 PAUL RYAN
--Paul Ryan's opening to his speech to CPAC this year:
"There are those who say modern society is too complicated for the average man or woman to deal with. This is a long-standing argument, but we heard it more frequently after the mortgage credit collapse and financial meltdown in 2008. They say we need more experts and technocrats making more of our economic decisions for us. And they argue for less "political interference" with the enlightened bureaucrats … by which they mean less objection by the people to the overregulation of society.
If we choose to have a federal government that tries to solve every problem, then as long as society keeps growing more complex, government must keep on growing right along with it. The rule of law by the people must be reduced and the arbitrary discretion of experts expanded...
If the average American can't handle complexity in his or her own life, and only government experts can … then government must direct the average American about how to live his or her life. Freedom becomes a diminishing good.
But there's a major flaw in this "progressive'" argument, and it's this. It assumes there must be someone or some few who do have all the knowledge and information. We just have to find, train, and hire them to run the government's agencies.
Friedrich Hayek called this collectivism's "fatal conceit." The idea that a few bureaucrats know what's best for all of society, or possess more information about human wants and needs than millions of free individuals interacting in a free market is both false and arrogant. It has guided collectivists for two centuries down the road to serfdom — and the road is littered with their wrecked utopias. The plan always fails!"
--Hmm, who does this remind me of? Of yeah, that guy we call the Gipper, who said this in his first inaugural address:
"From time to time, we have been tempted to believe that society has become too complex to be managed by self-rule, that government by an elite group is superior to government for, by, and of the people. But if no one among us is capable of governing himself, then who among us has the capacity to govern someone else?"
--Ryan looks like the one person who could electrify the Republican electorate, appeal to independent voters, and sustain an argument against Obama that would make for a decisive election.
:::::::::::::::::::::::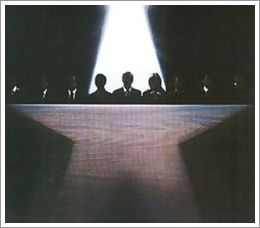 ObamaCare Death Panel




"Today, individual sovereignty in America has been defeated." --Rep. Allen West




- - - - -




Fundamentally DISHONEST Democrats [Obama et al] here and here said ObamaCare and the individual mandate was not a tax in order to get enough Democrats on board to pass it.




Fundamentally dishonest DEMOCRATS [including Obama] argue before the Supreme Court that the individual manadate is a TAX and should be allowed to stand link here [or bing your own if you don't remember.]




The Supreme Court agrees the health insurance mandate is a TAX and the government can TAX you when you don't buy what it tells you to buy. The ruling leaves intact "20 tax hikes costing Americans at least $675 billion."




Everyone following me?




The Supreme Court decision says that while the Commerce Clause does not stretch so thin as to allow government to force you to engage in specific acts, under the Congressional taxing authority Congress may TAX you when you don't engage in an activity it prescribes.




So what will the fundamentally dishonest DEMOCRATS say you must buy next week? next month? next year? Broccoli? yes, Broccoli?

A Chevy Volt? Obama wants you to buy a Volt, or other energy efficient vehicles. How about Solyndra solar panels for your roof?


What else can the government tell you to do and TAX you if you don't? Marry a gay couple? Perform an abortion? Buy a Koran? Wear a burka?




If you don't want your government telling you how to spend your money and how you must behave, then YOU must vote for the MOST conservative candidate in every election. YOU MUST vote for the candidate who believes in the CONSTITUTION as it was written?




If you don't, then start saving your pennies for that VOLT and start sewing those burkas.




Government tyranny: what today's ruling means is that anything government can call a tax, it has the power to do. Regardless of the semantics, we are subjected to government tyranny.




The American people have hated ObamaCare since its inception, and they can see that it is already driving up health care costs. The ruling that really matters will come on November 6, when We the People have the opportunity to replace the president and the Congress who created this monstrosity with new leaders who will replace it with measures that value market forces and free choice.




The worm turneth. 2012 presidential campaign » 13,500+ Donors Give Over $1.5 Million to Romney Campaign Since ObamaCare Ruling.




Romney raises $5 million, and counting in backlash against Supreme Court decision on ObamaCare as America mobilises against ObamaCare.




- - - - -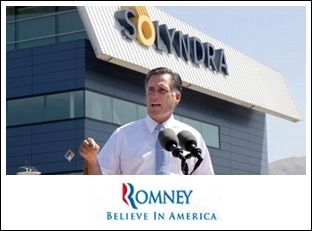 Mitt Romney Visits Solyndra Amid Attack on Obama Jobs Record
The attack that Romney is leading using the crony capitalism meme is pretty awesome all by itself. But there is a bigger item here that might determine the outcome of this election. Romney learns from past mistakes!
WE made Romney a better candidate... NOW we need to make him a better conservative. So far Romney has been smart enough to avoid all the pitfalls McCain was lured into [or entered on his own free will.] Romney is surprising me with the strength of this campaign... and his refusal to get sidetracked.
I think that Romney keeps telling us what a "nice guy Obama is" because it makes the One look worse when he bad mouths Romney. The contrast becomes obvious. Presidential vs confrontational narcissist.
Obama is NOT a "nice guy" ...he's an narcissistic THUG! In 2008 Obama couldn't run on his record because he didn't have one. In 2012 he can't run on his record because he has one.
The biggest threat to trip Mitt Romney up is a poor choice for a running mate. Some good choices would be Congressman Paul Ryan, Senator Macro Rubio, Governor Scott Walker.
Remember the Romney of 2008? Dead delivery, missed cues, a campaign that would tend to navel gazing? Fact it seemed it took two weeks for his campaign to respond to critical issues long past them even being relevant at the moment they were finally issued. He was getting clobbered by the faster OODA loop of his competitors. He always appeared in reaction mode.
Now this. It appears this time around that Romney has pulled together a staff that prefers to lead into an issue and if necessary create and shape the issue to their desires. Coordinating a press conference in near silence is tricky business. To make it worth your trouble you have to assemble the press with sufficient advance so they are there. But then not telegraph it to the world what you are up to so that your opponent can react prior to the event. It looks like they pulled it off.
The only response that has registered so far is that Axelrod was beating the Bain drum which at this point is almost a dead letter. If this ends up being the best that Obama can do he is in deep do. I also note that at the Axelrod conference a good deal of the audience was Romney supporters posing questions during the Q&A session unfavorable to the current administration.
If Romney stays on this trajectory of setting the tone the president is toast.
- - - - -
America Lost 129,000 Millionaires in 2011.
Time Bomb? Banks Pressured to Buy Government Debt
More Obamacare wheeling and dealing exposed
Excellent:With an enemy like this, who needs friends?
Clinton Blows Obama's Narrative: Calls Romney's Business Record "Sterling"
Clinton hedged it a bit ...but the "Sterling business career" comment will haunt Obama. And Clinton does a good job of explaining Venture Capitalism too!! Excellent!
- - - - -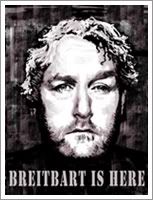 --Brietbart Is Here--
I am so proud of all the Breitbarts that have sprung up to stand in the gap. We're getting louder. I imagine this does not make the won very happy.
WE are Breitbart now. Don't get tired folks... too much depends on us keeping up the good fight. But yes, they WILL crucify us!!
You can't kill a dream.
- - - - -
"Whatever crushes individuality is despotism, by whatever name it may be called." --On Liberty, John Stuart Mill
I started experimenting with a blog provided by blogger.com back on Thursday, March 3, 2011. Freedoms Walk. I'm not one for "cookie-cutter" formats by any stretch of the imagination. I prefer Freedom & Individualism as opposed to Progressive Socialism.
I am going to have to post at Freedoms Walk some because I have to delete on this page to add something new. I will make a notation when I post something over there. Thanks for your patience possums.
Margaret Thatcher on Socialism. The GOP is mostly made up of "individuals" who believe in the rights of the individual regardless of race, sex, creed or anything else. It is about the "individual" and he or she rises or falls on his or her own merits. We believe that you are the captain of your destiny.
Any society that tries to divert the rights of the individual is doomed to failure.
- - - - -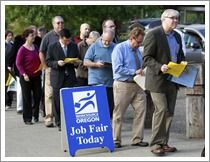 President Obama's Measure Of Progress
"Four years ago at the Democratic National Convention in Denver, Colorado, then-candidate Barack Obama said that Democrats measure progress by whether people can find a job and provide for themselves and their families. In September, President Obama and the Democrats will meet for the Democratic National Convention in North Carolina, a state that has lost nearly 50,000 jobs since President Obama took office and has an unemployment rate at nearly 10%."
- - - - -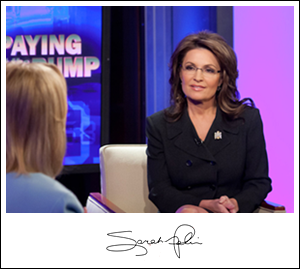 Have You Had Enough of These Men Being Dogs?
AMEN! Thank you Lord for Conservatives who do not mince words! Sarah Palin takes on the Secret Service scandal in the following interview with Greta. Chicks on the Right had this to say about the video this morning:
Dude. In case you weren't paying attention [you were probably too busy posting pictures of chicks other than your wife on Facebook,] you just had your testicles handed to you.
Palin on GSA and Government Gone Wild !!! 4/19/2012
The Secret Service Facebook remark, is offensive. WOW... Sarah Palin [as always] BRINGS IT!!!!!!!!!!!!! And I love that Sarah works "dogs" into multiple sentences right off the bat!
We're all familiar with the "Wag The Dog" strategy to get re-elected... but an EAT the dog strategy?? Doggon it, I just think Obama is barking up the wrong tree here!
One of my favorites from the world of Facebook: Next excuse for no budget from Senate Dems: "My dog ate the budget then Obama ate my dog."
This is going to be a tough election cycle, folks, but as long as we keep taking it to those talking heads controlling the narrative, we won't be drowned out by them. Jim Treacher is still kicking much a$$.
Obama's MSM Palace Guards Covers for Obama's Failing Economy. We have a country falling apart and no stories about the real issues except on the net and the British press. If Obama can keep his MSM Palace Guards reporting on nonsense then they think Obama will win in Nov. because the voters will not focus on his abject failure as a president. Don't worry about the lousy economy, high gas prices, spiraling national debt - 45% unemployment in young black males.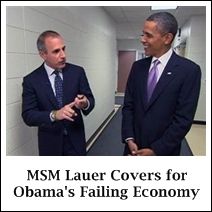 Moose chili = "Crazy redneck murderer!!!!" Dog kebabs = "We need to respect the traditions of people who are different than us."
LOL... well after we are finished with the dog fight is the next step to lunacy the wife woes? I sure do like watching those with their heads up their asses step on their own feet.
They really are going out of their way to step into easily avoided traps this week, sure hope it doesn't stop in the months ahead. RFR numbers four, five and six are entertaining to watch being thrown back at the Obama campaign.
H/T to the Chicks. This video is awesome.
- - - - -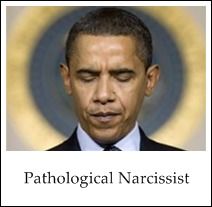 --Pathological Narcissist--
Sooner, or later, everyone around the narcissist is bound to become a victim. People are sucked - voluntarily - into the turbulence that constitutes his life, into the black hole that is his personality, into the whirlwind, which makes up his interpersonal relationships.
Sam Vaknin Analyzes Barack Obama [Part 1]
Sam Vaknin Analyzes Barack Obama [Part 2]
Sam Vaknin Analyzes Barack Obama [Part 3]
Sam Vaknin Analyzes Barack Obama [Part 4]
Sam Vaknin Analyzes Barack Obama [Part 5]
DSM-IV definition of narcissistic personality disorder, [aka NPD.]
Narcissistic personality disorder [NPD]
"Narcissists have such an elevated sense of self-worth that they value themselves as inherently better than others. Yet, they have a fragile self-esteem and cannot handle criticism, and will often try to compensate for this inner fragility by belittling or disparaging others in an attempt to validate their own self-worth. It is this sadistic tendency that is characteristic of narcissism as opposed to other psychological conditions affecting level of self-worth. [5]"
Barack Obama is supposedly unlike any politician who has come before. At least that's what HE tells everyone. But that isn't entirely true. He is shrewd and calculating just like the worst of 'em. He slips, slides and triangulates. But he IS different in one particular way.
While almost all politicians are guilty of some self-aggrandizement, Barack Obama takes it to new levels. There is a good reason why people mock him as Obamessiah, DalaiBama or simply The One. But as silly as those names sound, could this sense be a sign of serious danger? Is the collective unconscious warning us of something about which the conscious public is in denial? Could Barack Obama suffer from Narcissistic Personality Disorder? Read the Mayo Clinic definition and see who it reminds you of:
"Narcissistic personality disorder is a mental disorder in which people have an inflated sense of their own importance and a deep need for admiration. They believe that they're superior to others and have little regard for other people's feelings. But behind this mask of ultra-confidence lies a fragile self-esteem, vulnerable to the slightest criticism."
Ambition is one thing. Self-aggrandizement and hubris are another. There are too many examples to list here, but among the better-known ones is creating a podium logo for himself that is incredibly similar to that of the President. The jaw-dropped reaction of the press and public resulted in the sign being quickly hidden away. He also created the publicity stunt speech in Berlin--something that would normally be reserved for an actual world leader, not just a political candidate--least of all, a junior Senator at the time. And, as reported in the MSM, he even declared himself "a symbol" of the change the "WORLD is [allegedly] waiting for."
He isn't just confident or ambitious. Barack Obama believes that it is his God-willed destiny to somehow reshape the world.
- - - - -
Obama's MSM Palace Guards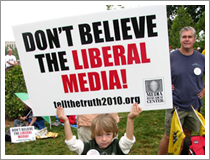 It's not 2008 anymore.
It's 2012: The Era of New Media and Citizen Journalists.
Get on Twitter.
Start a blog.
Fight the power.
- - - - -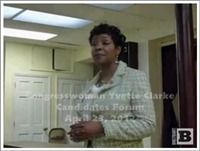 Democrat: Congresswoman Yvette Clarke [NY - 11] SMEARS "THREATENING" TEA PARTY AS "RACIST," "CRAZY," "UGLY."
Congresswoman Yvette Clarke [NY - 11] attacks the Republicans and the Tea Party at candidate forum hosted by "Prospect Heights Democrats for Reform."
I think she has given a perfect description of herself.
Yeah, but those Black Panthers... now THERE's a fair minded bunch for ya. God. This country is drowning in leftist hypocrisy.
H/T Brietbart
- - - - -
George Zimmerman Is Not White... He Is Hispanic, And A Registered Democrat
This is not good for Obama. It could well polarize the country that much more, pushing some left leaning and moderate independents into the Romney camp. Plus it could push more Hispanics into the GOP camp because of the friction of a "black" vs. "Hispanic" thing. Hispanics don't care for blacks and blacks don't care for Hispanics and this is about to get nastier.
The picture of Black Panthers strutting around with AK 47's shouting "kill whitey" will do more to sway the "independent voters" than any political ad. They are their own worst enemy. Obama stands to lose many angry "Hispanic" votes in the process.
Black Panthers Offering BOUNTY of $1 Million on Hispanic George Zimmerman
"... we are going to force our government to do their job properly..." "... white america time is up for you, no longer can you kill black children and get away with it..."
George Zimmerman the guy who shot Trayvon Martin is not white. He is a Hispanic, and a registered Democrat. I wonder if Zimmerman is regretting being a Democrat? I also, wonder if Zimmerman now regrets all of the work he did trying to help out the blacks in Sanford – especially when he was rallying the black community against a cop who beat to death a black homeless man? Honestly, I would have to think twice after the treatment he has received.
*Shock Photos: BARACK OBAMA Marched With New Black Panthers ...
We can thank Obama and his administration led by his #1 race-baiter and Advisor [Valerie Jarrett.] Valerie Jarrett, Jesse Jackson, Al Sharpton and NAACP Leader Ben Jealous thought they had a white man for a high tech lynching. It turns out George Zimmerman is Hispanic and a registered Democrat. Does anyone believe George Zimmerman will receive a fair trial? He will not receive a fair trial ...period. He was convicted in the court of public opinion ...with Barack Hussein Obama sitting as Judge and Jury.
This was a vile and sadistic stunt concocted to get [Obama's base] "black voters" in large numbers to the polls. Yes, Obama is playing the black community like a fiddle. And they are clueless to the fact that they are being played. Obama and his administration have more then their fair share of radicals, and racist. Valerie Jarrett thought she had the perfect black/white racial issue to exploit [politically] for all it's worth. But it has exploded in their face. And huge turnout of Blacks did not win it in 08 for Obama, whites did. He's losing them quickly. Mitt just got a gift handed to him.
As we learn more info about Trayvon's less than savory character [multiple school suspensions, gold teeth, tattoos, flashing gang symbols] I do have to agree with Obama that Trayvon could be his son.
Now after the shooting of Martin, the WH and their water carrier network advise it is time for a national debate on racism by whites. Even though the shooter was Hispanic having black friends and family.
So the ginning up of a Grand Race Issue Du Jour started roughly about the time the ginned-up War Against Women Issue started to peter out. And all of this after Occupy started last fall continued to flounder. They are always looking to divert or silence opposition by ginning up some need for a national debate other than the genuine critical problems they themselves created.
Obviously this story has the fingerprints of the DNC, Obama and his media lackeys, and the race baiters all over it. Just another in a increasingly long list of failed partisan attempts to deflect criticism of Obama over his policies and ineptitude as president. We are not dealing with a normal Democrat here folks. The worst part of this is the glaring role the media has played.
This CNN article didn't mention him as a white Hispanic. Only Hispanic. I guess they're realized that trying to fit in a "white" spin on the story just wasn't working – and it was p!ssing off some Hispanics – including this CNN Hispanic journalist.
The Black Panthers are not even acknowledging law enforcement at this time and have made this a complete racial event. The Obama MSM is completely silent on any of this along with law enforcement from the locals in Sanford all the way to the State Attorney and FBI already involved.
Like it wasn't enough with the "Wanted Dead or Alive poster" now they are offering a million [money collected via donations etc.] for Zimmerman! This defines inciting racism, and violence unless someone puts a stop to these hardened MILITANT racists.
This is exactly what Obama and his gang want to happen. Guess what you are NOT talking about? His many failures! If he can keep the simple minded MSM reporting on nonsense like this then he will win in Nov. because the voters will not focus on his abject failure as a president. First it was the payroll tax cut that he pushed for just before January. He knew that the Republicans wanted to go for a full year of cuts but he wanted an issue later so he demanded a 2 month cut! Then we had the "Contraception" issue where the R's were against women and their health. That died down and now we have the Whites hate Blacks issue. This is his MO for the rest of the year. Stop paying attention to it! We cannot let this cheap illusionist get away with this kind of crap.
Black Panthers "Security" patrols stationed at polling places in Philly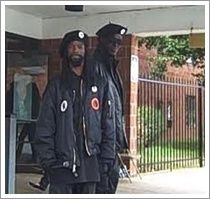 The Obama thugs think they are smart, but the country has been observing Obama for 3 solid years, and this only works if it is already too late to keep America from being lost forever.
It seems the Obama thugs are trying to take the focus off of the incompetent, arrogant, lying, race-baiting fool who is president, and focus the country on all sorts of ginned up controversies.
I've long believed that the worse Obama's re-election prospects look, the more dangerous it becomes for the nation. Our Alinskyite president still believes ends justify the means, and his prospects for re-election by conventional means have plummeted in the last month. And what do we see, but the WH and pals in search of some division that can be inflamed, in this case...inflamed into bounty-hunting violence even.
Take your eye off the Obama problems is the name of game! Don't worry about the lousy economy,high gas prices, spiraling national debt, no just keep firing up the racial hatred! Obama, Holder, the black congressional caucus, et al are pushing their blackness for all they are worth, and it cannot be argued they don't have the power. If this continues into the hot, steamy summer months, the country is going to explode. 45% unemployment in young black males isn't going to help.
IMO, there is only one person who can head this off, and that is Obama. He needs to fire Holder, if for no other reason than that stunt with Sharpton, and he needs to make clear that race is not an issue in today's America.
I don't think he can do it.
That said, a race war where cities burn and people die aren't going to help his reelection chances.
Just look at the crazed hate this president and his left wing allies have unleashed. It's not only appalling, it's juvenile. What's next on the agenda - machetes? I can't wait until this deceiver is out of office so we can begin to restore some brotherly love in this country. There will be another one soon, and another, and another... But it won't work. Obama must be defeated!
Wonder what the next ginned up BS story from the propaganda press will be. So far we had the slut who wants to be boned daily and have us pay for it. Now the Gangster that thought he was still in the hood and thought he could beat down some fat guy and got popped. We have a country falling apart and no stories about the real issues except on the net and the British press
This is not about race, this is about creating chaos to collapse the system. They are communists, they know the only way to implement their form of government is out of chaos.
These six things doth the LORD hate: yea, seven are an abomination unto him: A proud look, a lying tongue, and hands that shed innocent blood, The heart that makes plans of depravity and feet that hasten to run to evil, A false witness that speaketh lies, and he that soweth discord among brethren. ~ Proverbs 6:16-19
- - - - -
Project Veritas - James O'Keefe
Is Eric Holder really a Honky?
No, silly. Honkys are not "his people." But the fact that a white man in Washington, DC can get Eric Holder's ballot clearly demonstrates the need for voter ID laws. Of course, Holder is claiming this is "manufactured" and the media is doing its best to make this a non-story.
O'Keefe's Latest: Voter Fraud Investigation Lands On Eric Holder's Doorstep. In a shocking new video exclusive to Breitbart.com, James O'Keefe's Project Veritas demonstrates to the Attorney General of the United States, Eric Holder, just why he should be concerned about lack of voter ID laws – by walking into Holder's voting precinct and showing the world that anyone can obtain Eric Holder's ballot. Literally.
Poll Workers on Primary Day in Washington, DC offer US Attorney General Eric H. Holder's ballot to vote... to a complete Stranger. Other voting locations in Washington, DC offer to sign for ballots. Eric Holder has said multiple times there exists no evidence of Voter Fraud.
Here's John Fund's take:
"Attorney General Eric Holder is a staunch opponent of laws requiring voters to show photo ID at the polls to improve ballot security. He calls them "unnecessary" and has blocked their implementation in Texas and South Carolina, citing the fear they would discriminate against minorities.
I wonder what Holder will think when he learns just how easy it was for someone to be offered his ballot just by mentioning his name in a Washington, D.C., polling place in Tuesday's primaries.
Holder's opposition to ID laws comes in spite of the Supreme Court's 6–3 decision in 2008, authored by liberal Justice John Paul Stevens, that upheld the constitutionality of Indiana's tough ID requirement. When groups sue to block photo-ID laws in court, they can't seem to produce real-world examples of people who have actually been denied the right to vote. According to opinion polls, over 75 percent of Americans — including majorities of Hispanics and African-Americans — routinely support such laws.
One reason is that people know you can't function in the modern world without showing ID — you can't cash a check, travel by plane or even train, or rent a video without being asked for one. In fact, PJ Media recently proved that you can't even enter the Justice Department in Washington without showing a photo ID. Average voters understand that it's only common sense to require ID because of how easy it is for people to pretend they are someone else."
Read more.
H/T Brietbart - National Review Online
- - - - -
The Queen of Hearts
Flickr Photo Gallery: Congressman Allen West [R] Florida
Congressman Allen West [R] Florida
Soon, as more women, like Mrs. Palin, are the ones with the courage to stand for right principles, I think "ovaries" will become the new "balls."
Sarah Palin Rally Anthem Song - Take It Back, Woman - Pete Daniels Band
Governor Palin's Speech In Greenville
- - - - -
BREITBART HONORED BY HIS FRIENDS WITH HIS MUSIC; #DJBREITBART
I Am Andrew Breitbart - War

Loved with a love beyond all telling
Missed with a grief beyond all tears
Andrew Breitbart began his rise as the counter force to the media cover-ups and government lies constantly bombarding us by a left leaning media. Andrew became a major voice of the conservative movement that was helping to reshape our country. Brietbart began his career as a citizen journalist at The Drudge Report before launching his own series of websites to expose media bias. He created a platform for citizen journalists to bypass the traditional media and break the stories that they tried to hide.
Breitbart's legacy continues in all those who fight everyday for freedom and we will continue to fight using the example he lead us with. We are Andrew Breitbart.
War
--B I G S--
Breitbart
Breitbart TV
Big Hollywood
Big Government
Big Journalism
Big Peace
- - - - -
Obama Hero Derrick Bell Praised Man Who Called for White Genocide
Khalid Kill: The Kracker Speech
It's a short clip, just two and a half minutes long, and it's worth your time. Here is a partial transcript:
We kill the men. We kill the women. We kill the children. We kill the babies. We kill the blind. We kill the crippled. We kill the crazy. We kill the faggots. We kill the lesbians. I said, God damn it, we kill 'em all!
Muhammad goes on to explain, in detail, why women and children should be killed. The children, because they will oppress blacks when they grow up. The women, because they bear those children, and thus constitute the "military manufacturing center."
We need to appreciate men like that while we've got them, eh, Professor Bell? Eh, President Obama?
Read more:
- - - - -
ShePAC Fights Back: First Casualties, Misogynist Maher and Opportunist Obama
This isn't gender identity politics; this is truth to false narratives. This is truth to lies. This is truth to Lefty scare tactics and punishment aimed at driving "the wrong kind" of woman from the political arena. Conservative women are demonized, sexualized, demeaned and dehumanized as punishment for refusing to toe the victimhood-embracing "feminist" line. Shatter the glass ceiling? Only if you walk in lock-step with us! Otherwise we'll slam the doors we claim to want to open right in your dare-to-think-for-yourselves faces.
What will happen to all the left-wing comedians after all the attention to Limbaugh's "slut" controversy?
UPDATE:
Louis C.K. pulls out.
Also has more on Fox News's Greta Van Susteren:
Now they have a big opportunity to get someone totally inoffensive and bore the pants off everyone. Can I say "pants"? Is that okay in namby-pamby America?
The complaints began with Fox News' Greta Van Susteren, who has frequently interviewed Palin on her show. On her website Thursday, she wrote a blog post titled "I refuse to go to the Radio and Television Correspondents Dinner — no one should go." In the post she said, "Another pig ... and a media association has hired the pig, Louis C.K., to be their headliner for the big media dinner? Really? I am not going. I refuse to go. Everyone in the media should join me in this boycott."
Susteren was not amused by C.K.'s previous comments about Palin, some of which she reproduced on her blog.
It appears that Brent Bozell was also busy on the Louis C.K. headliner for the big media dinner. lol
newsbusters.org
- - - - -
Rush Is Right: Sandra Fluke Opportunism Has Totally Backfired on the Left and the Establishment Press
Any doubt that Rush Limbaugh and his center-right defenders have been marvelously successful this week at turning the tables on leftist misogynists was completely dispelled this afternoon and evening.
More from Greta:
"He uses filthy language about women…..yes, the C word... and yes, even to describe a woman candidate for Vice President of the United States. It isn't just Governor Palin he denigrates. He denigrates all women and looks to the crowd to laugh.
I refuse to show any support for this guy or for the Radio and Television Correspondents Association Dinner Committee who hired him. I think the organization that hired him is just as bad as he is. It is no secret that he denigrates women.
Here is a sample of what he said about Governor Sarah Palin and you tell me whether any member of the media should sit in the crowd while he speaks to them [warning: what follows are cleaned-up but discernible in context obscene words:]
Louis C.K. says of Palin: "her f*** retard making c***" and "the baby that just came out of her f**** disgusting c***."
She follows with several more examples, but I am sure readers get the point.
- - - - -
The Dems May Have Miscalculated on Ms. Fluke
"CNN's Jay McMichael headed the committee that was in charge of the program:
"We're very excited about having Louis C.K. at the dinner," said Jay McMichael of CNN, who chairs the RTCA's executive committee. "This is an evening you'll want to experience. We're shaking things up, showcasing the unexpected, and delivering lots of laughs."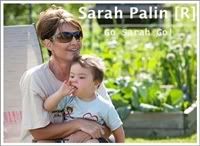 Lots of laughs, indeed: Mr. C.K., it turns out, is foul-mouthed even for a Democrat. Ms. van Susteren collected some of his comments about Sarah Palin. Feel free to skip ahead if you have a weak stomach or are easily offended:
Louis C.K. says of Palin:"her f*** retard making c***" and "the baby that just came out of her f**** disgusting c***."
To Palin: just "stick your t** in its mouth and shut up."
And here is more: "…her f***** retard making c****."
Need more to convince you? Here is what he says on twitter:
"I want to rub my father's c*** all over Sarah Palin's fat t***"
By the way, there is more, lots more.
That, however, is plenty. Even for a liberal, Mr. C.K. is disgusting."
- - - - -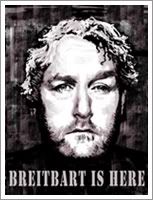 SOMEWHERE, ANDREW BREITBART IS SMILING: Louis C.K. drops correspondents' dinner after conservative outcry
"Good. I wouldn't want President Obama to have to explain this to Sasha and Malia.
Now what about Bill Maher? Among others."
Breitbart image comes from here.
ANDREW BREITBART GRAVATAR
- - - - -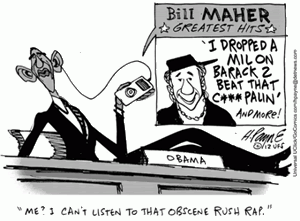 I stand with Rush Limbaugh
Rush: Boycott failing
Report: Company who dropped ads from Limbaugh's show asks to be reinstated
Request denied.
- - - - -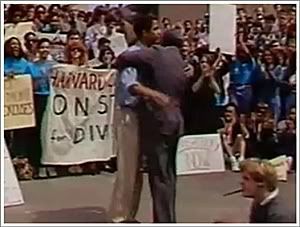 --OBAMA "Open up your hearts and your minds" to racialist prof--
Great video picked up by the BIG's crew in the vetting of Barack Obama. Sowell, in this video, describes how Bell didn't just want Harvard to hire a black woman, but a black woman who didn't "think white." In other words, it was more about ideology than skin color.
Thomas Sowell Hammers "Despicable" Derrick Bell; Compares To Hitler
As Dr. Melissa Clouthier explains on twitter, the idea of Critical Race Theory means "Merit-based is wrong. Color-blind is wrong. [Non-white] Racial supremacy is right."
1990 - Bell's Message is Repugnant - The Harvard Crimson
And this radical view is what Barack Obama decided to take a stand for at Harvard. Wow.
- - - - -
Busted by Twitchy: @Soledad_OBrien Loves Her Some "Critical Race Theory"
- - - - -
Sarah Palin On Obama's Bill Maher Donation: I Don't Know How He Can Sleep at Night [Video]
"Teachable Moment:" Bill Maher – Obama's Million Dollar Man [Video]
"ShePac released this outstanding mash-up featuring Bill Maher saying vile things about Republican women [mostly Palin] while Obama looks the other way. You see, it's only a "teaching moment" for the whole country when a Republican says something nasty.
Exposing left-wing hypocrisy has never been so much fun."
How will Obama explain this to his daughters?Top Obama strategist to appear on Bill Maher's show
- - - - -
Obama And His Radical "Evil Rich" Bundlers
Remember, Hyde Park , the neighborhood where Obama is from is like Berkley in California. It is the most radical section of the Midwest in this country. The area where Obama lives is home to Louis Farrakhan , Bill Ayers, Jesse Jackson, and the University of Chicago, a headquarters of radical, leftist anti-American , pro liberal thought. It is where Obama was personally tapped by Louise Palmer, at the time a Illinois State Rep. and Communist Party member, to take over her State Rep. seat while she ran for a US Congressional seat [special election.] She lost the special election and then told Obama to remove himself from the race since she was keeping her seat. But in Chicago style gangster thug like machine politics, Obama had his lawyer friends get her removed from the ballot along with all other challengers. He won since he ran unopposed. When Obama did the same thing for the US Senate seat, his wife, Michelle, got hired by the University of Chicago Hospital at a salary of over $300,000.00 per year. Funny thing is that when Obama went to the White House , and Michelle left her position at the hospital, her position was never filled and remains unfilled to this day. For those outside of Chicago, this is called reverse ghost patrolling, creating a position that never existed before with an exceedingly high salary as a thank you for a political favor. This was done after the new young Senator from Illinois landed a $10,000,000.00 federal grant for the University of Chicago Hospital. With the coming Presidential election, those outside of Chicago are going to get schooled on Chicago Machine gangster politics. Strap yourselves in, you ain't seen nothing yet.
Fat cats pig out for Obama
Wall Street's top Democrats were out in force Thursday night at the $71,000-a-couple, 60-person fund-raising dinner with President Obama at Jean-Georges Vongerichten's ABC Kitchen. Guests included Lazard's Felix Rohatyn, a longtime adviser to the Democratic Party, and wife Elizabeth, and UBS CEO Robert Wolf — winner of Page Six's fictional "Omnipresent at an Obama Wall Street Fund-Raiser" award and a member of Obama's Economic Recovery Advisory Board. Also there were Evercore Chairman Roger Altman, Centerview founder Blair Effron and Centerbridge founder Mark Gallogly, who dined on fried chicken and Chilean sea bass with power lawyers Richard Farley of Paul Hastings and H. Rodgin Cohen of Sullivan & Cromwell. He was introduced to Lady Gaga
Sweet Baby James! A $100,000 per couple fund raising dinner
There was some major bucks paid out last week at the fund raisers attended by First Lady Michelle Obama in North Carolina.


The top price was $100,000 per couple event at the Ballantyne hotel in Charlotte to benefit the Democratic National Convention, reports Lynn Sweet of the Chicago Sun-Times. That included dinner, a performance by singer James Taylor, and a photo with the First Lady and something called "a couple greet." If you gave $50,000, you got basically the same thing without the couple greet. For $12,500, a couple got into the dinner, but no photograph and no greeting.




Earlier in the evening at the same hotel, a person could attend a reception with the First Lady and Taylor. The cost was $2,500 for platinum seating which included cuff links or bracelets with the convention logo, $1,000 for gold seating, and $250 for the cheap seats.




At the North Carolina Women for Obama reception downtown Marriott in Raleigh, the basic price was $500. But for $5,000 a person could become a table captain [ten tickets and a photo reception] or $35,800 to be a co chair.




The Wealthy Liberal Elite




Most liberal politicians [at the national level] are very wealthy, yet they portray themselves as the champions of the little guy. Even the politicians who are multi-millionaires talk about rich people in the third person.




Mr. and Mrs. Barack H. Obama have the wildly inappropriate habit of enjoying expensive vacations — at Martha's Vineyard in the summer and Hawaii in the winter — as well as junkets to other parts of the world, aboard Air Force One. The Democrats are constantly wailing about the gap between the "haves" and "have-nots", and they want you to believe they fight for the poor and downtrodden. In a recent speech, President Obama said he believes the greatest threat facing our country today is income inequality. * If he truly believes that, why does he flaunt his wealth and soak the taxpayers for his semi-annual vacations?




Barack Obama, the gas-guzzling limousine liberal




Michelle Obama's apocryphal lingerie shopping binge




- - - - -



Rally for Rush
Carbonite CEO tied to MoveOn.org.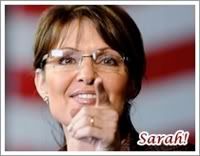 Zing!
Sarah Palin to Obama: If you care about women, your $uperPAC should return Maher's MILLION.
From Sarah Palin's Facebook page:
"Pres. Obama says he called Sandra Fluke because of his daughters. For the sake of everyone's daughter, why doesn't his $uperPAC return the $1 million he got from a rabid misogynist?"
All one will ever hear from the WH is the meaningless "class warfare" that has done so much to divide our country, remove personal responsibility from all but the Wall Street bankers that are favorites of Dear Leader and destroy our moral compass. No bringing together, no civil discourse, and certainly no "reaching out" to those he disagrees with – you know, the ones he calls "the enemy."
See, that's one thing I like about Sarah: Unafraid to call BS on the powerful. Sarah's right of course, but she should have also posted that this is the same $uperPAC money that Obama called "a threat to our democracy" in 2010. He was against $uperPAC money before he was for it!
As far as women are concerned the only time women cross Obama's mind is if it will help him either get more money, or get him more votes.
Obama's Pig Maher Money Scandal
Alabama Dems Hosting Pig Maher Fundraiser
"Now, if every Republican officeholder is expected to comment on and denounce Rush Limbaugh for using the S-word, why isn't every Democratic officeholder expected to comment on and denounce Bill Maher for using the C-word?"
Conservative women are "real" women. Liberal women are whiners, and complainers.
Laura Ingraham: Barbara Walters Laughed When I Was Called "Slut"
Liberal Columnist: Double Standard In Media's Attack On Rush
Carbonite Messed With Rush and Investors Fired Back... Carbonite Stock Plummets
Lefty Bill Maher Defends Rush Limbaugh
Some comments:
[1.] "Maher's defense of Rush doesn't even come close to covering up for all the hypocrisy and vile hatred against Republicans and conservatives he spews on a regular basis. He's just trying to cover his ass, and failing in an epic miserable manner."
[2.] "Maher doesn't want this to go to far because he is in the corsshairs over the $1 million he gave Obama right through his big fat potty mouth."
[3.] "He's a bomb thrower, and everyone is rightly saying, what Rush said is no worse than what Maher has ever said. He knows HBO is losing subscriptions little by little, and he doesn't want to be the one that adds to their declining numbers.
[4.] "His defense of Rush Limbaugh is only an effort to save his own skin and doesn't come from any sense of morality. Never forget what Bill Maher is."
Robert F. Kennedy Jr. Calls Sen. Inhofe a "Prostitute and a "Call Girl" ...Will Media Be Outraged?
Neither do I!
Will Press Denounce Comic Louis CK who is headlining the DC Radio & TV Dinner?
Neither do I!
- - - - -
Benjamin Netanyahu
Prime Minister
of the State of Israel
Prime Minister's Office
Israeli PM Netanyahu's Speech at the AIPAC 2012 - Washington, DC
The speech was magnificent, thoughtful, realistic, patriotic, worthy of a leader of a great nation!
The Prime Minister's social media sites:
Twitter:
Facebook:

- - - - -
--Modernizing the Curriculum & Schools--
Learning absolutely should be an adventure and the classroom instruction model can never be transformed into an adventure. But, learning should not be a computer game, where the goals and objectives are controlled by the programmer. It should be a simulation, where the learning pathway evolves as influenced by the interests and goals of the learner. This is not to say that the learner can omit English and focus on only math, but that a person driven by math would learn English in that context. The curriculum becomes a real-time living organism. It is a living organism now, but it evolves in fits and starts--not moving for years, essentially vibrating around an axis--then leaping, then resting again--and always lagging real-time needs. With computer delivered learning, the curriculum can evolve on the fly -- within nanoseconds.
Educators are in the business of making money and they have no interest in doing anything to provide improved learning at lower costs. Can you imagine blended farming so horses could still feel important after tractors came along? Blended learning is just a way of providing middlemen with jobs that are no longer needed. Rather, the primary instructional role will be played by technology. It can teach faster, better and in ways that humans cannot possibly replicate.
Sure, there will still be teacher-instructors for the 20% of students who need them after 4th grade, but the role of teacher will change from instructing to coaching, advising, knowledge management and other skills current teachers are ill-prepared to perform. I don't think learning has to happen at school, in a classroom with 30 other kids and a teacher... corralling all children into learning the same thing at the same pace. "We should rethink the environment we set up for education."
Technology has replaced soldiers, pilots, factory workers, letter carriers, travel agents, clerks and many others. The most inefficient use of technology is as a supped-up chalkboard, DVD player and typewriter. We absolutely need to replace teachers as instructors. They are the weakest link in the learning process. That's not an insult. They are doing the best they can. Just like autoworkers built the best cars they could. They simply can't match the precision and speed of robots and teachers simply will not be able to match the performance of technology as instructors.
Teachers are doing the best they can. And it's not good enough. Changes come too slowly, and too inconsistently. The ONLY way to dramatically improve academic outcomes is to create schools designed for The 21st Century Student, which end one-size-fits-all, lock-step, subject-based classroom instruction. An intermediate step toward that goal might be "flipped learning", where students are instructed via video and classroom time is spent doing "homework." This takes the teacher out of the role of instructor and places her into the role of tutor. But ultimately, the only way to ensure consistent, high quality outcomes is to minimize student reliance on teachers.
:::::::::::::::::::::::
EXCLUSIVE BREITBART: THE VETTING BEGINS
It's going to be good seeing Obama finally being vetted, which the Democrats failed to do, as did the MSM. The Breitbart site is being re-launched. It is therefore completely revamped. This was Andrew Breitbart's last project. It contains his last article. It's just about four years since Andrew made his first hire in his basement. There are about 20 people working there now - [or is that 20 important people?]
- - - - -
--Who is Barack Obama?--
Isn't it amazing that, within only one week of Tiger Woods crashing his Escalade, the press found every woman with whom Tiger has had an affair during the last few years?
And, they even uncovered photos, text messages, recorded phone calls, etc.
Furthermore, they not only know the cause of the family fight, but they even know it was a wedge from his golf bag that his wife used to break out the windows in the Escalade. Not only that, they know which wedge!
And, each & every day, they were able to continue to provide America with updates on Tiger's sex rehab stay, his wife's plans for divorce, as well as the dates & tournaments in which he will play.
Now, Barack Obama has been in office for almost three years, yet this very same press:
-- Cannot find any of his childhood friends or neighbors;
-- Or find any of Obama's high school or college classmates;
-- Or locate any of his college papers or grades;
-- Or determine how he paid for both a Columbia & a Harvard education;
-- Or discover which country issued his visa to travel to Pakistan in the 1980's;
-- Or even find Michelle Obama's Princeton thesis on racism.
They just can't seem to uncover any of this. Yet, the public still trusts that same press to give them the whole truth!
The media couldn't be bothered to connect ANY of the dots regarding Obama's past during the 2008 election. And any time they even thought about trying to connect a couple dots, they would quickly fall for the same old Jedi mind-trick: "These are not the dots you are looking for..."
One great BIG dot that the media refused to connect to Obama was William Ayers. The photo of William Ayers, unrepentant terrorist, trampling the American flag in a trash-filled alley still makes my stomach turn. Yet the media ran away from the photo and the story, believing the Obama spin that "Ayers was just a casual acquaintance with an arm's length relationship"... and thus no big deal.
"These are not the dots you are looking for..."
Then it was claimed that not only did Ayers and Obama sit on several Boards together [one of which Ayers hand-selected Obama for… giving Obama $50 million to "distribute" in Chicago]… Ayers held the FIRST fundraiser for Obama as he ran for the Illinois State Senate. And Ayers held that fundraiser in Ayers' LIVING ROOM!
The Obama campaign denied the event took place... and accused the McCain campaign of fabricating the story. The media ran away, blaming McCain. Then this week… Ayers brags about fundraiser he held for Obama.
The video also shows how hard MSLSD's Chris Mathews tried to laugh it off in 2008... and keep his leg tingling.
So why does Ayers matter? Because he was a key molder of Obama's philosophy, a key ally in his political fights, and a man who also believes we need to "Fundamentally transform the United States of America." Transform it how?
Larry Grathwohl was an FBI informant who infiltrated the Weather Underground in the 1960s. While undercover in the organization he attended several meetings where Ayers stated EXACTLY how he intended to "Fundamentally transform" America: Ayers wanted to overthrow the United States government. Grathwohl recalled: "The most bone chilling thing Bill Ayers said to me was that after the revolution succeeded and the government was overthrown, they believed they would have to eliminate 25 million Americans who would not conform to the new order."
THAT is William Ayers, political and philosophical ally and mentor of Barack Obama. And THAT is why the dots need to be connected. And there are other "dots:" Jeremiah Wright, Frank Marshall Davis, Tony Rezko, Saul Alinsky… They ALL need connecting! Because this election is NOT about Newt's past, or Mitt's flip-flops… this election is about BARACK HUSSEIN OBAMA, and what he truly intends for us! Ayers in all his "glory" and more about the President of the United States: Who is Barack Obama?
- - - - -
"The danger to America is not Barack Obama but a citizenry capable of entrusting a man like him with the presidency. It will be easier to limit and undo the follies of an Obama presidency than to restore the necessary common sense and good judgment to a depraved electorate willing to have such a man for their president. The problem is much deeper and far more serious than Mr. Obama, who is a mere symptom of what ails us. Blaming the prince of the fools should not blind anyone to the vast confederacy of fools that made him their prince. The republic can survive a Barack Obama, who is, after all, merely a fool. It is less likely to survive a multitude of fools such as those who made him their president." --Anonymous
:::::::::::::::::::::::
Liberty. It's a simple idea, but it's also the linchpin of a complex system of values and practices: justice, prosperity, responsibility, toleration, cooperation, and peace. Many people believe that liberty is the core political value of modern civilization itself, the one that gives substance and form to all the other values of social life. They're called libertarians.
- - - - -
Libertarian Websites and Blogs
Don't read too much into the order of links on this list. A higher or lower rank does not necessarily correspond to more or less quality.
- - - - -
1. The Cato Institute

2. Cato at Liberty [The Cato blog]

3. The Ludwig von Mises Institute

4. The Mises Economics Blog

5. The Acton Institute

6. The Acton Institute PowerBlog

7. Reason Magazine

8. Hit & Run - The Reason Magazine blog

9. The Foundation for Economic Education

10. The Free Man Online

11. The Independent Institute

12. The Beacon [The Independent Institute Blog]

13. The Competitive Enterprise Institute

14. OpenMarket.org The CEI Blog

15. Bureaucrash

16. The Official Website of the Libertarian Party [U.S.]

17. The Official Blog of the Libertarian Party [U.S.]

18. Strike The Root

19. Freedom Watch [with] Judge Andrew Napolitano

20. Library of Economics and Liberty

21. LewRockwell.com

22. Campaign for Liberty

23. Young Americans For Liberty

24. The Daily Paul

25. The Ayn Rand Institute [with] apologies to Ayn Rand

26. Break The Matrix

27. ByteStyle.tv

28. The Free State Project

29. The Prometheus Institute

30. Capitalism Magazine

31. Liberty Pulse

32. The Agitator

33. Republican Liberty Caucus

34. Liberty PAC

35. Cafe Hayek

36. The Libertarian Alliance Blog

37. The Austrian Economists

38. Marginal Revolution

39. Will Wilkinson

40. Samizdata

41. Libertarian Christians

42. Advocates For Self-Government

43. The Fraser Institute

44. Libertarianism.com

45. The Coyote Blog

46. RonPaul.com

47. The Freedom Factory

48. GetLiberty.org - Americans for Limited Government

49. International Society for Individual Liberty

50. John Stossel at Fox | Townhall | ABC

51. Free Men Institute

52. The Adam Smith Institute

53. The Adam Smith Institute Blog

54. Libertarians for Life

55. Liberty Maven

56. Libertarian Rock

57. GOP for Liberty

58. Malou Innocent

59. The Libertarian Party [U.K.]

60. Vox Day

61. The Liberty Papers

62. Libertarian Republican

63. The John Locke Foundation

64. QandO

65. The Big Picture

66. Austro-Libertarian.com

67. MindBodyPolitic

68. National Center for Policy Analysis

69. RonPaul.org

70. The Institute For Justice

71. Daniel Hannan's Blog and YouTube Profile

72. Chris Moody

73. Not PC

74. Freedom Politics

75. The Southern Avenger

76. Students for Liberty

77. JasonPye.com

78. Libertarian Papers

79. Foundation For Individual Rights in Education

80. Libertarian Meetup Groups

81. United Liberty

82. Libertarian Leanings

83. Thoughts on Freedom

84. Reform the LP

85. The Heartland Institute

86. The Volokh Conspiracy

87. The Institute For Humane Studies

88. Liberty vs. Leviathan

89. The American Conservative



90. Greg Mankiw





91. Euro Pacific Capital





92. Downsize DC





93. The Entrepreneurial Mind





94. Ilana Mercer





95. Ron Paul Blog





96. The Atlasphere Meta-Blog





97. Liberty Guide





98. Light of Liberty





99. Center for a Stateless Society





100. The Humble Libertarian





- - - - -




- - - - -
Sarah Palin Facebook: "Thank God for his inspiration and leadership"
Andrew Breitbart
by Sarah Palin on Thursday, March 1, 2012 at 8:06am
We are all stunned and saddened by the news of Andrew Breitbart's passing. Andrew was a warrior who stood on the side of what was right. He defended what was right. He defended the defenseless.
It is so sad to consider his four young children who have lost their dad. All our prayers are with his family now. May God comfort his wife and children.
Many of us will have life-long memories of our work or encounters with Andrew. May we draw on those to help forward the cause of fighting for what is right. For me, just one of those memories was in Pella, Iowa, last year after the premiere of "The Undefeated." Andrew held court in the restaurant at the local hotel talking about his favorite topic: how "culture is upstream of politics" and how conservatives must be unafraid to fight the leftwing media, cultural, and political establishments. The loss of his voice in this fight will be deeply felt, but thankfully his work lives on at his "Bigs," and thank God for his inspiration and leadership.
God bless you, Andrew. Rest in peace, friend. We will continue the fight.
-Sarah Palin
- - - - -
--The Obama Harvard Tapes--
Steve Bannon Says They Are Going To Release Breitbart's Tapes Of Obama During His College Years In 7 To 10 Days... These are the tapes Andrew said he had during his CPAC speech.
Producer, Director, Writer Steve Bannon told Sean Hannity tonight that the Breitbart group is going to release "The Obama Harvard Tapes" in a week to ten days. Andrew Breitbart announced at CPAC that he was given tapes of Barack Obama from his college years that would be devastating. "I've got video from his college days that show you why racial division and class warfare are central to what hope and change was sold in 2008 – the videos are going to come out..."
- - - - -

S A R A H P A L I N
Full Speech: Sarah Palin at CPAC 2012
The GOP Insiders, to their everlasting guilt and shame, let this woman practically stand alone against BHO the last few years, letting the media smear her and letting her family deal with threats from the crazies in the population.
Sarah Palin should have been our nominee.
Conservatives Praise Palin's CPAC Speech On Twitter
CPAC 2012: Sarah Palin cleans out the Washington hot tub
- - - - -
Margaret Thatcher, Britain's Iron Lady
Like President Ronald Reagan, her political soulmate, Margaret Thatcher came to power at a desperate time in her country's history, when real leadership and bold ideas were most needed. And by applying conservative principles to the challenges she faced, she was able to achieve real and lasting success. Then, as today, she faced an extraordinary set of challenges and a chorus of voices saying her country's best days were behind it. Thatcher's successes are a comforting reminder of the power of a bold, conservative vision at work.
Ayn Rand - The Nature Of Rights
Ayn Rand & the Prophecy of Atlas Shrugged - Documentary Movie Trailer
Ayn Rand & the Prophecy of Atlas Shrugged
"When you see that in order to produce, you need to obtain permission from men who produce nothing; when you see that money is flowing to those who deal not in goods, but in favors; when you see that men get rich more easily by graft then by work, and your laws no longer protect you against them but protect them against you... you may know that your society is doomed" --Ayn Rand, Atlas Shrugged
- - - - -
--Fundamentally Transforming America--
Description of how Obama is going about "Fundamentally Transforming" America: "He means to dismantle it and recreate it beyond the will of the people."
How far does the "Will of the people" extend? Only to ELECTED officials... not one step further.
The old expression "You can't fight City Hall" isn't quite accurate. You CAN fight the ELECTED officials of City Hall... it's the faceless, nameless and nearly infinite minions of "City Hall" that you can't fight.
So if you want to "Fundamentally transform the United States of America" in a way that prevents the will of the people from changing it back, you do it with unelected officials, bureaucratic hirelings, and with unaccountable appointees.
Let the little people have their elections and pretend to be in control of their government. We're certainly AT the tipping point... depending on who wins the Nov. 2012 election we will either tip over... or have a chance to pull back.
Obama and the Left offer us SOFT tyranny... which will assuredly become HARSH tyranny once we are fully disarmed and fully pacified.
All those other times in our country's past lacked TWO key things that make this time different:
[1] We have a populace, primarilly the youth, that have been conditioned to accept and even embrace an "Administrator."
[2] Technology. Technology capable of monitoring and enforcing administrative dictates like never before.
We have a dependent class of people [47%] suckling at the bosom of Big Brother, who are not about to give that up. Other than soc sec, there were no other major great society programs during FDR's reign that have since become entrenched.
The soon to be "legalized" Democrat voting block whose culture and mindset is made to order for the nanny state to exploit.
The entrenched educational monopoly that has effectively brainwashed the last half century of tabula rosas, to accept this state of affairs unquestioningly.
The entrenched media monopoly that has effectively brainwashed the last half century of tabula rosas, to accept this state of affairs unquestioningly. The media won't challenge Obama. He knows he can act with impunity and he does.
Thus a large part of the populace will not resist... and those who do can more easily be identified and "controlled."
Make no mistake... THIS time IS different, and if we lose this time then we've lost... period.
As to how we have remained free... up until now even our most misguided and/or ineffective President did not have as their STATED GOAL the "Fundamental Transformation of the United States."
The enemy isn't AT the gates... he's inside. THAT is the difference... as foretold by Lincoln.
--Freedoms Walk--
'Who sees with equal eye, as God of all, A hero perish, or a sparrow fall....
~~*~~
--LEGALIZE LIBERTY--
Libertarianism
What is Libertarianism?
AN ANIMATED INTRODUCTION TO THE PHILOSOPHY OF LIBERTY
WHAT IS LIBERTY? It is "peaceful, willing coexistence and its concomitant: beneficially cooperative behavior." --John Stuart Mill
That, simply stated, is liberty or something as close to it as can be found on Earth. It encompasses the Founders' three desiderata "Life, Liberty, and the pursuit of Happiness" thusly:
Liberty is impossible without life, or where one lives in constant fear of one's life.
Liberty therefore requires peaceful coexistence with one's fellows, even if it must be ensured by force of arms.
Liberty is meaningless unless all are able to pursue happiness, that is, to cooperate [as they will] in mutually beneficial undertakings.
Liberty, because it is a social phenomenon and not an innate condition of humanity, must be won and preserved by an unflinching defense of a polity that fosters liberty through its norms, and the swift and certain administration of justice within that polity.
The words "liberal," "progressive," and their variants are in quotation marks because they refer to persons and movements whose statist policies are, in fact, destructive of liberty and progress. [I include big-government and national-greatness "conservatives" in that indictment, they are nothing but liberals with a different agenda.]
A true libertarian will eschew the temptation to prescribe the details of social conduct. He will, instead, take the following positions:
-- The role of the state is to protect individuals from deceit, coercion, and force.
-- The rules of social conduct are adopted voluntarily within that framework are legitimate and libertarian.
True liberty must be "ordered liberty," in that it cannot arise from license or anarchy, as prescribed by Mill or his more radical progeny [e.g. Murray Rothbard.] Nor can liberty arise from modern liberalism, which has been diagnosed, quite rightly, as a superficially benign kind of fascism.
"Whatever crushes individuality is despotism, by whatever name it may be called." --On Liberty, John Stuart Mill
There is a high price to be paid for the blind rejection of long-standing social norms, whether by individuals, organized groups, legislatures, or courts wishing to "do their own thing," exact "social justice," make life "fair," or just "shake things up" for the sake of doing so. The price is liberty.
Libertarians and conservatives, despite their differences, have a common political enemy: the over-reaching state. Libertarians who are tempted to make cause with "liberals" because they happen to agree with "liberals" about the permissibility of certain kinds of behavior should resist the temptation. Giving aid and comfort to statists cannot conduce to liberty. An alliance with conservatives can conduce to liberty because it is more likely to cause the state to shrink, even if it does not wither away.
The governments of the United States and most States have long since ceased to foster liberty, but Americans are hostage in their own land and have no choice but to strive for the restoration of liberty, or something closer to it.
WHAT LIBERTY IS:
"A man at liberty is a person neither in chains, under confinement, nor intimidated like a slave by the fear of punishment... To consider inability of soaring to the clouds like the eagle, of living under the water like the whale, of making ourselves king or pope, as a want of liberty, would be ridiculous." --Claude Adrien Helvétius, Essays on the Mind and Its Several Faculties
I love what our nation is, and what it represents.
I wouldn't want to live my time on earth, in any other place!
In Liberty,
charrisGOP
~~*~~
--Where is libertarianism to be found? In conservatism, of all places, because it is a reality-based political philosophy.--
But what does conservatism have to do with libertarianism? I refer you to John Kekes, who toward the end of "What Is Conservatism?" says this:
The traditionalism of conservatives excludes both the view that political arrangements that foster individual autonomy should take precedence over those that foster social authority and the reverse view that favors arrangements that promote social authority at the expense of individual autonomy. Traditionalists acknowledge the importance of both autonomy and authority, but they regard them as inseparable, interdependent, and equally necessary. The legitimate claims of both may be satisfied by the participation of individuals in the various traditions of their society. Good political arrangements protect these traditions and the freedom to participate in them by limiting the government's authority to interfere with either.
Therein lies true libertarianism--true because it is attainable.
--
Ronald Reagan Speech--1964 Republican National Convention
"If you analyze it I believe the very heart and soul of conservatism is libertarianism. I think conservatism is really a misnomer just as liberalism is a misnomer for the liberals–if we were back in the days of the Revolution, so-called conservatives today would be the Liberals and the liberals would be the Tories. The basis of conservatism is a desire for less government interference or less centralized authority or more individual freedom and this is a pretty general description also of what libertarianism is. Now, I can't say that I will agree with all the things that the present group who call themselves Libertarians in the sense of a party say, because I think that like in any political movement there are shades, and there are libertarians who are almost over at the point of wanting no government at all or anarchy. I believe there are legitimate government functions. There is a legitimate need in an orderly society for some government to maintain freedom or we will have tyranny by individuals. The strongest man on the block will run the neighborhood. We have government to insure that we don't each one of us have to carry a club to defend ourselves. But again, I stand on my statement that I think that libertarianism and conservatism are travelling the same path." --Ronald Reagan
--American Libertarianism--
My focus is on American libertarianism because the Constitution of the United States of America holds the promise of liberty. Building on that promise, Americans can strive to perfect liberty in the United States. But the rest of the world isn't bound by our Constitution, and it is foolish to think that the rest of the world prizes America's liberty...
Libertarianism is a political philosophy which advocates individual rights and a limited government. Libertarians believe that individuals should be free to do anything they want, so long as they do not infringe upon what they believe to be the equal rights of others. In this respect they agree with many other modern political ideologies. The difference arises from the definition of "rights." Libertarians further believe that the only legitimate use of force, whether public or private, is to protect these rights...
-- Equality before the law is a noble ideal, as long as the law serves everyone's liberty.
-- Liberty is indivisible; to restrict economic liberty is to restrict social and political liberty.
-- Prosperity is a concomitant of liberty, not its enemy.
-- Prosperity isn't a zero-sum game. Absent corporate welfare and protective regulation [both of which are anti-libertarian,] the wealthy get that way not by robbing others but by providing jobs, products, and services for them.
-- Liberty comes from the people--or the liberty-minded among them--not from the state. Yet, the state--properly governed by the people's representatives--can serve as a bulwark of liberty.
-- The American state's first and foremost obligation is to protect the lives and liberty of American citizens; the Constitution is not a suicide pact.
Finally, there are many paths to libertarianism. What matters, in the end, is whether you believe that life would be better with a much smaller, far less intrusive, and far less costly government--one that's focused on defending your liberty--and whether you act accordingly.
Some libertarians do not attempt to justify their beliefs in any external sense; they support libertarianism because they desire the maximum degree of liberty possible within their own lives, and see libertarianism as the most effective political philosophy towards this end.
But remember that your liberty is only as secure as the liberty of your neighbors. If you use the law to advance your interests at your neighbors' expense, your neighbors can do the same thing to you.
:::::::::::::::::::::::
--Free·think·er--
A person who forms opinions on the basis of reason, independent of authority or tradition, especially a person whose religious opinions differ from established belief.
Can a Theist be a Free.think.er?
:::::::::::::::::::::::
"IF YOU PLAN ON BEING ANY-
THING LESS THAN YOU ARE
CAPABLE OF BEING, YOU
WILL PROBABLY BE UNHAPPY FOR
THE REST OF YOUR LIFE."
--ABRAHAM MASLOW
'Better is a poor man who walks in his integrity than a man who is perverse in speech and is a fool.' Proverbs 19.1
Laughing in the face of a liberal is the very best rebuttal to their absurd statements. Not a
gentle polite laugh but an uproariously strong belly laugh that last several seconds or more.
Gets them every time, and they know exactly what you think of them and their ideas. It's like
Ronald Reagan saying "now there you go again" only it's much more effective.
:::::::::::::::::::::::
--Obama's Socialist Demagoguery & Class Warfare--
The liberals have been working on destroying this country since 1912. It took them 96 years to finally put all the pieces together. The Occupier Obama was elected to destroy capitalism and faith. He has done his job well.
Obama's demagoguery & class warfare hasn't helped Obama one bit. In fact, I think he's making himself look more bitter & shrill as he shrinks before our eyes. The real Obama will make his face known when the total facade shatters. He is full of rage & hatred for America & more people are realizing it.
After he loses in 2012, they will have until Jan 17 for him and the Dem senate to do as much damage as they can possibly do. We are facing the most dangerous time in our history. The question is, How long will it take to unravel all the tenticles they have created?
If you do read might I suggest you read the US Constitution or maybe the Declaration of Independence. If you want to live in a socialist country under tyranny there are plenty in the world from which to choose. The United States was the most successful, unique Republic in the history of the world. Maybe if you knew a little more about the unique miracle that is the United States you would never be supporting that destructive socialist for President.
The Constitution is for "we the people," not "they the politicians."
Great Read: Why we will sweep the elections in 2012. People know when they are not working, and when their neighbors are not working. Many who voted for obama in 2008 now know him to be a liar. I think these people will be well-represented in the 2012 elections.
:::::::::::::::::::::::
--Fast and Furious - Late Friday Information Dump--
Something that has been flying under the radar [even on conservative sites] was the late Friday information dump on Fast and Furious in which DOJ officials admitted making false denials.
Fortunately the Washington Times obtained a ton of information about BP Agent Brian Terry's murder investigation before the DOJ had them sealed. Supposedly Mexical criminals were hunting BP agents the day Terry was murdered.
We have two important anniversaries in the next two weeks:
-- December 7: 70th anniversary of the Pearl Harbor attack.
-- December 14: First anniversary of U.S. Border Patrol Agent Brian Terry's murder. Hopefully, the GOP is smart enough to capitalize on the anniversary of his murder, but I realize that is wishful thinking.
Fast and Furious illustrates how much power the media has. Fast and Furious is much more serious than Watergate, which was a simple break-in; no one was murdered. The media appears to be doing everything possible to keep Fast and Furious under wraps, although it should be one of the biggest stories today, just as Watergate was in 1973-74.
- -
"Government is not reason, it is not eloquence, it is force; like fire, a troublesome servant and a fearful master. Never for a moment should it be left to irresponsible action." --George Washington
:::::::::::::::::::::::
--Obama Economy & Fuzzy Math--
The "official" unemployment rate fell to 8.6% this month. Good news? Not if you are one of the "Disappeared Ones."
Unlike Argentina in the period between 1976 and 1983 when tens of thousands of people literally "disappeared" into Government internment camps [we're not there... yet,] our "disappeared" just stop being considered in the unemployment numbers.
Thus, despite the ACTUAL number of people who are [a] of working age and [b] not disabled GROWS each month, our government SHRINKS the "official" number each month they consider in the "job pool." If you run a private enterprise manipulating numbers like this is called "Fraud"... if you run the Department of Labor this is called "Statistics."
Note the people no longer IN the "job pool" ...these people are not considered "employable."
In July 2008 the "Covered Employment" number was 133,690,617. In other words, the total labor force was almost 134 million. How about June 2011? EIGHT MILLION FEWER – 125,572,661. WHERE THE HELL DID THOSE 8 MILLION PEOPLE GO?
From Bizzyblog: labor force participation rate "percentage wise this was a drop from 64.2% to 64.0%: the lowest since back in 1983." That's why the Labor Pool now fits in the average backyard. Not a bad effort... but he could do better [he's not counting the increase in population in his video.]
Don't you find it interesting [non "unexpected" to use the media's favorite term] that the media doesn't question the unemployment figures?
You can bet than come next October the "official" unemployment figure will be 8% or lower and no one in the media will question it.
Oh, and speaking of "fuzzy math" ...excellent article at Powerline on the Democrats "Payroll Tax surcharge" nonsense. Key section:
"... the cost of the Democrats' payroll-tax reduction is $265 billion. Will that really be paid for by a 3.25 percent surtax on adjusted gross incomes over $1 million?
According to the Tax Policy Center at the Urban Institute/Brookings Institute, approximately 388,000 households have income above $1 million in any given year; the average income of such households is about $2.7 million. The surtax would be levied on the increment above $1 million. So the arithmetic is simple on a static analysis: 388,000 *$1.7 million *3.25% = $21.437 billion."
So the Dems add $265 BILLION to the deficit and "pay" for it with $21 billion [and change] from the "1%." Leaving a shortfall of $244 BILLION. Fuzzy math indeed! Our children, and grand-children can pay for THAT too!
--
12/31/2008 Population 233,788,000 Labor Force 154,287,000 Employed 145,362,000 Unemployed 8,924,000 Not in Labor Force 79,501,000
6/30/2011 Population 239,489,000 Labor Force 153,421,000 Employed 139,334,000 Unemployed 14,087,000 Not in Labor Force 86,069,000
When we finally get around to slashing the numbers of federal employees... might I suggest that the folks over at the Dept of Labor who are cooking the numbers for Obama be the first to be fired.
:::::::::::::::::::::::
--Education Reform & Learning Standards--
A horse will never be a tractor. If you want tractor results, you have to stop using the horse. What is the horse in education? One-size-fits-all, lock-step, subject-based, teacher-centered classroom instruction. The system is producing the best results it can, and no amount of tinkering is going to dramatically improve outcomes. Moreover, the cost of the tinkering far exceeds the cost of creating schools for The 21st Century Student. So, why aren't these schools being created? It's simply not in the interests of educators to create them, anymore than it was in the interests of blacksmiths to promote a change to tractors. Yet, without tractors, half the world would be starving and food would cost way more than it does. In education, every student is starving because none are getting the high quality education we could be providing, and we are paying far more for an inferior product than we would if we made the switch.
We could eliminate one-size-fits-all, lock-step, subject-based, teacher-centered classroom instruction for 1 year in school AND provide it for free to all students and citizens in the US. We could even help educate every child in the world at minimum cost. That's a foreign policy that would win us friends worldwide. But NOOOOOOOOOO! We keep screwing around with an 18th century instructional model as if it were a gift from God. Where are the Steve Jobs of education?
The system is not about to denigrate itself. It needs political support. So, it will lie, cheat, steal, beg, borrow, manipulate, cajole and do everything it needs to do to make the public believe that public education is doing a great job. The failure of our education system to dramatically improve is a direct result of policy decisions preventing the private sector from profiting from public education.
It's the system of lock-step, one-size-fits-all instruction that is causing the failure. If you are not willing to change the system and eliminate classroom instruction to the greatest extent possible, then you are dooming another generation of students to an inadequate education. The system turns intelligent people into idiots because they have to accommodate the system rather than do what's best for students. It's an outrage.
And do you know what doing what's best for students means? It means they won't all be at the same place at the same time and score at the same levels on state exams! For those who think they should or must, it's ANOTHER outrage!
Anything based on the classroom instructional model cannot possibly produce dramatic improvements in learning. How many times do we have to watch this movie?
:::::::::::::::::::::::
--Free People with a Free Market--
It is not a good sign that the super committee couldn't reach an agreement to shave $1.2 trillion over ten years, when our ANNUAL deficit is more than $1.3 trillion! The strength of the economy should not be a partisan issue. We need to change the way Washington works but that won't happen until we send the right people in to do the job.
Last week the national debt hit a mind-blowing $15 trillion. We cannot afford to spend another penny, yet President Obama and Harry Reid and the Democrats continue to do just that. The Democrats would not agree to cut one dollar of spending unless taxes went up. Not one dollar. We cannot allow the Democrats to burden future generations by refusing to make budget cuts today.
Time is running out. Unless we stop spending and start cutting, we will face an economic crisis unlike anything we've seen. We should refuse to sit by and watch liberal big-spending Democrat politicians insist that we continue to spend money we don't have.
This election in 2012 is the most important election in our generation. We are in a completely unsustainable path, that is not the American idea. That's not "free market" democracy that's not economic freedom. Who do we want to be? What kind of a country do we want to be? We can turn this thing around. You wont people in government that are sincere, honest, who are smart. Who don't loose themselves or loose their principles. We need a economic, fiscal, conservative, who is against all of the pork. A person who will fight all the earmarking, a person who will fight that culture. It can sometimes be lonely, but being a lonely leader doing the right thing at the right time. That is the kind of a person that you want to represent you.
We cannot afford to allow the big-spending Democrats to control America's economy. America's future prosperity demands that we fire Harry Reid as Senate Majority Leader by electing a Republican Senate next November.
Under President Obama and Harry Reid spending has continued to spiral out of control, regulations have stifled economic growth, and federal agencies have been given unchecked power. This trifecta of economic-crushing policies have prevented Alabamians and Americans from getting back to work and has made America less competitive.
Which brings the conservative movement the opportunity. The Left has traditionally sermonized that the Right were/are throwbacks. The exact opposite is true. Conservatives need to find those voices to make the case. Somebody out there has the voice and the talent in both areas and needs to speak up.
We live in a world today where much of the wealth generated is based on ideas and less on physical manifestations of things. Those physical objects we do need are increasingly cheaper to produce and easier to utilize because the objects are smarter. Our current institutions are out of touch. Not in the mindset sense, but in a real physical sense.
Also, while I despise the Dem's ideology and their policies, I don't despise the people who call themselves Democrats. Mainly, I look at them as undereducated in real life and overdoctrinized in theories of Utopian societies. However, this is not how most liberal leftists look at and talk about Republicans. They demonize the very idea of being a Republican.
Do we wish to accept a cradle-to-grave welfare state, in which more Americans depend on the government than on themselves, or do we want to promote an opportunity society that promotes human flourishing, connecting effort with reward?
We must make the case in a positive way about the benefits of Freedom and respect for individual rights plus a free market system. Based on voluntary action versus the ever deteriating situation of Statist/Interventionist government coersion and confiscation run by a small elite.
To destroy the Liberals and their machine one must tarnish their goals by providing that clear winning alternative--Free People with a Free Market.
:::::::::::::::::::::::
--The Economic Collapse & Crony Capitalism--
I laugh when people say that the economic collapse is a result of the free market economics as prescribed by Ayn Rand.
Or [my favorite] Greenspan's term as the Fed chairman and his actions were influenced by his previous association with Ayn Rand.
Nothing, and I sincerely mean nothing could be further from the truth.
The basic lie that the financial crisis has permeated through American economic consciousness is that somehow "freedom is bad" and "free markets are dangerous." Did you ever wonder who was the source of that message? Did you ever question the validity of such a statement?
Goldman Sachs is not a result of a free market. Wal-mart is not a result of a free market. They are the result of a tightly controlled and regulated bureaucracy that supports these banks and corporations that have seized control of our government. And, worst of all, they, the very ones who have created this whole mess, blame freedom, a free market and covertly demand more regulation and more safeguards.
Who will benefit from these new regulations? Who will benefit from these new controls? Goldman Sachs and Wal-Mart will, of course.
Freedom is truth. Truth can be applied across all of life—Economics, politics. It has universal application. In a truly free market, Goldman would be bankrupt and Wal-Mart would be kicked out of every small American town they have ravaged.
Success, achievement and competition when lived from the viewpoint of the highest human potential are never done to be better than or to repress or control others. Real achievement and true competition are results of the expression of one's highest purpose. It is, in my opinion, a spiritual exercise to show our highest beliefs.
Ayn Rand - Liberty vs Socialism [mirror]
Ayn Rand shares a lesson from her youth
:::::::::::::::::::::::
- - - - -
--Freedom in education - it's an idea whose time has finally come--
Sometimes an idea's time has come, and sometimes not. The monopoly misnamed public education isn't really the best thing for education and for the country. A government-run education system can't be a one-size-fits-all institution in a pluralistic society because it could never really be unbiased on beliefs and values.
Education had been stuck in a 19th Century model for decades, producing results that hadn't kept up with our fast-paced world. That's why privatizing the educational establishment with school choice, to provide a variety of learning opportunities for students and to offer competition to public schools. No less than 18 voucher, tax credit and education savings account programs have been adopted since January by state legislatures, Congress and one local school board.
Among the new or expanded programs are:
-- Vouchers: Indiana passed the nation's most extensive voucher program this spring, offering vouchers to middle-class families. Wisconsin Gov. Scott Walker signed an expansion of the Milwaukee voucher program this summer. Ohio quadrupled the number of vouchers available to students stuck in failing schools by 2013. Arizona adopted Education Savings Accounts, a voucher-type program. And Congress reinstated a popular voucher program for low-income families in the District of Columbia.
-- Tax Credits: Corporations or individuals may donate to scholarship-granting organizations to gain a credit on taxes due in their state. These scholarships help children attend private schools. This year a new tax credit program was enacted in Oklahoma while existing ones were expanded in Florida, Georgia, Pennsylvania, Indiana and Iowa.
-- In Louisiana, parents who send their children to private schools will be able to write up to $5,000 of tuition per child off their state income taxes, thanks to legislation passed this summer. In Indiana, parents who do the same or spend money home schooling their children will be able to write off up to $1,000 of any educational expenses off their taxes. North Carolina parents of special needs students will earn a tax credit up to $6,000 for educational expenses for their children. All this to encourage more educational options for families.
The explosion of new and expanded school choice programs shows that mounting frustration with monopolies. Government's having a centrally controlled monopoly on education is an anomaly in a free nation that has produced the most advanced and prosperous society in history.
The people who benefit the most from government-run education are the central planners, the control freaks, whose latest agenda is using schools to make fat kids thin. Nineteenth-century British philosopher John Stuart Mill warned about this undemocratic tendency in his essay, "On Liberty." "A general state education," he writes, "is a mere contrivance for molding people to be exactly like one another: and as the mold in which it casts them is that which pleases the predominant power... it establishes a despotism over the mind, leading by natural tendency to one over the body."
Military personnel give their lives for less than one-half of the salaries of about one-third of U.S. teachers. This is an insult. Many occupations have suffered massive layoffs and reductions in salaries and benefits exceeding 20%. Public employees, in general, have given practically nothing by comparison.
Public schools aren't "accountable to parents and taxpayers," they're "accountable" to elected school boards, whose members are usually co-opted by public-school administrators. Public schools are not accountable to taxpayers, who must cough up their taxes regardless of the quality of "their" public schools. Most taxpayers take no interest in the quality of public education because they are childless or their children aren't in school.
Private schools, on the other hand, have what the AEA [Alabama Education Association] sneeringly calls "clients" -- that is, parents -- who have a direct interest in the quality of their children's education and who can vote with their checkbooks if they're dissatisfied with the education they're paying for. That's accountability.
But accountability is the last thing the AEA wants for its members, who pay their dues to be protected from true accountability, which they would experience when vouchers become widely available. Public schools aren't "free" and they do "charge for their services" -- they just seem free to the naïve among us because they collect their fees in the form of taxes.
With vouchers, parents can select their children's schools on the basis of religious or academic or family or personal characteristics. There's nothing wrong with that, unless you believe that Johnny should be forced to go to school with a bunch of louts just because they live in his public-school district. It's no wonder that more and more parents are willing to give of their own time [and some amount of money] to home-school their children. Teachers' unions care first and foremost about protecting teachers' jobs. If teachers' unions really cared about the education of children, they'd go out of business.
Public schools would need fewer "precious tax dollars" if there were fewer students in public schools. Public school systems would probably become even more top-heavy with administrators as the number of public-school students dwindled. Then we'd see just how much they are "accountable to parents and taxpayers."
:::::::::::::::::::::::
Valedictorian Speaks Out Against Public Schools
This was apparently first given a bit more than a year ago, but it is well worth listening to.
She just owned that speech! This it NOT what you would expect from a traditional valedictorian speech. But she's thinking--she understands that what was spoon fed to her in the public schools is not all there is. It is amazing that someone who we through the whole grind to become valedictorian--and yet retain originality of thought.
Hopefully people, especially young people, are starting to wake up to just how corrupt and broken at its core, the US educational system is. She sees through the scam.
The youth of America have lots of problems and a gigantic burden we adults have laid upon them. But they are not lifeless, the young ...there is spirit there and a willingness to challenge and demand better.
--How public education cripples our kids, and why--
Prologue:
Bianca, You Animal, Shut Up!
I Quit, I Think
The New Individualism
School As Religion
He Was Square Inside And Brown
The New Dumbness
Putting Pedagogy To The Question
Author's Note
- - - - -
I would offer that you begin with a book written by Andrew J. Coulson called Market Education The Unknown History. This book of almost 400 pages looks into educational problems that have been facing mankind for centuries and then offers ways to overcome those problems. Mr. Coulson also demonstrates in his book that there have been countless attempts to fix government schools which have met with little success. He finally demonstrates that the problems we face today are the same or similar to those encountered in the first century. Mr. Coulson is not philosophically sound, but he does give the reader a history of education and how a person might get more, much more from a free market.
Another good book, that is not totally about education, is called Dependent on D.C. The Rise Of Federal Control Over The Lives of Ordinary Americans which was written by Charlotte A. Twight. For 52 pages Charlotte Twight takes on government education in the chapter titled "Public Education: Imprinting the Next Generation."
I would also offer that you might read John Stossel's book called Myths, Lies, and Downright Stupidity Get Out the Shovel-Why Everything you Know Is Wrong. In two different chapters you can take a look at government abuse and public education. The first chapter is titled "Monster Government" and the next chapter is titled "Stupid Schools" of which both can give you a glimpse into government intervention into education.
Although none of these three authors are fully integrated, they do give tons of information that should allow you to come to a rational conclusion on public schools.
:::::::::::::::::::::::
--The Lemon Dance--
Stand up for ending "The Lemon Dance!" A term used by education insiders. Every public school has bad [lemon] teachers. The teachers unions make it almost impossible to fire them. A frustrated principal, once a year, can send his lemon to another school. Hopefully, the new lemon another frustrated principal dumps on him will be a little better than what he had. Thus, The Lemon Dance
The Lemon Dance describes dealing with worthless tenured teachers who are protected by their unions like trading lemons. Instead of being able to fire these teachers all the principals in the district get together and do the "Lemon Dance." In the Lemon Dance, all the principals get together after they have identified their lowest performing tenured teachers, and trade them with other principles lowest performing Lemons with the hope that these teachers turn around and become better teachers in their new surroundings.
In most cases this trading partners in the lemon dance amounts to trading one lemon for another and the swapped teacher sour in their new surroundings. And of coarse, the big losers are the other teaching professionals who have to endure them, the students who have to attend their classes, and the parents who have to interact with them.
:::::::::::::::::::::::
Rand-O-Rama: The Long Shelf Life of Ayn Rand's Legacy
Is The Tea Party Devoted to "a Philandering, Russian Atheist" [Ayn Rand] and, If So, Is that a Bad Thing?
Read the whole story here:
Dr. Richard Land, president of the Southern Baptist Convention's Ethics & Religious Liberty Commission and Rev. Jim Wallis, a spiritual adviser to President Barack Obama and president and CEO of the "justice and peace" organization Sojourners, discussed an array of issues including the need for immigration reform, the irrelevance of GOP presidential front-runner Mitt Romney's Mormon faith and the virtues of foreign aid.
Land digs the Tea Party, of which he says he is not a part. And of which he says libertarians [those annoying small-government, stop-the-spending, smoke-the-doobage zealots!] comprise a tiny bit too:
"The tea party is overwhelmingly socially conservative," Land said explaining the tea party is actually made up of a great number of people of faith. "They are in the 85 percent range in terms of people that are pro-life. The libertarian wing of the tea party is very small. They are by and large previously unactivated parts of social conservatives in America — Catholic and Evangelical."
As it happens, Land is wrong about the makeup of the Tea Party. In the last Reason-Rupe survey [released on September 1,] Emily Ekins found that 41 percent of Tea Partiers are "libertarian-leaning" while 59 percent were "social conservatives." That characterization is based on respondents' answer to the question of whether government "should not favor any particular set of values." And I should note too that very religious social conservatives can be both conservative and libertarian to the extent they don't think the government should be an instrument of involuntary moral coercion. Land is mistaken to oppose the categories of libertarian and conservative.
For his part, Wallis announced displeasure with a Tea Party that is, in his view, fully Randian in its total bastardacity [not a word, but should be:]
"I distrust a movement that lifts up a philandering Russian atheist who said she hated Jesus — Ayn Rand — as their philosophical guide," he said.
In Wallis' view, Rand's libertarian principles are in direct conflict with the tenets of Christianity.
"I think extreme libertarian politics may be, in my mind, the least Christian option out there. 'Just leave me alone I don't care about anybody else,' is not a Christian way of life," he said. "We are our brother's keeper and that is how we are."
- - - - -
Faith-Tea Divide? Don't Mix Ayn Rand and the Tea Party in Minnesota
Ayn Rand's Atheists are Crashing the Tea Party
:::::::::::::::::::::::
If Nancy Pelosi [D] California didn't exist, I don't think it would be possible to make her up. Nancy Pelosi [D] California confirming we are living "Atlas Shrugged!" When asked should the government force Boeing to shut down its plant in South Carolina if it won't force a Union [on the workers who already voted the union OUT.] H/T RedState
House Minority Leader Nancy Pelosi's wealth grows 62% to $35.2M
Crony Capitalism: $737 Million Green Jobs Loan Given to Nancy Pelosi's Brother-In-Law
Democrat Representative Nancy Pelosi's Waiver-Gate - YouTube
Nearly 20 percent of new Obamacare waivers are gourmet restaurants, nightclubs, fancy hotels in Nancy Pelosi's district
On Drudge. Obama campaigning like its 1936 and he's proto-FDR II.
Hate to break it too him but most of the country thinks he is Hoover. [And not the vacuum cleaner.] Yep!
When is Holder going to be forced out? When is Obama going to be impeached? :-)
Obama was put into office by Goldman Sachs.
Top Contributors to Obama 2008 / opensecrets
University of California $1,648,685
Goldman Sachs $1,013,091
Harvard University $864,654
Microsoft Corp $852,167
Google Inc $814,540
JPMorgan Chase & Co $808,799
Citigroup Inc $736,771
Time Warner $624,618
Sidley Austin LLP $600,298
Stanford University $595,716
National Amusements Inc $563,798
Wilmerhale Llp $550,168
Skadden, Arps et al $543,539
Columbia University $541,002
UBS AG $532,674
IBM Corp $532,372
General Electric $529,855
US Government $517,908
Morgan Stanley $512,232
Latham & Watkins $503,295
- - - - -
A Democrat? Taking something that wasn't hers? Get right outta town! Bet the first words out of her mouth were — "You know who I am?"
She says that she was planning to pay for the items but stepped outside to take a phone call. The thing that makes her story implausible is the fact that she is an assemblywoman, and her hubby is a low-level judge. Both relatively mid-level public employees. But in the midst of a wicked recession, she is in NM dropping $3000 [after CA sales tax] on one pair of leather pants, one skirt and one blouse. I'm sorry, guessing they have household income in the $250k range--good money for sure, but that's not in the income ballpark of the $1k per garment crowd. She is a thief--plain and simple. I bet her closet is loaded with stolen merchandise.
Once she identified herself as a Democrat she should have been released with an apology. Geez... what's this country coming to if we're going to start holding Democrats to ANY legal or moral standards?
Weren't there any Republicans around they could blame it on? Oh wait... this took place in Sacramento. Never mind.
- - - - -
Anybody else hear about this?
"Was agent Brian Terry left to die in the desolate Peck Canyon region of Arizona because government officials decided to airlift out the injured illegal alien first on the only Medivac helicopter available?"
The BP and other government agencies are scared sh!tless of the Mexican consulate. I wouldn't be at all suprised if they gave priority to an illegal immigrant over a dying BP agent.
Crime, Inc. is running the USA.
:::::::::::::::::::::::
--Schools For The 21st Century Student--
Where every student will:
-- Have 24-hour-a-day, year-round access to high quality, personalized instruction.
-- Begin each day's learning exactly where s/he left off the day before.
-- Move forward at a pace that ensures mastery of each lesson, being neither rushed nor held back by other students' progress.
-- Take no state exam before s/he has successfully completed all the requisite materials.
-- Be rewarded for hard work and ambition with the opportunity to complete as much vocational, technical or college instruction as possible before graduating.
-- With the guidance of teachers, customize learning to include the skills and knowledge s/he finds most stimulating and useful.
-- Have education enriched with courses like financial, investment and credit management, conflict resolution, systems thinking, marketing, media literacy and business and science ethics.
- - - - -
A vision of the tomorrow that should be today. The human mind is changing, if not evolving. I'm confident that the brains of today's children are "wired" differently from those of children living in agrarian cultures. The inputs and stimuli are fundamentally different. In my opinion, no educator can look at the two "minds" and declare that nothing pedagogically need change. Not only is the structure likely different in important ways, but so is the content--the basic fears, motivators, beliefs, and more. In fact, not being "plugged into something" can have important consequences for learning, the willingness to learn and the ability to stay focused.
SAT Reading, Writing Scores Hit Low. So, what are we going to do about this? Teachers are in competition with iPods and Facebook and movies like Thor, X-men and Captain America. I don't care how much you train teachers and how much you pay them, they cannot compete with social and entertainment media.
We need to stop reinventing the wheel and start accumulating sophistication by producing thousands of high-quality, interactive, multimedia, learning-style-specific, Internet-delivered, parent-monitored, student-selected lessons with instant feedback, online professional support and software applications to monitor each student's progress on every lesson. Student assessments must be done continually, without any student awareness, by artificial intelligence software and bio-feedback systems. These systems can provide instantaneous feedback and corrective instruction in less than the amount of time it takes a teacher to pick up a test to grade it. The only appropriate class size is a classroom of 1. Education needs to become far more complex and flexible while teachers' jobs are simplified. While classroom instruction must be maintained for the courses where it makes sense and for the students who thrive by it.
That's the battle cry of the Education War of the 21st Century. It should ring throughout the lands like "Taxation without representation is tyranny!" and other battle cries. It will strike groundless fear in the hearts of teachers. Their jobs aren't going away but they will be dramatically reformed with only a relatively few specialized in classroom instruction.
You simply cannot deliver a high quality education to every student in the country unless technology, not teachers, is doing the delivery. Every attempt to improve the current system of classroom instruction is doomed to produce little improvement at best. We need schools designed for The 21st Century Student, with an effective class size of 1. We don't need more teachers, or higher salaries, or more tests or better evaluations. None of it. It's a waste of money. We need to get out of the horse and buggy era and into the technological revolution.
It's the system of lock-step, one-size-fits-all instruction that is causing the failure. The system turns intelligent people into idiots because they have to accommodate the system rather than do what's best for students. It's an outrage. If you are not willing to change the system and eliminate classroom instruction to the greatest extent possible, then you are dooming another generation of students to an inadequate education. More than a decade of standards and testing and this is what we get. Why do people keep supporting a system that simply cannot produce what we need?
And do you know what doing what's best for students means? It means they won't all be at the same place at the same time and score at the same levels on state exams! For those who think they should or must, it's ANOTHER outrage! Idiots.
No other approach can take each student from exactly where s/he is and move h/him forward at exactly the best pace without interfering with the learning of any other student. Who wouldn't want to do that? We don't need safe, undisrupted classrooms. For most students in most courses 3rd grade and up, we need to abolish classrooms. The classroom is wherever the student's mind and learning platform are-in anyplace, at any time.
Impoverished school districts will have EXACTLY THE SAME instruction by unsurpassed pedagogy as the best school districts. You simply cannot achieve equality in opportunity by tinkering with salary schedules no matter how much you pay. It's a false hope pushed by teachers looking to put more in their paychecks. It has to stop.
Have you ever wondered what distinguishes a chemical chain reaction going fzzz-boom from one that takes a long time? Likely you haven't. It's a parable about more than chemistry, however. The key difference lies in the rate limiting factor: the chain reaction can go no faster than the slowest process within it. Do you know what the rate limiting factor of public education is? It's the classroom instructional model.
School superintendents are the Professor Harold Hills of education--constantly selling optimism for failure. "We did this, but it didn't work. So we'll do that and be optimistic about it, never mind the research and books hiding behind the curtain that says, 'It won't make a difference.'" Somebody send him a FOIL for all the research and documents used in developing the plan. You'll likely find that the core process used was chit chat and the second one used was copying what other local schools are doing. Not innovating, but copying.
If you want to dramatically improve education, you MUST make learning more like a compelling adventure or a collage of enticing relationships that students simply can't pull themselves away from. You MUST abandon the classroom instructional model and create real-life simulations that integrate knowledge and skills in a goal-oriented story. You can only do that with computers in schools designed for The 21st Century Student. STOP WASTING OUR MONEY WITH TEACHER-CENTERED REFORMS AND START CREATING WHAT STUDENTS NEED.
Partnership for 21st Century Skills Nearly six years ago, the Partnership for 21st Century Skills released its signature toolkit, the MILE Guide for 21st Century Skills: Milestones for Improving Learning and Education. Today, this toolkit has been revised and updated [pdf] to reflect new realities and the P21 Framework for Education.
Education reform has not yet begun. The current model of education delivery today in most public schools still looks a lot more like the late 19th century model than the 21st century model. The teacher-at-the-head-of-the-class, teacher-as-primary-instructor, lock-step movement of the entire class through the curriculum, uniform texts and readings, classification of students by levels of learning ability and standardized test results, A to F report cards, grading, teacher-dependent learning rather independent learning, uniform breaks and vacations, 180-day teacher work-year, equalization of students by having them end 13 years with essentially the same amount of education, are all in their last days.
You don't have to worry about local school teacher incentives when the core learning adventure is being served up virtually in a rigorously tested, scientifically verified, evolving platform of a passion consuming lust for learning. No teacher can match what we can do with technology.
Who needs subs? The Internet never sleeps.
Every student begins each day from precisely the place where s/he left off. There are no arbitrary classifications in 21st century schools, just seamless progress.
It is "classroom realities" that must be banished to the 20th century. Educators that insist on perpetuating classroom realities are the problem. They would have our students continue learning in a world of black and white silent films. That's what classroom instruction is compared to 3D learning adventures that respond and adapt to student input.
The public school system is a relic. It's not holding our democracy together; it's holding our democracy back.
As for cost, 21st century schools can be run for much less than current schools, but I doubt that the professionals will let that happen. They will insist on jobs that provide very little improvement to students' lifetime opportunities. And the politicians, needing union votes, will oblige for one feigned reason after another. But 21st century schools needn't cost more and the knowledge and skills they teach can be given to every person with computer access who needs or wants it for free, if done right. Why would anyone in their right mind want to perpetuate our current system of instruction?
Is there an educator out there who understands that the best online instruction does not imitate classroom instruction? The best online teaching is a story-based, multi-disciplined, interactive, fast-paced simulation of life. It is not lecture and PowerPoint's. It cannot be replicated in the classroom and it is far superior to the classroom. Yes, students still need personal contact in the form of small group seminars, projects and career development-all of which teachers will supervise or provide. However, except for the students who need it, classroom delivery of core materials needs to DIE, DIE, DIE. It's past time to retool the role of teacher. This is a national security issue. It's a quality of life issue. We need schools for The 21st Century Student. Are you up for the challenge, Alabama Department of Education?
:::::::::::::::::::::::
--Record-Low 26% in U.S. Favor Handgun Ban--
Prerevolutionary: according to Patrick [Pat] Caddell. Pat is perhaps the world's most honest liberal. Pat is one of the best liberal commentators at Fox News. Well here is a little factoid that tends to reinforce the idea...
Here's the question:
PRINCETON, NJ — A record--low 26% of Americans favor a legal ban on the possession of handguns in the United States other than by police and other authorized people. When Gallup first asked Americans this question in 1959, 60% favored banning handguns. But since 1975, the majority of Americans have opposed such a measure, with opposition around 70% in recent years.
Source: GALLUP
It indicates a shift. Couple this poll with the rising defense of the 2nd Amendment in recent years and one must come away with the unmistakable conclusion that more and more Americans are coming to the realization that the government is taking away their rights. Their lone deterrent maybe the ability to take up arms and take it back.
Dr. Suzanna Hupp Testimony [Better Quality] to Congress on the Second Amendment. The lady was ahead of her time.
I think this speaks volumes about the direction our country has gone. In 1959 relatively few people in the U.S. owned hand guns because they didn't feel the need to own one. The riots of the 1960s, Charles Manson, etc. changed all that in the 1960s.
I have listened to that splendid woman's testimony multiple times over the years... and it ALWAYS gives me chills! And I ALWAYS cheer at the end, when she points out that the 2nd Amendment "isn't about duck hunting - it's so all of US can protest ourselves from all of YOU." [pointing at the politicians] Amen!
Yes our 2nd amendment rights are so that we may protect ourselves against that panel of idiots
:::::::::::::::::::::::
Milton Friedman -- Greed
- - - - -
--A Moralist's Moral Blindness--
T H O M A S S O W E L L
Thomas Sowell's - Web Page
Thomas Sowell puts it this way: One of the things intellectuals [his Rationalists] have been doing for a long time is loosening the bonds that hold a society [or a nation] together. They have sought to replace the groups into which people have sorted themselves with groupings created and imposed by the intelligentsia. Ties of family, religion, and patriotism, for example, have long been treated as suspect or detrimental by the intelligentsia...
Under the influence of the intelligentsia, we have become a society that rewards people with admiration for violating its own norms and for fragmenting that society into jarring segments. In addition to explicit denigrations of their own society for its history or current shortcomings, intellectuals often set up standards for their society which no society has ever met or is likely to meet.
Calling those standards "social justice" enables intellectuals to engage in endless complaints about the particular ways in which society fails to meet their arbitrary criteria, along with a parade of groups entitled to a sense of grievance, exemplified in the "race, class and gender" formula... [Intellectuals and Society, pp. 303, 305]
Sowell's attack is aimed at left-wing intellectuals.
- - - - -
The veil once and for all ripped off the faces for all the world to see..
Leftists who proclaim themselves to be more intelligent than persons of the right do so, in my observation, as a way of reassuring themselves of the superiority of their views. They have no legitimate basis for claiming that the ranks of highly intelligent persons are dominated by the left. Leftist "intellectuals" in academia, journalism, the "arts," and other traditional haunts of leftism are prominent because they are vocal. But they comprise a small minority of the population and should not be mistaken for typical leftists, who seem mainly to populate the ranks of the civil service, labor unions, the teaching "profession," and the unemployed. [It is worth noting that public-school teachers, on the whole, are notoriously dumber than most other college graduates.]
Again, I am talking about general relationships, to which there are many exceptions. If you happen to be an exception, don't take this post personally. You're probably an exceptional person.
- - - - -
QUOTE: "Anyone can become angry. That is easy. But to be angry with the right person, to the right degree, at the right time, for the right purpose and in the right way... that is not easy." --[Aristotle]
"Every man is free to rise as far as he's able or willing, but it's only the degree to which he thinks that determines the degree to which he'll rise." --Ayn Rand [Atlas Shrugged]
Alabama immigration law decried, applauded as some flee state
Experiment:
Step 1 – Leave a bowl of sugar out in a field.
Step 2 – Observe how ants quickly swarm the bowl of sugar.
Step 3 – Put a small fence around the bowl.
Step 4 – Observe the ants climbing the fence and STILL swarming to the bowl of sugar.
Step 5 – "Deport" 1 ant in 10 beyond your fence... observe the lack of concern by the other 90% as they CONTINUE to

swarm the bowl of sugar.

Step 6 – REMOVE THE BOWL OF SUGAR.

Step 7 – Observe the ants LEAVING the area in search of other sustinence.




Conclusion:

The lack of "sugar" in Arizona and Alabama will result in lots of "ants" swarming to the "sugar bowls" in California, Texas...




:::::::::::::::::::::::



This quote appears on the first page of Ayn Rand Answers, and is her answer to the question of what she thinks will happen when she dies. Her answer is at once a dismissal of mysticism, and a statement of what is of lasting significance about her life. Her last sentence is one I find myself thinking of quite a lot lately. Indeed, history has already shown it to be true.
"I assume I'll be buried. I don't believe in mysticism or life after death. This doesn't mean I believe man's mind is necessarily materialistic; but neither is it mystical. We know that we have a mind and a body, and that neither can exist without the other. Therefore, when I die, that will be the end of me.
I don't think it will be the end of my philosophy."
~~*~~
S A R A H * P A L I N
~The Queen of Hearts~
Sarah Palin will continue to climb
SarahPAC - Sarah Palin's Official PAC
Sarah Palin | Facebook
Sarah Palin - Twitter
--Palin On Politicians And Crony Capitalism: "I'm Not For $ale"--
Real Clear Politics has a link to Gov. Sarah Palins' speech today as well as several quotes--this is the most important part:
...On crony capitalism: "So many of them, they arrive in Washington, DC of modest means and then miraculously throughout the years they end up becoming very, very wealthy. Well, it's because they derive power and their wealth from their access to our money, to taxpayer dollars."
"They use it to bail out their friends on Wall Street. And their corporate cronies. And to reward contributors. And to buy votes via earmarks. There is so much waste. And there is a name for this. It's called 'corporate crony capitalism,'" she said.
"Like you, I'm not for sale. I believe in the free market and that is why I detest crony capitalism. And Barack Obama has shown us cronyism on steroids. It will lead to our downfall if we don't stop it now."...
--
She gets it--whether by insight or careful study, she understands the basis of what is wrong ...we've got a self-perpetuating Ruling Class which has fastened itself upon American society. They are like colonial overlords, or a visitation ...they are not organically connected to us, but they rule us and bleed us dry so they and their hangers-on can prosper. Unless and until we get rid of them, we won't be able to restore America. Sarah is strong and her conservative message of limited government and lower taxes is resonating.
The people who run our system of government and economics will always stand in the way of reform for the simple reason that any reform will eject them from power. There is no way that those who leech off the American people will voluntarily give up their place at the trough. They will have to be forced out--hopefully by peaceful, political means, but by whatever just means prove necessary in the end. Sarah Palin understands this. But Palin has the national name recognition and the instant ability to raise hundreds of millions of dollars as well as mobilize an army of volunteers.
Until Washington, DC makes real reforms to balance the budget and rein in spending, we'll simply plow, full steam ahead, into a dark financial hole. One thing is clear: We've got to remove the Democrats from power if we want to turn the economy around. President Obama and the Democrat-controlled Senate are holding us back, preventing us from cutting spending and balancing the budget.
The Teleprompter: The Hardest-Working Member of Obama's Administration. President Obama required two heavy-duty teleprompters during a three-minute speech in which he nominated Alan Krueger to serve as chairman of his Council of Economic Advisers. It's a bit simplistic, but in light of the MSM's perennial Republicans-are-stupid meme--click link--grassroots conservatives are more than justified in doubting the much-hyped intellect and brainpower of the president. And the lefty MSM wants us to believe he's the smartest man who has ever lived. The current president whose superior intellect was, and is, taken as a given by an incurious press. We still haven't seen his college transcripts. Do you think that if he earned stellar grades those records wouldn't be on display for all to see?
Next week his Supreme Awesomeness will hold us all, um, "spellbound" as he whines yet again about his "inheritance." To NOT be "spellbound" during his dramatic Teleprompter reading would be, of course, "Racist!"
Zero Jobs--absolutely priceless! All these businesses that are refusing to hire people are clearly Raaaacist! Even NOTICING that ZERO jobs were added is Racist. Sorry ...I must now be flogged!
In fact, everyone knows that it is patently Racist to suggest, or even subtly hint at a solution that doesn't involve printing money, increased regulation, and government sponsored union handouts.
Tell me this can't be true. Aren't we supposed to look toward the federal government for all our needs? After all, it saves us the trouble of thinking for ourselves. It's so much easier letting bureaucrats run our lives. We don't have to work. The rich and big companies like GE will support us.
Oops, I forgot. GE doesn't pay taxes. Pass the Kool Aid. I'm running low.
Also, reported, the Rasmussen Employment Index just hit its low for 2011. 17% say their companies are likely to hire new employees; 24% say their employer is likely to have layoffs.
This administration is in a real pickle. They are on voter imposed credit card probation, and their big spend big tax big gov. solutions have crashed and burned in plain sight. More of the same would make it worse, not better, and the only viable options for spurring economic growth [cut the corporate tax rate, slash regulation, repeal PPACA] would generate pitchforks and torches from their progressive base. This is not a good situation for ZERO.
Things are lousy, our country is broken and our leadership incompetent when it isn't corrupt. That is why there is a TEA Party--patriotic Americans who want to rescue the nation. And no matter how much slander and filth is heaped upon it by the DNC/MSM smear machine, it will just keep rolling on. And this is just a curtain-raiser ...in 2012 it will just stride from strength to strength as the people mobilize for a change in our government. Hit and hit and hit again ...the Ruling Class and it's Big Government are on the ropes ...time to go in for the kill.
Yes sir, the change the people wanted is here and it's getting worse. And Obama says, we are not done yet!
~~*~~
So now we know...
"CHANGE" =
MORE Debt
MORE Taxes
MORE Welfare
MORE Regulation
MORE Goverment
MORE Wasteful spending
MORE CORRUPTION
Thanks Mr. President
_______
_______
_______
_______
:::::::::::::::::::::::
--Fast & Furious--
Excellent round up of F&F.
One additional observation on the LI details. If the purpose of F&F was to ensnare the cartels in gun use then why not do it as a sting operation? Setting up a store front to do the sales would have given the task team greater operational control with none of the entanglements with the real store owners. This would also eliminate warrants and subpoenas as the Feds would have possessed all the records.
No. I believe that the Feds fully intended to ensnare the gun shops at some point in the future as part of the push for more gun control.
Oh yeah. CBS Reporter Says WH Screamed at Her Over Fast and Furious. On The Laura Ingraham Show today, CBS reporter Sharyl Attkisson tells the story of abuse from the White House.
Victor David Hanson has a piece over at NRO about the ten lessons from Obama. One is that Ivy League educations have lost their glitter [about time the rest of the world caught up with what many of us have known for a very long time.]
Holder is just another affirmative action token who passed his level of competency a long time ago. He knew about Fast and Furious, he also knows the real reason why this administration even pursued this scheme. Holder was unprepared for the inevitable which was getting caught.
He lied. Holder is a racist leading a DOJ that stopped being the legal representative for all Americans the day he was confirmed as AG.
Holder should have been gone after the Black Panther voter intimidation prosecution. If there was any doubt about whether Holder would be the Attorney General of all the people, it went away then.
House Judiciary Committee Chairman Lamar Smith, R-Texas, was sending a letter to President Obama on Tuesday arguing that Holder cannot investigate himself, and requesting the president instruct the Department of Justice to appoint a special counsel.
Arrogance gets them all in the end. From what I have heard, Holder was so arrogant, he did not even prepare for congressional briefings. He deemed himself untouchable. I hope he goes to prison. He's got blood on his hands with F & F.
By the way, have you seen this? Eric simply didn't understand the email. All is forgiven.
To paraphrase Lyndon Johnson, "When you've lost the San Francisco Chronicle, you've lost the loony left."
It appears that "Fast and Furious" and Attorney General Eric Holder's knowledge of it can't even be hidden by the lapdog media any more. But, how long has it taken for the media to become involved? Compare that to media coverage of Watergate, the Contras or the latest nasty rumor about Sarah Palin.
This scandal is worse than Watergate. Nobody died from Watergate. At least two Americans have died because of this and hundreds of Mexicans have or will be killed with these weapons. This is really serious.
We know this is starting to hit home with the Obamanistas, because EVERY article and EVERY "defense" of this includes a "Hey, Bush did something similar!"
EVERY ONE.
Especially hillarious is the new DOJ spin on Holder's perjury before Congress: "Oh, AG Holder thought they were asking about the BUSH program!"
Issa is correct in his statement that there are exactly TWO explanations for Holder's testimony:
[1] he LIED under oath
[2] he is GROSSLY INCOMPETENT
Either one disqualifies him to be AG... though BOTH are true!
The bad karma about the Bush revelations of a F&F is that the those involved got prosecuted. That seems to get buried somewhere along the way to the story being told.
Here's the other one — If you are sitting in a cubicle planning a F&F when your counterpart 2 cubes over is being brought up on charges for an earlier F&F; would that not tend to give one pause to consider one's actions? Or are the FBI and ATF so compartmentalized that they can't smell the burning piece of BS that is wafting through the halls? Talk about incompetence.
It really is amazing given all that has transpired to date with Holder that he still has his job, but I suppose the administration can not just let him go because he's acting as the firewall on so many fronts for this WH.
But although CBS is doing excellent work in staying on this story, since they are the ONLY major LSM doing so, the Obamanistas are using the "IF it was a big story, THEN someone else would be covering it!" dodge. That is precisely what they SHOUTED at the CBS reporter!
:::::::::::::::::::::::
--Occupy Wall Street Movement--
Hope & Change progressive/liberals protest Obama and make anti-Semitic remarks, so why aren't they called racists? Could it be that nobody calls them racist because nobody gives a crap what they say? People are called names by the juvenile progressive/liberals when all of their standard hogwash has been eliminated with logic and they feel a need to shut down any further discussion before they are conclusively exposed as mindless sheep.
Protesting Obama, and anti-semitism is not a newsworthy item. Unless it's a alleged Conservative, or Tea Partier doing it. "Occupy Wall Street" folks are 99% White ...and 85%+ male. Diversity, baby!
AlfonZo Rachel of PJTV took a different approach when he went to the OccupyLA protest. He confronted them about being racist, just like the Tea Parties protesting Obama's policies. The takedown is masterful. President Obama recently held a fundraiser at the House of Blues in California. But the Rockstar-in-Chief was met with furious liberal protesters. Does that mean they are racist? What makes a liberal protest any different than the Tea Party? Alfonzo Rachel investigates in the latest ZoNation.
What an embarrassment. Occupy Wall Street protester greets questioner with anti-Semitic remarks, tells National Review Online he is a "provocateur."
This Wall Street demo stuff is a diversionary attack against America instigated by the Democrat Party and its allied networks. So is its theme alleging American and GOP "racism."
Besides its continuous attacks against the USA through its judicial system, DOJ and certain independent federal agencies, the Democrat Party's main attack against the USA during election seasons is voter intimidation, voter fraud and voting fraud. Those are the means through which that Party intends to "win" the 2012 national elections.
Everything else so-called Democrats do is diversion to hide that main attack against the country's voting process. The so-called Democrat Party is a "fifth column" attacking the USA by degrading its elections. The Party is totalitarian, not democratic. Some members of the Party would like it to be democratic and eschew its totalitarian impulses, but they constitute an impotent minority inside the Party at this time. The Left will always embrace Communism and Fascism, albeit under other names.
- - - - -
--A presidential report card--
From the guys at Ace of Spades. It's a ready made campaign poster. Even though I knew most of those facts already, my jaw was still on the floor by the time I finished going through it! This needs to go viral!
- - - - -
From Right pundits blog site:
Obama Creates Solar Jobs, $20 Million Each
By: Andrew Zarowny
"Despite the controversy over the $535 million federal loan guarantee to Solyndra, Barack Obama and the Department of Energy have rushed to distribute another $6.49 Billion to nine other solar energy and green companies. One company, Mesquite Solar, received $737 Million dollars for a solar energy farm project in New Mexico which will only create some 52 to 55 permanent jobs, if any job in the solar industry can be considered permanent. That works out to costing the U.S. taxpayers about $13 Million dollars per job created. All totaled, the cost per job created is about $22.9 million dollars each among all 9 loans. Meanwhile. Energy Department Secretary Steven Chu it has been learned requested the White House for a free hand in awarding federal loans and oversight for companies like Solyndra. Critics of these loans in the Treasury Department and other government agencies were becoming uncomfortable."
:::::::::::::::::::::::
--We The People--
Monolithic thought is a dangerous thing ...dangerous first and foremost to freedom. For all the caterwauling of the Left about the dangers of conservatism, the calls for unity of thought historically come from the Left ...not the Right.
Nazi Germany rose as a LEFTIST State. Most people consider Hitler to be right wing, but he was a socialist. If you read the platform for the National Socialist Party in 1920's you find these were the "planks" of that platform:
-- anti-big business
-- anti-bourgeois [i.e. "millionaires & billionaires"]
-- anti-capitalist rhetoric [i.e. "we need to spread the wealth"]
-- pro-environmentalism ["nature" was to be worshiped ...and God was downplayed until ultimately denigrated.] In fact, the concept of Lebensraum ["living space"] sprang from this ...conquest for resources elsewhere, so German resources could remain pristine.
:::::::::::::::::::::::
Sound familiar? All of it could come right from today's DNC.
Monolithic thought provided the "nails" to hold this platform together. Once something was deemed to be so by the ruling elite, it was henceforth "settled" ...period! This culminated in the April 1933 call by the "Main Office for Press and Propaganda of the German Student Association" [Deutsche Studentenschaft] for a nationwide "Action against the Un-German Spirit." May 10, 1933 was set as the day for the "Säuberung" [cleansing] by fire ...the infamous burning of books across Germany. This was the STUDENT association ...and the book burnings were led by students.
Now look at our colleges and universities. Every study over the last decade shows the same results: 75%+ of college professors describe themselves as "Progressive/Liberal" ...and just 15% as Conservative. 10% "declined to state" ...which you can read any way you like.
The recent "Diversity Cupcake Sale" at Berkeley, where cupcake prices were based on race & gender, brought this to light perfectly. For daring to hold this sale, the tiny College Republican group is facing disciplinary action by the University for: "creating a hostile environment." Hostile? Oh ya ...they were providing an alternate viewpoint to the "settled science" of Affirmative Action. Dang right that's "hostile" ...we can't have students presented with alternative viewpoints, eh?
Ward Connerly, former University of California Regent and the man who led the fight to end "Affirmative Action" on UC campuses, joined the College Republicans and helped with the bake sale. In a moment of absurdity he was declared to be "Racist" for doing so. Ward Connerly happens to be black.
Monolithic thought and unity of action are the hallmarks of "Progressivism." The job of a Union Boss, a University professor [75%+ of 'em anyway,] and a Community Organizer is to ensure no one strays in their thinking, or acts independently. Herman Cain declared the monolithic and slavish devotion of the Black community to the Democratic Party [despite the utter failure of that Party to improve the condition of Blacks] to be evidence of "brainwashing." He was immediately declared to be: "Racist." I wish I was kidding.
At Berkeley last week the full price of a cupcake was $2.00. Or you could pay less if you claimed one of the "Diversity Discounts" based on race or gender. The first person in line that day was a female Professor who claimed TWO discounts: one for being female, and one based her having some "Native American" blood. She demanded ALL the cupcakes for free based on those discounts ...and declared the students [and Ward Connerly] to be racist for not letting her have them all ...for free!
On that campus, on that day, you could pay full price for a cupcake regardless of your race or gender ...or you could claim a privilege you did not deserve at the expense of someone else.
On that day, $2 was the Price of Freedom.
:::::::::::::::::::::::
--The Age of Obama ...a time when reason and logic were outlawed!--
It's hard to believe we are less than a year away from the 2012 primary and a little more than that for the general election. In 2012 we will elect a new President ...or perish with the current one. Period. Barack Obama is busy pouring sand in our gas tank, having already jacked up the car and stolen the tires! If the next generations of Americans are going to have the same opportunities to succeed and forge their own dreams, we must win this fight for free markets, less government regulation and an end to wasteful spending.
Now is not the time for the "liberal," "progressive," "socalist" agenda of President Obama and Harry Reid to continue to have control of the Senate. Under Obama and Reid, federal agencies have unchecked power and Congress has continued to allow out-of-control spending - stifling economic growth, and preventing Americans from getting back to work. The US is becoming [or has already become] a second-tier industrial nation ...at best. We need to re-start America's engine!
As you are aware, Ford was the only Detroit automotive manufacturer not to accept "bailout" money from the federal government. Ford has been running some very effective television ads recently talking about the company's pride in not accepting "bailout" funds. In addition, the company is now building some really great cars and trucks. Now it appears that the WH is pressuring Ford to drop the "bailout" ads because they are embarrassing to General Motors, Chrysler and Barack Obama.
If they can't handle the Ford ad, just wait until the anti-Obama campaign ads start flowing in full force. Queue the scene from "Nude Body Scanners." You know who could really get under Obama's skin? Think "Death Panels" and "All Aboard the Bullet Train to Bankruptcy."
Moo=chelle sporting $42,000 in bracelets at a fundraiser where people paid $35,000 a seat to hear Lord Obama demean TAXPAYERS for not wanting to pay MORE ...is just insane! Think about that. Broken promises, voters investing in hope, disappointment, expectations. We the People, need to fundamentally transform the way our government operates. Americans Distrust Government More than Ever. I would say the revolt of the oppressed is brewing. The Tree of Liberty may soon get a watering. Cutting to the chase. I prefer to take the stallion of gubmint and turn it into a gelded rocking horse.
If Wall Street/BOA Goldman are too big to fail then they are too big and it is time for these entities to be split apart voluntarily with the understanding that the US taxpayer is not going to be a backstop for bad financial decisions. [It is time the US gov't stop forcing these entities into bad financial decisions.] Same with an industry [GM etc...] The US taxpayer should not be held hostage by any business or industry.
Whoever the GOP nominates has got to drive home the urgent need to re-start our engine ...and yes, that engine will need FUEL! Of all the qualities our next President needs, the ability to unleash America's commercial and industrial might is essential. That means sound economic policies, a restructured and FAIR tax system, and a resurgence of domestic energy production! Foreign policy? Yes, that's important ...but as the Empire of Japan discovered: no engine ...no arsenal ...no victory. It's as simple as that.
--
--ABO. Anybody. But. Obama.--
Margaret Thatcher on Socialism. The GOP is mostly made up of "individuals" who believe in the rights of the individual regardless of race, sex, creed or anything else. It is about the "individual" and he or she rises or falls on his or her own merits. We believe that you are the captain of your destiny.
"Liberals," "progressives," "socalists" are really only interested in control. Control over your lives and your livelihood. Such power is the only thing that will satisfies the "Liberals," "progressives," and "socalists" insatiable power lust.
The left is all based on the "group" and the various tribes that make up the group. Much like the "Borg" from Star Trek, individuals will be assimilated. There is no room for the individual or what he wants. It is a group think with the elite knowing what is best for you.
Obama has failed not because he is black BUT because his ideas just don't work. History has shown time and time again that socialism [group think] does not work and will not work. The racism card is just an effort to deflect the true reason for failure – "Liberalism [socialism] does not work."
Any society that tries to divert the rights of the individual is doomed to failure.
--
--Obama's Fat Cat Donors--
Although it IS hypocrisy ...none in the MSM dare CALL it "hypocrisy." Barack Obama is on a whirlwind trip to the Left Coast--at taxpayer expense--to attend at least 7 fundraisers where the price to attend is $35,000 apiece. Actual "millionaires & billionaires" are lining up to throw money at Lord Obama. And that's just the "fundraising" the Obama Mob admits to! The really big money is exchanged in more private settings ...and the promises are more explicit.
Why? Solyndra, I guess. It's the only reason I can think of. These actual "millionaires & billionaires" have seen that in exchange for a few hundred thousand dollars of bundled campaign cash, the Solyndra folks got over half a BILLION DOLLAR taxpayer subsidy. Talk about ROI [Return On Investment.]
Bret Baier had a special on last night dealing with "green jobs." It would seem, by his research, that the Solyndra half a BILLION DOLLAR taxpayer subsidy is only the tip of the iceberg. The numbers around here have "9" zeros. Countless numbers of people employeed within each department/division coordinating the green effort. Congress needs to ask for the e-mails to start the trail.
Obama has been throwing money at an array of green projects, some known like GM's Volt, and others I never heard of. Obama and his Democrats claim to be for the little guy. Remember, one of the memes for Obama is how we nasty, mean, cruel GOPers are trying to destroy the middle class--on purpose, because we're just so evil. We want everyone to die as long as millionaires and billionaires can get their private jet tax breaks ...so go Democrat talking points. But I ask you, do the 44 "bundlers" from the Securities and Investment industry who have ponied up $7.2 million for Obama represent the middle class?
The bankers are deathly afraid of one thing--a government which won't bail them out. So far, Obama has proven ever willing to screw everyone to bail out the banks. I doubt Obama fully understands how a bail out eventually causes higher food and energy prices for average Americans. But whether Obama understands it or not, the fact is that he has been the bankers best friend since January 20th, 2009. And the amount of money the bankers are lavishing on Obama indicates they believe he'll continue to be their friend if re-elected.
Democrats pander to the wealthy limousine/lear-jet liberals, buy the union vote, cater to the illegals and screw the middle class, they've corrupted the democratic process and stolen our liberty. The middle class really has only one bulwark these days--the TEA Party. Only the TEA Party--being made up mostly of middle class Americans--understands just how bad things are getting out there. The battle of 2012 is a battle of the Ruling Class against the Middle Class, with Obama and his bankers defending the Ruling Class while the TEA Party defends the Middle Class. Look at Boeing [remember it's virtual border fence that cost BILLIONS and didn't work?] GE, DuPont Aerospace, the list goes on forever.
That's what Obama's $780,000,000,000 "stimulus" package was all about. A huge amount of it went to states under the pretense that teachers, firefighters, cops and other gov't workers would not have to be laid off. But the reality is it went to corruption like this. One-day rehiring nets former Chicago labor leader a $158,000 city pension. I swear you have to be a brain dead robot to keep voting for Democrats unless, of course, you are on the take and the money is being paid to you as a "quid-pro-quo" for your vote. This next $450,000,000,000 is just more of the same--money we don't have--that our kids and grandkids will have to repay, so the Democrats can buy enough votes to keep Obama in office.
Obama took nearly a TRILLION DOLLARS and shoveled it to Unions, "Green" scams, campaign "bundlers," and bling for Michelle Obama! Why do you think companies spend hundreds of millions on lobbying and hire former congressional members like Tom Daschle, Trent Lott and Bob Dole to lobby for them?
As Sarah Palin said in Iowa, it's not just a matter of changing uniforms. Until the government stops doing business as usual, the favors for the well-connected end and the government stops deciding winners and losers, nothing will change.
I would assume that folks these days are demanding pardons in advance, but Obama's surely willing to dole those out too! This White House IS "open for business" ...just not the kind decent law abiding citizens engage in.
Why doesn't the MSM make a big deal about $70,000 per couple "dinners?" Because the "dinners" are for a [Democrat.] If the eventual GOP nominee hosts a fundraising dinner at a Sizzler, with a price of $22.50 per couple [with coupon,] then we'll hear all about FAT CAT DONORS!
Remember don't call it "hypocrisy" ...just call it Crime, Inc.
I would also wonder. Has anyone seen a breakdown of how the TARP money has flowed. Say one pie chart with a break out by industry. Another one with UNION dominated industries and not. Anybody seen anything like that in the MSM?
~~*~~
:::::::::::::::::::::::
--Very Wise Words--
During this political season lets be reminded of these wise words:
You cannot help the poor by destroying the rich.
You cannot strengthen the weak by weakening the strong.
You cannot bring about prosperity by discouraging thrift.
You cannot lift the wage earner up by pulling the wage payer down.
You cannot further the brotherhood of man by inciting class hatred.
You cannot build character and courage by taking away men's initiative and independence.
You cannot help men permanently by doing for them, what they could and should do for themselves. --William J. H. Boetcker
--
If anyone is interested in what Obama meant by "Hope & Change," he learned from the best in Chicago & Illinois ...give him another 4 more years and the whole country will soon know first hand what progressive socialists can really do for its citizens.
Illinois ...The land that boasts high corporate taxes, high income taxes, highest gas prices, highest parking meters, high property taxes, soon to be higher tolls, and so forth.
For all you people that want corporations to pay their "fair share"--let's look at who owns the corporations. Pension funds [govt and private] are by far the largest "Owners" of corporation stock. Increase corporate taxes--Decrease dividends. Decrease dividend = lower pension fund payouts to retirees.
Meanwhile back at the ranch feeding trough:
Taxpayer money goes to GM, with the federal government set to lose about $14 billion in the process; GM hires Evercore for $46 million or so, and Evercore's CEO hosts a top-level fundraiser for Obama, raising about $2.1 million for Obama and the DNC.
Everybody wins! Except you, that is. Classic.
Remember the Solyndra execs who requested a week's delay in their Congressional testimony, and said if granted that week they would testify freely? Oops. This Friday they will answer every question except "What's your name?" with "On advice of counsel I invoke the Fifth Amendment..." [or however they word it.]
Hell ...these two guys may not even give their NAMES!
The RNC ad against Obama needs to show these two invoking the Fifth over and over and over...
By the way anybody know what a $16 muffin tastes like?
DADT that's all folks!
~~*~~
:::::::::::::::::::::::
--Hoffa Expressed Democrat "New Tone"--
In case you didn't notice, organized labor has become more militant as its ranks continue to shrink [with the exception of public employees unions.] Teamsters president Jimmy Hoffa threw gasoline on the fire in Detroit today with some strong rhetoric as one of the speakers preceding President Barack Obama at the traditional union Labor Day celebration in Detroit. The MSM has already scrubbed this ...but it is NOT going away. The head of the Teamsters declared in front of the President that he was ready to "take out" people that opposed him ...and the President said NOTHING! OK ...that's not fair. The President PRAISED Hoffa! Read more with video.
Chicago politics at its best. Message to Hoffa--there are vastly more of us than there are of you ...and, if you really want a fight, our side is much better armed ...I'm not at all worried about the outcome of a fight between unionized government bureaucrats and the regular folks of the TEA Party ...a huge number of whom are former military, after all.
The 2010 election was a shot across the bow for the left, especially organized labor. Look for them to attempt to regain some of what they lost last November. Unions like the [NEA] National Education Association have increased dues and other member assessments to increase donations for 2012. The setback in Wisconsin also has served as a rallying point for unions, especially union leaders. Look for an all-out war in 2012.
The Tea Party is made up of people who WORK. They just want to keep more of what they worked hard for! Also--the Tea Party is a movement--NOT A PARTY--so they are declaring war on AMERICANS, not politicians. If politicians do side with the movement, it is because they side with the American people who are sick and tired of union a-holes sitting around draining our tax dollars for more and more money while they do less and less work while the ones footing the bill are being squeezed to death to pay for it.
"President Obama, this is your army. We are ready to march. Let's take these son of bitches out and give America back to an America where we belong," Hoffa added.
Scary rhetoric coming out of Hoffa. Unions are getting more and more strident in both their actions and words. IMO, it's because they are looking more and more at extinction, and are fighting back. Expect the 2012 to be the dirtiest campaign in our nation's history. The left has so much to lose.
This morning I saw some film on workers marching in a Labor Day parade near San Padro, CA. They were all minorities, many having signs referring to "tax the rich." It's class warfare, plain and simple, that seems to be intensifying under the Dems fanning the flames of blame, rather than cultivating jobs.
Shocker. Obama Declines to Distance Himself From Hoffa's Violent Rhetoric
The Tea Party Express has called on President Obama to "condemn this inappropriate and uncivil rhetoric," saying it "has no place in the public forum.
"Jimmy Hoffa's remarks are inexcusable and amount to a call for violence on peaceful tea party members, which include many Teamster members," Tea Party Express chair Amy Kremer said in a written statement.
--
For many people they must feel like Alice looking down the rabbit hole. Being a Tea Party member and rank and file union worker are not mutually exclusive. Though the bosses don't see it that way.




It would make one wonder. Would not the union leaders jump for joy for what Palin said about crony capitalists? Unions have been saying this for years. So much in a label...




:::::::::::::::::::::::



--Will Barack Obama condemn Joe Biden and Jimmy Hoffa for calling Republicans "barbarians" and "son of a bitches?"--
Earlier this year when Congresswoman Gabrielle Giffords [D-AZ] was shot and others were shot and killed [including a young girl] both the President and the media were quick to denounce conservatives [particularly Sarah Palin and the Tea Party] for vitriol because of statements they deemed to be overly aggressive.
Within MINUTES of the shooting of Giffords the media had proclaimed [a] that it was a radical Conservative that shot her and [b] that he or they did so because of "violent Tea Party rhetoric."
I watched the [attempted] interview with DNC Chairwoman Rep. Debbie Wasserman Schultz [Florida] this morning. Debbie SCREECHED for months about Gabbie Giffords ...blaming every non-Democrat EXCEPT the shooter with inciting violence. Today she refuses to talk about someone inciting REAL violence …in front of the President!
Of course NEITHER was true ...but for the next few months that was ALL THE MEDIA SAID! Day after day ...and President Obama beat that same drum. Now the media [with the sole exception of Fox News] is pretending it never happened. They will ignore it or play it off against the "violent Tea Party rhetoric."
[a] The "violent Tea Party rhetoric" does NOT exist ...except from a few stray nutjobs and from INFILTRATORS! [b] Hoffa was PRAISED for his violent rhetoric by the President.
These accusations occurred even though the man who did the shooting was apolitical and there was no evidence whatsoever that he had even accessed Sarah Palin's Facebook page or the SarahPAC website.
Will the media denounce is the more relevant one! Obama will repudiate these statements ONLY if he is forced to. The underlying problem for Obama is that he is maintaining only a tentative hold on his base, and he can't afford to even slightly dampen his union stalwart followers. The statements by Hoffa and Biden have the potential of turning off Independents and moderate Democrats, but only if the media puts them front and center, which they won't. So he will ignore divisive and vile rhetoric that emanates from his base, and will wait for anything slightly combative from the right at which time he will trot out his teleprompter and deliver yet another historic speech on the need for civility.
After the speeches over the weekend the whole civility angle is dead. The trick is, the GOP is going to have to devise an Alt-Media counterforce to the silence of the MSM on the violence rhetoric from the Left. If they don't then they are pigs for the slaughter. I will give ABC News credit, it is less dishonest than NBC or CBS [primarily because of Jake Tapper.]
Interestingly, but not surprisingly, the reporter who asks the question is Tony Harnden, a British political columnist for the Daily Mail:
If anyone needs evidence that the guy in the White House is not the brightest bulb on the tree, let me ask this. Why does he spend time rallying a bunch of union goons when he needs Independents, and a jobs plan that will actually have positive effects? I think another factor is in play. How about Obama's base even among union members is waning? Considering that the unions got a shellacking in Wisconsin that might be the case. If he has to shore up that union base he is in deep trouble.
:::::::::::::::::::::::
--Charles Krauthammer--
Americas top conservative columnist.
Charles Krauthammer unloaded on Obama tonight after his stale poll-driven speech to the nation. Obama still has no plan. "I thought I was cynical until I heard that speech. It was purely partisan. It was meant as a campaign speech. And I think it was a speech from yesterday."
Krauthammer on Obama's Address Video:
Don't hold back, Charles. :-)
--
A visualization of US Dept [credit card bill] stacked in 100 dollar bills
--
Charles Krauthammer does a GREAT job in this piece ...enjoy.
~~*~~
--Burning down the House--
Margaret Thatcher: There is no such thing as public money
Here we go again. An approaching crisis. A looming deadline. Nervous markets. And then, from the miasma of gridlock, rises our president, calling upon those unruly congressional children to quit squabbling, stop kicking the can down the road and get serious about debt.
This from the man who:
FACT: Ignored the debt problem for two years by kicking the can to a commission.
FACT: Promptly ignored the commission's December's 2010 Report.
FACT: Delivered a State of the Union address in January that didn't even mention the word "debt" until 35 minutes in.
FACT: Delivered in February a budget so embarrassing — it actually increased the deficit — that the Democratic-controlled Senate rejected it 97 to 0.
FACT: Took a budget mulligan with his April 13 Debt Plan speech. Asked in Congress how this new "budget framework" would affect the actual federal budget, Congressional Budget Office Director Doug Elmendorf replied with a devastating "We don't estimate speeches." You can't assign numbers to air.
FACT: President Obama assailed the lesser mortals who inhabit Congress for not having seriously dealt with a problem he had not dealt with at all, then scolded Congress for being even less responsible then his own children.
They apparently get their homework done on time.
My compliments.
FACT: But the Republican House did do its homework. It's called a budget. It passed the House on April 15th…
FACT: The Democratic Senate has produced no budget. Not just this year, but for two years running. As for the schoolmaster in chief, he produced two 2012 budget facsimiles: The first [February] was a farce and the second [April] was empty, dismissed by the CBO as nothing but words untethered to real numbers.
Obama has run disastrous annual deficits of around $1.5 trillion while insisting for months on a "clean" debt-ceiling increase, i.e., with no budget cuts at all. Yet suddenly he now rises to champion major long-term debt reduction, scorning any suggestions of a short-term debt-limit deal as can-kicking.
The flip-flop is transparently political. A short-term deal means another debt-ceiling fight before Election Day, a debate that would put Obama on the defensive and distract from the Mediscare campaign to which the Democrats are clinging to save them in 2012.
:::::::::::::::::::::::
Senator Barack Obama Explaining his 2006 Vote Against Raising the Debt Ceiling...
"The fact that we are here today to debate raising America's debt limit is a sign of leadership failure. It is a sign that the U.S. Government can't pay its own bills. It is a sign that we now depend on ongoing financial assistance from foreign countries to finance our Government's reckless fiscal policies. ...Increasing America's debt weakens us domestically and internationally. Leadership means that 'the buck stops here. Instead, Washington is shifting the burden of bad choices today onto the backs of our children and grandchildren. America has a debt problem and a failure of leadership. Americans deserve better." --Barack Obama
Just a reminder: None of the Senate Democrats Voted to Raise the Debt Ceiling in 2006
--
:::::::::::::::::::::::
The Democrats believe they are fighting the GOP with respect to the debt ceiling. However, that is just a side show. The reality is the Democrats are fighting mathematics. In this battle, I'm putting my money on mathematics. The Dems tried the same BS in the lead-up to November 2010 and look how that turned out for them.
I am personally finding all of this debt ceiling business, and all the politics surrounding it, is both discouraging as well as a cause for steadfastness. IMO, the Dems are showing more than their usual hubris, obfuscation, and downright dishonesty.
The toughest decisions Obama makes are which club to use on the 16th par-5 and, of course, what topping he wants on his pizza.
Congress writes the laws and the President decides to sign or veto. As Obama keeps messing around with negotiations--probably in hopes that the GOP would just get scared and go along with a debt increase without significant spending reform--there is really no need to bring him in to the discussion. Work out a bill which can avoid any problems starting Monday--make it something which can pass the House and Senate regardless of what Reid or Obama might want ...and then just leave it up to them. Reid, as Majority Leader, could refuse to hold a vote ...or Obama can veto the result. In either case, it would be Democrats blocking the necessary action.
Remember what we're up against in Obama and his Democrats: people who's only goal is to retain power for themselves, and that means keeping Big Government alive and ever growing. But the time for that is past--we're broke and we'll default in a few years if we don't start getting our house in order. Fundamental reforms cannot be done while Obama has the ability to obstruct, but we can get something together which bridges the gap between now and January, 2013. At that time it is hoped we'll have a new President and a new Senate Majority Leader ...perhaps even of a type which cares more about America than personal power.
Hey, just checking. How's "Recovery Summer" treating YOU? Thank you Lord Obama ...may I have another?
--
Introducing "$penditol." Worried about our nation's finances? Take $penditol! Congress' Answer to Everything. Almost every Congress Critter has a medicine cabinet FULL.
~~*~~
most
original
expression
assessing the cause of
our president's downward slide:
PREMATURE
CANONIZATION
_______
_______
_______
_______
:::::::::::::::::::::::
--Obama--Man, I suck!--
Obama Is an Unnatural Disaster
"Unlike hurricanes, cyclones, earthquakes, floods and tsunamis, Barack Obama is the one catastrophe that the environmental cuckoos can't blame on global warming.
Why, as a business owner, would I vote for a guy or a party that wants to raise my taxes, in part to pay the salaries of federal employees, the only segment of the American work force that's continued growing — 11,000 new jobs in the first quarter of 2011 — in the years since Obama was elected?
So it is that even though the MSM, aka Obama's propaganda machine, tries to portray him as invincible in 2012, I think they're whistling past the graveyard. What far too many people have too quickly forgotten is that even before the midterm elections, Republicans, who were essentially running against the president, won major elections in Virginia, New Jersey and even in Massachusetts. Then, for good measure, the GOP picked up 60 seats in the House and a bunch in the Senate, delivering what even the president referred to as a shellacking."
:::::::::::::::::::::::
**EPIC FAIL**
--THE OBAMA LEGACY--
So much has gone wrong, Obama has been so bad, its hard to get your words around it. Obama is falling on his own sword--big time--right now. While he presented that he was adept, it turns out he is nothing but inept.
In addition, the entire Democratic Party is imploding. They are clearly so frustrated with their own failures that they are no longer capable of civilized debate. Their words, absent the dramatic presentation techniques they are increasing employing, ring hollow. They are losing the people of this entire nation due to every single undisputable item in that video.
The Democrats are now desperate. When your message is nothing but fabrications, theatrics, and lies, something is going on. When everything you stood behind was a failure--there are no words that can take that away.
The Democrats are now trying to tell people who are paying $3.75/gal for gas and who have been unemployed for three years that the economy is getting better. They are trying to say that Obamacare is anything but the disaster it really is. The left is making so many absurd assertions that they are ruining their own credibility. I believe the Anthony Weiner scandal will mark the turning point in this debate between regular people with common sense and the Obama left. The Democrats will continue to disintegrate from here on out. Too bad they have done so much damage and wasted so much time.
Remember for the next election, not only are federal, state and local offices important, but lets get rid of the activist judges as well.
:::::::::::::::::::::::
--If you voted for
Obama in 2008
to prove you weren't a
racist, you'd better vote
for someone else in
2012 to prove you're
not an idiot!--
~~*~~
Liberalism Continues To Crash And Burn
"The most powerful weapon against an ideology like liberalism is reality. Because reality exposes the leftist mythology for what it is: naive, wishful thinking. And once this becomes exposed, all credibility is destroyed. No sane person will let liberals ever again experiment on Americans as they have recently. Not when the result is the loss of a life's worth of savings, the loss of value in our homes, the loss of good jobs and careers, the loss of an ever growing standard of living and the loss of confidence in the American dream.
This is what liberalism has wrought, and it will be decades before the memory of these debacles recede enough to give the left another chance."
:::::::::::::::::::::::
--WORST PRESIDENT IMAGINABLE!!! By far--
I think one of the most positive outcomes of an election, is to learn why certain outcomes happened. In the case of Obama, he appears to still believe that it was not the message [his leftist, unpopular agenda,] but rather it was a lack of "communication," on his part. If he continues to be blindsighted, though, by his own denial and bias, then he will do no better in 2012 than he did in the midterms. Much of the country is now awake and on to Obama. Consequently, it will be more difficult for him to mold this country as he wants, from now on.
Obama will continue to try his Marxist, Keynesean, Community Shake Down… err Organizer economic alchemy to have his hopey-changey invisible unicorns poop golden eggs. Obama says "we" can't afford letting people keep more of their own money, as if it's the government's money to begin with. He clearly hasn't learned a thing from "The beatdown" at the polls.
The current state of our nation is no laughing matter. The economy continues to remain stalled and unemployment is nearing all time highs, yet Obama is joking about his failed policies instead of leading our country. And you know what Obama is proposing as the solution? Raising the debt ceiling without a single cut, and pushing us to the brink of our own Greece-like day of reckoning.
Obama's lack of leadership regarding the economy is dangerous. Until the GOP regain control in Washington, our economic future is uncertain because the Dems will continue to spend us into oblivion. There is something wrong with a government that adds over $4.1 BILLION to its national debt every day. Spending is out of control! Our federal deficit now stands at $1.65 TRILLION. And our national debt is a staggering $14.3 TRILLION.
One thing the GOP has done is explaining the deficit to the American people. It's this simple: $14.3-TRILLION divided by 310,000,000 people = $46,000 in debt for every man, woman and child in the U.S. That's $184,000 for the average family of four--more than what most families' homes are worth. But, since half the families don't pay taxes, the total debt is $368,000 for every tax-paying family. That's just on the debt, not on any services going forward. Who can't understand that? Thank God for Excel! The GOP must maintain the majority in the House and take back control of the U.S. Senate in the 2012 elections.
History will be made this summer. The debt ceiling has been reached, and our nation will go into default on August 2nd, unless the debt ceiling is raised. The liberals want to raise the debt ceiling without serious cuts or reforms. Let's be clear: The GOP must not vote to raise the debt ceiling unless massive spending cuts, enforceable spending caps and real reforms to balance the budget are made.
But the debt ceiling is only the first round in the battle to rein in the federal behemoth. The real question is: Will you settle for nickel-and-dime cuts? OR do you want to see REAL cuts and an END to unconstitutional spending? Without this monumental step, the government will only have two options. Neither option is pretty and both involve harm to you and your family.
The first option is the government will raise the debt ceiling and print even more fake money--a lot more. This sort of reckless printing will drive inflation through the roof, destroying the value of your paycheck and hard-earned savings.
The second option hits home hard by crushing America with massive tax hikes on small businesses, seniors and working folks. I'm sure you can see why business-as-usual is not a desirable course of action.
American's believe America is exceptional and that our founding truths set us apart in this world. Unfortunately, Obama has failed to understand the nature of our role. Now is not the time for America to stand on the sidelines or "lead from behind." Now is the time for principled leadership that only the United States of America can provide.
American foreign policy is at its best when it is built on the principle vision that freedom, human rights, and democracy are the best prospect for peace, prosperity, and security in the world. America is in dire need of leadership, not insolvency! It is only with help of American's committed to taking our country back will we begin to turn the tide.
~~*~~
Hope Isn't Hiring
Today, Americans are worried about their future, and about a government determined to implement policies that just don't work. Public confidence in the government is at new lows, and Obama's approval rating is at a all time low. Unemployment continues to hover around 9.2%, the housing market is still down, and the dollar is weak. Plus, inflation is beginning to ramp up, as gas and grocery prices skyrocket. Some worry that the inflation rates of the Jimmah Carter era will look mild by comparison with what's coming down the pike. If you are shocked by the increased prices you are paying at the supermarket, you're not alone. Consumers are finding that most things cost more when they go grocery shopping. Everything is starting to go up... stock up while you can afford it! The economy is in shambles, our 1.65 TRILLION dollar deficit and our 14.3 TRILLION dollar debt. To put those numbers into perspective, each taxpayer in America is responsible for nearly $132,000 in U.S. debt. We must act now to get our fiscal house in order.
America received another wake-up call: Standard and Poor [S&P] has downgraded its outlook on U.S. credit from "stable" to "negative" because of President Obama and Sen. Harry Reid's inability to address the ever-exploding debt and deficit. Obama is merely sitting in office and doing nothing helpful. His energies go only to his own ideological concerns, not towards any of the tragedies or realities of the American people. In business the acronym "WIIFM" is in wide spread use: "What's In It For Me?" That guides EVERY decision Obama makes. The hardest working man at the WH is the bartender, and the social events planner!
Cutting the budget really isn't that difficult. Corporations do it all the time. The leadership determines the amount that needs to be trimmed and what is essential and non-essential [advertising and marketing is more important at Procter & Gamble than at Pfizer] and departments with lots of non-essential spending are the hardest hit. Division/department heads are called in and told what dollar amount they need to cut. Non-producers are terminated and unessential spending gets canned. Directors and managers who don't make the cuts are gone. It's really a pretty simple process.
Using the corporate cost cutting strategy, funding for things like Public Broadcasting, National Endowment for the Arts, unessential research and grants would be cut immediately. Why is it so difficult for the government? Possibly because few government leaders have spent a lot of time in the real world.
America's economic future should not be the partisan issue it has become. Last fall, Americans overwhelmingly voted for fiscal responsibility and smaller government. House Republicans have delivered this, but the President and his allies in the Senate have put up roadblocks at every turn. It took four months for Congress to pass a budget for the remainder of 2011. And that budget simply kicked the can down the road, making the work on the 2012 budget that much more important.
We can't ignore the facts before us. The President and Democratic Senate have reaffirmed their commitment to continue their reckless spending spree. We can't allow them to. Now it's time to fight for fiscal sanity. In the coming battle there will be no soft targets, and only hard choices. One must decide, be thee for Liberty or Servitude for that is the choice.
~~*~~
President Barack Obama's First Ad of 2012
"The danger to America is not Barack Obama but a citizenry capable of entrusting a man like him with the presidency. It will be easier to limit and undo the follies of an Obama presidency than to restore the necessary common sense and good judgment to a depraved electorate willing to have such a man for their president. The problem is much deeper and far more serious than Mr. Obama, who is a mere symptom of what ails us. Blaming the prince of the fools should not blind anyone to the vast confederacy of fools that made him their prince. The republic can survive a Barack Obama, who is, after all, merely a fool. It is less likely to survive a multitude of fools such as those who made him their president." --Anonymous
~~*~~
--Marco Rubio--
YouTube - Sen. Marco Rubio's Channel
Marco Rubio's - Facebook
Marco Rubio's - twitter
Photo Gallery: U.S. Senator Marco Rubio - [R] Florida
U.S. Senator Marco Rubio - [R] Florida - Ideas to Reclaim America .pdf:
U.S. Senator Marco Rubio - [R] Florida - on the President's Debt Speech
U.S. Senator Marco Rubio - [R] Florida - CPAC Address
U.S. Senator Marco Rubio [R] Florida - Biography
Highly regarded for his principled, energetic and idea-driven leadership, Marco Rubio was elected to the United States Senate in 2010 to represent the State of Florida.
In 1971, Marco was born in Miami to Cuban-born parents who came to America following Fidel Castro's takeover. When he was eight years old, Rubio and his family moved to Las Vegas, Nevada where his father worked as a bartender at the Sams Town Hotel and his mother as a housekeeper at the Imperial Palace Hotel. In 1985, the family returned to Miami where his father continued working as a bartender at the Mayfair House Hotel until 1997. Thereafter he worked as a school crossing guard until his retirement in 2005. His mother worked as a Kmart stock clerk until she retired in 1995.
Rubio attended South Miami Senior High School, graduating in 1989. He attended Tarkio College in Missouri for one year on a football scholarship before transferring to Santa Fe Community College and then graduating in 1993 with a bachelor of science from the University of Florida. He continued his studies at the University of Miami where he earned his juris doctor, cum laude, in 1996.
From 2000-2008, Rubio served in the Florida House of Representatives. During this period, he served as Majority Whip, Majority Leader and Speaker of the House, effectively promoting an agenda of lower taxes, better schools, a leaner and more efficient government and free market empowerment.
During the two years prior to assuming the speakership, Rubio traveled around the state hosting "Idearaisers" to solicit Floridians' input on ways to strengthen Florida. The 100 best ideas were compiled into a book entitled "100 Innovative Ideas for Florida's Future," which served as the basis for his term. All 100 ideas were passed by the Florida House. Fifty-seven of these ideas ultimately became law, including measures to crack down on gangs and sexual predators, promote energy efficient buildings, appliances and vehicles, and help small businesses obtain affordable health coverage. Former U.S. House Speaker Newt Gingrich hailed the effort as "a work of genius."
During his legislative career, Rubio also promoted efforts to develop a world-class public school curriculum, increase performance-based accountability, enhance school choice and target the socio-economic factors affecting chronic academic underperformance.
At the end of his tenure as Speaker, Rubio resumed his law practice as a sole practitioner. He has also served as a visiting professor at Florida International University's Metropolitan Center, worked as Florida Chairman of GOPAC and as a political analyst for Univision during the 2008 election cycle.
Rubio and his wife, Jeanette Dousdebes Rubio, have been married since 1998. They are the parents of four children: Amanda, Daniella, Anthony, and Dominick. They currently live in the working class city of West Miami, just four blocks from the home his parents moved the family to in 1985.
Senator Rubio currently serves on the Committee on Commerce, Science and Transportation, the Committee on Foreign Relations, the Select Committee on Intelligence, and the Committee on Small Business and Entrepreneurship.
~~*~~
--Jeff Flake--
Jeff Flake for U.S. Senate - Arizona
Mr. Flake Takes on Washington
2009 Liberty Index: For the first time in the now 31-year history of the Liberty Index, a member of Congress has scored a perfect 100, 100 on economic liberties component, and a perfect 100 on the personal liberties component. That person is Congressman Jeff Flake of Arizona.
~~*~~
--Bradley Byrne [R] Alabama--
Reform Alabama
AEA Union bosses' Paul Hubbert & Joe Reed foster a "culture of corruption" in Montgomery. They made no secret of being unhappy with former Chancellor Bradley Byrne's successful efforts at cleaning up the "culture of corruption." Ending "double-dipping" no work jobs when he took over the postsecondary system.
Alabama Democrats are like French whores who wear no underwear, so as to facilitate spreading their legs. How do I know of this? By the dandruff on their shoes, of course!
The taxpayers of Alabama will never allow the "forces of darkness" to led us back to AEA's [Alabama Education Association] culture of lies, fraud, and deceit. It's way past time for the curtain to be pulled on Paul Hubbert, Joe Reed and their "corrupt cronies" left in the Alabama legislature!
If you don't have the money and power to buy legislators off, you have to play by the rules enacted at the behest of the people who do. That's a lesson that social studies teachers should drill into the heads of their students. The students can decide whether, when they take over, they want to perpetuate this injustice or write ethics laws that prevent it.
Alabama will not forever remain isolated from the other states, clinging to outdated education policies. Given that we frequently rank near the bottom in national education rankings, hopefully state leaders will decide to make upgrades sooner rather than later. The one thing Bradley Byrne has going for him is the enduring power of his ideas.
~~*~~
--Congressman Paul Ryan [R] Wisconsin--
Video at Weekly Standard Link: Congressman Paul Ryan [R] Wisconsin Gets Standing Ovation at Town Hall Meeting.
YouTube - The Path to Prosperity: America's two futures, visualized
A ROADMAP FOR AMERICA'S FUTURE
Paul Ryan - Facebook
Paul Ryan's - twitter
YouTube - Rep. Paul Ryan's Channel
~~*~~
Congresswoman Martha Roby speaks to Chamber members during a Dothan Area Chamber of Commerce luncheon at the Clarion Hotel.
--Congresswoman Martha Roby [R] Alabama--
Martha Roby Serving Alabama's Second Congressional District. In November 2010, the people of Alabama's Second Congressional District elected Martha Roby to serve in the U.S. House of Representatives, where she now sits on the prestigious House Armed Services Committee, the House Committee on Agriculture and the House Education and the Workforce Committee.
Prior to her swearing in, Republican leaders selected Roby as one of only four freshman members to serve on the GOP Transition Team, a 22-member panel tasked with reforming House rules to provide greater efficiency, transparency, and accountability in the 112th Congress. On the Committee, Roby was a strong advocate for commonsense reforms. Among other changes, she supported a mandatory 72-hour public review period for legislation prior to House votes, and a restructured House calendar that increases the amount of time members spend in their home districts, where they are accessible by—and accountable to—the people they represent. Many of the Transition Team's proposed reforms were enacted in recently approved changes to the rules of the House of Representatives.
A native of Montgomery, Alabama, Roby served on the Montgomery City Council representing Council District Seven, the most socially and economically diverse council district in Montgomery. During her tenure on the Montgomery City Council, she routinely opposed tax increases, fought hard in 2008 alone to vote against five proposed tax increases and offered solutions to reduce government spending. Chairing a committee on immigration, she led the efforts for the Montgomery City Council to adopt an ordinance to comply with federal law and prohibit businesses from harboring illegal aliens. Her work has resulted in a local sales tax holiday and tougher measures in Alabama's landlord-tenant laws.
Roby obtained a Bachelor of Music degree from New York University in 1998 and her law degree from Cumberland School of Law at Samford University in 2001. Prior to her entry into public service, she practiced law at Copeland, Franco, Screws & Gill, P.A. and remains a member in good standing with the Alabama and Mississippi bar associations.
Roby is married to Riley Roby and they have two children, Margaret and George. They are members of Trinity Presbyterian Church, where they are involved in various ministries.
Martha Roby's Web site
Martha Roby's Facebook Page
Martha Roby's Twitter Page
Martha Roby's Flicker Page
Sign up to receive Congressman Martha Roby's Weekly Column
~~*~~
Congresswoman Kristi and Bryon Noem Kassidy, Kennedy and Booker - South Dakota
Bryon, Kristi, Kassidy, Kennedy and Booker Noem
Bryon, Kristi, Kassidy, Kennedy and Booker Noem
--Congresswoman Kristi Noem [R] South Dakota--
Kristi For Congress
Congresswoman Kristi Noem's [R] South Dakota twitter
Congresswoman Kristi Noem's [R] South Dakota Facebook
Congresswoman Kristi Noem [R] South Dakota Delivers the Weekly Republican Address - YouTube
"America was built by people who longed for freedom, believed in individual responsibility and knew that government should serve the people - not the other way around. It is still true today, that the best government is the government that governs least.
Too many politicians in Washington, DC believe that expanding government is the solution to every problem. The result we are faced with today is that the federal government has become large, intrusive and inefficient. This excessive growth is a direct threat to our liberty and to our values of individual responsibility and free enterprise. I will fight to protect our freedom and turn back the reach of government that is expanding deeper into our lives." --Congresswoman Kristi Noem [R] South Dakota
~~*~~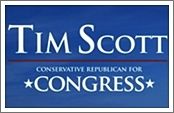 --Congressman Tim Scott - [R] South Carolina--
Congressman Tim Scott - [R] South Carolina
Photo Gallery: Congressman Tim Scott - [R] South Carolina
U.S. Representative for South Carolina's 1st District Tim Scott is recognized both locally and statewide for his consistent efforts to stand up for the rights of all South Carolina taxpayers. He served for 13 years on Charleston County Council. During his 13-year tenure, Tim never voted for a tax increase. Tim is a leader; he was elected Chairman 4 times, Vice-Chairman 4 times and chairman of the Economic Development Committee 5 times. Tim was elected to the SC House of Representatives in 2008 and was elected Chairman of the Freshman Caucus.
The Club for Growth's Conservative Score Card rated Tim as one of the most conservative members of the House. He earned 1 of only 11 "A" Ratings in the SC House of Representatives. The Club for Growth has endorsed Tim for Congress in the 1st Congressional District among a crowded primary field because of Tim's fight for lower taxes, decreased spending and individual liberty. He received the "Friend of the Taxpayer" commendation from the SC Association of Tax Payers. Tim voted to eliminate automatic pay increases for county council members while on county council.
Tim has consistently fought to bring high-quality jobs to SC. He was intimately involved in both phases of recruiting Boeing to Charleston [first phase as Chairman of County Council and second phase as a State Representative, Dist. 117.] He has helped attract over 20,122 jobs to SC; Daimler Chrysler [now Mercedes,] Verizon, Force Protection, Global Aeronautica, Vought Alenia and many others. Tim served as Chairman of the Emergency Operations Center 4 times during hurricane evacuations and other emergencies.
He was the owner of Tim Scott Allstate and has been awarded SC Agency Owner of the Year. He served as Co-Chairman of the Financial Services Committee of the Allstate National Advisory Board from 2004/2008. He was also a partner of Pathway Real Estate Group, LLC. Tim graduated from Charleston Southern University in 1988, B.S. in Political Science. Was awarded the Distinguished Service Award and Alumnus of the Year award by CSU.
Past & Present Board Memberships include: CSU Board of Visitors, former member of the Board of South Carolinians for Healthy Family Formation, Midland Park Ministries, The College of Charleston Business School Board of Governors, Roper St. Francis Hospital Foundation [2004/2008,] Board of Trustees for Seacoast Church [2001/2008] and a past board member of Palmetto Family Council [a SC affiliate of Focus on the Family.]
~~*~~
Wow: Valedictorian Speaks Out Against Public Schools
This was apparently first given a bit more than a year ago, but it is well worth listening to.
She just owned that speech! This it NOT what you would expect from a traditional valedictorian speech. But she's thinking--she understands that what was spoon fed to her in the public schools is not all there is. It is amazing that someone who we through the whole grind to become valedictorian--and yet retain originality of thought.
Hopefully people, especially young people, are starting to wake up to just how corrupt and broken at its core, the US educational system is. She sees through the scam.
The youth of America have lots of problems and a gigantic burden we adults have laid upon them. But they are not lifeless, the young ...there is spirit there and a willingness to challenge and demand better.
--
--The Progressive Education Philosophy - vs - The Self-Educated In The Literature of Freedom & Individualism--
Since the early 20th century progressive education has monopolized the education system, from elementary through university. The progressive education philosophy holds that there is no reality, that reason and the mind are impotent, that education per se is bad. The goal of schooling for the progressive is to either help the student express their feelings or to habituate the student to group discussions and decision making without substantive guidance. It's a rare teacher that teaches anymore, that imparts a body of knowledge to her students and a method of thinking about that content. More common are individual projects wherein the student expresses their uninformed thoughts on a topic, group "bull sessions" with teachers simply moderating, or straight up indoctrination on political or environmental topics [e.g. 5 year olds chanting slogans in Earth Day celebrations.]
Progressive education is especially bad in the liberal arts, like history. Any high school or college graduate could probably express to you his sympathy for the plight of the American Indian, but could not tell you the difference between a democracy and a republic, between freedom and statism, between western civilization and primitive savagery.
The smart student who accepts the irrational principles of his progressive education becomes adept at playing their game, adept at twisting the meaning of words, adept at obscuring any topic, adept at finding exceptions to any principled statement. He gets plenty of practice time and has good mentors. Meanwhile the student that rejects the principles of progressivism, that thinks there is a reality, truth and principles, admires the United States, and condemns attacks on civilization goes silent. He has few mentors and little material to feed his curiosity.
The former student eventually becomes a professional, perhaps an intellectual: a journalist, author, teacher, artist. He propagates his progressive liberal ideas. Not so with the other student. Around the late high school or college level, if he's lucky, he starts to read in his own time books that promote reason, civilization, that teach him the history he never learned in "social sciences." He might discover Ayn Rand or free market economists [Hazlitt, Hayek, etc.] perhaps libertarians or conservative writers. He educates himself in economics, history, philosophy, but does not become a professional intellectual. That realm is monopolized by the progressives. He becomes a scientist, stock broker, small businessman, contractor.
And so we reach the situation we are in now. The mainstream media and political establishment, populated by the stars of progressive education is statist, irrationalist, anti-American. The rest of America, self-educated in the literature of freedom is in open rebellion against this media and politics. The internet has been critical in accelerating and broadening this self-education education. What might have taken another 10 years or never arrived in time, now happens over the course of months. Washington makes a mess of housing and we learn about it, despite the attempts of the MSM to blame it on capitalism. Washington bails out the banks and we hear about it, we protest, the Tea Party is born.
Kudos to the internet for making our self-education possible, and kudos to us for spending the time to educate ourselves. But is it sustainable? The key to a long-term future for freedom is better leadership and youth involvement. The key to generating better leadership and youth involvement is eliminating the stranglehold the progressives have on education, which means eliminating state control of education. Ultimately there should be separation of state and education like there is state and religion. We need to support every effort to free education: the right to home school without restriction, voucher systems, privatizing student loans, elimination of teachers unions, elimination of teacher certification, elimination of government grants.
When schools are once again free, as they were for most of a hundred years before, we'll have a chance to patronize schools that promote reason, science and freedom. Those will be the schools that turn out educated patriot leaders and a youth excited about freedom. Until then we'll always be playing catchup to the progressives.
--
"It is not as late as you think. It is merely early -- in the age of the rebirth of individualism." --Ayn Rand
~~*~~
--Mary Frances Berry-- Professor of American Social Thought and History, U. Penn. :
Tainting the tea party movement with the charge of racism is proving to be an effective strategy for Democrats. There is no evidence that tea party adherents are any more racist than other Republicans, and indeed many other Americans. But getting them to spend their time purging their ranks and having candidates distance themselves should help Democrats win in November. Having one's opponent rebut charges of racism is far better than discussing joblessness.
--
--Liberty, The new civil right--
The Founding Fathers warned of a Federal Government bent on usurping the power, rights, and privacy of its States and citizens. In the last nine years, the Federal Government has expanded the scope of its power at an alarming rate, while blatantly ignoring the Constitution. Whether it's passing the 315 page Patriot Act without a single member of Congress ever reading the bill, proposing a National ID Card, establishing FISA courts and utilizing warrantless searches, or betraying the medical privacy of ordinary citizens, the Federal Government has overstepped its limited powers as stipulated in the Constitution.
We are undergoing what the Founding Fathers would recognize as a "Great Awakening." People, good people, oftentimes are too busy in their own lives, or just not interested in getting involved personally with the political process until it starts to close in on them. That's what is happening now. Government is closing in on people, and they are awakening to the fact that they have no choice now, but to get personally out there and fight it.
I personally am tiring of so many racially tainted attacks on the tea party events. It's as if people are looking for evidence to support their already foregone conclusions that this movement is a malevolent, racially motivated gathering. The constitution-oriented signs, the children, the decent but concerned people attending these functions are all but ignored by the national press, the persecutors and the President, himself. Remember that when the left attacks the tea party activists, they are attacking the foundation of America.
Over and over again I have heard comments from people joining the teas, saying they were never involved in a political movement before now. However, a threshold has now been passed and they are vigorously educating themselves and becoming proactive. It's better late than never!
"Good" people get angry and become proactive, not because they "want" to, but because they feel they "have" to. If you move a good person to passion, they are a force to be reckoned with--the old "still waters run deep" type of reaction. Democrats, beware of castigating good people, as they will be the first to cast you aside!
To error is human. People are prone to mistakes and bad judgment. Sometimes its due to intelligence, other times it's because of a lack of maturity, and other times of being purely self-centered and looking out for yourself through the prism of political choices. Whatever it is, that's what civilizations have faced through the ages.
We are on the cusp of losing our Republic to a totalitarian philosophy. In my view, the times we live in are almost equal to those of the Founders. We have a looming threat to the freedoms set forth in the Declaration of Independence, and we have an oppressive regime forcing us into taxation slavery.
Who will be our patriot heroes? Two hundred years from now, will future generations be able to look back in gratitude on the Washingtons, Franklins, Henrys, and Adams of the 21st century, and say they saved the Republic?
Events of the day are driving us closer to conflict--2010 is a pivotal year. I'm hanging my hat on that time slot, working for an outcome that benefits turning things around. We will know after November what measure of men we are, and whether we are worthy of the freedoms won first by the Founding Fathers...
--
"The reason we hold truth in such respect is because we have so little opportunity to get familiar with it." --Mark Twain
--
A Prayer For Israel [Psalm 83]
~Happy New Year from the Israel Defense Forces~
Alabama Republican Party
--NO TOLERANCE FOR PUBLIC CORRUPTION--
Human nature being what it is, politicians of all parties and persuasions are going to violate laws and be corrupted by power. When Republicans are duly charged with crimes, their fellow Republicans must resist the temptation to circle the wagons around their friends and professional colleagues. We must make it clear that while no party is unblemished by corruption, the ALGOP shall be known as the party that won't tolerate, facilitate or apologize for it once it comes to light.
Nothing showcases the lack of accountability and corruption in state government quite as well as Alabama's two year college system. It's one gigantic taxpayer funded shell corporation where political favors and "good-ol-boy" patronage are bought, sold, and traded--and a fine "gravy train" for political insiders. Alabama's two year college system is a perfect illustration of the "cancer of corruption" and "abuse of public trust" plaguing our state government.
The proposed changes to the two year system have, of course, been fought tirelessly by powerful [AEA] union boss Paul Hubbert, Joe Reed and their "double-dipping" cronies in the Alabama legislature. A state legislature dominated by teachers, former teachers, teacher union-backed representatives and funded by teacher-union contributions.
In his book "Theodore Roosevelt on Leadership," James Strock notes that at one point while he was a New York City police commissioner, Roosevelt lamented there was not a single politician or newspaper in the city that supported him. His complaint is of lasting value. We profit by reminding ourselves that leadership is often a lonely endeavor, the fruits of which take years to reap; and in the meantime integrity and principle must be their own reward.
Alabama Republicans should remember this as they fashion an agenda that, while consulting public sentiment, cannot aspire to universal favor and still remain meaningful. Such disagreements, after all, are why we have political parties. And yet these big issues transcend parties. We must hope that in time, they call forth leaders willing to do the same.
~~*~~
--INDIVIDUALISM--
"Individual rights are not subject to a public vote; a majority has no right to vote away the rights of a minority; the political function of rights is precisely to protect minorities from oppression by majorities [and the smallest minority on earth is the individual.] " --Ayn Rand
"Collectivism, as an intellectual power and a moral ideal, is dead. But freedom and individualism, and their political expression, capitalism, have not yet been discovered." --Ayn Rand
"It is not as late as you think. It is merely early -- in the age of the rebirth of individualism." --Ayn Rand
"The right to the pursuit of happiness means man's right to live for himself, to choose what constitutes his own, private, personal happiness and to work for its achievement. Each individual is the sole and final judge in this choice. A man's happiness cannot be prescribed to him by another man or by any number of other men. ...These rights are the unconditional, personal, private, individual possession of every man, granted to him by the fact of his birth and requiring no other sanction. Such was the conception of the founders of our country, who placed individual rights above any and all collective claims." --Ayn Rand
"Did you really think that we want those laws to be observed?" said Dr. Ferris. "We want them broken. You'd better get it straight that it's not a bunch of boy scouts you're up against - then you'll know that this is not the age for beautiful gestures. We're after p o w e r and we mean it. You fellows were pikers, but we know the real trick, and you'd better get wise to it. There's no way to rule innocent men. The only p o w e r any government has is the p o w e r to crack down on criminals. Well, when there aren't enough criminals, one makes them. One declares so many things to be a crime that it becomes impossible for men to live without breaking laws.* Who wants a nation of law-abiding citizens? What's there in that for anyone? But just pass the kind of laws that can neither be observed nor enforced nor objectively interpreted - and you create a nation of law-breakers - and then you cash in on guilt. Now, that's the system, Mr. Rearden, that's the game and once you understand it, you'll be much easier to deal with." --Ayn Rand, Atlas Shrugged
~~*~~
–The lifetime gift TENURE, three years and you have me forever–
Making it easier to dismiss incompetent and ineffective educators ought to be seen as an effort to increase the value of excellent teachers. Merit pay is also an effort to reward excellence. Tenure protection does little to advance the interests of school children.
Tenure is "ridiculous." You cannot run a school system that way. The three principles that govern our system are lockstep compensation, seniority, and tenure. All three are not right for our children. We're not talking about a bank or a law firm. We're talking about a classroom–which is far more important–and your ability to make sure that the right people are teaching there.
These policies were created over the past century to protect the rights of teachers, but they have produced an industrial factory model of education that treats all teachers like interchangeable widgets. If you look at the upper quartile and the lower quartile, you know that those people are not interchangeable.
Tenure should not provide lifetime employment for teachers–especially ineffective ones. In the perverse world of public education, tenure protects incompetence and educators are muzzled, being required speak only the company line, as set forth by the school board.
Don't you hate being manipulated by politicians and educators?
When it comes to education reform, we should all be "good cops."
--AEA [Alabama Education Association] union--
AEA [Alabama Education Association] union's termination rules can be read here: As described, it sounds like neither a speedy nor efficient process. The teacher's second appeal [which might not even begin until 6 months after the teacher was recommended for termination] can involve subpoenas, discovery, etc.
Canning a teacher is on paper, simple, find cause [say tattooing "Loser" on a poor performer's head,] give notice this is bad, set board hearing 10-20 days later to hear their side then o-u-t. Problem comes in when school's attorney decides its cheaper to continue paying state funded salary than using local funds to fight the aggressive defense AEA [Alabama Education Association] will muster, the reason given for termination is not one of those spelled out, notice not given, etc. Here's link to the Alabama Code on the subject of tenure. Also want to review the Annotated Code at the library to see how the courts have defined what is "good and sufficient cause." School boards should have handy a copy of the standard contract.
--A Parent's Nightmare--
Imagine if a school employee molested your kid. Repeatedly.
Audio slide show: A boy's struggles
--
--Sex Abuse & Other Teacher Misconduct--
In Alabama there are allegations and convictions for educator sexual misconduct reported nearly every week. I can't keep up with all the educator sex abuse charges and convictions that come to my attention. Although the percentage of teachers is small, thousands of students are used by public school employees for their own sexual gratification each year.
It starts with a little extra attention and affection, a personalized note on a term paper and chummy after-school banter. Before long it escalates to hugging and explicit text messages. It's called "grooming," small indiscretions that child abuse experts say should alert principals and parents to a developing sexual relationship between a teacher and student.
But sexual misconduct by teachers--from inappropriate touching and downloading pornography on a school computer to full-blown molestation--is a persistent and pervasive problem. It is the No. 1 reason educators in some states are forced to surrender their licenses. And the tools for preventing it haven't evolved much over the years.
Suffice it to say that pervasive educator-student sex is just one more reason why we need schools for The 21st Century Student. By reducing face-to-face student-teacher interactions we can reduce the opportunities educator sexual misconduct. It's the most effective strategy we have for reducing educator sex abuse. Better training isn't going to do anything except, perhaps, make it more difficult than it already is to discover the sexual abuse. What college graduate needs to be trained to know that you don't have sex with your students?
Because schools are responsible for having introduced the child to the teacher in the first place, they, therefore, are responsible for any sexual contact between the teacher and their students. American educators sexually abuse more students each year than Catholic priests did in half of a century. Yet the two institutions have been treated vastly differently on this issue.
One observation: If this cretin had been a "person of the cloth," 1001 attorneys would be lined up to represent the victims. As it is, though, the cretins will be defended by their respective unions at taxpayers expense.
--
--Teacher Sex Abuse--
Although the vast majority of educators do not sexually abuse students, the incidents of child sexual abuse within public schools occur with stunning frequency. It happens in nearly every county of every state. The vast majority of teachers are law abiding. However, what the public doesn't hear often, but what crime investigators know with great certainty, is that adults who are "sexually aroused" by children select careers where they can be around them. Pedophiles tend to seek jobs that put them into close proximity with children. This makes it more likely that child sex abuse will occur more frequently in some occupations than others. But, you never know when one is until [s]he is caught. Teachers need to go to prison, for breaking one of the few taboos left in modern society: that teachers not have sexual relations with their students.
Sex abuse by people in authority in public schools is a big problem. The epidemic of child sexual abuse in the context of public schools is no less severe than in the Catholic Church. In terms of absolute numbers, far more minors are sexually abused by teachers and coaches each year than by Catholic priests. Both schools and churches have obligations to teach morality and set an example for youth. I think it is very interesting the huge amount of pressure put on the Catholic Church versus the inclination to look away from the problem when it occurs in the context of public education.
These kinds of crimes are committed with far greater secrecy than drug dealing. They are committed by people with reputations for doing a lot of good. Moreover, the perpetrators are very good at ensuring the victims make no disclosures. Voluntary consent is not possible between a minor and an adult, especially an adult in a "position of authority." Any "consent" given by students to educators concerning sex acts is necessarily tainted by an imbalance of power between them. It's because these crimes are so difficult to detect in the school context, the maximum penalty is warranted.
Suppose the district doesn't report the matter to law enforcement, childrens' protective services or the education department. Or the allegation could be legitimate and swept under the rug. It happens. These matters are very hush-hush, despite mandatory reporting laws. Students are defenseless against dishonest teachers and administrators. Child abusers just go on teaching or move on to other schools and parents never hear a word because such information is labeled as "hysteria-creating, useless communication."
Most of these cases will never be reported to Child Protective Services or law enforcement and many reports will be delayed until after the abused students leave school. The idea that most sex abusers have a readily discernable aura of evil is completely false. More often they are very slick, educated people with commendable reputations and great people skills. The message for parents is even if school staff sees teacher misconduct that may harm your child, they aren't going to tell you about it.
An important reason why school administrators sometimes put student concerns on the back burner has to do with the power of teachers unions. It's simply easier to keep things quiet and avoid conflict. It's one of the negative consequences of having a unionized profession. Most professionals aren't in unions and that goes a long way in protecting the interests of their clients. It is rare to find a district attorney willing to risk the ill-will of powerful government agencies to discover the truth of misconduct and issue recommendations for action.
A priority of school districts and those who work in them is to protect their public image. Consequently, they act to control, spin and protect damaging information rather to make it public. When educators violate laws, even as serious as failing to report suspicions of sex abuse, they get a free bite at the apple. It doesn't happen for most Americans who find themselves on the wrong side of the law. It takes an independent third party to reveal the truth about public institutions. Democracy depends on an accurately informed public, otherwise it founders.
It's extremely important to tell teens to immediately report crimes without delay. Many victims delay in reporting, or never report sex crimes. It takes a lot of courage to do so. It's time for student needs to trump system needs on this issue. It's time to stop educators from preying in school. Stop coddling tainted teachers.
Good teachers can do bad things. Bad teachers can do good things. A teacher's glowing performance reviews does not mean children are being treated and educated the way they should be. Performance evaluations in education are extremely unreliable because of the unwritten rule to record only accolades and positive observations.
~~*~~
--Betty Peters--
BETTY PETERS [R] ALABAMA STATE
SCHOOL BOARD REPRESENTATIVE DISTRICT 2
Alabama Education News Write-Up [.pdf 196KB]
This district includes Barbour, Chambers, Clay, Coffee, Covington, Dale, Geneva, Henry, Houston, Lee, Randolph, Russell, Tallapoosa and a portion of Talladega Counties; and the following colleges: Central Alabama Community College; Chattahoochee Valley Community College; Enterprise-Ozark Community College; Southern Union State Community College; George C. Wallace Community College, Dothan; and Lurleen B. Wallace Community College.
WORDS OF PRAISE FOR BETTY PETERS (R)
ALABAMA STATE SCHOOL BOARD DISTRICT 2
* WOW * WAY TO GO * SUPER * YOU'RE SPECIAL *

* OUTSTANDING * EXCELLENT * GREAT *

* GOOD * NEAT * WELL DONE * REMARKABLE *

* I KNEW YOU COULD DO IT * FANTASTIC *

* I'M PROUD OF YOU * SUPER STAR * NICE WORK *

* LOOKING GOOD * YOU'RE ON TOP OF IT *

* BEAUTIFUL * NOW YOU'RE FLYING *

* YOU'RE CATCHING ON * NOW YOU'VE GOT IT *

* YOU'RE INCREDIBLE * BRAVO *

* YOU'RE FANTASTIC * HURRAY FOR YOU *

* YOU'RE ON TARGET * YOU'RE ON YOUR WAY *

* HOW NICE * HOW SMART * GOOD JOB *

* THAT'S INCREDIBLE * HOT DOG * DYNAMITE *

* YOU'RE BEAUTIFUL * YOU'RE UNIQUE *

* NOTHING CAN STOP YOU NOW * GOOD FOR YOU *

* I LIKE YOU * YOU'RE A WINNER *

* REMARKABLE JOB * BEAUTIFUL WORK *

* SPECTACULAR * YOU'RE DARLING *

* YOU'RE PRECIOUS * GREAT DISCOVERY *

* YOU'VE DISCOVERED THE SECRET * BINGO *

* ALL RIGHT * YOU FIGURED IT OUT *

* FANTASTIC JOB * MAGNIFICENT *

* HIP HIP HOORAY * MARVELOUS * TERRIFIC *

* YOU'RE IMPORTANT * PHENOMENAL *

* YOU'RE SENSATIONAL * SUPER WORK *

* CREATIVE JOB * SUPER JOB *

* EXCELLENT JOB * EXCEPTIONAL PERFORMANCE *

* YOU'RE A REAL TROOPER *

* YOU ARE RESPONSIBLE * YOU'RE EXCITING *

* YOU LEARNED IT RIGHT *

* WHAT AN IMAGINATION * WHAT A GOOD LISTENER *

* YOU'RE FUN * YOU CARE *

* YOU'RE GROWING UP * YOU TRIED HARD *

* BEAUTIFUL SHARING *

* OUTSTANDING PERFORMANCE * YOU'RE A GOOD FRIEND

* I TRUST YOU * YOU'RE IMPORTANT *

* YOU MEAN A LOT TO ME * YOU MAKE ME HAPPY *

* YOU BELONG * YOU'VE GOT A FRIEND *

* YOU MAKE ME LAUGH * YOU BRIGHTEN MY DAY *

* I RESPECT YOU * YOU MEAN THE WORLD TO ME *

* THAT'S CORRECT * YOU'RE A JOY *

* YOU'RE A TREASURE * YOU'RE WONDERFUL *

* YOU'RE AWESOME * A+ JOB *

* YOU'RE A-OK * MY BUDDY * YOU MAKE MY DAY *
Christmas 2009 Cory, Anna, Betty & Charles, Jonathan, was sick the day they made the Christmas photo.
Betty Peters Christmas 2008
Tina Glasgow, and her son, Pastor Kenneth Glasgow
My family's close friend, Tina Glasgow--operates a "soup kitchen" in Dothan, Alabama. They serve meals to the less fortunate in our community. Tina's friendship over the years, has meant so much to my family. We love you... Tina!
T.O.P.S. Empowerment Center
Evergreen Plaza 805 N. Lena Street
Dothan, AL 36303
--Mississippi Governor Hailey Barbour, Alabama State Senator Cam Ward, Alabama Governor Bob Riley--
Alabama State Sen. Cam Ward [R] for District 14 Alabaster, Alabama
Alabama State Senator Cam Ward has been fortunate to have his wife Julie and daughter Riley by his side throughout his career. In addition to having a wonderful family, Cam has always dedicated himself to community service. He has focused his career on public service and worked with various organizations to promote a strong quality of life for our state.
~~*~~
--State Rep. Mike Ball, Madison, Alabama--
Mike Ball, Alabama State Rep. [R] for District 10 Madison, Alabama
Representative Mike Ball was elected to the Alabama House of Representatives in 2002. He and his wife, Debbie, have three children - Chris, Cara, and Mandy, and a grandson, Jacob. Mike received his A.S. in Criminal Justice from Jefferson State Junior College and his B.S. in Political Science from Athens State University. He is a member of Asbury Methodist United Methodist Church in Madison.
Mike served in the U.S. Marine Corps from 1973 to 1977 and was honorably discharged as a Sergeant. In 1978, he became an Alabama State Trooper, and served 8 years in the Highway Patrol Division. In 1986, he was assigned to serve in the Major Crimes Unit of the Alabama Bureau of Investigation. In addition to his investigative duties, Mike also served as a Hostage Negotiator. He retired from the Alabama Department of Public Safety on January 1, 2003. After his retirement from the Department of Public Safety, Mike and his son Chris have operated the family business, Ball Roofing.
Mike also enjoys singing and playing mandolin with The Madison Mountaintop Band. A student of several musical instruments, he particularly enjoys improvisation with other "shade tree" musicians.
~~*~~
--Ronald Reagan--
Ronald Reagan TV Ad: "Its Morning In America Again"
Ronald Reagan Speech - 1964 Republican National Convention
Inside Ronald Reagan: A Reason Interview from July 1975
~*~
"If you analyze it I believe the very heart and soul of conservatism is libertarianism. I think conservatism is really a misnomer just as liberalism is a misnomer for the liberals–if we were back in the days of the Revolution, so-called conservatives today would be the Liberals and the liberals would be the Tories. The basis of conservatism is a desire for less government interference or less centralized authority or more individual freedom and this is a pretty general description also of what libertarianism is. Now, I can't say that I will agree with all the things that the present group who call themselves Libertarians in the sense of a party say, because I think that like in any political movement there are shades, and there are libertarians who are almost over at the point of wanting no government at all or anarchy. I believe there are legitimate government functions. There is a legitimate need in an orderly society for some government to maintain freedom or we will have tyranny by individuals. The strongest man on the block will run the neighborhood. We have government to insure that we don't each one of us have to carry a club to defend ourselves. But again, I stand on my statement that I think that libertarianism and conservatism are travelling the same path". --Ronald Reagan
"The government's view of the economy could be summed up in a few short phrases: If it moves, tax it. If it keeps moving, regulate it. And if it stops moving, subsidize it." --Ronald Reagan
"Man is not free unless government is limited. There's a clear cause and effect here that is as neat and predictable as a law of physics: As government expands, liberty contracts." --Ronald Reagan
"This idea that government was beholden to the people, that it had no other source of power except the sovereign people, is still the newest, most unique idea in all the long history of man's relation to man. For almost two centuries we have proved man's capacity for self-government, but today we are told we must choose between a left and right or, as others suggest, a third alternative, a kind of safe middle ground. I suggest to you there is no left or right, only an up or down. Up to the maximum of individual freedom consistent with law and order, or down to the ant heap of totalitarianism; and regardless of their humanitarian purpose those who would sacrifice freedom for security have, whether they know it or not, chosen this downward path". --Ronald Reagan
"I had a copy of the Soviet Constitution and I read it with great interest. And I saw all kinds of terms in there that sound just exactly like our own: 'Freedom of assembly' and 'freedom of speech' and so forth. Of course, they don't allow them to have those things, but they're in there in the constitution. But I began to wonder about the other constitutions -- everyone has one -- and our own, and why so much emphasis on ours. And then I found out, and the answer was very simple -- that's why you don't notice it at first. But it is so great that it tells the entire difference. All those other constitutions are documents that say, 'We, the government, allow the people the following rights,' and our Constitution says 'We the People, allow the government the following privileges and rights.' We give our permission to government to do the things that it does. And that's the whole story of the difference--why we're unique in the world and why no matter what our troubles may be, we're going to overcome." --Ronald Reagan
"Freedom is a fragile thing and is never more than one generation away from extinction. It is not ours by inheritance; it must be fought for and defended constantly by each generation, for it comes only once to a people. Those who have known freedom and then lost it, have never known it again." --Ronald Reagan
~~*~~
--Margaret Thatcher--
"Pennies do not come from heaven. They have to be earned here on earth." --Margaret Thatcher
"Being powerful is like being a lady. If you have to tell people you are, you aren't." --Margaret Thatcher
"I always cheer up immensely if an attack is particularly wounding because I think, well, if they attack one personally, it means they have not a single political argument left." --Margaret Thatcher
"There can be no liberty unless there is economic liberty."--Margaret Thatcher
"You may have to fight a battle more than once to win it." --Margaret Thatcher
Margaret Thatcher and Ronald Reagan - The Transatlantic Relationship
Margaret Thatcher: Free Society Speech [1975]
Margaret Thatcher: There is no such thing as public money
~~*~~
--Barry Goldwater--
Barry Goldwater: Conservative and Individualist
"The conscience of the Conservative is pricked by anyone who would debase the dignity of the individual human being. Today, therefore, he is at odds with dictators who rule by terror, and equally with those gentler collectivists who ask our permission to play God with the human race." --Barry Goldwater, Conscience of a Conservative
"I would remind you that extremism in the defense of liberty is no vice! And let me remind you also that moderation in the pursuit of justice is no virtue." --Barry Goldwater
"Where is the politician who has not promised to fight to the death for lower taxes- and who has not proceeded to vote for the very spending projects that make tax cuts impossible?" --Barry Goldwater
"The income tax created more criminals than any other single act of government." --Barry Goldwater
~~*~~
--Here are some quotes from great Americans--
~~*~~
"When the people find that they can vote themselves money, that will herald the end of the republic." --Benjamin Franklin
"Government, like fire, is a dangerous servant and a fearful master." --George Washington
"He who governs least, governs best." --Thomas Jefferson
"A government big enough to give you everything you want, is strong enough to take everything you have." --Thomas Jefferson
"Let the general government be reduced to foreign concerns only, and let our affairs be disentangled from those of all other nations, except as to commerce, which the merchants will manage the better, the more they are left free to manage for themselves, and our general government may be reduced to a very simple organization, & a very unexpensive one; a few plain duties to be performed by a few servants." --Thomas Jefferson
"If Congress can employ money indefinitely to the general welfare, and are the sole and supreme judges of the general welfare, they may take the care of religion into their own hands; they may appoint teachers in every State, county and parish and pay them out of their public treasury; they may take into their own hands the education of children, establishing in like manner schools throughout the Union; they may assume the provision of the poor; they may undertake the regulation of all roads other than post-roads; in short, every thing, from the highest object of state legislation down to the most minute object of police, would be thrown under the power of Congress. Were the power of Congress to be established in the latitude contended for, it would subvert the very foundations, and transmute the very nature of the limited Government established by the people of America." --James Madison
"No man's life, liberty, or property is safe while the legislature is in session." --Mark Twain
"Collecting more taxes than is absolutely necessary is legalized robbery." --Calvin Coolidge
"The income tax created more criminals than any other single act of government." --Barry Goldwater
"Of all tyrannies, a tyranny exercised for the good of its victims may be the most oppressive. It may be better to live under robber barons than under omnipotent moral busybodies. The robber baron's cruelty may sometimes sleep, his cupidity may at some point be satiated; but those who torment us for our own good will torment us without end, for they do so with the approval of their own conscience." --C.S. Lewis
"I would rather be exposed to the inconveniences attending too much liberty than to those attending too small a degree of it." --Thomas Jefferson
"Familiarize yourself with the chains of bondage and you prepare your own limbs to wear them. Accustomed to trample on the rights of others, you have lost the genius of your own independence and become the fit subjects of the first cunning tyrant who rises among you." --Abraham Lincoln
"Democracy never lasts long. It soon wastes, exhausts, and murders itself. There never was a democracy yet that did not commit suicide." --John Adams
"A democracy is nothing more than mob rule, where fifty-one percent of the people may take away the rights of the other forty-nine." --Thomas Jefferson
"The Constitution is not an instrument for the government to restrain the people, it is an instrument for the people to restrain the government...lest it come to dominate our lives and interests." --Patrick Henry
"Suppose you were an idiot. And suppose you were a member of Congress. But I repeat myself." --Mark Twain
"A government which robs Peter to pay Paul can always depend on the support of Paul." --George Bernard Shaw
"Democracy must be something more than two wolves and a sheep voting on what to have for dinner." --James Bovard, Civil Libertarian [1994]
"Giving money and power to government is like giving whiskey and car keys to teenage boys." --P.J. O'Rourke, Civil Libertarian
"I don't make jokes. I just watch the government and report the facts." --Will Rogers
"If you think health care is expensive now, wait until you see what it costs when it's free." --P.J. O'Rourke
"The only difference between a tax man and a taxidermist is that the taxidermist leaves the skin." --Mark Twain
"The conscience of the Conservative is pricked by anyone who would debase the dignity of the individual human being. Today, therefore, he is at odds with dictators who rule by terror, and equally with those gentler collectivists who ask our permission to play God with the human race." --Barry Goldwater, Conscience of a Conservative
"The prospect of tyranny may not grab the headlines the way vivid stories of gun crime routinely do. But few saw the Third Reich coming until it was too late. The Second Amendment is a doomsday provision, one designed for those exceptionally rare circumstances where all other rights have failed--where the government refuses to stand for reelection and silences those who protest; where courts have lost the courage to oppose, or can find no one to enforce their decrees. However improbable these contingencies may seem today, facing them unprepared is a mistake a free people get to make only once." --Judge Alex Kozinsky
"I think I am better than the people who are trying to reform me." --E.W. Howe
"The kind of man who wants the government to adopt and enforce his ideas is always the kind of man whose ideas are idiotic." --H.L. Mencken
.:*~*:._.:*~*:._.:*~*:._.:*~*:._.:*~*:._.:*~*:._.:*~*:._.:*~*:._.:*~*:.
"If ye love wealth better than liberty, the tranquility of servitude better than the animating contest of freedom, go home from us in peace. We ask not your counsels or arms. Crouch down and lick the hands which feed you. May your chains set lightly upon you, and may posterity forget that ye were our countrymen." --Samuel Adams, speech at the Philadelphia State House, August 1, 1776
~~*~~
"It is not the critic who counts, not the man who points out how the strong man stumbled, or where the doer of deeds could have done better. The credit belongs to the man who is actually in the arena; whose face is marred by the dust and sweat and blood; who strives valiantly; who errs and comes short again and again; who knows the great enthusiasms, the great devotions and spends himself in a worthy cause; who at the best, knows in the end the triumph of high achievement, and who, at worst, if he fails, at least fails while daring greatly; so that his place shall never be with those cold and timid souls who know neither victory or defeat." --THEODORE ROOSEVELT Paris Sorbonne,1910
~~*~~
TO THE LAND
OF THE FREE
AND THE HOME
OF THE BRAVE:
"The two enemies of the people
are criminals and government,
so let us tie the second down
with the chains of the Constitution,
so the second will not become
the legalized version of the first."
--Thomas Jefferson--
"Life is tough. It's tougher when you are stupid." --John Wayne
--Milton Friedman--
~The powers not delegated to the United States by the Constitution, nor prohibited by it to the States, are reserved to the States respectively, or to the people.~
--Tenth Amendment to the U.S. Constitution--
"Any objective observer can see that the Tenth Amendment is the most widely violated provision of the bill of rights. If it had been enforced, America would be an astonishingly different country. Today's atmosphere of big government, ever-expanding entitlement programs, and bloated spending threaten to undermine the very basis of American liberty and self-reliance.
To bring about positive social change and to strengthen our most effective and efficient social institutions, we must rein in government, reject calls for expanded entitlement programs, and demand that government intervenes in only very limited ways and only when absolutely necessary.
The greatest advances of civilization, whether in architecture or painting, in science and literature, in industry or agriculture, have never come from centralized government."
~Milton Friedman~
~*~
"There are four ways in which you can spend money. You can spend your own money on yourself. When you do that, why then you really watch out what you're doing, and you try to get the most for your money. Then you can spend your own money on somebody else. For example, I buy a birthday present for someone. Well, then I'm not so careful about the content of the present, but I'm very careful about the cost. Then, I can spend somebody else's money on myself. And if I spend somebody else's money on myself, then I'm sure going to have a good lunch! Finally, I can spend somebody else's money on somebody else. And if I spend somebody else's money on somebody else, I'm not concerned about how much it is, and I'm not concerned about what I get. And that's government. And that's close to 40% of our national income."
~Milton Friedman~
~*~
"What most people really object to when they object to a free market is that it is so hard for them to shape it to their own will. The market gives people what the people want instead of what other people think they ought to want. At the bottom of many criticisms of the market economy is really lack of belief in freedom itself. The essence of political freedom is the absence of coercion of one man by his fellow men. The fundamental danger to political freedom is the concentration of power. The existence of a large measure of power in the hands of a relatively few individuals enables them to use it to coerce their fellow men. Preservation of freedom requires either the elimination of power where that is possible, or its dispersal where it cannot be eliminated. It essentially requires a system of checks and balances, like that explicitly incorporated in our Constitution..."
~Milton Friedman~
~*~
ALABAMA CRIMSON TIDE
A FOOTBALL TRADITION
15 National Championships
1925 1926 1930 1934 1941 1961 1964
1965 1973 1978 1979 1992 2009 2011 2012
Yea, Alabama!



Yea, Alabama!
Drown 'em Tide!
Every 'Bama man's behind you;
Hit your stride!
Go teach the Bulldogs to behave,
Send the Yellow Jackets to a watery grave!
And if a man starts to weaken,
That's his shame!
For 'Bama's pluck and grit
Has writ her name in crimson flame!
Fight on, fight on, fight on, men!
Remember the Rose Bowl we'll win then!
So! Go, roll to victory,
Hit your stride,
You're Dixie's football pride, Crimson Tide!



"In the East Football is a cultural exercise, on the West Coast its a tourist attraction, in Texas its a big get together, in the Midwest its a slugfest, but in the South, Football is a RELIGION"
--Grantland Rice


--University of Alabama Crimson Tide 2009/2010/*2011 Football Gallery, Cheerleaders, Crimsonettes, and the Million Dollar Band--
--The University of Alabama Crimson Tide Million Dollar Band--
Alabama Fanfare
Bammy Bound Cheer
Rammer Jammer (Hey Vols)
Go, Go, Go Alabama
Roll Tide, Roll
Go Bama, Go
Yea Alabama (long version)
Yea Alabama
Yea Alabama (old version)
Are You From Dixie & Alabama Jubilee
Eat 'Em Up
Go Bama
Shout
University of Alabama Crimson Tide Head Football Coach Nick Saban
--Jim Cook--
My personal favorite newspaper reporter is Jim Cook of the Dothan Eagle. Jim covers education for the Dothan Eagle and writes a column on Sundays... Jim also covers state and local politics.
Jim investigated former Rep. Terry Spicer [D] Elba's work logs he was required to keep and they overlapped with times Alabama House records showed that Spicer was on the floor voting. Spicer was a "double-dipper" who was forced by new ethics requirements to leave one tax-payer funded job only to immediately accept another as Elba's new school superintendent. Spicer's position as Elba superintendent and as a member of the Education Appropriations committee created a conflict of interests.
Spicer used his place on the Education Appropriations committee to secure the $100,000 a year "no work" job at Enterprise-Ozark Community College. Spicer's job title was assistant to the president for economic and community development. Spicer was defeated in the 2010 election cycle. Jim won a big press award on the Spicer story. Jim took down a very powerful member of the Alabama house of reprensetives. At the time Spicer was AEA union boss's Paul Hubbert & Joe Reed's #1 "sex toy!" We were all proud of Jim...
--
Dothan Eagle
Alabama Rainy Day Patriots
Ohio Liberty Council
Cut, Cap, Balance Coalition
Americans for Prosperity
Americans for Limited Government
Balanced Budget Amendment Task Force
Baton Rouge Tea Party
Citizens Against Government Waste
Abigail Adams Tea Party Patriots
David Shellenberger
Little Miss Attila
The Strata-Sphere
BizzyBlog - The Business End of the Blogosphere
Sister Toldjah
NO QUARTER
Political Byline
Iowa Presidential Watch
FREEDOMS WALK
Freedom Works
Project Veritas - James O'Keefe
Bernard Goldberg
ReformAlabama
Marco Rubio's Channel
QandO Online Magazine
THE FREEDOM POST
John Stossel
Da Techguy's Blog
Annoy the Left
And So It Goes In Shreveport
Bear Room Brawl
Where Are My Keys?
Anchor Rising
Belmont Club
Brian Koenig
Bubble Meter
Stand With Arizona
Libertarian Jew
Capitalist View
Caffeinated Thoughts
Chicks on the Right
CiF Watch
Claire Berlinski
Alabama Politics in Doc's Political Parlor
The Daily Bell
TeacherCrime.com
Loretta Nall
Ludwig von Mises Institute
Liberty Republican Forum
The Humble Libertarian
The Liberty Pulse
Young Americans for Liberty
The Daily Caller
Teachers and Trash Education
Flashpoint
The American Federation of Teachers - Exposed
The Red Voice
The Walls Have Ears
Young America's Foundation
The Smallest Minority
Outside the Beltway
The Market Ticker
JammieWearingFool
Tea Party Patriots
refdesk.com
TaxProf Blog
The Daily Bell
Maggie's Farm
Israel Matzav
Instapundit
Trending Right - an automated news service
Solomonia
NewsBusters.org blogs
Hot Air » Top Picks
The Gateway Pundit
OpenMarket.org
Washington Examiner: BELTWAY CONFIDENTIAL
Riehl World View
small dead animals
Don Surber
The American Interest
American Power
The Volokh Conspiracy
DEBKAfile
The Other McCain
Power Line
NewsBusters.org
Random notes
GayPatriot
American Thinker
Division of Labour
sisu
National Review Online
The Weekly Standard
The Washington Times
Wall Street Journal
Mike Ball, Alabama State Rep. for District 10
National Education Association - Exposed
THE HOUSTON NEWSPAPER ONLINE - Ricky Stokes
Big Goverment
BrokeSnake.com
Be John Galt
School Teacher News
Atlas Shrugs
al.com
Libertarian Republican
Red State Diaries
Gordon Unleashed
NoisyRoom.net
Suppressed News
Reason Magazine
Libertarian Republican Blogspot
Eduwonk.com
Degree of Madness
Le·gal In·sur·rec·tion
PEYTON WOLCOTT
CITIZENS AGAINST GOVERNMENT WASTE
Cubachi - Conservative And Pop Culture Musings
meme orandum
The Lonely Conserative
Maggie's Notebook
Althouse
Ben Shapiro
BlogsLucianneLoves.com
Charles Krauthammer
Dennis Miller Radio
Christopher Hitchens
Fox Nation
Fox News
George Will
Hugh Hewitt
Iowahawk
Jerusalem Post
Jawa Report
Patterico's Pontifications
Verum Serum
Judicial Watch Blog "Corruption Chronicles"
Kyle Olson
Lucianne.com
Yid With Lid
Thomas Sowell
Tammy Bruce
OldVersion.com - Software
Alabama Crimson Tide
LaShawn Barber's Corner
Michelle Malkin
Protest Warrior
Publius Rendezvous
Real Teen - Right on the Right
The Right Perspective Podcast Blog
Alabama GOP Campaign 2010
Woman Honor Thyself The Right Track
Ann Coulter
The Federalist Patriot
Drudge Report
GOP Thinker
NewsMax
Rick and Bubba
WorldNetDaily
Cam Ward, Alabama State Sen. for District 14
THE DAILY BEAST
BIG JOURNALISM
Politics Test
World's Smallest Political Quiz
Free Republic Home Page
Free Republic Latest Articles
BREITBART
BREITBART TV
HTML Sandbox
BIG HOLLYWOOD
Reference HTML Cheatsheet
New England Republican
American Daughter
Betsy's Page
Big Lizards
California Yankee
Cold Hearted Truth
Dean's World
Election Projection
Just One Minute
Right Wing Nut House
The Anchoress
Cynthia Yockey, A Conservative Lesbian
BAMA Sports Logos
Crimson's Place
You can make your Own FREE Banner Here!
JavaScript Editor On-Line
UA Gameday - Alabama Crimson Tide
New Album about The Greatert College Football BAMA
Wallpaper Desktop Wallpaper
BAMA RING SURF
University of Alabama Crimson Tide Player Tyrone Prothro .wmv
University of Alabama Crimson Tide ROLL TIDE STUFF Nike Oarsman Antigua
The official web site of University of Alabama Intercollegiate Athletics
University of Alabama Wallpaper President's Mansion Quad & Denny Chimes
University of Alabama Crimson Tradition Screensaver
University of Alabama CRIMSON TRADITIONS
TideSports.com SPORTS
TideSports.com Tide Sports Talk
TideSports.com PICTURES
University of Alabama RollTide Bama - PICS CHEERLEADERS CRIMSONETTES GAMEDAY WALLPAPER
University of Alabama RollTide Bama Forun
University of Alabama Crimson Tide - Million Dollar Band
University of Alabama Crimson Tide This Is Alabama Football
The University of Alabama Tuscaloosa, AL 35487
The University of Alabama will celebrate its 175th anniversary in 2006
The University of Alabama A-Z SITE INDEX
The University of Alabama Friends of Israel
The University of Alabama Basketball Anthony Grant
RammerJammer Yellow Hammer Give em' Hell Alabama
Crimsontider.com
Crimsontider Wallpaper
University of Alabama Crimson Tide Paul W. Bryant Museum
University of Alabama Crimson Tide Million Dollar Band Alma Marter and Fight Songs
University of Alabama Crimson Tide Band Alma Marter and Fight Songs
The University of Alabama Crimson Tide logos official marks
University of Alabama - Wallpaper All Sports
University of Alabama GymTide.com - Gymnastics ©2006 Alabama Medalist Club
University of Alabama - Gymnastics
University of Alabama - National Alumni Association
The University of Alabama Collegiate License Tag
AL.COM Alabama Football
AL.COM - BAMA Basketball
AL.COM - Free For All BAMA Sports Forum
BAMA MAG.
BAMA Online
TideFans.com
TideFans.com - Football Forum
TideFans.com - Basketball Forum
Crimson White
Tuscaloosa News
The Montgomery Advertiser
ALABAMA CRIMSON TIDE A FOOTBALL TRADITION
BAMANATION WEB RING
TideFans.com Message Board - Football
University of Alabama Crimson Tide Tradition screensaver
ESPN.com: Alabama Crimson Tide Football Clubhouse
Tider Insider - Crimson Tide News
The University of Alabama
Alabama Crimson Tide Football: BamaOnLine.com
Alabama Crimson Tide Links Page
Alabama Crimson Tide Football, Basketball, and Recruiting Front Page
Alabama Crimson Tide Tickets - NCAA College Football - Ticket Brokers
Alabama Crimson Tide Football Coach Paul "Bear" Bryant
SI.com - College Football Alabama Crimson Tide - Team Page
TideSports.com -- Your complete Crimson Tide news source!
Alabama Crimson Tide | NCAA Football at CBS SportsLine.com
Alabama Crimson Tide News, Scores, Schedule, Stats - Yahoo! Sports
SportingNews.com - Your expert source for team information on NCAA ...
Alabama Crimson Tide Football Tickets at Ticket City
Alabama Crimson Tide Merchandise & Gifts - College/NCAA ...
Alabama Crimson Tide Tickets - NCAA College Basketball - Ticket ...
Alabama Crimson Tide
ALABAMA FOOTBALL CRIMSON TIDE Alabama Football Roll Tide Alabama...
FOXSports.com - COLLEGE FOOTBALL- Alabama Crimson Tide Team Front
University of Alabama - Wikipedia, the free encyclopedia
Alabama Crimson Tide Football News
Alabama Crimson Tide Tickets NCAA Football Ticket - Cheap Alabama ...
Tucows Downloads - Alabama Crimson Tide Desktop Theme Freeware ...
Alabama Crimson Tide Football
Alabama Crimson Tide - MVP.com
University of Alabama Crimson Tide Tailgate Items - EliteDeals.com
Alabama Crimson Tide
Republican Party
The Republican National Committee
Senate Republican Conference
House Republican Policy Committee
Republican Governors Association
Republican Home Page
National Republican Senatorial Committee
Republican National Hispanic Assembly
Republican Jewish Coalition
National Black Republican Association
Republicans Abroad International
State Republican Parties
Alabama Republican Party
Madison County Republican Party [Alabama]
Geneva County [AL] Republican Executive Committee
Alaska Republican Party
Arizona Republican Party
Arkansas Republican Party
California Republican Party
Colorado Republican Party HomePage
Connecticut Republican State Central Committee
Delaware Republican Party
Republican Party of Florida
Georgia Republican Party
Hawaii Republican Party
Illinois Republican Party
Indiana Republican State Committee
Iowa Republican Party Homepage
Kansas Republican Party
The Kentucky Republican Party Home Page
Kenton County Republican Party Kenton County, KY
Louisiana Republican Party
Maine Republican Party
Maryland Republican Party
Massachussets Repubblican party
Minnesota Republican Party
Mississippi Republican Party
Missouri Republican Party
Nebraska Republican Party
Nevada Republican State Committee
New Jersey Republican State Committee
New Mexico Republican Party
New York Republican State Committee
North Carolina Republican Page
North Dakota Republican Party
Ohio Republican Party Homepage
Franklin County Republican Party Homepage Ohio
Pennsylvania Republican Party
Tennessee Republican Party
Jefferson County, Tennessee
Texas Republican Party
Utah Republican Party
Virginia Republican Party
Washington Republican Party
West Virginia Republican State Committee
Republican Party of Wisconsin
Wyoming Republican Party
Sheridan County Republican Women (Wyoming)
Young Republicans
Laurel County Young Republicans
Jefferson County Young Republicans (TN)
Young Republicans of the Palm Beaches [Florida]
Schenectady County NY Young Republicans
Southampton Town Young Republicans (NY)
Republican Women
National Federation of Republican Women
Concerned Women for America
Republican Women of the Future! - Jefferson County (TN)
College Republicans
College Republican National Committee
College Republicans of Carson-Newman College - Jefferson County [TN]
Other Sites
National Federation of the Grand Order of Pachyderm Clubs
Where's MY Waiver?
60 Plus Association
Americans for Tax Reform
Heritage Action for America
Let Freedom Ring, Inc.
Republicans for Choice
God of All Comfort
--What is a Libertarian? An individual who loves freedom, life, and liberty for everyone, and who believes in free markets, personal responsbility, and zero government intrusion into any aspect of your life! It saddens me that many Americans are willing to give the government so much power over us for the sake of "keeping us safe."--
~~*~~
--Libertarian Philosophy--
I believe the libertarian philosophy is attractive. The philosophy transcends party politics. With a country facing imminent collapse, such a radical idea becomes an intriguing option. Have not both parties been responsible for bringing us to the brink of destruction? Why should government increase in size and scope every year? Why must our civil liberties be destroyed? Why not obey the Constitution? Cannot change be affected at the local level most effectively? Does the United States really need to police the world? Would people not be more prosperous if their labor was not taxed by the federal government to pay for boondoggles? Why is our money backed by nothing? Why does the Federal Reserve debase our currency?
These are hard questions to answer. This had led many people to put their faith in themselves, friends, families, free markets, God, and their fellow man. Often misunderstood, libertarians are not simply greedy or lacking compassion. They see the problems that arise from unrestrained government in collusion with big business and honestly consider their philosophy as being the most efficient and intelligent way for restore peace and prosperity for all.
Libertarians understand that the state has made many obligations to its citizens. The only way these obligations could actually be met would be by dramatically decreasing spending, withdrawing troops from around the world, and by living within our means. Eventually it would be great to see these programs phased out at the federal level as people can best be cared for by their communities, but this is not an immediate goal or a pressing concern. Do not be mistaken by propaganda and lies, libertarians do not want to put people out on the streets.
Let us not fear each other. I suggest we all try to put aside our differences, learn from one another, and cooperate to achieve our similar goals. By working together, we can return our country to greatness.
~~*~~
--WHO ARE WE--
We are not anarchists.
We are not Far-Right or Far-Left. We are the seventy percent in the middle.
We are not Capital "L" libertarians, although we do have sympathies with their platform.
We are neither bitter clingers nor conspiracy nuts.
What we are is a group of folks that think we see liberty and freedom eroding in our beloved United States. We see the policies
and agendas of the hirelings in Washington D.C. heading toward an abbreviation if not outright abrogation of the Bill of Rights.
We think that the Federal government is grasping to consolidate power using the current crisis, since as Rahm Emmanuel said,
it's a terrible thing to waste. We think the Federal government, not just this administration, is more interested in self-serving
personal, political, and party power than it is in actually doing its best to do the least.
This President didn't make it this way. It has been heading along this path since Woodrow Wilson held political prisoners and
FDR held four terms as president; since Johnson's Great Society and Nixon took us off the gold standard; since Bush Sr. lied
about no new taxes, Clinton desecrated the Oval Office, Bush Jr. rammed through the Patriot Act, and NCLB, and Obama wanted every high school kid to "volunteer."
For almost a hundred years, our country has been heading towards becoming a Socialist, centrally planned, Nanny State where
the Federal Government tells it citizens how to conduct business, what they could grow in their own gardens or on their own
farms, and now even how much a private citizen is allowed to earn before punitive and illegal taxation takes it away.
Now is the time to make it stop.
~~*~~
WHY DID THE CHICKEN
CROSS THE ROAD?
TO SHOW THE ARMADILLO
THAT IT CAN BE DONE!
In Liberty,
charrisGOP
"Whatever crushes individuality is despotism, by whatever name it may be called." --On Liberty, John Stuart Mill