---
To: butterdezillion
The only reason to take that oath is if he intended to break it. Taqiyya - lying in order to get power/position to advance the Muslim agenda.
Trust me, it ain't REALLY about Allah.
Louis Farrakhan, Santiago de Cuba, February, 1998:
"There is not a member of the black masses in the United States who is not proud of the example set by Cuba and its revolution, with Comandante Fidel at its head"
Source: http://www.fiu.edu/~fcf/farakhan21898.html#says
_______________________________________________________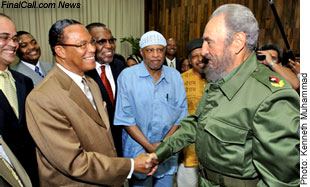 "Minister Farrakhan and his delegation met privately with President Fidel Castro of Cuba."
http://www.finalcall.com/media/cuba/
_______________________________________________________
Unity generates power to change reality
By the Honorable Minister Louis Farrakhan
"The time has never been more ripe for a strategic relationship between the Black, Brown, Native American and the poor of this nation and the world."
"We need a Ministry of Defense. Our young men are born soldiers, but they are in the wrong war. They are fighting a war in the streets of America against each other, or they are fighting an unjust war overseas in Afghanistan and Iraq. We need to bring our boys home and put them into the Ministry of Defense, so we can defend our communities, rather than destroy our communities.
We need a Ministry of Art and Culture. We applaud the hip hop community, the leaders of young people all over the world, but I want the young generation of artists to know there is a bigger purpose for art and culture than popping our fingers and shaking our backsides.
Mao Tse Tung, throughout his long march to conquer China, had a billion people whose lives he had to transform. Many of them were victims of opium, drugs and prostitution, like we are. But Mao Tse Tung went to the cultural community and they accepted his idea. Then, through song, dance, poetry, drama, documentaries, movies and books, the idea of Mao Tse Tung became the idea of a billion people. China became a world power on the base of culture and the artistic community. If we had a Ministry of Art and Culture in every city, [we'd] create this movement [in the U.S.], we could say to our young people, "What is the idea of the Time and are you reflecting that idea in your songs, dance and music?
We need a Ministry of Trade and Commerce. Do you think that a Millions More Movement should not be involved in the development of Africa, the Caribbean and Central America? ... we need a Ministry of Trade and Commerce that can link the struggle here with Africa and the Caribbean, Central and South America.

Source: FinalCall.com
This is Farrakhan's own "Nation Of Islam" website
http://www.finalcall.com/artman/publish/article_4328.shtml
_______________________________________________________
Farrakhan hails Obama as 'hope of entire world'
Louis Farrakhan, at the annual Saviours' Day celebration in Chicago, Feb. 25, 2008: "This young man is the hope of the entire world that America will change and be made better"..."If you look at Barack Obama's audiences and look at the effect of his words, those people are being transformed."
Source: http://www.msnbc.msn.com/id/23333598/
Video of Farrakhan's Obama endorsement at the above 'annual Saviours' Day celebration in Chicago, Feb. 25, 2008'. Hear him (Farrakhan) call Obama "The Messiah" And speak of "universal change":
http://www.youtube.com/results?search_type=&search_query=farrakhan+messiah+obama&aq=0&oq=Farrakhan+messiah

91
posted on
05/13/2012 11:16:48 PM PDT
by
ETL
(ALL (most?) of the Obama-commie connections at my FR Home page: http://www.freerepublic.com/~etl/)
---
To: ETL
I believe the communists and Islamists have united under George Soros, who has always been a communist and who now says that he fears that America will win the "war on terror" because it would strengthen both America and capitalism (the two great evils that Soros has to fight since he seriously believes he is God). Soros is the union of corrupt religion (Islam and a bunch of other rag-tag imitations) and corrupt government (communism) - Revelation's beast out of the sea and beast out of the land. And he chose as his puppet Barack Obama, who has ALSO always been the union of communism and Islamism.
Just like Raila Odinga - Obama's cousin in Kenya - was the union of communism and Islamism, as a Memorandum of Understanding signed by both Odinga and the Muslims in the 2007 election showed. And Obama's campaign illegally sent $1 million to Odinga's campaign. Obama illegally campaigned in person with Raila Odinga. And when the election was declared for Odinga's opponent before the Odinga people were able to stuff enough ballot boxes, the Muslims made good on their promise and carried out the rampages that eventually got the UN to work out a "compromise" propelling Odinga into shared power. At least a million in US tax money went to Kenya to push a new Constitution on them - one which established sharia, starting in the Muslim areas (which is the way that Islamists have traditionally gotten sharia into whole countries). That was US taxpayer money spent to help Odinga carry out one of his promises in the Memorandum of Understanding he had signed with the Muslims in return for their support (murderous rampaging) to get him into power. IOW, US taxpayers funded that murderous communist-Islamist coup in Kenya, Obama's most likely birthplace which sealed all records for Obama and unlawfully detained and deported Jerry Corsi when he was in Kenya researching. It's easily seen how Obama bought Kenya's silence...
According to top democratic sources for Bettina Viviano, Soros went to both Hillary and Obama in the 2008 primary season and asked if they were on board with his plans to destroy the US economy. Hillary wasn't but Obama was. And then all of a sudden the people who intended to help Hillary confront the lawlessness of the DNC at the convention started showing up dead just weeks before the convention - one of whom (Bill Gwatney) was a good friend of Bill Clinton and thus effectively threatened him out of revealing Obama's ineligibility as he and Hillary had been planning to do all along.
There is a book out (by a guy who has written white papers describing our vulnerability to economic terrorism) which suggests that the Sept 2008 run on the bank had long been planned by the Islamists (if I had my act together better I'd have a link for you on that), and right after the run on the bank communists such as Fidel Castro and Hugo Chavez started saying, "Since capitalism has failed, the world should try communism". Islamists like Zawahiri and Ahmadinejad were saying, "Since capitalism has failed, the world should try Islamic financing." The IMF was meeting in Europe to decide what to do now that capitalism had failed.
Ghadaffi was saying that Muslims who had lawfully (only because the contributions were divided into many that were under $200 and thus didn't have to be reported individually and because the Obama people had deliberately disabled the credit card tracking so the contributions would not be immediately recognizeable as illegal foreign contributions...) contributed to Obama's campaign and that they were hoping he wouldn't be too self-conscious after the election to be faithful to his Muslim religion and carry out the agenda the Muslims had supported him to carry out. In January of 2010 Obama felt the need to explain himself to the Muslim world and told the Egyptian ambassador that the Muslim world should be patient with him while he got Obamacare (communism) passed in America because then he would concentrate on the Muslim agenda - which he said he supports because he was and still is a Muslim.
As we all know, Obama was caught on an open microphone telling Medvedev that after the election he would have more "flexibility" in the talks about nuclear disarmament (agreements which the USA honor and which the communist-Islamists all over the world freely lie about, because communism and Islamism are all about lies. They come from the Father of Lies and officially embrace lying as a means for getting power and implementing tyranny).
There is way, way more to be said about the communist-Islamist alliance that is threatening the entire world. The bad thing is that most people refuse to hear it. It won't fit into 60-second soundbites each hour, even if the MSM WOULD report the actual news (which they won't, because most are in bed with the communist-Islamist agenda and the one which used to be better - Fox - was first threatened into silence and is now financially in bed with George Soros, the head of the communist-Islamist alliance. See post 62 at http://www.freerepublic.com/focus/news/2873887/posts?page=62 ; the last link in that post is about the financial ties with Soros).
---
FreeRepublic.com is powered by software copyright 2000-2008 John Robinson