---
Experts: States will continue to put brakes on cell phone bans
CNN ^ | Wed December 14, 2011 | Michael Martinez and Zohreen Adamjee


Posted on 12/14/2011 8:21:25 PM PST by MinorityRepublican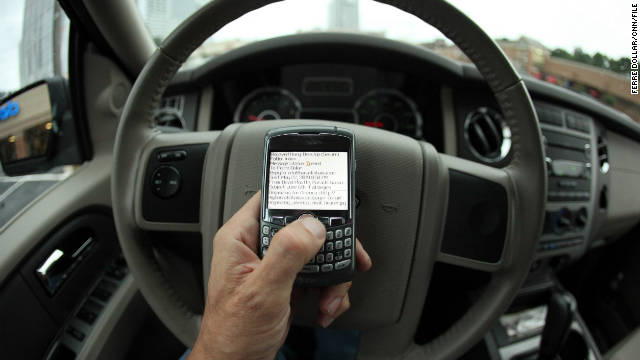 Texting on a cell phone and driving might be banned nationwide.
(CNN) -- The National Transportation Safety Board's big, bold stroke encouraging all states to prohibit drivers from using cell phones faces a long, tortuous process in the nation's statehouses, experts said Wednesday.
This political reality stands out: Since states began legislating distracted driving or cell phone use in 2000, none has gone so far as to impose a complete ban on mobile devices behind the wheel, and only one state -- Alaska -- has considered such a blanket prohibition, just this year, said Anne Teigen, senior policy specialist with National Conference of State Legislatures.
Barbara Harsha, executive director of the Governors Highway Safety Association, said opponents don't like big government intrusions and savor their personal freedoms.
"This is a controversial issue so you can assume it's not going to pass right away," Harsha said. "It's going to take a long time for legislatures to pass laws, and a long time for states to begin to enforce the laws, and then a long time for behavior to start to change.
"The first seat-belt law was passed in the mid-'80s, and we're now at 84 percent of drivers who are buckled up nationwide," even though all states now have laws requiring drivers and passengers to wear seat belts, Harsha said.
"People like to be connected. They like to respond to e-mails and voice mail," Harsha said.

(Excerpt) Read more at cnn.com ...
---
TOPICS:
News/Current Events
KEYWORDS:
---
Navigation: use the links below to view more comments.
first 1-20, 21-40, 41-60, 61-80 ... 121-128 next last
---
---
---
---
---
---
---
---
---
---
---
---
---
---
---
---
---
---
---
---
---
Navigation: use the links below to view more comments.
first 1-20, 21-40, 41-60, 61-80 ... 121-128 next last
---
---