Another crypto muslim with ties to the NOI.
The Nation of Islam is a Black Liberation commie front. It's no different than Rev Wright bogus church.
Excerpt from The American Thinker
Article: Obama, Black Liberation Theology, and Karl Marx
May 28, 2008
Just one nugget from the Sacred Congregation for the Doctrine of the Faith, "Instruction on Certain Aspects of the 'Theology of Liberation': "...it would be illusory and dangerous to ignore the intimate bond which radically unites them (liberation theologies), and to accept elements of the marxist analysis without recognizing its connections with the (Marxist) ideology, or to enter into the practice of the class-struggle and of its marxist interpretation while failing to see the kind of totalitarian society to which this process slowly leads."
--Joseph Cardinal Ratzinger, Prefect, now Pope Benedict XVI; written in 1984
Understanding that black liberation theology is Marxism dressed up to look like Christianity helps explain why there is no conflict between Cone's "Christianity" and Farrakhan's "Nation of Islam." They are two prophets in the same philosophical (Marxist) pod, merely using different religions as backdrops for their black-power aims.
http://www.americanthinker.com/2008/05/obama_black_liberation_theolog.html
_______________________________________________________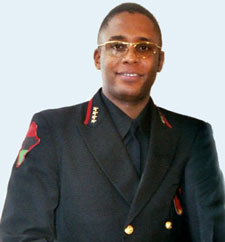 From the Louis Farrakhan, Nation of Islam website, FinalCall.com...
Malik Zulu Shabazz, chairman of the New Black Panther Party for Self-Defense (NBPP):
"We are happy today to be standing side by side with the Nation of Islam. We believe, like the Nation of Islam and the Honorable Elijah Muhammad believe, in a nation of our own. We believe in a Black first philosophy and a Black Liberation Theology. We don't worry about the criticism. We love all of those who labored in the Panther Party from the '60s. Many are with us today."
http://www.finalcall.com/artman/publish/article_1858.shtml
_______________________________________________________
From the Maoist Internationist Movement:
[1960s/original] Black Panther Party [BPP] Archives
From the article: REVOLUTIONARY HEROES
"On May 1st, May Day [1969], the day of the gigantic Free Huey rally, two of Alioto's top executioners vamped on the brothers from the Brown Community who were attending to their own affairs. These brothers, who are endowed with the revolutionary spirit of the Black Panther Party defended themselves from the racist pig gestapo.
Pig Joseph Brodnik received his just reward with a big hole in the chest. Pig Paul McGoran got his in the mouth which was not quite enough to off him.
The revolutionary brothers escaped the huge swarm of pigs with dogs, mace, tanks and helicopters, proving once again that "the spirit of the people is greater than the man's technology."
To these brothers the revolutionary people of racist America want to say, by your revolutionary deed you are heroes, and that you are always welcome to our camp."
Source: Maoist Internationist Movement
Article: REVOLUTIONARY HEROS (May 11, 1969):
(note: I've been having trouble with this link lately, and might have to find another source for the Panther archives)
http://web.archive.org/web/20060717050055/http://www.etext.org/Politics/MIM/bpp/index.html
_______________________________________________________
Louis Farrakhan, at the Millions More Movement rally in DC, Oct 15, 2005: "...what Mao Tse Tung did was, he went to the cultural community, and they [Farrakhan spreads his arms beneficently] accepted his idea."... "Mao Tse Tung ... had a billion people whose lives he had to transform."..."the idea of Mao Tse Tung became the idea of a billion people, and China became a world power on the base of the culture and the arts community. If we had a ministry of art and culture in every city we'd create this movement [in the U.S.]."
Source: http://thedrunkablog.blogspot.com/2005/10/communist-plot-noted.html
_______________________________________________________
Louis Farrakhan, Santiago de Cuba, February, 1998: "There is not a member of the black masses in the United States who is not proud of the example set by Cuba and its revolution, with Comandante Fidel at its head"
Source: http://www.fiu.edu/~fcf/farakhan21898.html#says
_______________________________________________________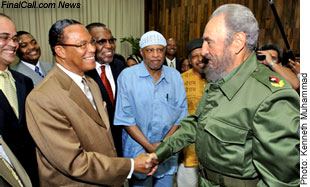 "Minister Farrakhan and his delegation met privately with President Fidel Castro of Cuba."
http://www.finalcall.com/media/cuba/