---
Jesus in China
PBS ^
Posted on 04/22/2013 5:06:20 PM PDT by SeekAndFind
Deep in China's heartland is a region known as "The Bethlehem of China," where, more than a thousand years ago, Western missionaries first brought Christianity to the area. It is here, in a series of caves hidden in the hills, where members of China's underground Christian Church tell FRONTLINE/World and Chicago Tribune reporter Evan Osnos how they have kept the religion alive. For years, they moved from place to place to avoid government detection, until they found safety in these hills.
"When we were in an underground state, we would gather here to meet," Zhang Yinan, a pastor who's chronicling the rise of Christianity in China, tells Osnos.
Today, Zhang and the rest of his congregation have left the caves, as Christianity is beginning to emerge from the shadows in China. But while it is not illegal to be a Christian, the Communist Party still maintains tight control of where and how Christians can practice.
"Right now, it's not completely secret, but it's not considered public," a church leader tells Osnos.
Some Chinese Christians have chosen to remain underground, worshipping in what are called "house churches." As Osnos observes one such Evangelical Protestant service that looks more like a party, he says it is easy to forget that this was just the kind of gathering of Christians that the government tries to prevent – and that the leaders of this house church were risking arrest.
"They've tried to catch me several times, but they never succeeded because God protects me." says Wang Guiyan, who runs the church. "Christianity is freedom. But Chinese Christians, they still have restrictions. They are not completely free."
Near the end of the service, the congregation gathers around the wife of a well-known church leader, who says her husband has been arrested five or six times. He has done stints of seven years and 11 months in prison and three years in labor camp. Most recently, he was charged with a passport violation. Before that, he was convicted of being a "counter revolutionary" and disturbing social order.
In case after case, the Chinese government gives a variety of reasons other than faith to arrest local house church leaders. Sometimes, they demolish the house churches altogether. But the government's attempts to control the underground church have largely failed to diminish their faith.
"Looking back at our history, we've had the age of the Republic, the age of intense war, the age of intense politics, and the age of intense economics. The next 30 years will be the age of the gospel," says the historian, Yinan.
In today's booming China, the age of the gospel already seems to have arrived.
Back in Beijing, Osnos finds the Communist Party's answer to Christianity – an official church where Christians are supposed to worship. The Party actually started the church right after the revolution to put religion under state control. But in recent years, the official church has grown dramatically, running services to accommodate more than 4,000 people on Sundays.
Figuring out why this official version of Christianity is tolerated can be a little confusing. One big difference: its pastors are trained and approved by the government. And they adhere to strict rules of worship.
To get the official answer from the Communist Party, Osnos sits down with one of the directors of the State Adminstration of Religious Affairs, Ma Yu Hong.
"The Communist Party officially is an atheist party, and yet there's an official Christian Church. How do you explain that?" Osnos asks.
"The Party feels that differences in religious beliefs are secondary to our shared love of the country," Yu Hong says. "The relationship between the government an religious organizations, it should be said, is very close these days."
Still, the party remains worried that Christianity, or any rival ideology, could become a threat. In recent years, they have taken a hard line with people they call Muslim separatists – the Uigher ethnic minority in Western China. And they've cracked down on Falun Gong, a once-popular spiritual movement whose members the government has branded "enemies of the state."
"If people use religion to divide the country or engage in terrorist activities, that will absolutely not be tolerated," said Yu Hong.
On the outskirts of Beijing, Osnos finds one dissident pastor who is openly challenging the government as an outspoken critic of the official church.
"The pastors and ministers are all hand-picked and trained by the government. They're guided by the Communist Party's philosophy," says Zhang Mingzuan. "But they haven't given their hearts to Jesus. They've given their hearts to the country, and the Emperor."
For a time, Zhang ran his own house church, but today he runs an alliance of house churches all around the country – putting him under government scrutiny.
"In the eyes of the communist party, everybody in my family, me, my wife, my two sons and younger daughter-in-law, we are dangerous people. Our phone is bugged, we are followed everywhere," he says.
Osnos accepts an invitation to join Zhang as he travels to the countryside to check on a house church in his network. On the long trip there, Zhang tells Osnos that the House Church Movement grew up in the aftermath of Chairman Mao's Cultural Revolution. In the 1960s, Mao declared war on China's past. The Red Guards targeted independent thinkers, closed down churches and burned bibles. Thousands of clergy and church members were treated as counter revolutionaries, shipped to labor camps or even executed. In the decades that followed, underground Christians like Zhang kept their faith alive by meeting in secret.
After eight hours in the car, Osnos and Zhang arrive in the Shandong Province.
"We're going to see some people who were arrested for having an illegal church. Since they were arrested, they sued the local government. So the church is still functioning but they're in court essentially trying to ensure its existence," Zhang says.
Osnos asks one of the church members if he thinks he can depend on China's courts for help?
"I believe God loves our country. And he loves us. He will give us a fair answer," the man says.
That night, Pastor Zhang is the guest preacher at the house church.
"The gap is becoming larger in China between the rich and the poor, the powerful and the powerless," he says. "I believe only Jesus, and not the communist party, can save this country and its people."
One small congregation at a time, the spirit of the rural house church movement is now spreading to the cities. In what was once the land of Mao, there are thought to be as many Christians as Communist Party members. Even China's new business class is getting religion.
In the city of Wenzhao, Osnos meets an influential Christian business executive who believes that Christian values are a perfect fit with capitalism.
"Doing business requires trust, and Christian faith places great emphasis on trust and honesty," he says.
Back at Beijing University, Zhao Xiao, a prominent Chinese economist, explains what he found on his recent quest to discover the secret of America's economic success: Christian values.
"If my motivation for doing business is for the glory of God, there is a motivation that transcends profits. If I use evil methods to enlarge my company or to earn money, then this is not bringing glory to God," he says.
Zhao, a Communist Party member, was so convinced by his findings that he converted to Christianity. Then, in a provocative article called "God is My Chairman of the Board," he urged the Party to embrace Christianity as well.
It is a hopeful view of Christianity's evolving place in China, but how it will run up against the realities of party rule is still unclear.
A former pastor in the government's official church, Jin Mingri broke away last year to start his own church, Zion, in the belief that he could help define a new way for Chinese Christians to worship. Housed in an old nightclub building on the edge of Beijing, Zion Church is an attempt to break down the barriers between China's official and unofficial churches and bring all Christians out into the open.
"That's the direction we are moving towards," Jin says. "Churches will be given more and more space. This is because reform and liberalization have resulted in a transfer of power to common people. So naturally individuals will gradually be empowered to exercise their religious freedom."
At the most recent Communist Party congress, President Hu Jintao made an historic move, adding the word "religion" to the party constitution for the first time. He urged party leaders to strike what he called a harmonious balance between church and state.
But not everyone trusts the party's new friendly face toward religion. Fan Yafeng, a lawyer specializing in religious freedom, tells Osnos that the government's acceptance of Christianity is strategic.
"To control the Chinese society, the government sometimes chooses to be lenient and sometimes tough," he says.
As Osnos goes back one more time to see house church leader Zhang Mingzuan, he learns about how Zhang was arrested just a few months ago.
"I was preaching, about 12 o'clock, and people from the Bureau of Religious Affairs came in with the police. I was in the middle of my preaching," he explained.
"All we're doing is believing in Jesus, nothing else. If there is no religious freedom, how can the country be in a harmonious state?"

---
TOPICS: Evangelical Christian; Ministry/Outreach; Religion & Culture
KEYWORDS: china; chinesechristians; christendom; christianity; churchgrowth; jesus
---
To: SeekAndFind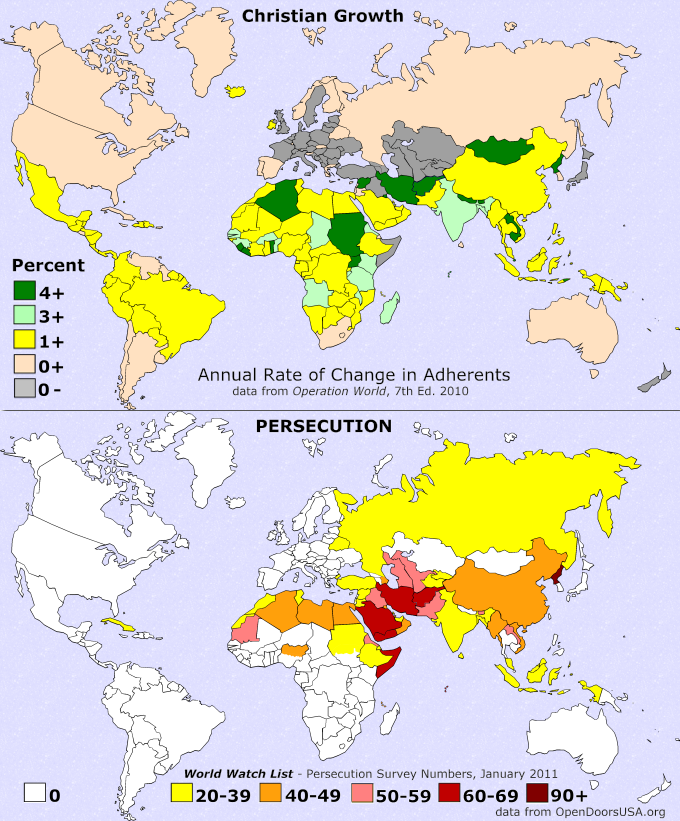 ---
To: SeekAndFind
Very heartening article and photo.
---
To: SeekAndFind
The more and more I read about the world, the more and more I am convinced that the Western World is about to fall into ruin, and God's blessing shall bring light to the people of China and Russia, while we enter a dark age of confusion.
---
FreeRepublic.com is powered by software copyright 2000-2008 John Robinson