---
Re: On the campaign trail, she was insulted and her patriotism was questioned.
"For the first time in my adult lifetime, I am really proud of my country. And not just because Barack has done well, but because I think people are hungry for change. And I have been desperate to see our country moving in that direction."
--Michelle Obama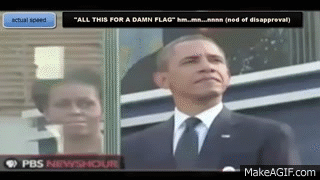 2
posted on
11/11/2018 10:57:21 AM PST
by
ETL
(Obama-Hillary, REAL Russia collusion! Uranium-One Deal, Missile Defense, Iran Deal, Nukes: Click ETL)
---
To: ETL
Don't use her own words against her!
Who ya gonna believe her or your lying eyes?
9
posted on
11/11/2018 11:06:35 AM PST
by
griswold3
(Just another unlicensed nonconformist in a dangerous Liberal world.)
---
To: ETL
Barack the Bozo was never even REMOTELY in a "brusing" campaign. He was whisked in on his skin color and his teleprompter skills. This clown wouldn't know what it meant to have to FIGHT.
16
posted on
11/11/2018 11:18:09 AM PST
by
TalBlack
(It's hard to shoot people when they are shooting back at you...)
---
FreeRepublic.com is powered by software copyright 2000-2008 John Robinson