---
Chinese Regime Races for Naval Supremacy, Building 8 Cruisers While US Builds None
The Epoch Times ^ | January 17, 2018 | Paul Huang


Posted on 01/18/2018 8:17:52 PM PST by sukhoi-30mki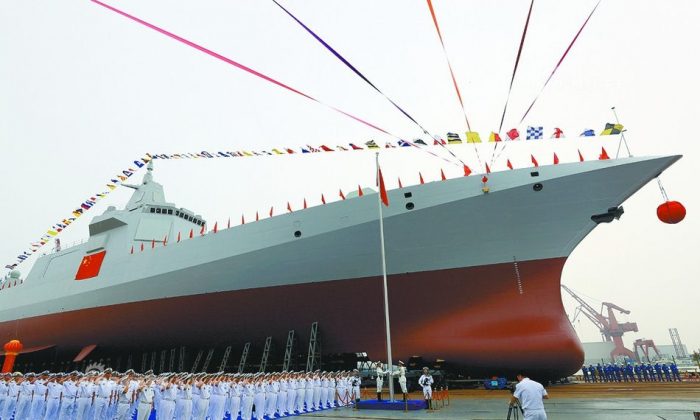 In this photo released by China's People's Liberation Army Navy (PLAN), the first Type 055 destroyer (classified by Western sources as cruiser) is being launched in Shanghai's Jiangnan Shipyard on June 28, 2017. China is reportedly building at least 5 and possibly up to 8 Type 055s. (PLAN)
The Chinese regime has been challenging U.S. military supremacy for years with an all-out military buildup. The construction of multiple ships of a class of large, high-tech naval cruisers may signal an altering of the balance of power in Asian waters, and is a harbinger of increased global competition between the two naval powers.
The mass production of the advanced warship design—which was only a topic of speculation among observers until the year 2017—is being rolled out at a lightning speed. As many as 8 brand new hulls are being built at the same time that the United States Navy has no viable plan to replace any of its 22 existing cruisers, which are decades-old.
China's People's Liberation Army Navy (PLAN) officially refers to its advanced Type 055 warship only as a "destroyer." However, the U.S. Department of Defense and a recent report by the U.S. Congressional Research Service (CRS) classified the 13,000 ton warship as a "cruiser," likely because of its large size and extensive weapon arsenals.
The first Type 055 ship began construction in Shanghai's Jiangnan Shipyard and was launched (meaning that the ship has been put into water for the final stage of construction) on June 28, 2017. As of January 2018, at least another 4 new Type 055 hulls, 2 at the Jiangnan Shipyard and another 2 at the Dalian Shipyard in Liaoning Province are confirmed to be under construction, as they are visible on satellite images. One of them is almost ready to be launched.
The rapid speed with which China has committed to mass producing new Type 055 warships turned out to be one of the surprises for international military observers in the year 2017, as it was initially thought that the design was still experimental and would take more time to mature.
However, as early as February 2017, Chinese media reports quoting unnamed sources projected that China will rapidly rollout at least 8 Type 055s in the first batch of production from 2017-2018, a prediction that has turned out to be largely accurate and consistent with the latest confirmed reports.
Being the premium surface combat warships of the PLAN fleet, the Type 055s are expected to form an integral part of China's future aircraft carrier battle groups alongside the smaller Type 052D destroyers and 054A frigates. The latter two classes of warships have also been mass-produced in large numbers in recent years.
There are also reports that China is not only planning to build nuclear-powered aircraft carriers following its first two or three carriers, which are conventionally-powered, but it is also planning to build nuclear-powered versions of large warships such as the Type 055 cruiser. Doing so would give the PLAN fleet a global reach that is much less dependent on foreign bases, said Richard Fisher, a senior fellow at the International Assessment and Strategy Center.
China, 8, Versus United States, 0 The Type 055 cruiser is equipped with the latest and the most capable sensors and weapons that China's military industry can produce. The 13,000 ton warship has an advanced active phased array radar system that can detect air targets from afar, and is armed with at least 112 tubes of vertical launching system (VLS) cells that contain an assortment of anti-air, anti-ship, and land-attack cruise missiles.
By comparison, the U.S. Navy's Ticonderoga-class cruisers and Arleigh Burke-class destroyers (commonly referred to as U.S. Navy's Aegis warships) each displace about 10,100 tons and 9,300 tons and carry 122 and 96 VLS cells, respectively.
While China is simultaneously building at least 5 and possibly up to 8 Type 055 cruisers, the U.S. Navy has no plan to replace any of its 22 aging Ticonderoga-class cruisers. They were built more than two decades ago from the 1980s to 1990s and are still the core surface warships that protect the U.S. Navy's carrier battle groups today.
The Ticonderoga-class's replacement, the "Next Generation Cruiser" or CG(X) program, was cancelled in 2010 by the Obama administration, which blamed budget cuts along with other reasons. The lack of new cruisers means that U.S. Navy could soon be forced to rely on the smaller and slightly lesser armed Arleigh Burke-class destroyers to protect its critical aircraft carriers and fleets when the Ticonderoga-class cruisers are retired.
Although the U.S. Navy has restarted the production of a new batch of Arleigh Burke-class destroyers, a new Congressional Research Service report says that U.S. naval shipbuilding is already lagging behind that of China, and that gap has been growing rapidly in recent years.
Budgets constraints and instability have not only hindered new warships from being built, they have also created hiccups in the training and maintenance of the fleet. Those shortfalls have already been blamed for causing two separate deadly incidents in 2017 in which U.S. Navy Aegis destroyers collided with commercial vessels.
On the other hand, the PLAN's burgeoning surface fleet is predicted to alter the naval balance in maritime Asia, said a 2017 report co-authored by James R. Holmes of the U.S. Naval War College and Toshi Yoshihara, a senior fellow at the Center for Strategic and Budgetary Assessments (CSBA). The report said that China's rapid production of advanced warships in recent years, such as the Type 055 cruisers, is not a coincidence and was almost certainly "designed, developed, and procured" many years in advance.
The lag in the U.S. buildup in response to China, the report said, could open a danger zone in which Beijing is tempted to strike before its periodic advantage evanesces. This is because the Chinese regime might make a "now-or-never" calculation in anticipation of an eventual U.S. rearmament, similar to the decision the Imperial Japanese Empire made against the rival Russian Empire in 1904, or against the United States in 1941 in the run up to the attack on Pearl Harbor.
"China has laid the basis for a competition that will be measured in decades," write Holmes and Yoshihara. "The United States and its allies must accept reality: they face a long-term rivalry at sea against a tough, determined, imaginative competitor."

---
TOPICS: Foreign Affairs; Japan; News/Current Events
KEYWORDS: plan
---
---
---
---
---
---
---
---
---
---
---
---
---
---
---