OBAMA'S KENYAN HALF-BROTHER HEADS THE MUSLIM FOUNDATION--named for their Muslim father. Obama Foundation Two was fast-tracked for tax exemption by Lois Lerner.
Kenya-resident, Malik Obama in Muslim dress, holds up
photo of his half brother Obama in Muslim dress (left),
taken during Obama's earlier visit.
US TAXPAYERS PAY NOW---the Obamas collect later.
Obama's federal outlays (that we know of).:
<><> $150 billion to Muslim Iran in the super-secret nuclear deal,
<><> $2 billion funding to his bro Malik's organization---the Muslim Brotherhood,
<><> $50 million to Malik/Barack's tax-exempt foundation in the form of a grant to Kenya (his homeland).
<><> While the Muslim Brotherhood was in charge in Egypt, Obama (and Hillary) showered them w/ praise.....and billions of US dollars in aid, arms, tanks and planes.
<><> ITEM---Obama gave $90 million US tax dollars to wealthy oil-rich Muslim African Muslim countries.
<><> Obama's homeland--Kenya--is now listed as the biggest recipient of US foreign aid.
<><> ITEM---there's billions missing from the Obamacare scam.
<><> ITEM---6 billion is missing rom the State Dept contractor fund
<><> Before Morocco, Obama sent Michele to oil-rich Muslim Quatar w/ $73 million US tax dollars to "teach Muslim girls."
ITEM---Mrs O got $100 million tax dollars from the State Dept's Millennium Challenge Corporation on her visit to Morocco, targeted to "teach Muslim girls". The 100 million tax dollars are to be (cough) administered by the post-presidency tax-exempt Obama Foundation.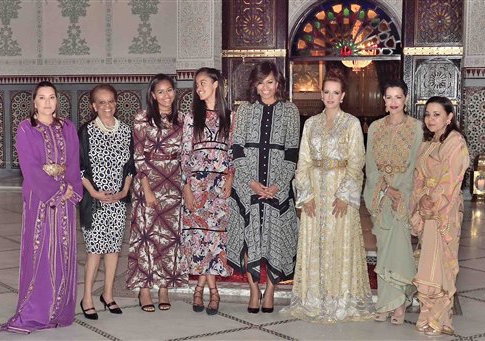 LOOK AT THAT SMILE Michele, her daughters and her mother in
Morocco's palace. 100 million dollars to spend when she and Mr O
get back to Chicago
=========================================
Obama recently gave Michelle 100 million tax dollars to give to Morocco to "teach Muslim girls (NOTE Morocco previously scored a State Dept compact worth almost a billion dollars to increase literacy).
The tax money to Michele came from a State Dept agency under Hillary's control---the Millennium Challenge Corporation (MCC)
=============================================
FREEPER ACTION PROJECT--DO THIS NOW: demand the Millennium Challenge Corporation (MCC) books be opened. We demand to know the financial details and the scope and dimension of individuals connected to these outrageous State Dept giveaways....govt parasites profiting at taxayers' expense.
CONTACT CONGRESS HERE---http://www.contactingthecongress.org/
Americans must demand to see fund solicitation letters coming out of Obama's tax-exempt presidential foundations and his Chicago library fund.
Are any of his WH comments used to forward his policy being regurgitated in fund solicitation latters?
Americans demand to know if US govt policy is being wrongly used....in an effort to raise tax-free money for the Obamas.