---
US commemorates Serbian support during WWII [Halyard Mission]
U.S. Air Forces in Europe and Air Forces Africa ^ | November 21, 2016 | Tech. Sgt. Ryan Crane


Posted on 11/23/2016 1:05:21 PM PST by Ravnagora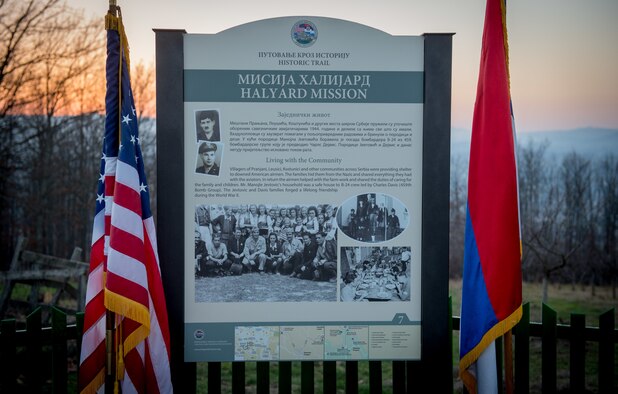 PRANJANI, Serbia -- The sky was black with the billowing smoke of the downed B-17 bombers and the canopies of Allied Airmen parachuting to an unknown fate behind Nazi lines in German-occupied Serbia.
This is the sight the villagers of Pranjani remember from the late summer of 1944.
Operation Halyard was an Office of Strategic Services mission to rescue more than 500 Allied Airmen who were scattered around a mountainous region in Serbia after their bombers were shot down by the Germans in WWII. It remains the largest rescue operation of American Airmen in history.
The U.S. State Department, U.S. Air Force, Royal Air Force, Serbian armed forces, and local government officials attended a commemoration event in the town of Pranjani, Serbia Nov. 18, which honored the villagers who welcomed the downed Airmen with open arms.
"As an Airman myself, I can only imagine the fear they felt as they escaped from a mortally wounded bomber and parachuted into a land they knew nothing about," Brig. Gen. Randy Huston, 3rd Air Force mobilization assistant, said during a speech where he addressed an audience at the historic makeshift airfield.

(Excerpt) Read more at usafe.af.mil ...
---
TOPICS: Foreign Affairs
KEYWORDS: halyard; rescues; serbia; serbs; ww2; wwii
---
---
---
---
---
---
---
---
---
---
---
---
---