---
To: COUNTrecount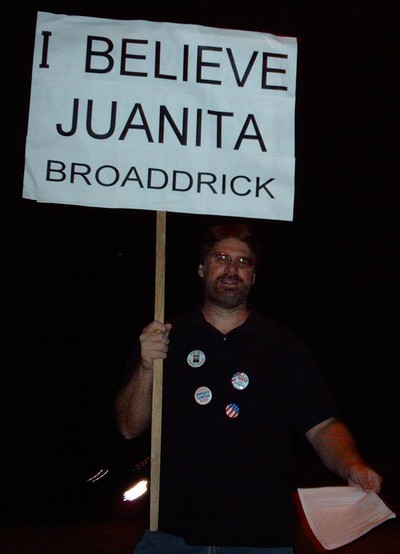 Handing out copies of the
NBC Dateline Juanita Broaddrick Interview
transcript at the entrance to a 2006 Tucson Bill Clinton speech.
It's astounding to me how studiously liberal news media ignore this story. In Tucson, many were commenting in 1999 on the local newspaper internet comment board about how the paper censored the story. Finally they wrote an editorial explaining they were "Scandal Weary" and wouldn't cover it.
10
posted on
05/20/2016 7:50:47 AM PDT
by
\/\/ayne
(I regret that I have but one subscription cancellation notice to give to my local newspaper.)
---
To: \/\/ayne
The establishment media is scared to death of these women, and is doing its best to enact a complete media embargo on them. It won't work. Eventually, the Clinton's will be forced into the fight—they can't simply ignore all these allegations for the next 5 months. The media will eventually be forced to air their stories. Until then it is up to every person in our country who actually abhors these sorts of crimes to speak up and spread the word.
Lots of people have no idea how truly depraved and criminal the Clintons are.
Spread the word at every opportunity. The truth will finally work its way to the service.
---
FreeRepublic.com is powered by software copyright 2000-2008 John Robinson