---


BTTT - NEWS FROM JIM! Please Keep Your Donations & PRAYERS Coming In! [FReepathon Thread III] [#918,
FREE REPUBLIC | October 2, 2013 | onyx


Posted on 10/02/2013 4:59:10 PM PDT by onyx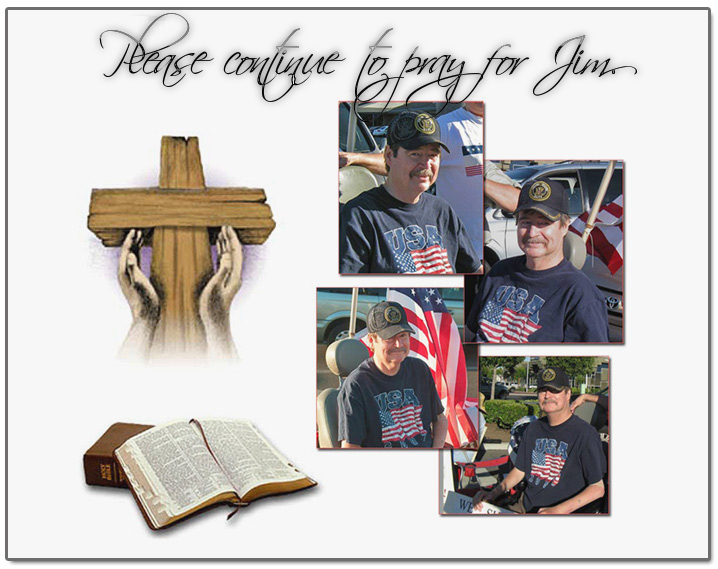 Beautiful Graphic by Mama_Bear!




Dearest FReeper-Patriots, FRiends & Readers,




Change in plans! The surgeon cancelled his trip. All tests are go.
Surgery is now planned for tomorrow morning.
Will be transferring soon out of ICU to a regular room.
The chaplain stopped in for another prayer. Looks like we're ready to go.
Pulse rate coming down. Prayers up!
~Jim


PRAISE GOD!
Thank you, Lord!
God bless you, dearest Jim!
Thank you ALL for your prayers, and please continue praying!
Surgery for Jim tomorrow morning. We'll let y'all know as soon as Jim lets us know!




Our FReepathon got off to a great start yesterday with 18 Donations of $100 or more and 5 New Monthly Donors, including 1 New $1-A-Day Donor! I mention these Donations because of our Campaigns: Our 300 Club and Our New Monthly Donor Campaign, which I'll describe below.

Every quarter, FReeper I_be_tc, challenges 300 FReepers to match her $100 donation. Yesterday, I kicked-off I_be_tc's $100 challenge with my $100 donation to get things started, so please join me, if you possible can!

It was a big stretch for me, but I want to try to get this FReepathon done quickly for Jim's sake, and I know y'all do, too.

If you send in $100 or more per quarter, please send me a note (in Jim's temporary absence) and I'll add your screen name to the 300 Club Roster! Now, please don't be shy about adding your name. We know you're humble, but seeing your names on the Roster often times inspires others to join you!




Our New Monthly Donor Campaign got off to a great start, too! We conduct this campaign because reliable Monthly Donations are an ideal way to support Free Republic. We already have 3 Very Generous FReeper Sponsors, Tijeras_Slim, upchuck and "somebody", for this Quarter's NMD Campaign! All three FReepers are donating $10.00 for each New Monthly Donor who signs up, so please consider Donating Monthly, if you can reliably do so! $15 a month is 50 cents a day. Please ask yourselves, "what is FR worth to you?"


Whether your donation is $5, $10, $20, $50 or $100 or more, it all helps keep FR alive and will be sincerely and truly appreciated!!
In closing, I know times are tough, unconscionably tough, but for Jim's sake, I'm asking you all to please dig deep and to please dig deep right away or as soon as you possibly can, so that Jim can spend as much time as he needs to recover after his successful surgery, instead of spending 2 months fundraising.

In Jim's temporary absence, Just Amy, (whom you all know and adore) is posting the incoming. She is Jim's life-long, close friend and also his business partner and FR's bookkeeper. So please, let's get those donations coming in! However, with Jim in his own room tonight, we might see him here again too!
We Can Do This, provided We ALL pitch in right away. Please always remember, $25 keeps FR ALIVE!!

Please click the graphic above to donate by secure server or by mail to:
Free Republic - PO Box 9771 - Fresno, CA 93794

Thank you all so very much!!
Thank you all so very much for your prayers for Jim.
Our good Lord is listening. God bless and keep you all and everyone you love.


onyx/PatriciaAnn



Prayers for Jim his beautiful wife Sheila and sons Chris and John and his fabulous, caring doctors.
Lord, hear our prayers.


---
TOPICS:
KEYWORDS: freepathon; newsfromjim; pleasedonate; q4freepathon; thread3
---
Navigation: use the links below to view more comments.
first 1-20, 21-40, 41-60, 61-80 ... 1,161-1,174 next last
---
---
---
---
---
---
---
---
---
---
---
---
---
---
---
---
---
---
---
---
---
Navigation: use the links below to view more comments.
first 1-20, 21-40, 41-60, 61-80 ... 1,161-1,174 next last
---
---