---
Mongolian neo-Nazis rebrand themselves as environmentalists
Guardian ^ | July 2, 2013


Posted on 07/02/2013 10:34:18 PM PDT by grundle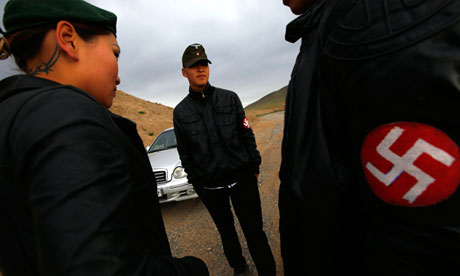 Members of the Mongolian neo-Nazi group Tsagaan Khass stand near a quarry where they questioned a worker.
A Mongolian neo-Nazi group has rebranded itself as an environmentalist organisation fighting pollution by foreign-owned mines, seeking legitimacy as it sends swastika-wearing members to check mining permits.
Based in an office behind a lingerie store in the Mongolian capital, the shaven-headed, jackbooted Tsagaan Khass stormtroopers launch raids on mining projects, demanding paperwork or soil samples to be studied for contaminants.
"Before, we used to work in a harsh way, like breaking down doors," the group's leader, Ariunbold Altankhuum, 40, told Reuters. "But now, we have changed and we use other approaches, like demonstrations."On a patrol to a quarry two hours' drive from the capital, members wore black, SS-style Nazi uniforms complete with lightning flashes and replica Iron Crosses.
"Today our main goal is to save nature. We are doing things to protect the environment," Altankhuum said. "The development of mining is growing and has become an issue."
The group, founded in the 1990s, says it wants to halt pollution in the former Soviet satellite as foreign companies dig for gold, copper, coal and iron ore using cheap labour from China and nearby south-east Asia. But a lot of the pollution is caused by local, illegal miners working individually.
"We used to talk about fighting with foreigners, but some time ago we realised that is not efficient, so our purpose changed from fighting foreigners in the streets to fighting the mining companies," Altankhuum said.

(Excerpt) Read more at guardian.co.uk ...
---
TOPICS: Miscellaneous
KEYWORDS: altankhuum; ariunbold; bluemongolia; dayarmongol; ecoweirds; environmentalists; firenation; galundesten; ironcross; khukhmongol; mines; mining; mongolian; mongolianeonazis; nature; nazi; nazis; neonazi; savenature; swastika; tsagaankhass; whiteswastika; wholemongolia
---
---
---
---
---
---
---
---
---
---
---
---
---
---
---