---
To: FReepers; FRiends; Patriots; Everybody

FR is funded solely by the freedom loving folks
who love and use it.
WE are Free Republic!!!
Please Contribute Today!
47
posted on
05/12/2013 1:27:23 PM PDT
by
RedMDer
(May we always be happy and may our enemies always know it. - Sarah Palin, 10-18-2010)
---
To: FReepers; FRiends; Patriots; Everybody
They knew and let them die.
From: [redacted]@state.gov
Sent: Tuesday, September 11, 2012 4:05 PM
To: [redacted]
Subject: U.S. Diplomatic Mission in Benghazi Under Attack (SBU)
(SBU) The Regional Security Officer reports the diplomatic mission is under attack. Embassy Tripoli reports
approximately 20 armed people fired shots; explosions have been heard as well. Ambassador Stevens, who is
currently in Benghazi, and four COM personnel are in the compound safe haven. The 17th of February militia is
providing security support.
The Operations Center Center will provide updates as available.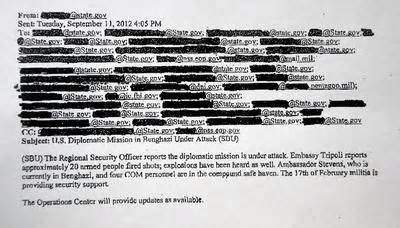 Free Republic Needs Reliable Support.
Please Sign up to Donate Monthly!
Generous FReeper Sponsors are donating
$10 for every New Monthly Donor & $1-A-DAY DONOR!
48
posted on
05/12/2013 1:28:34 PM PDT
by
RedMDer
(May we always be happy and may our enemies always know it. - Sarah Palin, 10-18-2010)
---
FreeRepublic.com is powered by software copyright 2000-2008 John Robinson