Morning, AB, All....
Here I sit early in the morn having been awakened by some kind of cat howling brawl outside my bedroom window shortly before 6 am. I ran outside to try to break it up (whatever that cat was howling at, this was very loud and sounded vicious). I did run the offenders off but then I got scared.
One of Billy's cats, name is Lily, pretty calico girl, misses him so bad she howls sometimes at night, a painful howl, God I know she misses him, she loved him so much.
And she hates me.
Well HATE might be too strong a word; I was always the one who put ear drops in, pulled out mats....you know, the "bad" guy. Billy was her lover and it's too bad Delaware just passed same sex marriage cause soon I shall be able to marry my dog and by Lily, who is very liberal, she should be able to marry Billy.
If he were alive, that is, but hold on! I see no reason why we can't marry dead people. Give it time.
Anyway I got scared cause I couldn't find Lily; she has been trying to escape whenever I open a door...probably wants to go out and find Billy.
So there I am, outside just before dawn, all over my yard calling Lily, begging her to come home. Cause I couldn't find her in the house after the cat fight outside and I was convinced one of the fight participants was Lily.
I give up, go inside, sit down and just cry my heart out. Billy would never forgive me if one of his precious cats got out and got hurt or something.
Later on I am puttering around and out, boom, comes Lily.
I wanted to smack her.
So today it's all Benghazi and folks, this is just so bad. Hillary Clinton has never done a single damn good thing for this country. She's been nothing but a witch and a liar and brings absolutely nothing to the table, never did.
Now she lets four Americans just die? Oh I know Obamer called the stand down order but Hillary, mistress of lies and demonization, well.....see below....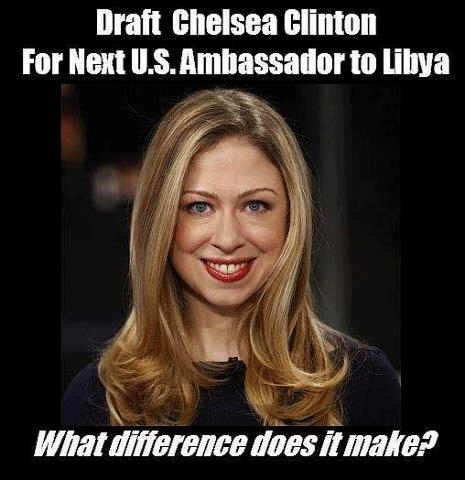 As always, thank you AB for doing this thread, I, for one, appreciate it more than you know.
I want somebody, a reporter, an elected guy with air between the legs....somebody, to ask that awful Hillary woman....just ASK HER THE FOLLOWING:
"Madame Secretary, would you have let Chelsea stay at that Libyan embassy with the same security status as ambassador Stevens had?"